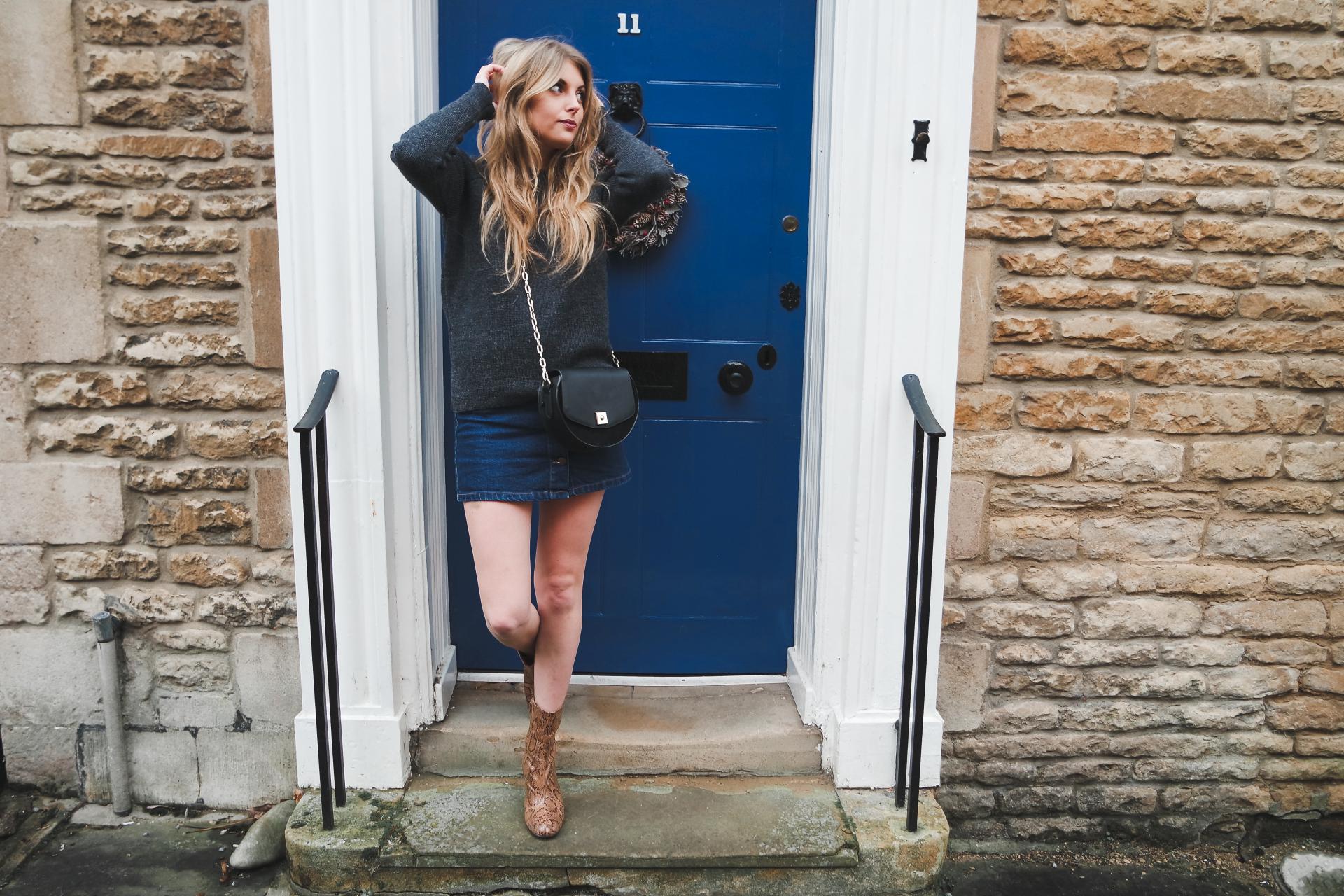 *Jumper : Study 34// Skirt : Primark // Bag : Zara // Boots : Next
Before I even start this post can we talk about this door and how it's totally #doorgoals? That blue colour totally compliments my outfit and I'm gutted you can't see how cute the wreath is! From now on if I see a cute door or something I want as my background for a post I'm totally going to take a picture of it for the post as a stand alone image so you know what I'm on about – and yes I am aware of the amount of times I've said totally so far!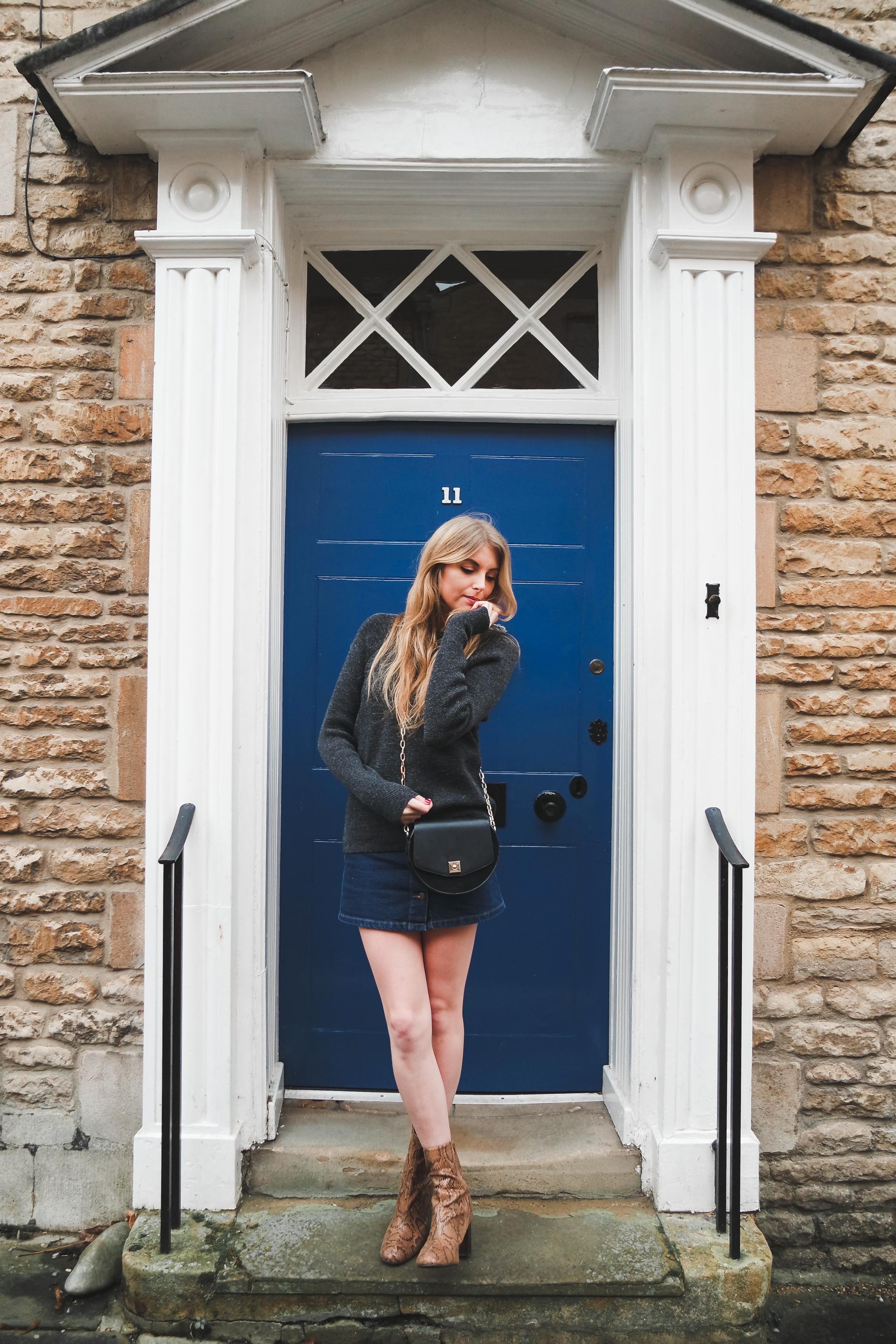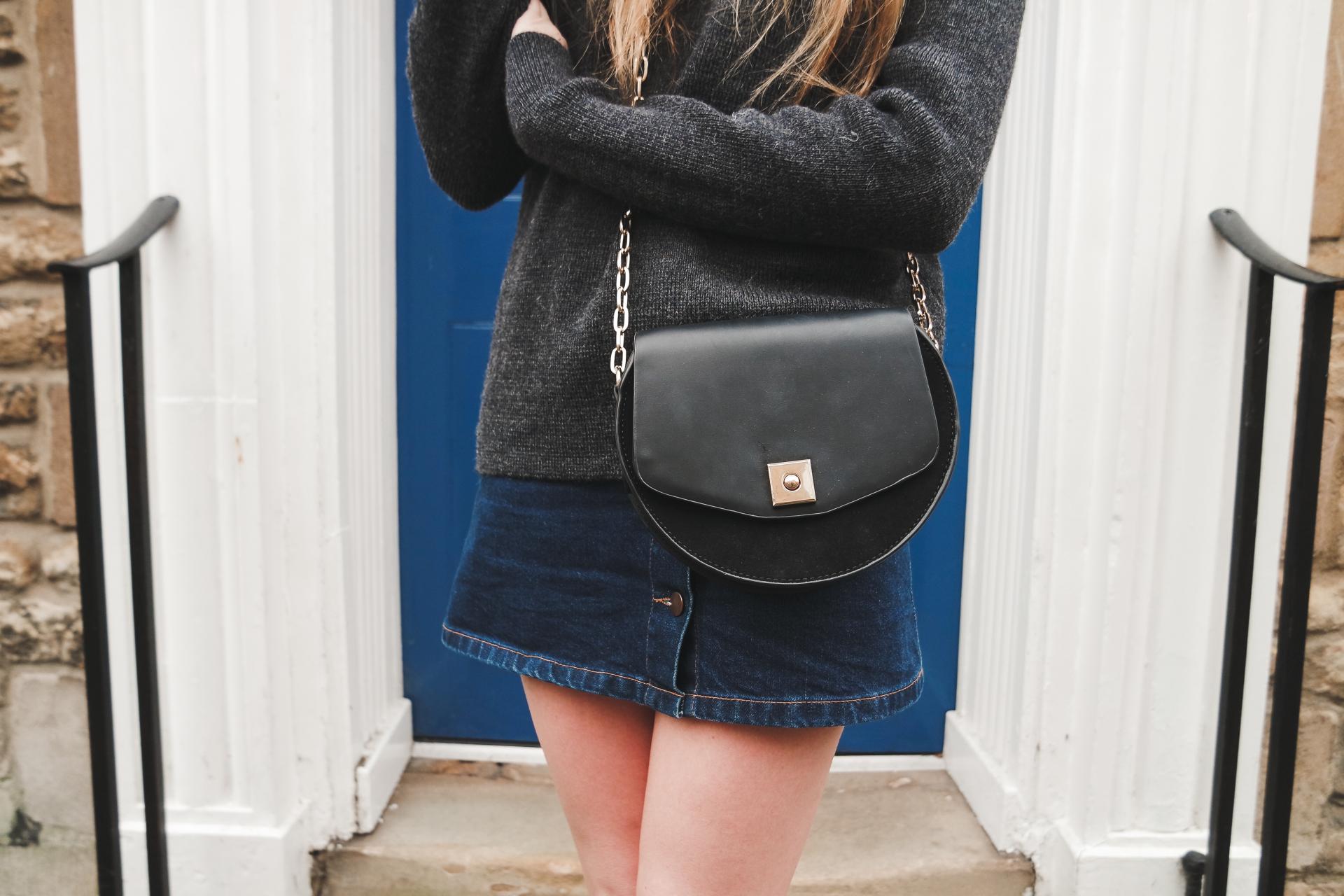 How to Style a Skirt for Winter
No, I haven't gone mad. Firstly, lurking under those boots (boots of course are essential for skirt wearing in the Winter) is a key secret for keeping warm, and secondly, who said skirts are only for the summer or when you're too numb from all the prossecco to care?
I used to be one of those girls, once autumn hit you wouldn't catch me with my legs out till the spring again (unless of course I had a prossecco blanket on) but now, I've got the key, I've got the secret.
Sleep Socks
Secretly lurking under those boots is a big pair of fluffy socks keeping my toes nice and toasty. A wise man once told me that you loose you're hear through your feet and head so boots with fluffy socks are a must and if it works, hey through a hat on!
Boots, The Longer the Better
Hallelujah to the current over the knee boot trend, it's basically like wearing trousers but with a teensy gap so you can look cute in your skirt but still be nice and warm. Just imagine the layers of socks you could put under those bad boys? The opportunities are endless!
if, like me, you're not really sold on the over the knee trend (no offence if you are I just can't seem to pull it off!) then boots like these ones from Next are ideal. They're not quite an ankle boot but they kind of are. I feel like the extra few inches make a hell of a difference!
Chunky Knits are you're Best Friend
You need to finish the look off with a chunky knit. Personally I love the chunky knit/skirt look and my wardrobe is overflowing with jumpers (don't tell my boyfriend I said that, I will never admit to this I always need more) so it's ideal for me! If you've got a super warm jumper on and your feet are snug then you're pretty much covered!
if you're not a fan of chunky knits (who even are you?!) then get a really well made knit that's going to lock in the warm and do the same job! This one from Study 34 is hand made (you even get a super cute card saying who knitted it, can you get any more personal?!) which makes it ridiculously warm despite the fact it's not massively oversized!
If All Else Fails . . Blanket Scarves
Throwing on a blanket scarf is pretty much a fail safe way to walk around looking fashionable and cosy whilst actually you're wearing something that could double up as a blanket or throw (it doesn't have the name blanket scarf for no reason!). If you need some more warmth, blanket scarves – best . invention . ever.
This will probably be my last post until after Christmas now unless I'm suddenly struck by inspiration! So I hope you all have an amazing Christmas and I will see you very soon! Don't forget to follow me on Bloglovin' to make sure you don't miss my next post and to stay up to date with lost of new and exciting things to come in 2016!
Shop The Look