I got a few questions on some of my previous posts about affiliate links. Though difficult to get your head round at first, it's like riding a bike once you get the hang of it and you're pretty much earning from something you already do . . soooo why would you not use them?
In this post I'll be giving you a lil' run down on what affiliate links are, effective ways to use them and what companies you can use affiliate links through.
What are Affiliate Links?
First thing's first, if you don't know what an affiliate link is, or you're a blogger that isn't using them then you are missing out my friend. Basically, an affiliate link adds tracking to allow the retailer to see that the sale has come from you and your site giving you a small percentage of commission on each sale.
As fashion bloggers, we're constantly suggesting products and telling people where things are from, so why shouldn't we make 10p for a sale every now and then? If you bought something from a store, often the sales assistant would get commission so surely it's only right that we get something for all of our hard work?!
P.s if retailers know you get them loads of sales through your trackable links, there's a high possibility they'll want to play on this and work with you
How Can You Use Affiliate Links?
There's lots of different ways to use affiliates and I probably still don't know about half of them as each company uses different techniques. Here's the key ones I've come across:
Banners – I don't use these, I didn't find they were that effective (though I am considering adding just one back in) and found them messy. Not only do I like my home page to be super clean and easy to navigate, but I also dislike anything that takes people away from my site before they've even read the content
Links – Pretty much self explanatory, just adding links into your post as you usually would but with the tracking
Instagram Apps – Some companies also allow you to link the products via your instagram images so people can shop your looks from their phones
Widgets – There's lots of little widgets you can use like the one I've created belowfor this outfit. It allows you to shop the products from the store images, a more visual way of shopping the look than just written links.
Online Shops – You can also create 'shop my look' pages or 'shop my wardrobe' which personally I love on other peoples blogs as it gives you inspo when you want to shop but don't know where to start! I'm actually thinking of creating one for my site so let me know what you think and if it's something you'd like to see!
How To Get Affiliate Links
I've listed below the companies you can use to create your affiliate links, I personally use Reward Style. It's not the easiest affiliate scheme to get on to as they don't accept everyone but from the few I've tried it's the easiest and most effective scheme.
What I use
As I said before, I use Reward Style. The main reason I wanted it was because of the liketoknow.it feature – I'll teach you about that in just a moment. Once signed up I've discovered just how amazing it is for other bits and bobs; you can create your own shop, make clickable mood boards and there's plenty of widgets for in your posts and on the side bar of your blog.
How Liketoknow.it works
Basically, I save everything I own into a little folder of links, then whenever I post to instagram, I select the pieces featured and post alongside a unique code. This code then triggers the liketoknow.it platform which sends you an email with clickable links whenever you like a picture which is liketoknow.it enabled! If you're signed up of course! In short, sign up, like my picture, get links.
Before I had my own blog I loved using this for other peoples Instagrams because it's so much easier than having to ask what someone's wearing 10,000 times and you can totally copy them on the down low and they'll never know. . perfect! You can sign up here and I've done a little demo of how it works below!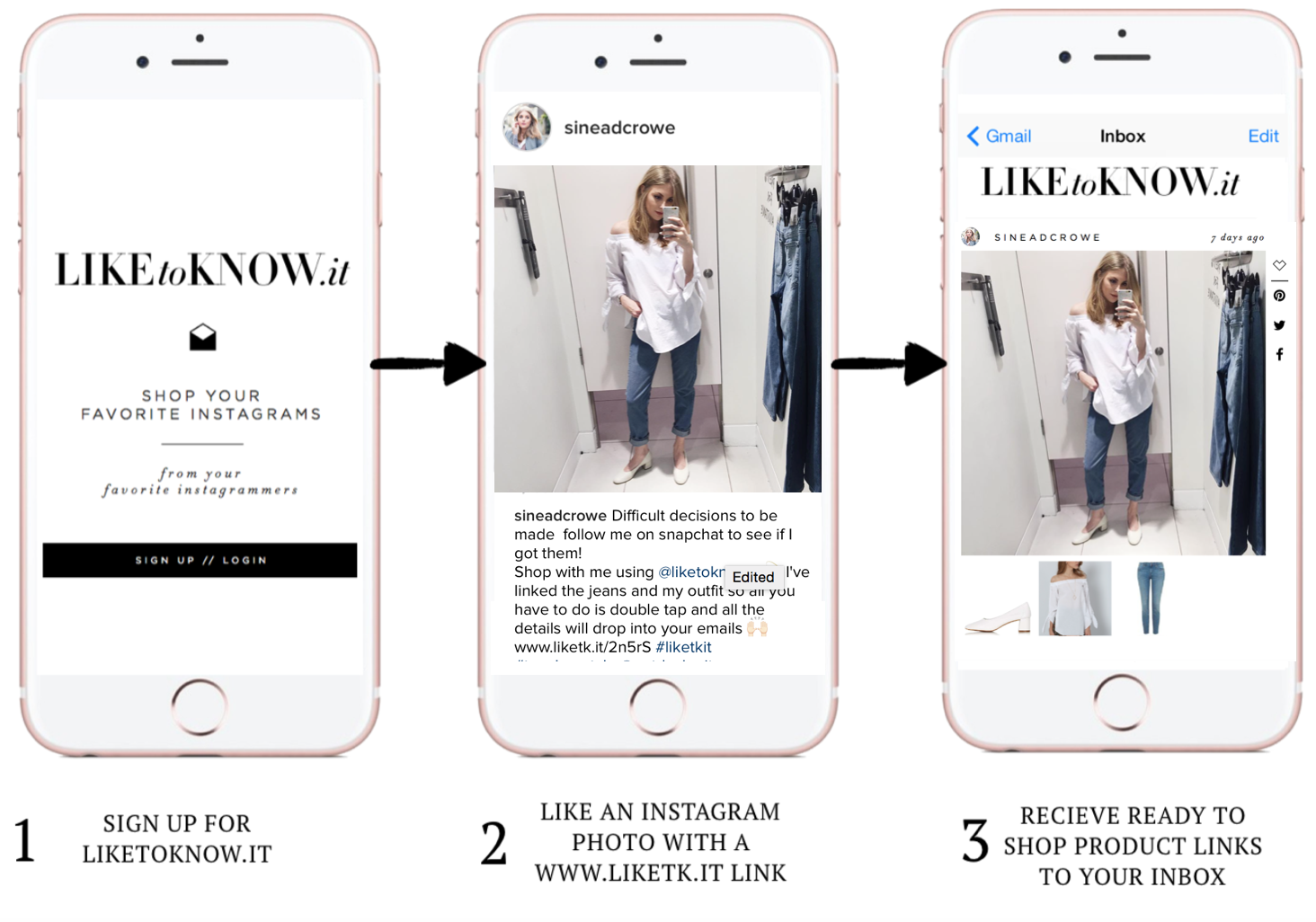 loose shapes
I know this is a super duper long post but I just wanted to talk about the outfit for a moment! I love this relaxed look with all of the soft loose shapes and pastel colours. It's the perfect throw on outfit for style and comfort and I can't get enough of the pink stripes on this Boden top! Who would have thought I'd be wearing pink and trainers?! And baggy jeans!? My style is changing all of the time and I'm so over skinny jeans at the moment!
*Jacket : Girls on Film SOLD OUT – Similar here
*Top : Boden
Jeans : Asos
Trainers : Asos
Sunglasses : Old, Similar here
Don't forget to follow me on Bloglovin' to stay up to date with all of my latest posts! I would love it if you did! You can also now find me here on youtube and to be the ultimate stalker, you can find me on snapchat and Instagram under the username sineadcrowe! Ready, set, stalk!
Want to know more blogging tips?! I have a whole category here, including how to boost your Bloglovin following in 5 easy steps!
All photography by Kirk Schwarz – Instagram – Website