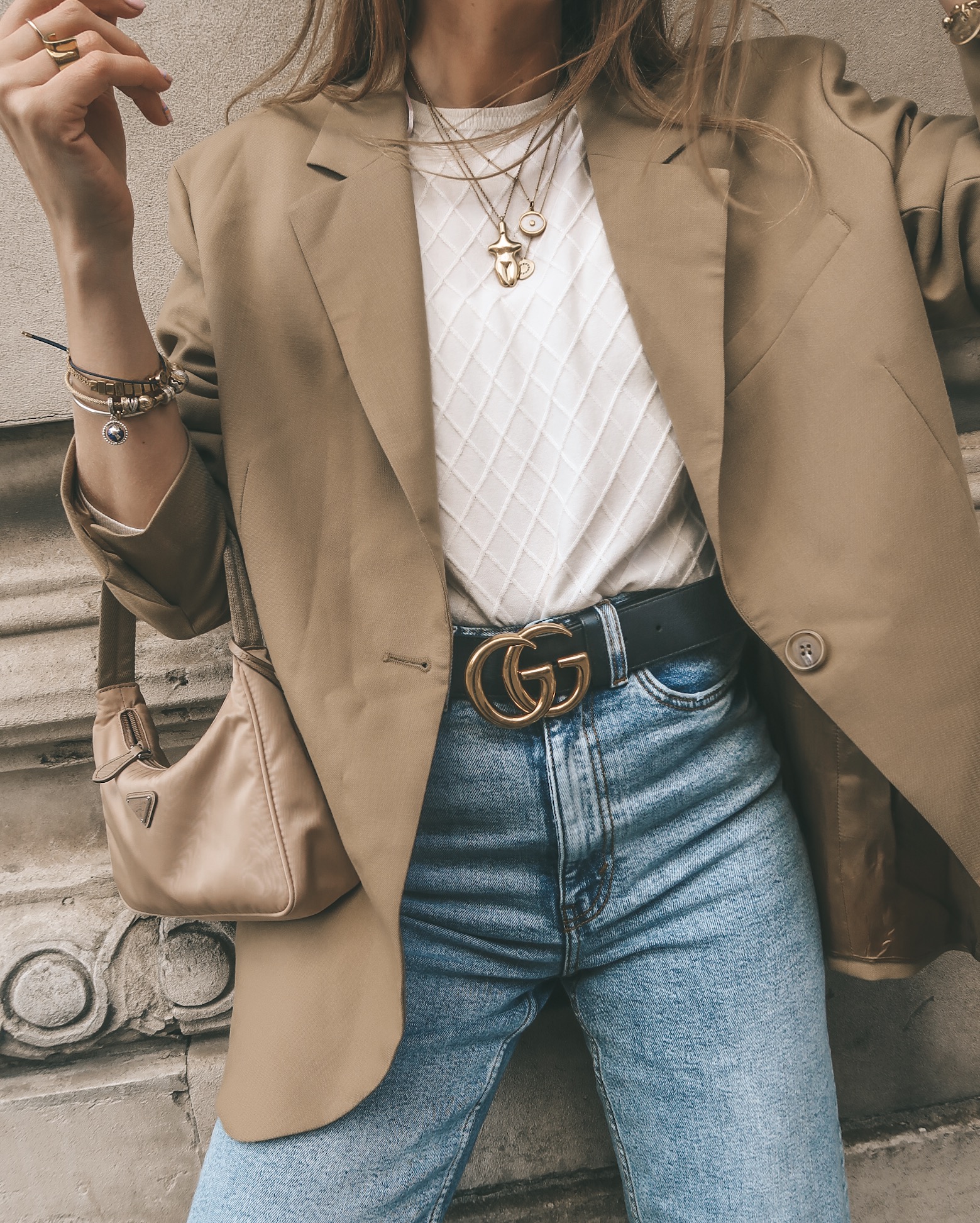 For me, a classic outfit with amazing details is my go to look. Give me jeans and a white t shirt any day.
All you have to do is add an amazing piece like this Arket blazer and jazz up the details with a necklace stack and lashings of gold jewellery and you're set. I love this kind of look with a simple colour palette too, to me it works because it's all neutrals, I can't see this working the same if it were a bright pink blazer and yellow t shirt, can you? It's keeping it subtle and playing with different tones and textures that's key to a simple but effective look.
THIS POST CONTAINS GIFTED ITEMS AND AFFILIATE LINKS
Click on the images below to shop!

Its All In The Details // Arket Blazer
I got this arket blazer a few weeks ago now and I've been wearing it quite a bit considering it's bitterly cold out there! I always find that blazers are good for layering up with warmer coats so you can just see it poking though. I already knew I'd love the blazer because I already have it in the black and love it so I wanted to get it in another colour. I've now seen that they also do a darker brown and a light purple, all of which are calling my name so watch this space!
Something I feel is such a minor detail in this outfit but makes it all come together is the knitted top I'm wearing underneath. It's a major bargain from M&S at just £17.50 and I think that it adds so much more to an outfit than if I were to just stick a white t shirt on. It's also a great added warmth for right now as it's a fine knit so much warmer than a jumper!
I finally got my Gucci belt back out to play, it't been far too long and I'll be wearing it way more now I promise! I love it with this outfit, I think I maybe just went through a faze of wearing it too much and had to come back around to loving it again! There's nothing I love more than gold details and gold jewellery! I'm wearing my fave new Monica Vinader necklace, this mother of pearl circle and it looks great with the others, welcome to the necklace family!
What do you guys think, do you love a basic outfit with details like me or are you all for a bright and colourful WOW look?!
SHOP THE POST
Blazer : Here
Jumper : Here
Jeans : Here
Belt : Here
Boots : Here
Bag : Here
Affordable Alternative : Here
Body Necklace : Here
Circle Necklace : Here
Friendship Bracelet : Here
Pandora Bracelet : Here
Click on the images below to shop!




PS YOU MIGHT ALSO LIKE M&S Come Shopping With Me OR H&M Come Shopping With Me