Ok so be warned none of these LA outfit posts are going to be in order, I'm just picking whichever one I want to do first and I choose this. Which just so happens to be outfit number 2 out of 3 outfits I have to post. The gingham Tularosa Dress.
Click on the images below to be taken directly to the product pages!




The Tularosa Dress
This dress is ever so similar in style to my older Tularosa dress I wore on the way to the Revolve Festival here but it's all attached. What do I mean by that? Where the other dress is sort of white linen material with flaps over it, this is all gingham and any flaps are additional gingham material. Basically I can pose in any which way I want without having to worry about a gaping white stomach area popping out which believe me you happened multiple times with the other dress. I'd like to think of this as an upgrade to it and therefore will probably be saying sayonara to the other one. The time has come.
I originally got this to wear to the Revolve Festival but as I explained in my other posts on the Revolve Festival part 1 and part 2, it was only two days which pretty much only allowed for two outfits. I had planned to wear this exact outfit, maybe switching the Chloe boots out for my espadrille Supergas which actually, I haven't worn yet on this trip, maybe me and them are over?
In-N-Out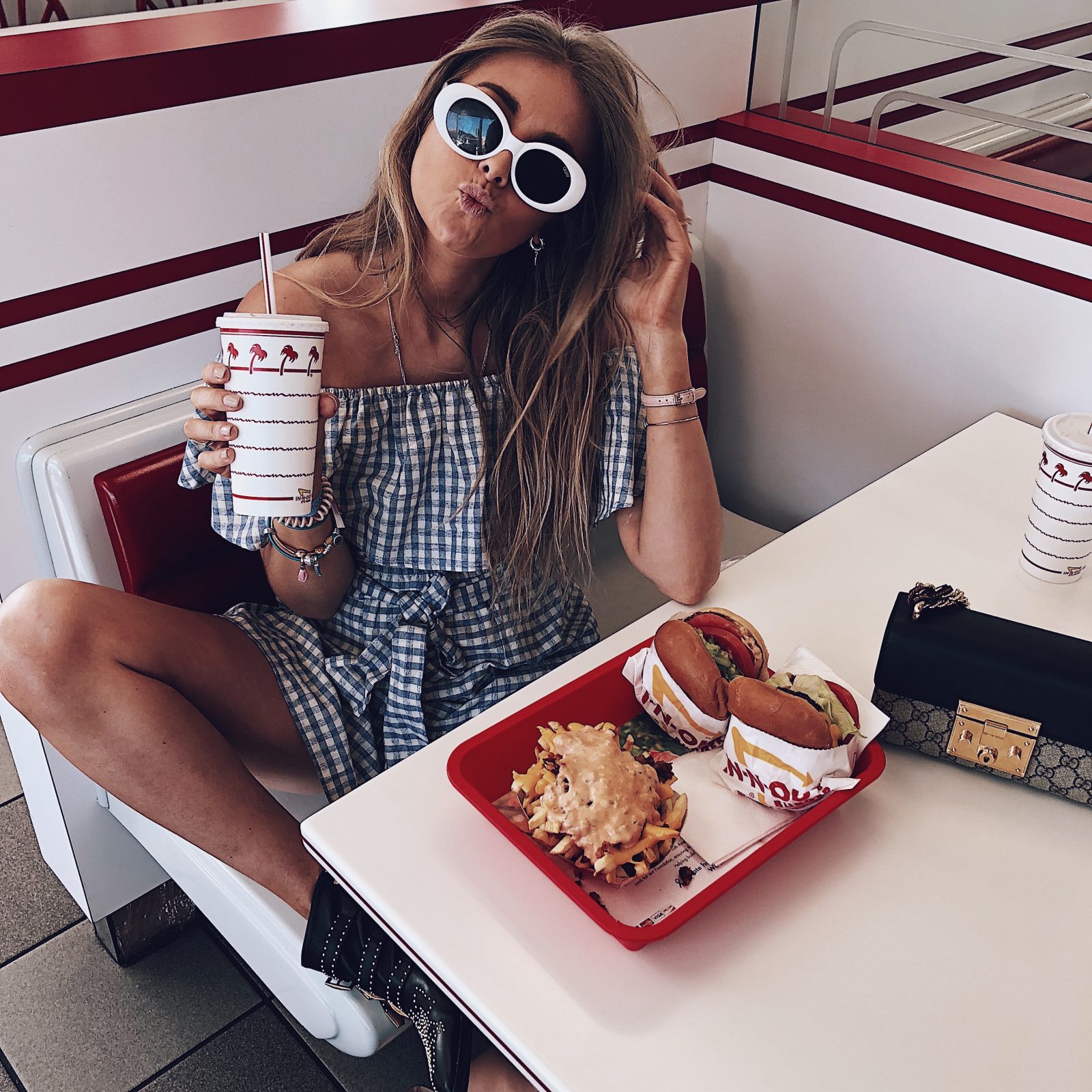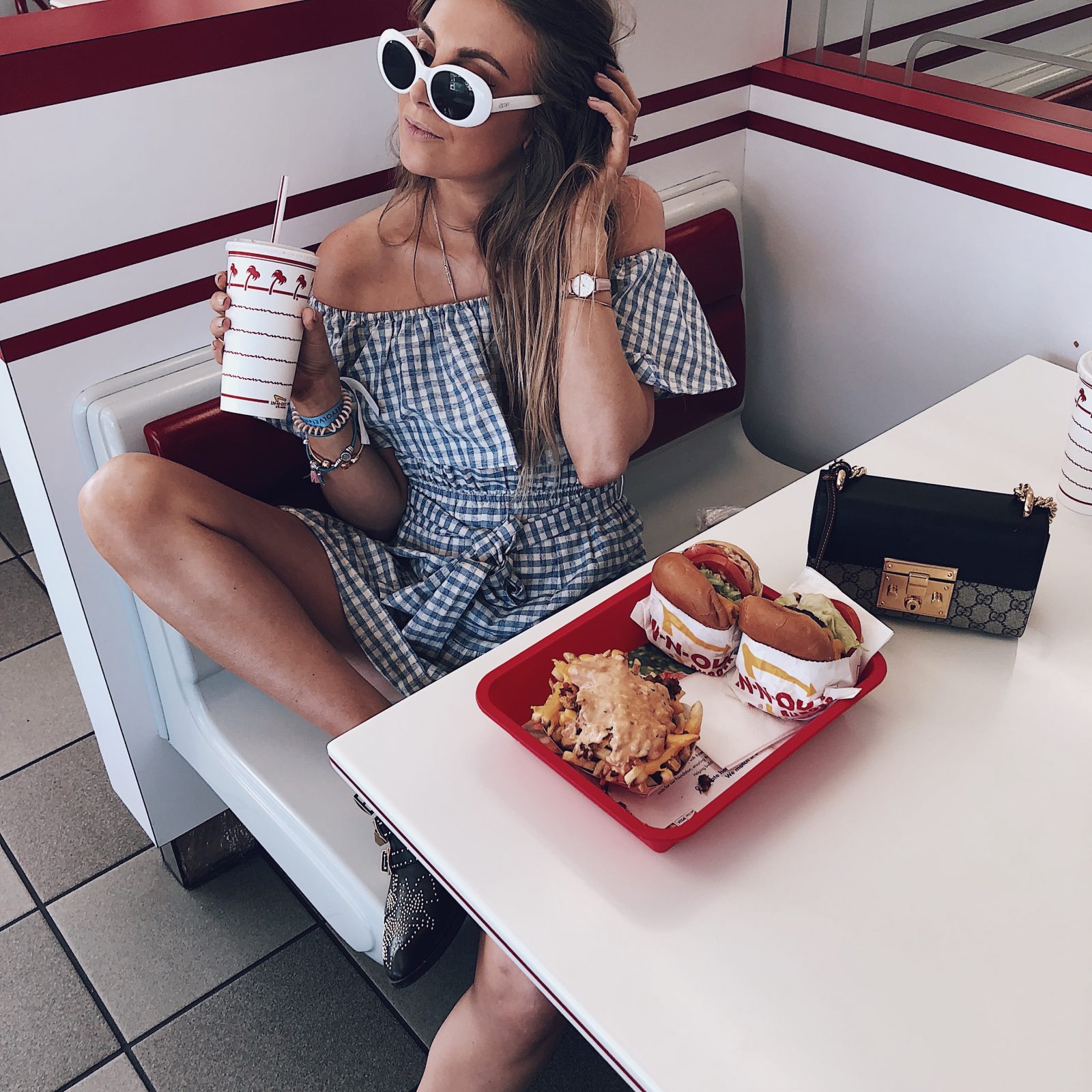 You can definitely tell that I'm way overdue a tan scrub and re application in these shots, yes that happened as soon as I got back to LA. In-N-Out was a mid road trip stop on the way back from Palm Springs then we went straight to the Beverly Hills Hotel to try and make the most of our last full day in LA. We actually stopped at In-N-Out at 9am so it was no surprise that we were the only people in there, ordering animal fries and root beer, just what any good american has for breakfast right?
Anyway, the photos went down will as we had the entire restaurant to ourselves, the burgers not so well. Perhaps it was the fact that it was 9am or maybe they just don't taste as good when they're not being served at the Revolve Festival. I guess we'll never know.
The Beverly Hills Hotel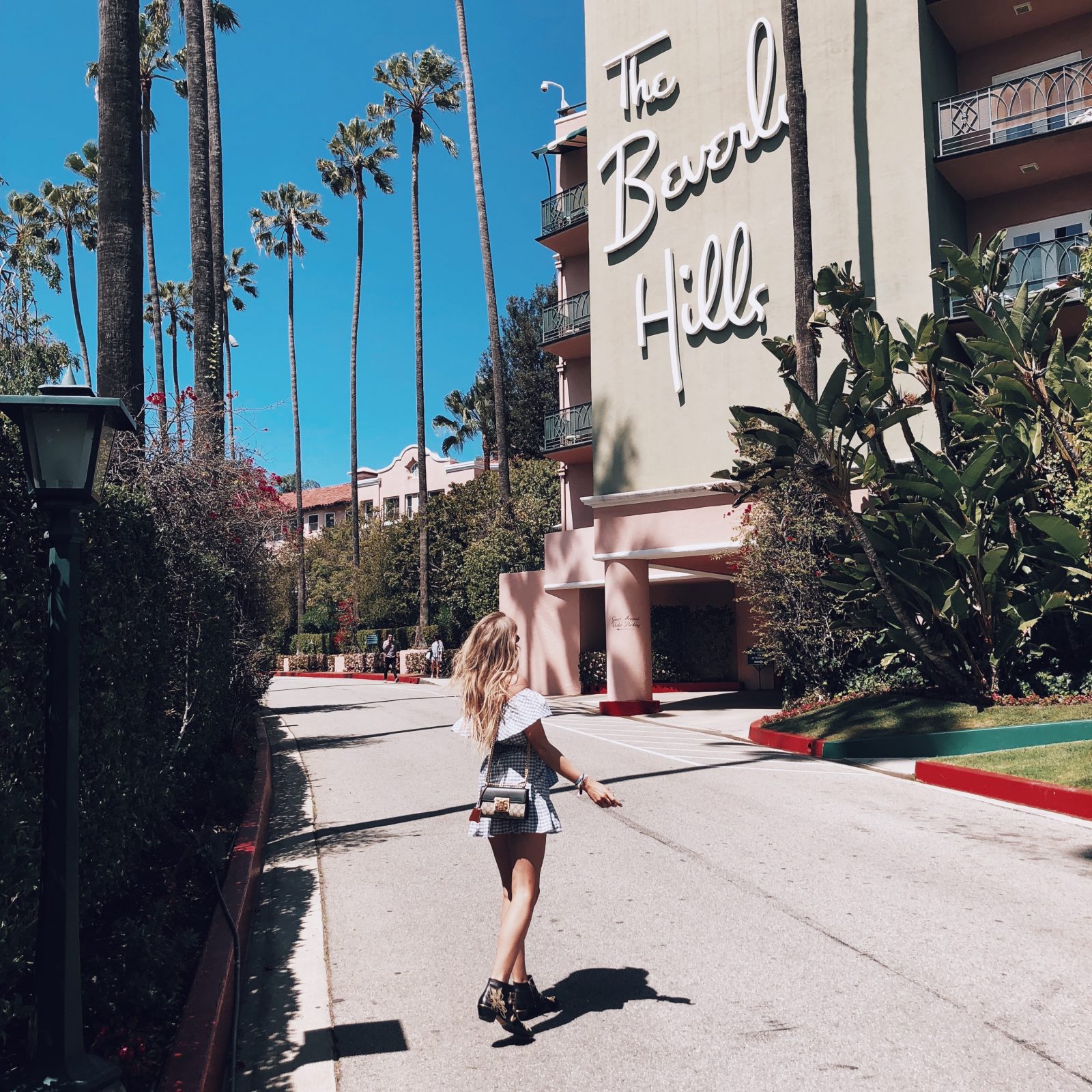 The Beverly Hills hotel is obviously a must do for any instagrammer, I mean if you don't get a shot in front of that iconic green and pink wall did you even go to LA? I can confirm that we spent $12 on valet parking with a $10 tip ( everyone got a $10 tip in america because thats all we had) to get these photos, and it was worth every penny.
You can see my full outfit properly here and I'm actually writing this laid in bed waiting for the Dallas conference to begin and now thinking to myself, maybe I'll wear this today. I have to admit I'm having major LA blues, I'm seriously missing the sunshine, driving round with the roof down like the complete cliches we are. It's definitely make me think that from now on I'm getting a car wherever I go on holiday, it's such a sense of freedom and allows you to explore, like why did I never think of this before?
OUTFIT DETAILS
*Tularosa Dress : Here
*Quay Australia Sunglasses : Here
Chloe Boots : Here
Affordable Alternative Here
Gucci Bag : Here
Affordable Alternative Here
*Items marked with an asterix were kindly gifted to me
Click on the images below to be taken directly to the product pages!




PS You Might Like This
Revolve Festival Day 1 | Palm Springs
Revolve Festival Day 2 | Palm Springs
LA Haul | Gucci, Topshop, Asos