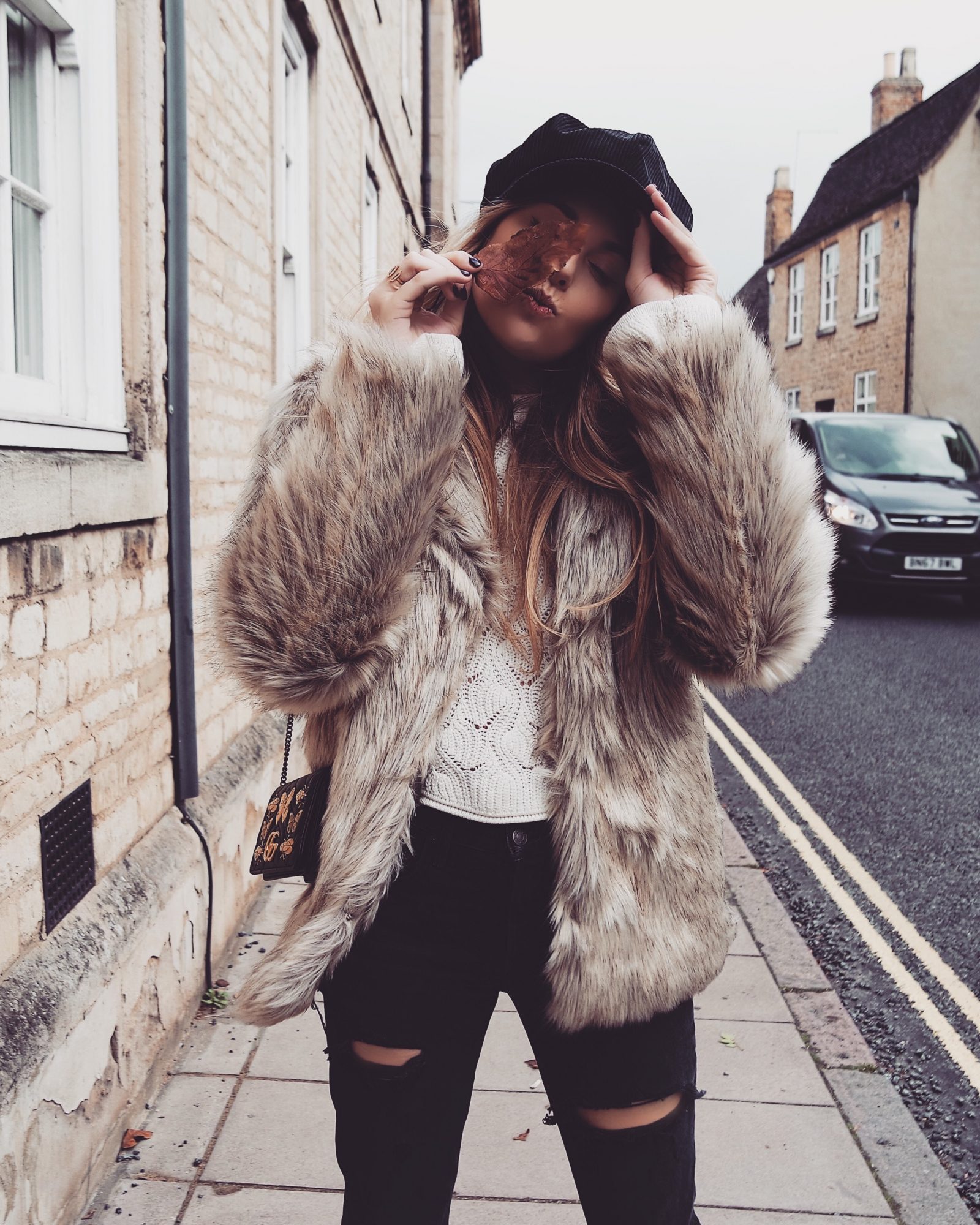 Sometimes I feel like saying I love winter is like saying I want to go to hell. Why would anyone love winter? It's cold, dark and miserable. Wrong. There are so many amazing reasons to love winter and quite frankly there's no such thing as bad weather, just being badly dressed and ill prepared.
My Perfect Winter Coat
This winter coat has been getting so much attention over on my instagram and I totally know why. It's perfect. I am so happy to have found my perfect winter coat and it's only November. I got it from New Look so it's super duper affordable and I went for my usual size which is a 10 ( I always like to wear things a bit oversized in the top half). It's super fluffy, it's incredibly warm and it's neutral so it goes with everything. Yes it's my 100,000th fur coat this season but I feel like it hits the nail on the head and totally solves all of my winter problems.
I think this will be the coat I'll be reaching for all through the winter and it looks super cute with the baker boy hat which is always a major plus!
OUTFIT DETAILS
*Faux Fur Winter Coat (Size 10) : Here
*Cropped Cream Jumper (Small) : Here
*Ripped GRLFRND Jeans (W26) : Here
*Chloe Susannah Boots (I sized down for these and they fit perfectly) : Here
Affordable Alternative : Here
Gucci Marmont Bug Bag : Here
Affordable Alternative : Here
*Black Cord Baker Boy Hat : Here
*Gold Ring : Here
*All items marked with an asterix were kindly gifted to me or purchased with vouchers that were gifted to me
Click on the images to be taken directly to the product page

My Favourite Things About Winter
So if you've got this far then you obviously either love winter too or you're prepared to hear me out and give me and winter a fighting chance. Don't get me wrong, I do love summer so so much, the floaty dresses, the long days, the aperol spritz in the sunshine, it's amazing! But I love all of the seasons which is why I could never move to another country without seasons, I think if it was hot all year round I would get super bored and be missing the winter like hell!
So here's why I love winter and you should really embrace it too!
1 – Winter has the best holidays. Christmas hello! Bonfire night, New Years, Halloween . . it's like a stream of fun events and occasions.
2 – Everyone you love is around. In winter people gravitate to their hometown which I happen to still live in. Wherever you go you bump into people you've not seen since last winter and all of your friends are in one place.
3 – Staying in is acceptable. Because it's hella cold. I love staying in and I love that in winter you don't have to feel bad about it, who wants to go out into the cold anyway?
4- Mulled Wine. The best drink known to man. And Irish coffees intact, hot cocktails are the best cocktails! I live in an old stone town with lots of cute little pubs and there's something about going for a lovely mulled wine when it's dark and cold outside that makes me fall all snug and cosy.
5- Stew. And dumplings. My favourite meals are stews and casseroles. Winter food is just 100x better, you can live off a diet of mashed potato and stew and no one will blink an eyelid.
6- Fashion. I love winter fashion! I know I said before I love summer dresses and I still do, they're great, but winter dressing is so much more fun and you can get more creative with the layering. I love coats & knitwear and boots. Oh boots.
7 – Christmas Parties. I know I said the exact opposite of this as I do love to stay in but a christmas party isn't like a normal party. You can get dressed up big time, catch up with all of those friends you haven't seen in ages and drink baileys.
8 – Baileys. The best drink to ever be invented and it's somehow only brought out in winter. Baileys is hands down my favourite drink and another reason to look forward to winter!
9 – Presents. Not just the receiving of, but the giving. I'm a blogger (incase you didn't know) so to me, every day is like christmas and people really struggle on what to get me, I love to receive gifts still but it's the buying that I love. There's nothing better than seeing the face on someone when they open your gift and thinking nailed it. Seriously, buying gifts is my all time favourite thing to do and at christmas there is a lot of gift buying to be done!
10 – Kindness. I feel like people are kinder and more compassionate in winter. Everyone is collecting for the homeless or children less fortunate. People go out of their way to help one another which is so heart warming to see.
WINTER STARTER KIT
Click the images to be taken directly to the product page