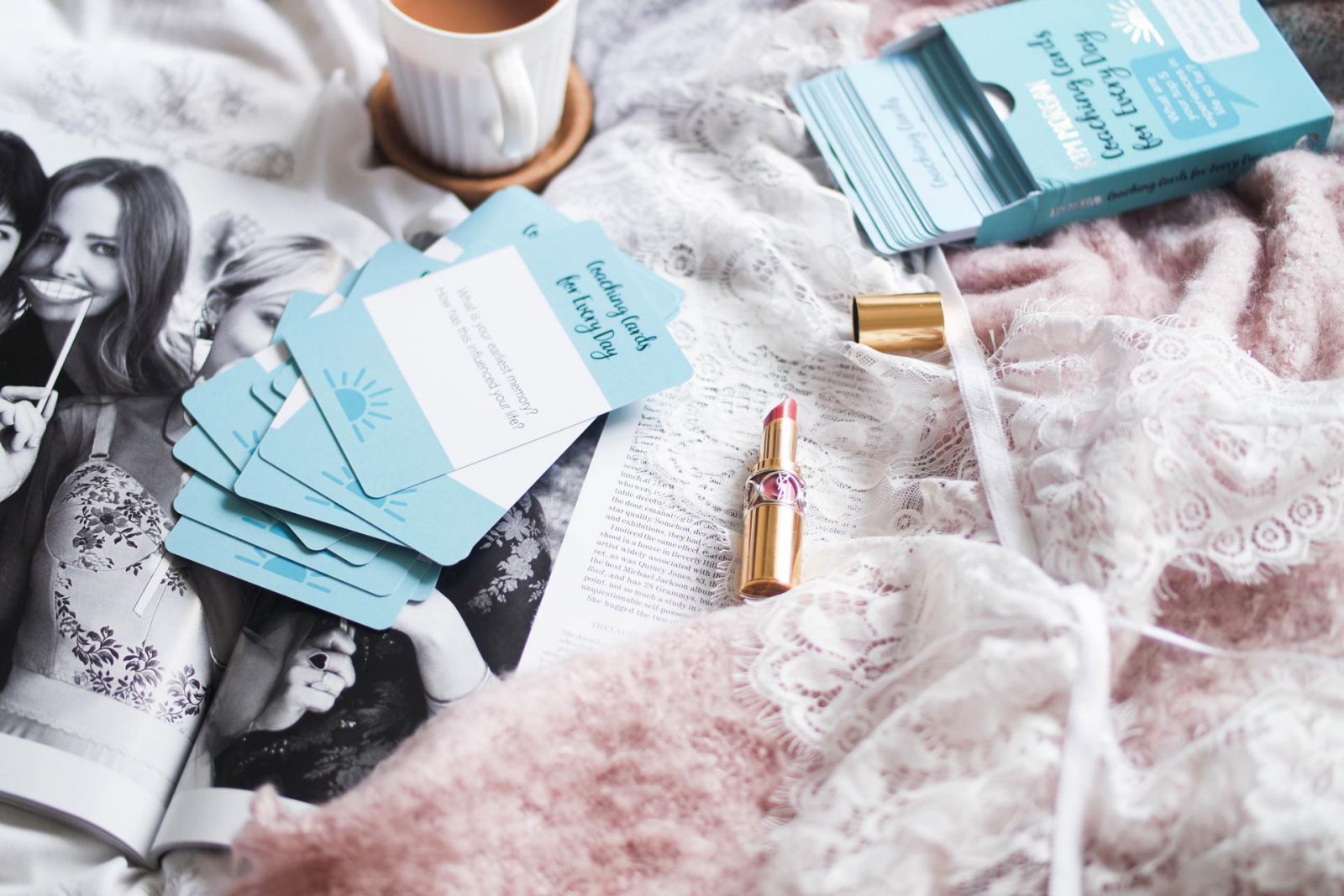 Starting a new Routine
When I was first approached about trying these coaching cards I have to say, I was pretty sceptical. I always find it hard to get myself into a routine these days. Working from home I'm often working till late which results in sleeping in till late, something like this I just didn't think I'd be able to stick to on a daily basis.
Though in my opinion, a routine is an anxiety sufferers best friend, it's just hard to get into one when your day varies as much as mine. However, I tried them, and amazingly I stuck to it. Not because I forced myself to, but because I found it something enjoyable to do.
Coaching Cards for Everyday by Kim Morgan
A thought a day
So the idea is coaching cards with questions to make you think and reflect. You can use them whenever you like but for me I find breakfast time best. I simply pick one at random (I'm not a work my way through the pack methodically kinda girl) and think about/write my answer.
Not only are they great for helping you to realise things of importance but they also help you to think in a different way in general. Often I've found myself remembering the questions in situations and making a different decision, one that will benefit me rather than bending myself to suit someone else.
TIP : If you don't have time to do these everyday, just use them whenever you do have time! Maybe once a week on a Sunday when you're feeling reflective!
If anyone has ever read the secret (I'm a huge fan), I think these do the same kind of thing. Making you constantly aware of your goals and working towards them, assessing and re assessing where you want to be and how you're going to get there. Helping to identify and eliminate the things that are holding you back, focusing on those that are important and will help you on your journey! This to me is so so important!
With questions like "who or what drains your energy? What can you do about this?" it really encourages you to action the points rather than just thinking, oh yeah I do feel shit about that. Well then, what can you do about it? Do something today. Start now!
This question in particular kind of takes you back to my post on how not having many friends is a good thing, if someone is a constant drain on your energy and brings nothing to the table, cut them loose! You can't be friends with everyone you've ever met, so make sure that you pick who you surround yourself with wisely.
BTW : I am in no means saying ditch your friend because she just broke up with her boyfriend and she's all mopey and depressing . . just wanted to put that out there!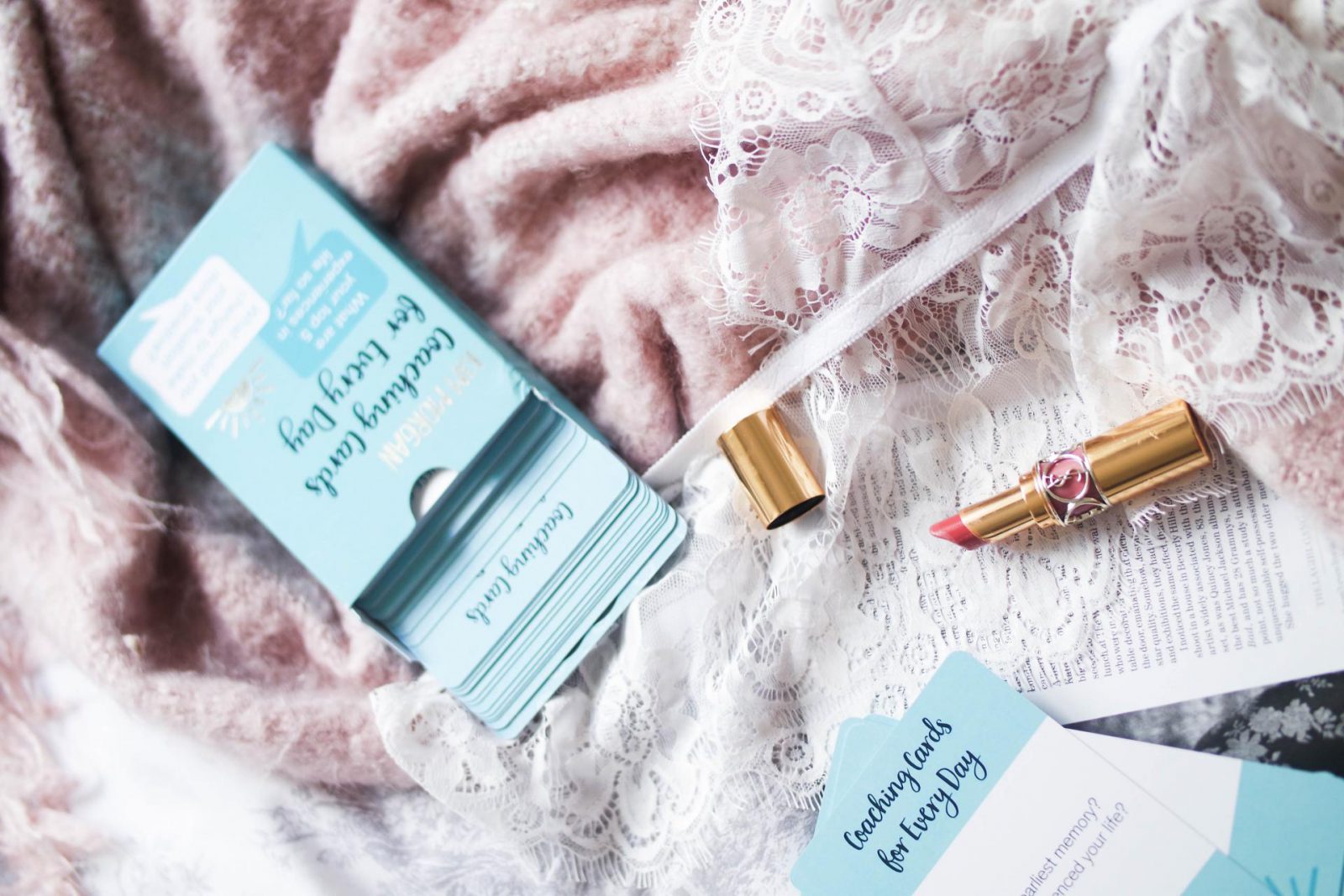 What do you guys think? Do you think you'd use these and are you going to try them out? If you do get them make sure you post a picture and tag me in it with the hashtag #happydays and share how you've found them! I also thought you might like this post on some happiness habits you can include in your daily routine, it's an old one but a good one!
Pick up your pack of Coaching Cards for Every day by Kim Morgan from Amazon here!
Follow @BarefootCoaches on Twitter for more information!!
Make sure you follow me on Bloglovin' to stay up to date with the latest posts! You can also find me on Twitter (sineadxcrowe), Instagram (sineadcrowe) and Snapchat (sineadcrowe) for daily updates!!!
This post has been sponsored but all thoughts, opinions and creative direction are my own