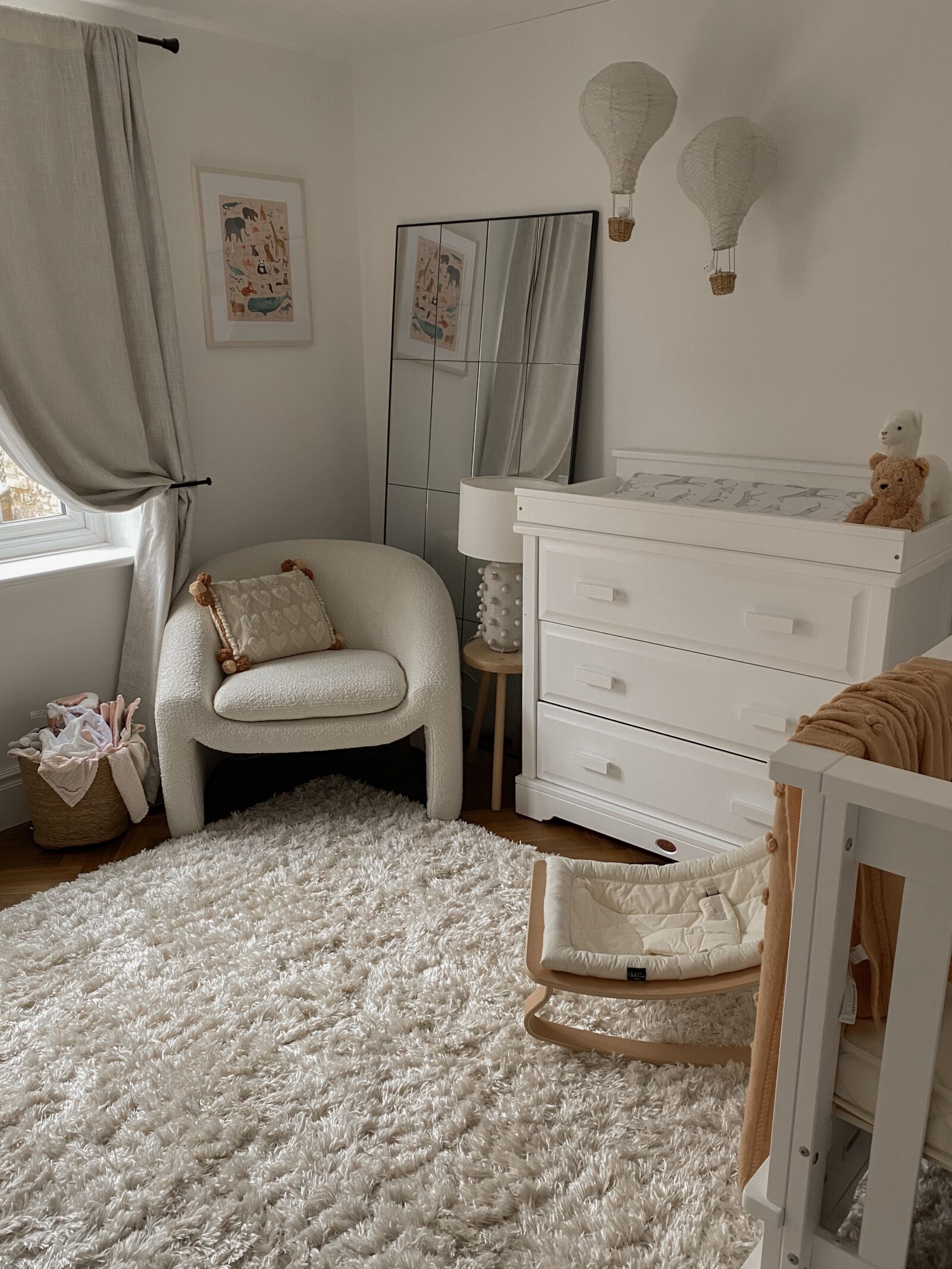 Hey guys!
I'm so excited to finally be writing this blog post because it means that the Nursery decor is FINALLY finished and we are all ready for baby girl to arrive!! I've got a ton of photos in here so I'm going to talk you through the Nursery Decor, what we picked and why and the theme we settled on which as you can see is pretty in keeping with the rest of the house . . neutral! But with a hint of pink tones to make it feel more girly and I think as time goes on we will add more and more pink bits and bobs! What I really love about this room and why I'm so glad we kept the Nursery Decor neutral is that it's so bright and light and super calming in here! I just want to spend all of my time in here relaxing now! We do of course have black out curtains though for baby girl to get her beauty sleep!
THIS POST CONTAINS AFFILIATE LINKS & GIFTED ITEMS
Baby Girl Nursery Decor
We built the Nursery Decor and theme around the furniture which was the first thing we chose and actually we picked this out from Natural Baby Shower before we had even bought many clothes! They kindly got in touch and offered to gift us a set and honestly we were spoilt for choice! They're like your one stop shop for all things baby whether it's some Nursery furniture, a pram or some toys! We went for the Boori Eton range for a multitude of reasons! Of course we loved the classic design and the quality it just incredible! Then there's the longevity of the pieces, the cot turns into a cot bed and then you can purchase a few extra pieces to transform it into a double bed, which I found incredible!! The changing top on the chest of drawers is also a seperate piece attached from the back which doesn't affect the top so once removed, is just a beautiful set of classic chest of drawers. Basically, all being well this set of furniture should last her a lifetime or at least a very long time!!!
We added an under the sea themed pink mobile from Little Dutch again Via Natural Baby Shower and I love the touch of pine with the white, you can also get it with the white arm and with different coloured attachments! Then with the pine in the mobile we also added pine frames on the walls and a pine stool to bring some warmth into the room so it wasn't totally white!
We went for a wipe clean changing mat from Mama Shack again via Natural Baby Shower and this was actually one of the first things we picked for the nursery and I still love it so much! I love the monochrome animals, we went for something monochrome because we didn't know what gender baby we were having at that point! It fits in the gap perfectly and I think wipe clean is definitely the way to go! We also got the matching travel changing mat which we're going to keep downstairs so we have one for quick changes down there too!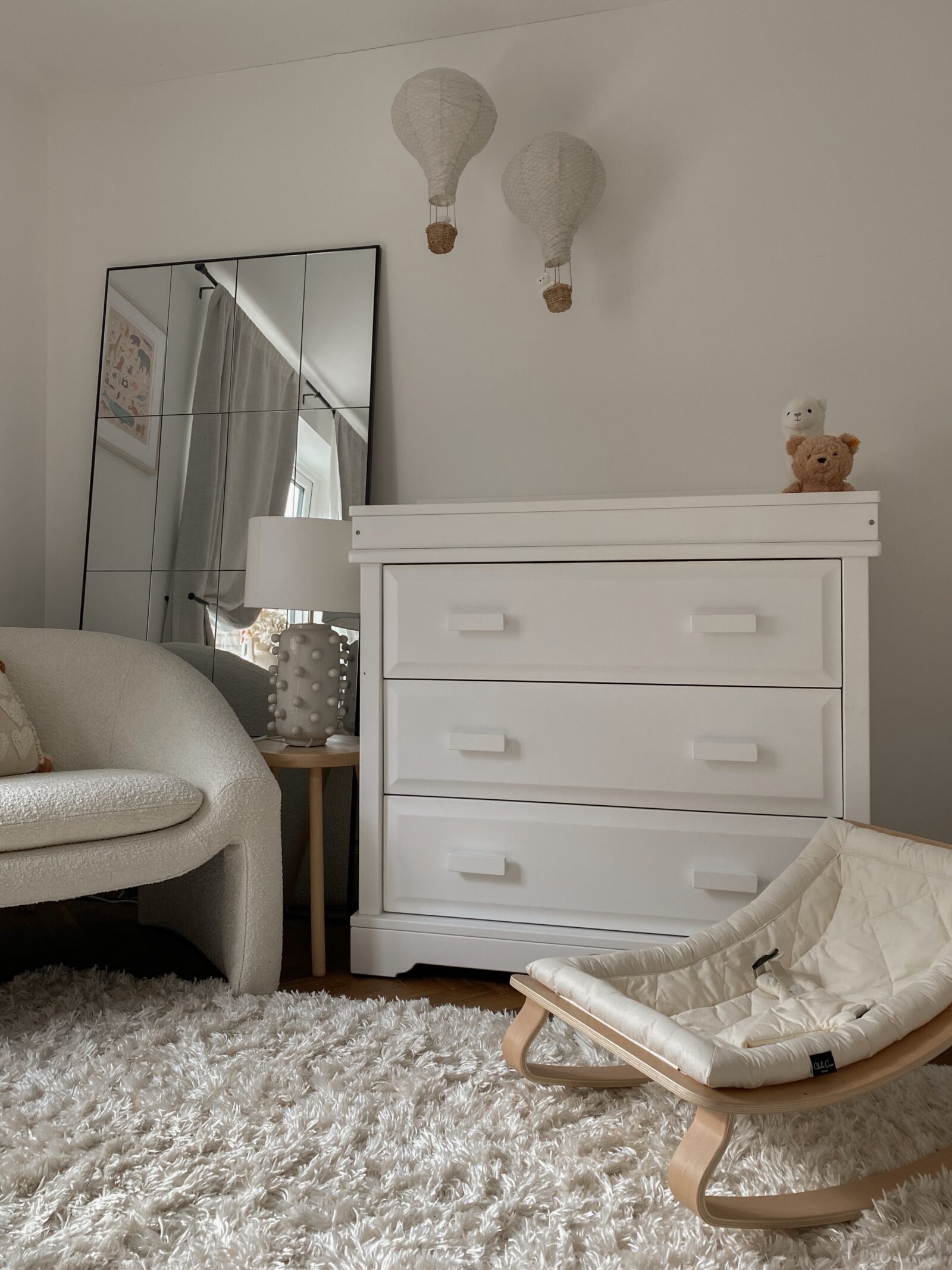 As soon as I laid eyes on this Charlie Crane Rocker I knew I had to have it! Have you ever seen anything so pretty!? Realistically this will probably be in the living room more but I wanted to show it off in this post so for now it's in the nursery! This was also via Natural Baby Shower and you can get different coloured wood or fabric but we went for the pine again to tie it in with the rest of the room and then you can't go wrong with cream can you! I think she'll be spending a lot of time in here!
We also decided to add a rug in here, we got the Parquet flooring from this company just over a year ago but felt it was a bit hard and cold so we added a rug to warm and soften up the Nursery decor! This was a cheaper rug as we knew it's probably going to get a lot of stains on it so we didn't want to break the bank! I was actually quite impressed for the price!!
Then we have the chair, the piece de resistance and the thing that really held up the nursery decor for soooo long! We ordered this back in September with a 3 month lead time which back then felt like a long time. Fast forward 6 months and wow, 3 months would not have been that long! Anyway, it arrived a month before my due date thank goodness and it's actually really pleasantly surprised me! We paid less than £400 for it and it's a lot bigger than we thought and despite it looking like a very "aesthetic" chair, it's actually super comfortable too! We added this little cushion from the Zara Home sale for a finishing touch, it matches perfectly with the little borg hearts!
Then because this is going to be the little feeding/nursing/cuddling corner we added this little pine stool with a lamp so it can be a cosy little nook, a basket full of blankets, muslins and teddys and decorated a little with this pink print and this gorgeous William Wood mirror. If you hadn't already noticed I love a mirror and just feel like they really add something to a space!
PRODUCT LINKS
Boori Cot Via Natural Baby Shower : Here
Cot Mattress : Here
Moses Basket : Here
Dog Teddy : Here
Bunny Teddy : Here
Little Dutch Mobile Via Natural Baby Shower : Here
Ewan The Dream Sheep : Here
Animal Prints : Here
Boori Changing Table Via Natural Baby Shower : Here
Mama Shack Changing Mat Via Natural Baby Shower : Here
Llama Teddy : Here
Brown Steiff Bear : Here
Hot Air Balloons : Here
Rug : Here
Charlie Crane Rocker Via Natural Baby Shower : Here
Little Dutch Pink Shell Playmat Via Natural Baby Shower : Here
Mamas & Papas Teddy Rocking Horse : Here
William Wood LUCCA Mirror : Here
Boucle Chair : Here
Heart Print Pillow : Here
Pine Stool : Here
Bobble Lamp : Here
Pink Animal Print : Here
Basket : Here
Cam Cam Copenhagen Pink Muslins Via ScandiBorn : Here
Similar Curtains : Here
Curtain Tie Backs : Here
Watch My Nursery Decor Tour