First of all HAPPY FRIDAY GUYS! Am I the only one that thinks a 4 day week always seems longer than a 5 day week? Anyway, hallelujah the weekend is coming and the sunshine is staying, what are your weekend plans?!
I wanted to share with you my thoughts on the new Charlotte Tilbury filters collection because it's pretty darn special and a couple of these products have now wormed their way into my everyday make up routine and established themselves as firm favourites. Those clever little products.
Click on the images below to be taken directly to the product pages!




The Charlotte Tilbury Filter Collection
So the Charlotte Tilbury filter collection consists of 3 key products. The Hollywood Flawless filter, the Bigger Brighter Eyes and the Pretty Youth Glow Filter. Essentially, Charlotte wanted to bring to life those insane instagram filters that make you look like a perfectly made up doll when actually you're hungover and feeling like a bag of crap. What we've all been waiting for, for basically our whole lives right?!
Click on the images below to be taken directly to the product pages!




Hollywood Flawless Filter
So the Hollywood Flawless Filter has to be my number one babe from this collection. I've always enjoyed using highlighters but I'd say I'm a bit of a highlighter slut in that I change it depending on my mood and basically whichever is easiest to grab that day. This has all changed. Since the day of the Charlotte Tilbury Filter Collection launch in a mirrored room in the basement of the hottest London spot and I left clutching this bad boy tightly in my mitts, I haven't let go.
This goes on every day without a doubt.
I don't like to put the liquid on, on top of my powder so I generally add this on after my foundation and contour, before I set it. If i'm feeling extra buji I add a layer of the highlight from Bronze & Glow too, just to make sure I blind passers by. I know you can also use it for touch ups in the day or mix it in with your base for a real glow, something I haven't tried yet but for sure I will. I also think it would look insane in the corners of your eyes to make them pop and really get that insta filter effect!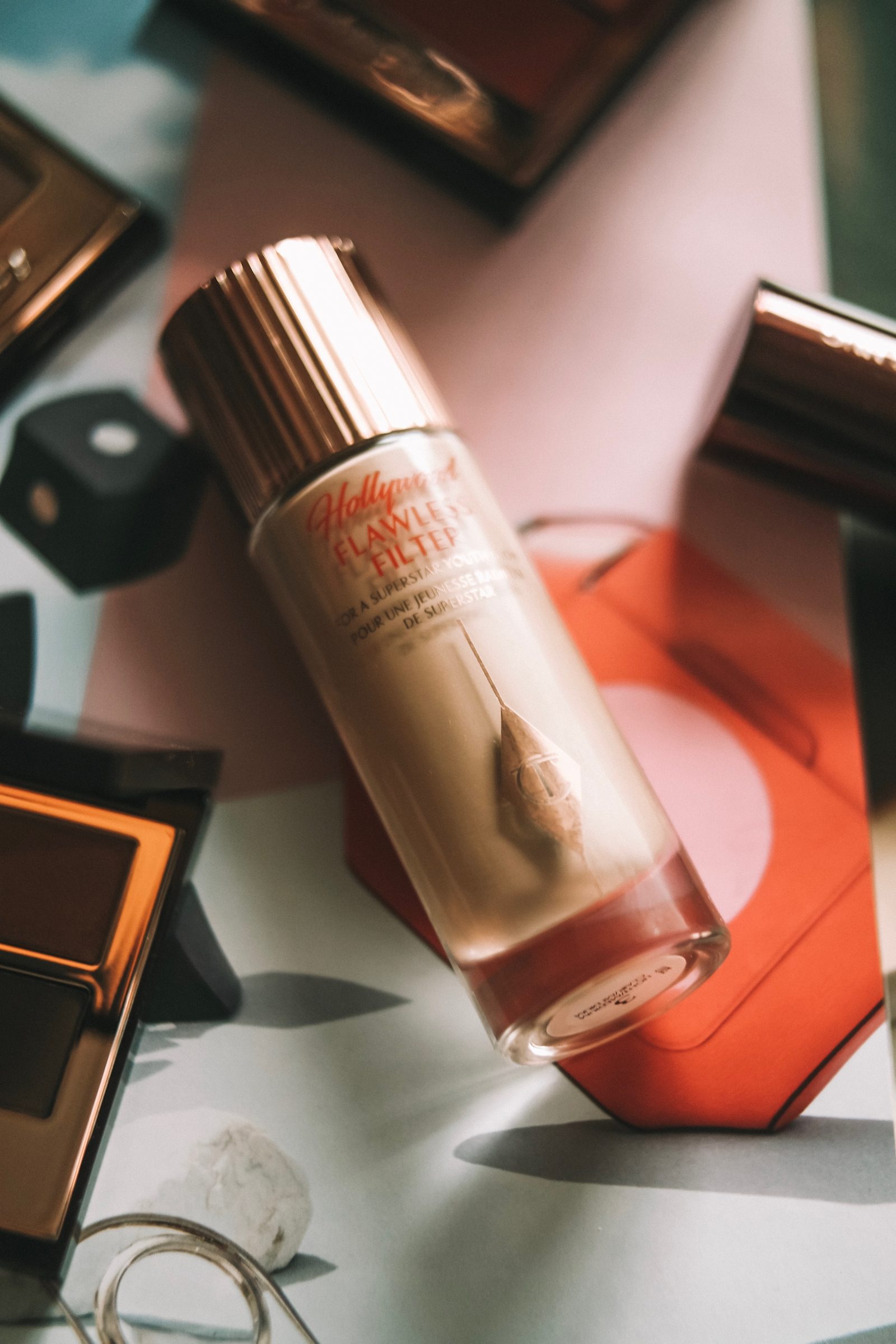 Bigger Brighter Eyes
This one pretty much does what it says on the packet. Bigger, brighter eyes. . . The palette in the below image is hands down my absolute favourite. The shades are so wearable and thank god I shot this before I started using it because I've been using it daily and it's an absolute mess right now.
Without a doubt I will always use the highlight type shade – I'm clueless I know – whether it's all over with nothing else or just in the corners of my eyes to make them pop and brighten them up. The other top shade I love it the bronze for my crease or again as an all over colour for a really simple look and if I'm really feeling fancy and want to go the extra mile I'll add the matte brown shade in the outer corners for a neutral, slightly smokey look. The glitters for those special occasions am I right?!
Like the Hollywood Flawless Filter this one has 100% become a part of my daily routine whether i'm using 1, 2, 3 or all 4 shades. I haven't used another eyeshadow in over a month!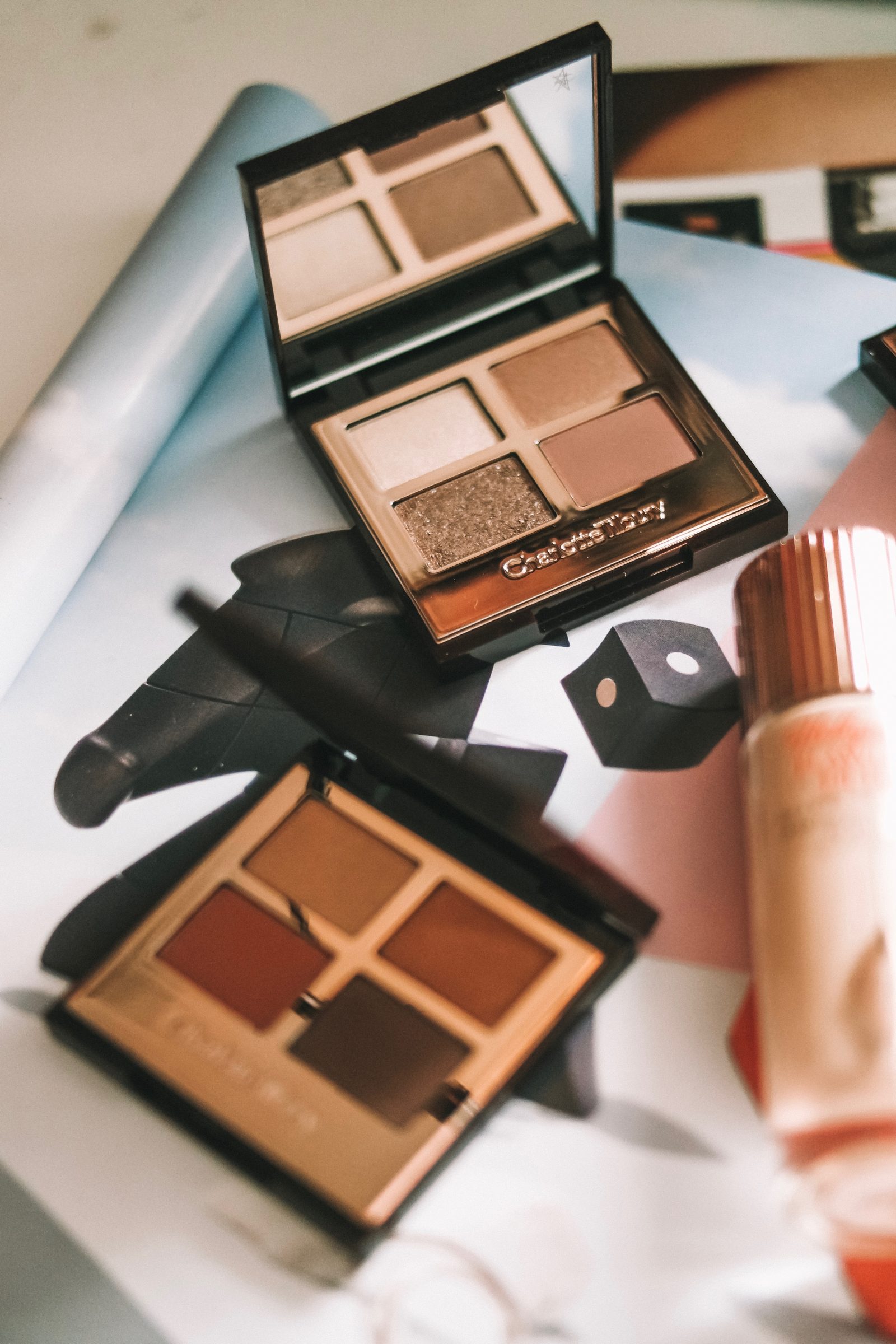 Pretty Youth Glow Filter
The Pretty Youth Glow filter is probably my least used of the three products due to me not being a blush person, and even less being a cream blush person. The shades are gorgeous and the cheek hugging brush is something I couldn't have dreamt of but for some reason I don't find myself reaching for it.
I would love your guys tips on how and when is best to apply a cream blusher. Is it a final touch or should I add it with my base, contour and highlight before I add the finishing powder!?
SHOP THE POST
Click on the images below to be taken directly to the product pages!




MY CHARLOTTE TILBURY WISHLIST
Click on the images below to be taken directly to the product pages!




PS YOU MIGHT LIKE THIS
Testing Charlotte Tilbury Make Up | First Impressions
3 Ways To Wear The Cami | Spring Outfit Ideas
Why Chloe Nomade Should Be Your Spring Scent
CLICK HERE TO FOLLOW ME ON BLOGLOVIN'