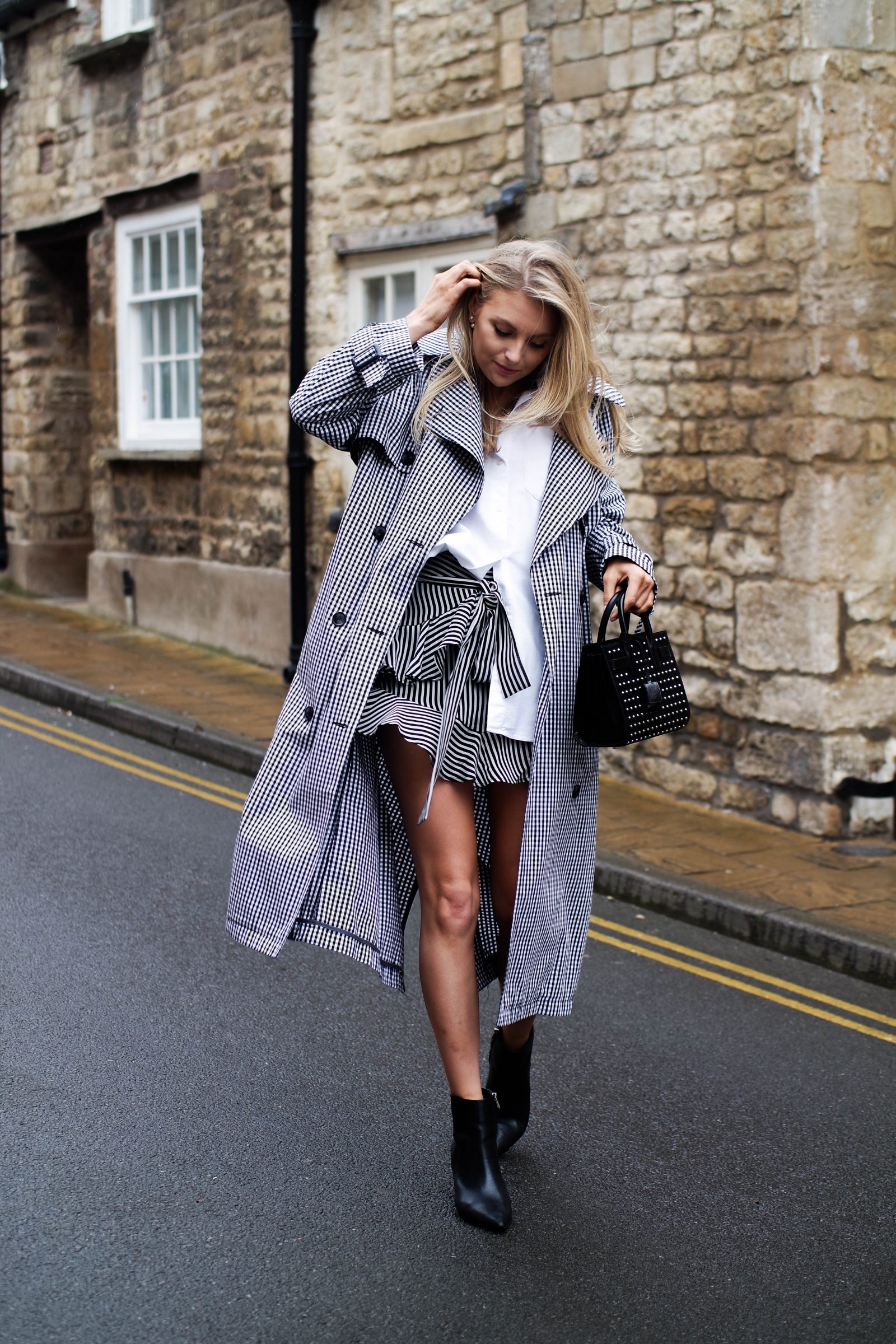 When it comes to outfit planning I'm very much an of the moment kinda gal. I wish I could plan in advance but it's just a complete waste of time, I always change my mind in the morning. Which is why I always need to be prepared for any outcome. Those legs have gotta be tanned and smooth ready for my last minute skirt decisions, especially when the weather's as unpredictable as it is right now! Enter Panasonic IPL hair removal system. Absolute – Game – Changer.
So I put this skirt on because the sun was shining and I was getting pretty damn fed up of my jeans. Obviously I'm not completely off of my rockers so I added the trench as a precaution, or so I thought. 10 minutes later and it's a full on storm, yes, it was raining when we shot these pictures. Anything can happen in the UK and when it comes to getting your legs out, you've got the be prepped and ready to whip them out at a minutes notice, and put them back away again as fast as they came out!
Outfit Details
*Coat : Next
*Shirt : &Other Stories
Skirt : Topshop
*Boots : &Other Stories
Bag : Saint Laurent at Bicester Village
*Panasonic IPL : Here
*Tan : Vita Liberata
Panasonic IPL At Home
When Panasonic came to me and offered me to try the IPL at home hair removal system, I jumped at the chance. It seemed like the perfect answer to my smoother spring leg quest. Though these new tools are available and super easy to use, 68% of over 55's wouldn't consider using at home treatments claiming it's "too much effort". Which to me is crazy, as someone who fit's firmly into the "never been to a salon for hair removal" category I can't imagine anything worse than having to get ready, put clothes on and then bare my gross hairy legs to a stranger. I've also been loving this for hair removal on my bikini line and armpits. Call me prude but the thought of getting those out in front of a stranger is not my idea of a good time!
I've done a little round up of how long it takes to do each area so you can really understand how little time and effort it takes, incase you're someone who thinks it's "too much effort"!
Face – 3 minutes
Arms – 5 minutes for both
Legs – 10 minutes for both
Bikini Line – 2 minutes
Armpits – 2 minutes for both
Spreading The Cost
Yes. This is an investment. I'll admit that it costs more than your average BIC razor but the long term effects and benefits laugh in the face of your cruddy old BIC. If you are someone who's already visiting a salon for treatments then this may seem more expensive as a one off, but over time the value for money is insane. The IPL Hair removal system is £349.99 and recommended to last for up to 14 years which if you break it down, gives the tool a £24 a year price tag. Not so pricey now hey? Especially when you add in the fact that the average woman spends around £6,752 on salon hair removal.