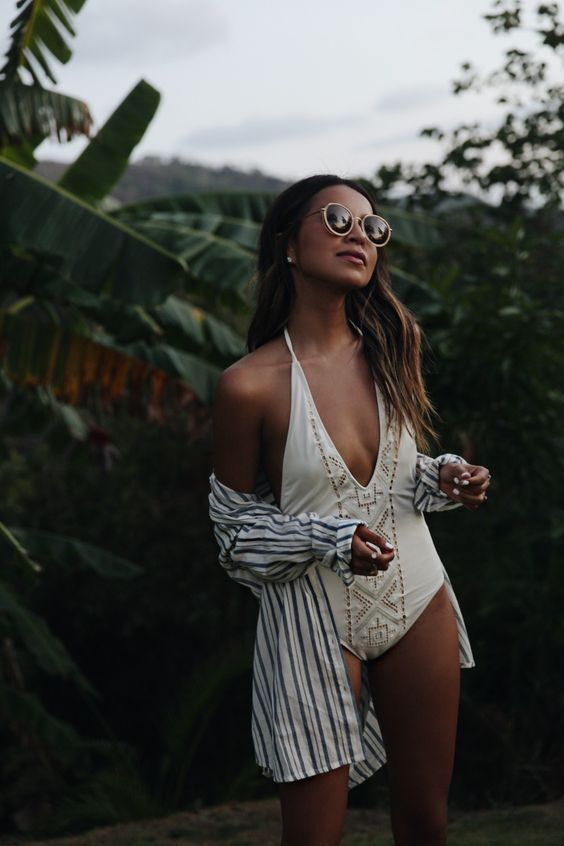 Wanna be swimwear goals but don't have a figure like Kylie (Jenner)? No problem. You see to me, it's not about the figure, it's about how you dress it. Dressing for your shape is a revelation girls and I'm not just talking about Gok Wan putting a belt on it. Me and my sister have just booked onto a cruise (Anchored – check it out it's incredible) and obviously we both went into panic mode. She cut out carbs and started excersizing, I stuffed my face with chocolate whilst excersizing my bank card. We all have different coping mechanisms.

Shop The Post
Dressing for your shape
You may be thinking "who is this skinny b***h to tell me about dressing for your shape?!" but we all have our issues girls. For me, my issue with my figure is my lack of a figure. You see, straight up straight down with no boobs might look good in clothes but out of them? Major 10 yr old boy vibes. For years I've been buying what the hell I want and wearing it in spite of this, but to be honest, I feel like crap around the pool and this cruise is gonna be pretty damn insta worthy. I need to document.
So after having a good old search/stalk/research of all available avenues (mainly instagram) I landed on CollectPlus' Swimwear guide which is pretty damn spot on. It's all about dressing for your shape or accentuate what you do have and hide what you don't (or don't want to show). For me, I've realised that a swimsuit is the perfect way to flatter my figure, that or a high waisted suit.
One tip I do have for a bikini if you're smaller on the bust like myself, get a tie back one. It's so much better for fit and makes sure you don't get gaping, the fear of all bikini wearing small breasted girls! If I do so happen to get distracted by a beautiful 'kini I'll just have to make like Sincerely Jules and nonchalantly drape a shirt across my stomach, hey, it still counts as dressing for your shape right?! Always thinking of those insta shots!
I'm super excited to be going away again as the last time I jet off into the sunshine was for 3 months of travelling so it's fair to say I haven't had a proper relaxing holiday for forever! CollectPlus are my absolute saviours when it comes to holiday shopping (and my general shopping habit to be fair!). When I went travelling I found it super helpful that I could get all of my parcels delivered to one place (the shop around the corner – super handy) and pick them up at once when I finished my errands for the day. See I may work from home technically but I'm forever out shooting, shopping and going to meetings, please tell me you know the rage when you pop out for 10 minutes and come back to 20 parcel slips?!