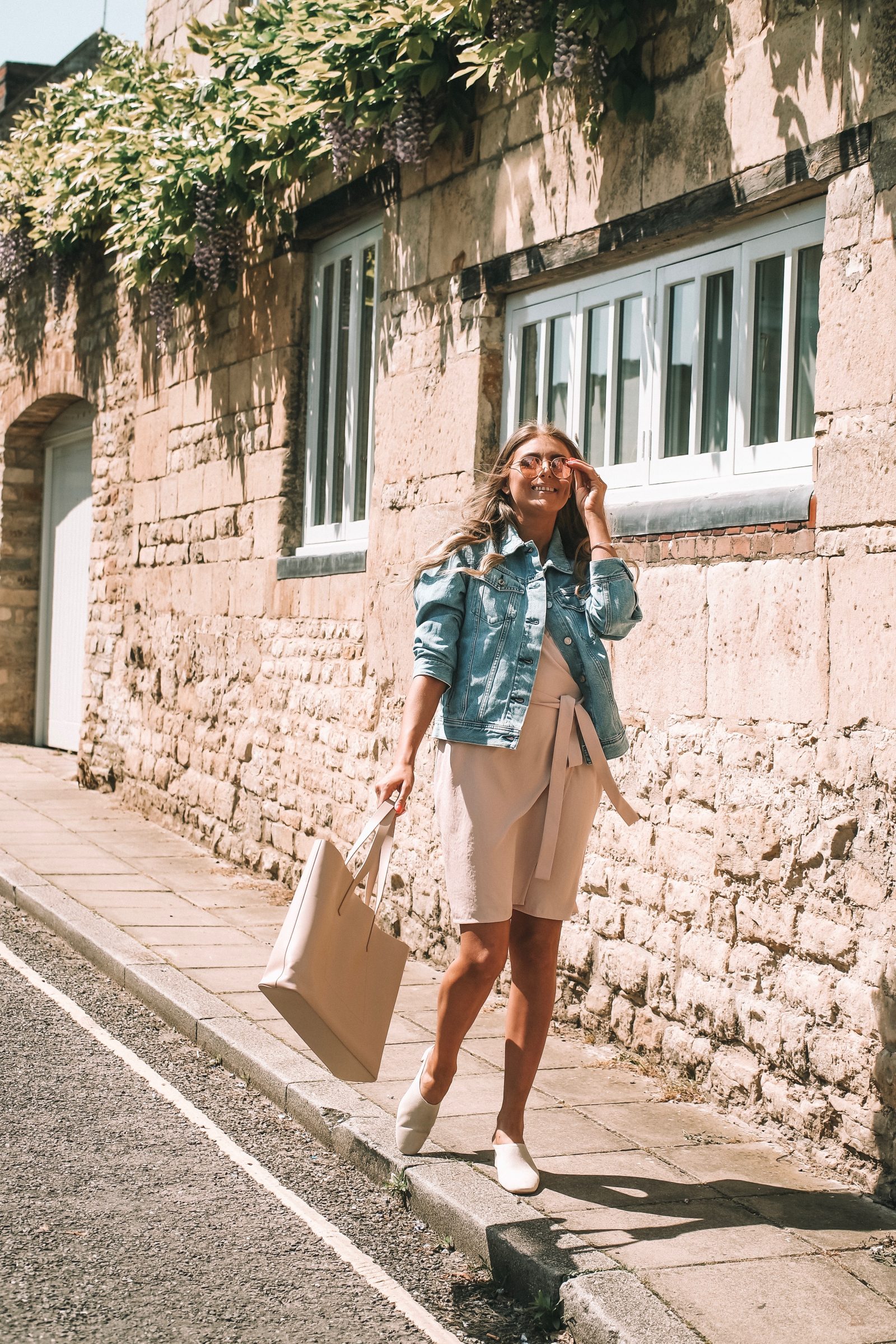 Stealing Meghan Markle's style. A hot topic considering the date no? Well I'll have you know that this is exactly the same tote bag as the lady herself though if I may say myself, I picked a better colour.
If you didn't already know about Everlane and the Everlane Day Market Tote before, that shot of Meghan Markle leaving the Invictus Game, Tan Everlane Day Market Tote on one arm, Prince Harry on the other, the two ultimate accessories well and truely put this American company on the map.
Finally back in stock after the rampaging royal fans sold it out, the day market tote is the perfect summer accessory and I'm going to tell you why. Plus, this is now a no brainer for us Brits with Everlane announcing free shipping to the UK on all orders over $250 . . well we've got to celebrate the Royal Wedding one way or another am I right?!
Click on the images below to be taken directly to the product pages!

Stealing Meghan Markle's Style With Everlane
If there's one thing Meghan Markle has been praised for it's her incredible style that oozes cool girl. She's about to be a Royal and she still rocks up to events in ripped jeans, this girls not messing about. Apart from winning our hearts, she's also won control over our bank cards, move over Kate, and though not everything suits everyone we can all agree that a classic tote bag is not only a wardrobe must have and quite frankly an investment, but it fits and suits everyone. Can I get an amen?
Known for her cool girl style I wanted to take a nod to Meghan Markle in this outfit so I chose the perfect Royal dress, from the Everlane $100 wrap dress collection in a pretty blush tone for summer. I then added a denim jacket and a co-ordinating Everlane day market tote bag in the blush again of course, to finish off the look in a way that I'm sure the lady herself would approve of. I'm ready Harry.
The Everlane Day Market Tote
The bag that's got more of an online presence than me, the Everlane day market tote. She come's in a variety of shades in 100% italian leather. Meghan Markle went for the cognac which she wore with a super laid back outfit, blue jeans and a white shirt. Something I myself very much approve of. I however went for a pale blush tone to match this outfit and pretty much everyhing else in my wardrobe. I thought it was perfect for the summer months though I've been known to spend my winters in a variety of cream knits so let's just say this ones a keeper.
I already know as I'm writing this that tomorrow I'll be taking it as hand luggage on my holiday, the perfect size for a light layer, a laptop and a book without awkwardly over spilling is the hand luggage dream. I'm usually that girl with an overflowing canvas tote that I got as a goody bag bursting at the seams. This is much more chic.
I've linked all of the different shades below so you can indulge in your options. I was actually torn between blush, rose and red for this outfit. Pink could create a gorgeous tonal look whereas red could have been a fun colour clash. Ultimately I went safe with a co ordinating bag because we all know I can't resist a blush bag!
Click on the images below to be taken directly to the product pages!




OUTFIT DETAILS
*Everlane Denim Jacket : Here
*Everlane Dress : Here
*Everlane Shoes : Here
*Everlane Day Market Tote : Here
*All items marked with an asterix were kindly gifted to me!
Click on the images below to be taken directly to the product pages!




This is a paid collaboration with Everlane X Reward Style though all thoughts & opinions are my own
PS YOU MIGHT LIKE THIS
3 Ways To Wear The Cami
What I Wore at The Reward Style Conference
Why Chloe Nomade Should Be Your New Spring Scent
Click Here To Subscribe To My Youtube Channel