I was very lucky to be contacted by House of Fraser a couple of weeks ago about trying out some new bit's of make up from Giorgio Armani. Now I'm not a big beauty enthusiast, nor am I an expert, but I am starting to do beauty posts and I do want to know my shit, and I will know my shit, eventually.
Hey, everyone's got to start somewhere right?! I do actually use make up as well so I feel like, as a make-up using/wearing woman, you may be interested in my opinion . . did I convince you to keep reading yet?!
I'm used to using the Mac Studio Sculpt foundation which, I was in the opinion of it being lightweight but apparently it isn't, it's pretty darn heavy. Which may be why I was a bit underwhelmed by the coverage of this one, to be fair it is a totally different texture to my usual foundation. This one is a lot more lightweight and spreads really easily, which means you don't have to use a lot.
The glow it gives is amazing, although when I first put it on I wasn't convinced, my boyfriend said he preferred it to my usual one . . not sure if his opinion counts, I tend to think he just says what he thinks is the right thing to say.
I always like my foundation to have SPF in it, gotta protect against ageing ladies, and the pipette is good for measuring how much you need, no wastage is never a bad thing!
Why does make up come in such flatlay worthy packaging, I'm not ashamed to say I may be keeping some of this for future pictures, hey, thats how I roll . .
You may have noticed from my previous post about matte lip products that I'm a fan of a matte lip. Having had the pleasure of testing out this high end lacquer, in comparison to the budget products, it's totally worth paying the extra.
The colour is amazing, just look at that pink, it's not too bright, kinda browny and stays just as vibrant on the lips. It goes on so much nicer than the budget ones, it's much easier to control and you can't feel it on your lips the same. You know that tight feeling when you put a face mask on and it dries? That pretty much sums up how the cheaper ones feel.
I'm pretty much in love with my current mascara, so I feel like this one never really had a chance. OK, the packaging is beautiful and we all know I'm a sucker for a pretty picture, but I'm just not sure it's the right mascara for me.
It's easy to use, the brush is good and easy to control, I didn't get mascara all over my eye lids, it coated them well, my lashes look good, it certainly ticks all of the boxes. But I'm sorry Giorgio Armani, my heart was already taken, you never really had a chance.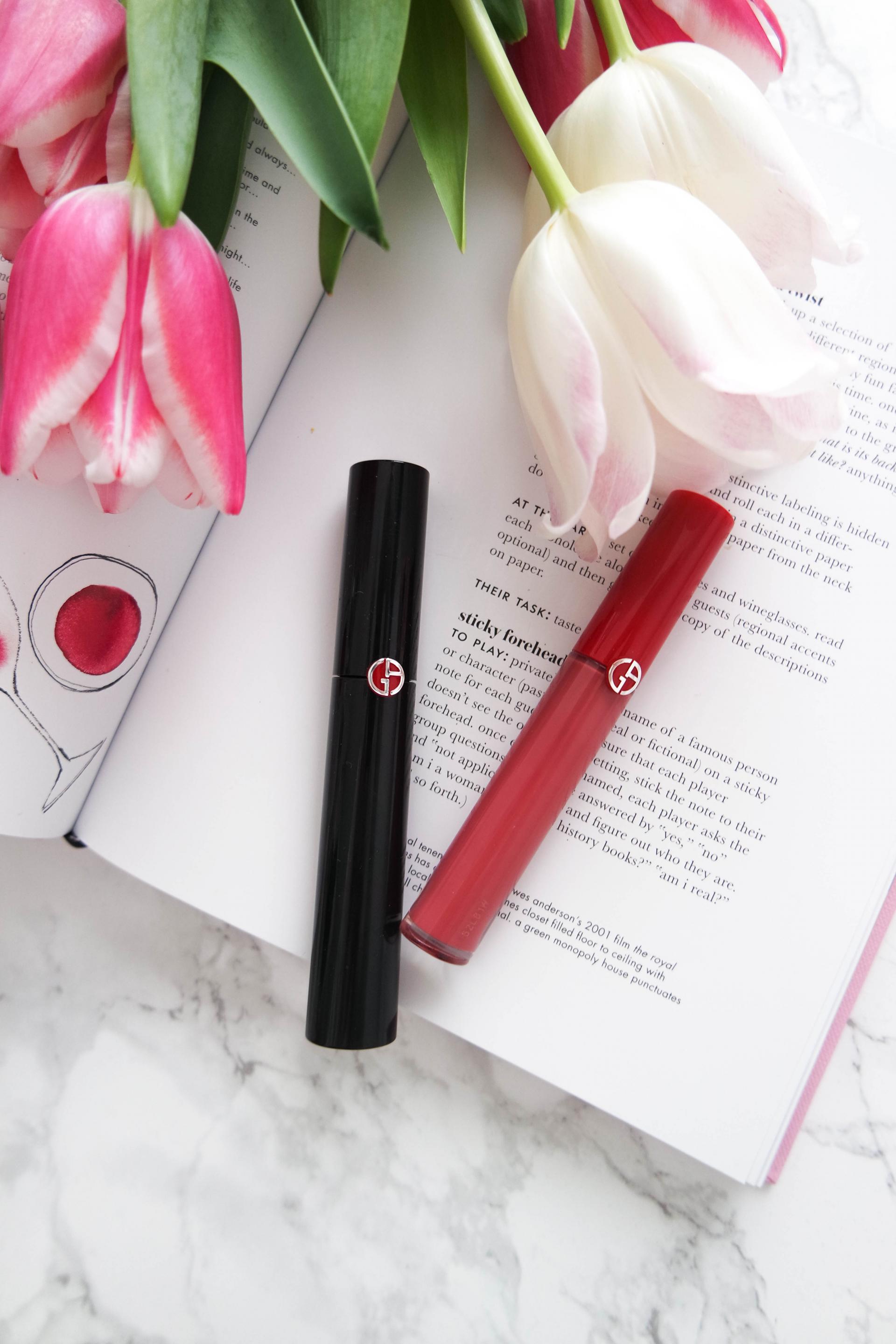 Giorgio Armani // Si
I haven't loved a perfume this much since I discovered Viktor & Rolf's Flowerbomb. It's so nice I want to spray my pillow with it and sniff it as I drift off into a delightful dream, check out that alliteration.
But seriously, I've been wearing it for a week and already everyone I know wants to buy it, slash has been subtly hinting that if I don't like it they'll take it off my hands. This baby ain't going nowhere. This one's a keeper.
I'm going to try and describe the scent so bear with me – you may be confused and need to visit your local House of Fraser to try for yourself.
It's a very light scent, it's sweet but not sickly. I feel like it will be perfect for spring. . let me quote the House of Fraser website because I am awful at this. "Chic, sultry, intense and soft at the same time" – yeah . . that!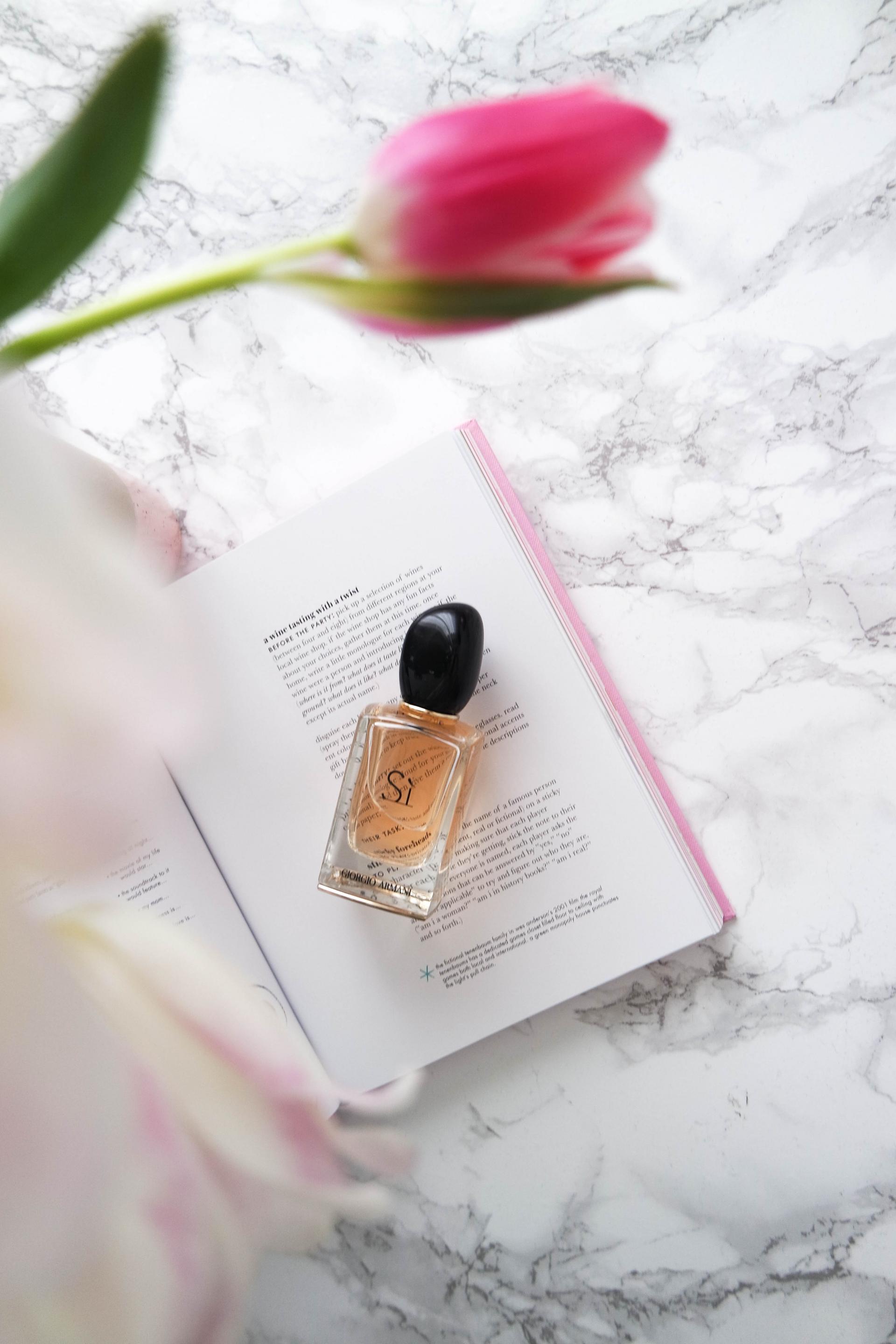 *Giorgio Armani Maestro Glow Foundation : House Of Fraser
*Giorgio Armani Lip Maestro : House Of Fraser
*Giorgio Armani Lash Ecstasy : House Of Fraser
*Giorgio Armani Si : House Of Fraser
For more beauty, yep, it's coming, follow me on Bloglovin' where you'll also find lots of posts on fashion, mindfulness and blogging tips! I am also now on Youtube and did a blogging Q&A last week which you may or may not be interested in!? I would love for you to check out my channel as I'm still new to the whole youtube game and maybe, you could even subscribe?