I don't know about you but when I start packing for a holiday, I always seem to realise that I need to go shopping. Yes, need to go shopping. As I recently won my Topshop voucher I went a bit crazy buying holiday stuff in there but I thought I would share with you my favourite pieces at the moment. I've also included my lace cold shoulder cover up, my ebay gem! I think it was only around £4 which is so cheap for something that's all over the high street at the moment. Even if you haven't got another holiday this year I suggest purchasing for next year, do cover ups ever go out of fashion!? However, I will just mention that I use the words cover up very loosely, it doesn't cover a lot!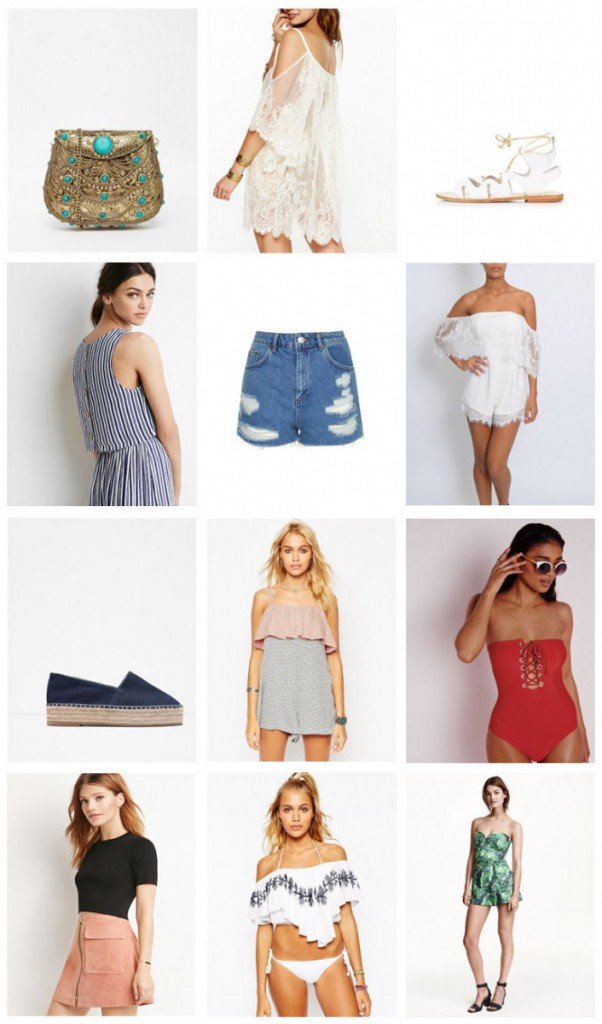 1. Metal Bag : Asos
2. Cold Shoulder Lace Cover Up : Ebay – I put this on my instagram a couple of weeks ago, such a good find!
3. White Gladiator Sandals : Topshop – I'm in love with my tan sandals and would buy them in every colour if I could!! The white ones are my favourite
4. Striped Crop Top : Forever 21
5. Ripped Denim Shorts : Topshop – I've officially found the perfect pair of denim shorts
6. Lace Playsuit : Rare London
7. Espadrille Shoes : Zara
8. Mix Match Print Playsuit : Asos
9. Red Lace up Swimsuit : Missguided
10. Suede A Line Skirt : Forever 21
11. Ruffle Gypsy Top : Asos
12. Palm Print Playsuit : H&M – I saw a pair and a spare wearing this and I instantly fell in love!