This post is in collaboration with Lacoste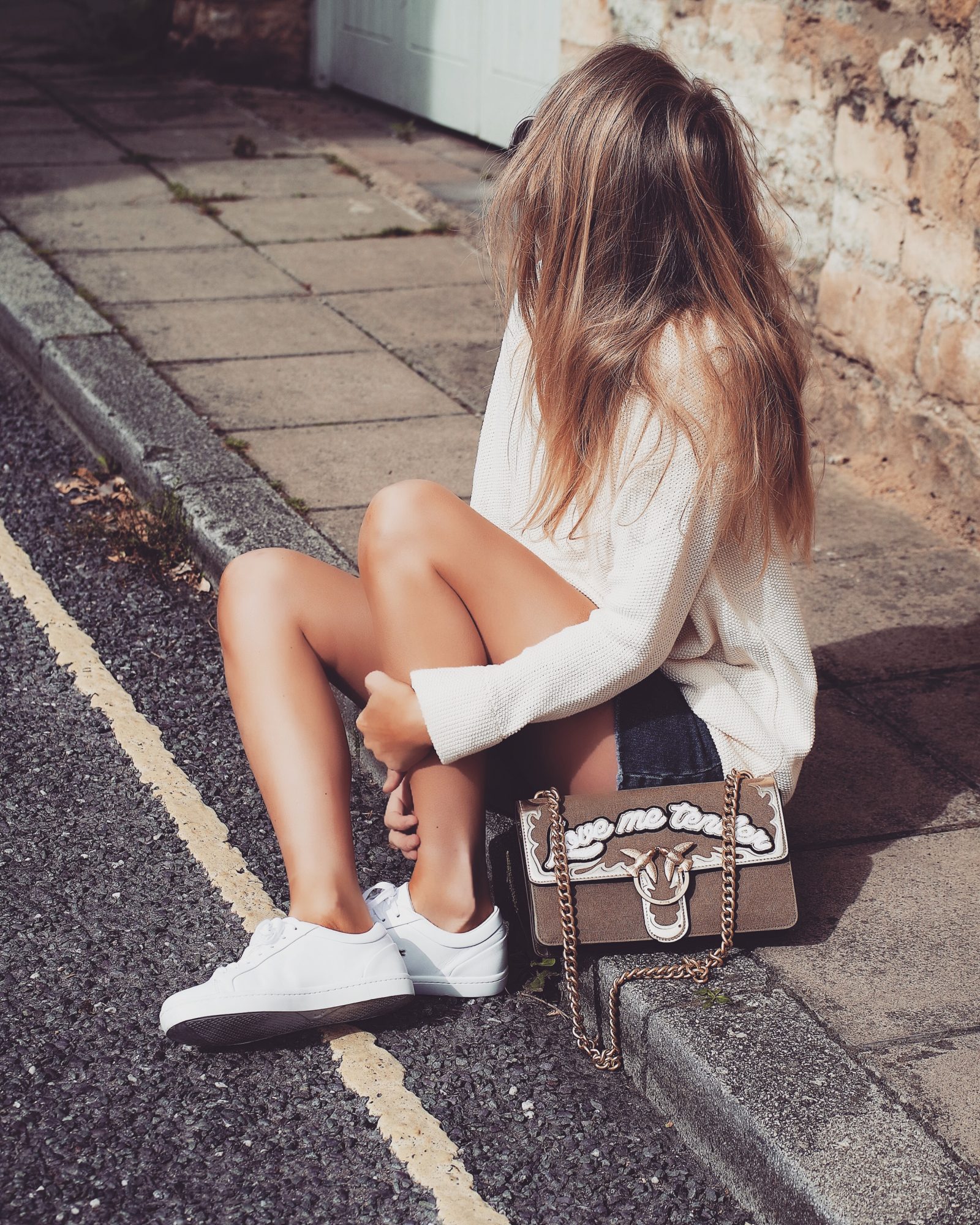 Lacoste. Not a brand I've ever really taken that much notice of in the past. Often I've dismissed them as too preppy (funny as that's how a lot of people describe my style) and for sporty people of which I am not.
That is until they released a collection Made For Her. Then I sat up and listened. Shoes designed for comfort and not being funny guys but the ones I picked had rose gold on them. I'm a blogger, it's in my blood.
Actually I picked two pairs, because life's too short to be making tough decisions, get them both.
Never Fully Dressed Without A Smile
For me, comfort isn't always the highest in my priorities when shoe shopping. Interesting as someone who never wears a bra, buys all clothes 2 sizes too big and lives and dies for my slippers. Anyway, the £800 pair of boots that I still can't wear for more than an hour are proof of this. Let's face it, comfy shoes are usually fugly.
Now when I saw that the new Made For Her collection from Lacoste was specifically designed for women not just in terms of fit but also in design. Fashion forward trainers, now that's what I'm talking about.
Anyway, back to what I was saying before.
Comfort. Since I got these, those £800 boots are gathering dust like nobody's business. A pair of shoes that I can just spontaneously decide to walk home in? Stay out longer? Suddenly drinks in London after my meeting's don't seem like a horrible idea as I limp through the underground stations. I'm free.
You see the boots look good and all, but the smiles are fake. My blisters weep and so does my wallet every time I take a step. These look good and make me smile and quite frankly . . I'm sold.
When I'm comfy, I smile.
The Rose Gold Sports Luxe Lacoste
Now let us talk about the styles. These of course were the obvious choice for me, as a blogger I feel I'd be going against my natural instinct to not reach for the rose gold style.
When I first put these on I was overwhelmed with how comfy they were. It's like tiny memory foam cushions had been laid out in the shape of my feet that sang out every time I took a step. If you've seen the state of my feet, scars n'all, you'll appreciate that it's something I've not really experiences before. Even my adidas superstars are a size too small because they looked cuter.
At first I had no idea how to wear them, me not being a trainer connoisseur and all that, but actually, trainers go with everything. Why did no one tell me this before?! You can dress them up or down depending on your personal style, really making them your own so you are wearing the trainers and they aren't wearing you!
They're 100% true to size and you don't want these too big because the fit is perfectly measured to be super comfy! Basically you want your foot to be in the right place to reap the rewards of the technology behind the shoe y'know? You can pick up a pair here.
The Leather Lacoste Staples
The second pair, I know I'm greedy, are from the same made for her Collection but based around the classic Tennis styles in celebration of Lacoste's heritage. There isn't a brand more synonymous with tennis than Lacoste. Ok maybe Wilson tennis balls but really?
These are a twist on the classics with a more stylish edge, you don't see leather on the court now do you? These have come at the perfect time with the transitional seasons upon us, are you tired of the word transitional yet? But seriously. When it's no longer sandal season and you don't want to jump right into boots, these are so perfect.
I still love them now with the knit & denim skirt but just imagine them with jeans and a chunky knit . . . that one's going in the memory bank.
Again I got my normal size with these and they fit perfectly! It's worth noting with both of these styles I'm a size 8/41 and they don't make my feet look big or make me feel self conscious at all. As someone with big feet I have to be careful what I wear as it can all too often turn out horribly. Basically if you've got big feet, don't worry these are fine. You can pick them up here!
Make sure you let me know if you get any of these I would love to see how you style them! Remember to use the hashtag #madeforher if you do!