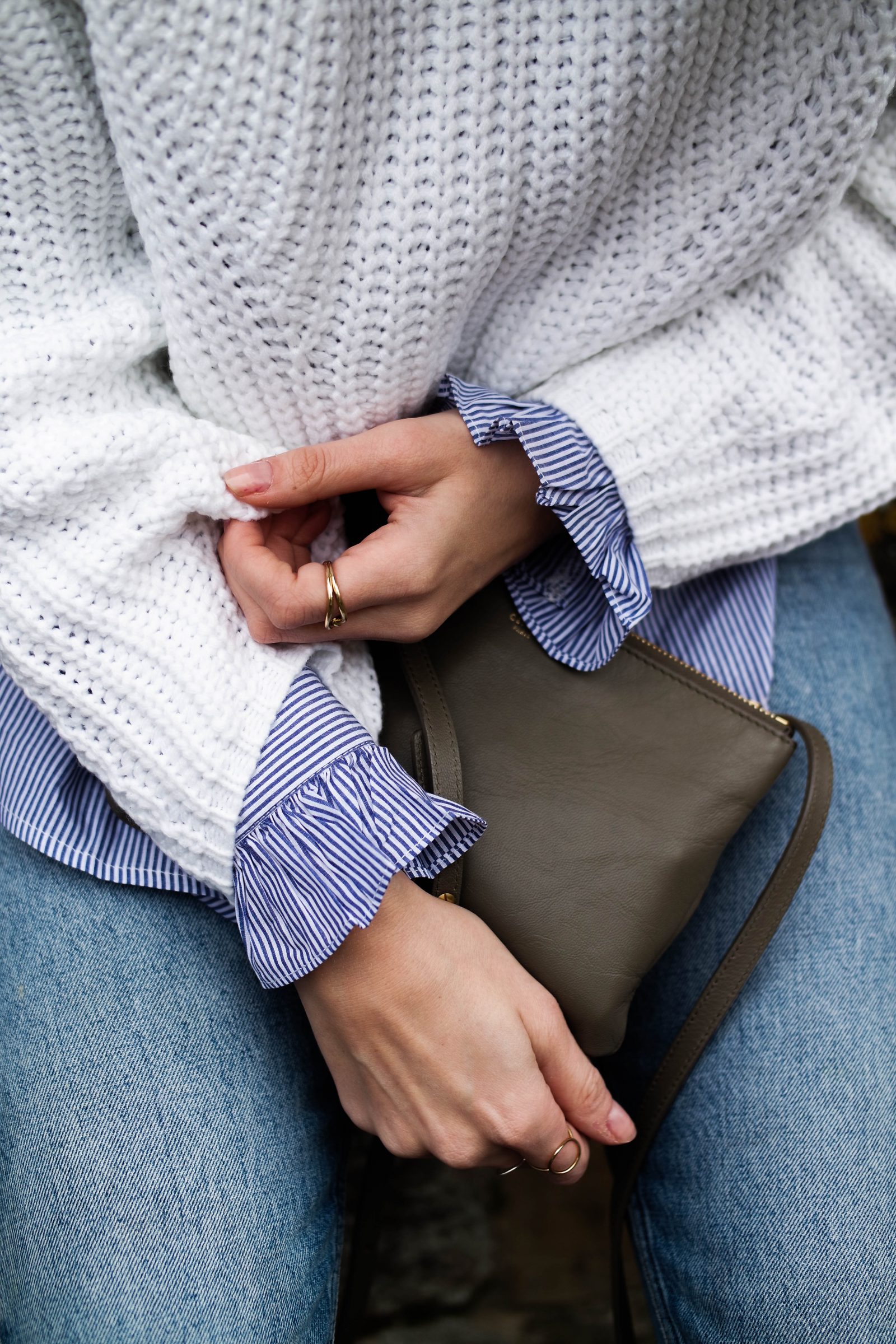 For the first time (that I can remember) I'm going to do a styling series. So basically, instead of doing a ways to wear in one post I'm going to drag it out over three, comprende? Obviously it was going to be about knitwear, I mean duh? I've been inspired by some of the LFW street style shots I saw in the different ways in which to wear your knitwear and mix up those plain old jumpers to give a fresh new look. I mean by February we're pretty sick of the standard jeans and jumper combo right?
Shop The Post
Layering Cropped Knits with Sheinside
When these sheinside beauties popped through the letterbox in unison, I just knew they were meant to stay together. Interestingly, I didn't order them with this outfit in mind. I actually had this knit in mind for layering over cute shirt dresses so you may be seeing more of this, maybe this three part could be four parts??
The blouse I actually ordered because as soon as I saw it I remembered this Mango beauty which I was 100% on my way to buy and thought hold up this ones £11 and pretty damn similar, let me give this a go.
Back to the layering. One of my favourite bloggers Pamallier is always layering cropped knits, she's just a layering pro and queen in general so go check her out! So naturally I've been meaning to try this for a while.
The sleeve part is a hard look to nail, believe me I've been trying for a while. You've got to find a jumper with shorter sleeves (not something I usually look for in a jumper) and a top with long and fancy sleeves to get the perfect balance. The struggle is real people, so real that I have considered buying one of these ready made styles many times.
The best thing about this look? Combined the Jumper and blouse cost around £26!
Outfit Details
*Jumper : Sheinside
*Blouse : Sheinside
Jeans : Monki – Can't find them online but these ones are super similar!
Boots : Topshop
*Necklace : Missoma
Bag : Celine Here and Here / Affordable Alternative Here and Here
*Knot Ring : &Other Stories
Camera : Samsung
Lens : Samsung
My Shoe Babies
So I couldn't do this post without mentioning the new shoes. They're pretty much my pride and joy right about now. I went to Topshop three times and looked at them before I tried them on and as they say, third times a treat. I'd usually go straight for the black but I saw them on Collage Vintage at LFW and I've increasingly been seeing white shoes around which has given me a taste for it.
How I convinced myself they were the ones for me? They're on trend, they've got studs (I love anything with studs) and finally? They're transitional. Anything I can put the label transitional on right now is the perfect excuse because that is the season we're in ladies. I'll wear them now with jeans (maybe even a cheeky fishnet sock if I'm feeling brave) and in the spring with a denim skirt and maybe even this cropped knit? Then in summer to toughen up a summer dress. Have I convinced you yet?
Also, FYI Topshop's shoe game is majorly good right now. So many I've got my eye on, particularly those pearl clad loafers and white mules!
On My Transitional Wishlist . . .
P.S – check out my unboxing of my Saint Laurent Sac De Jour over on my youtube channel now!
P.P.S – Whilst writing this post I made another Topshop order . . . .