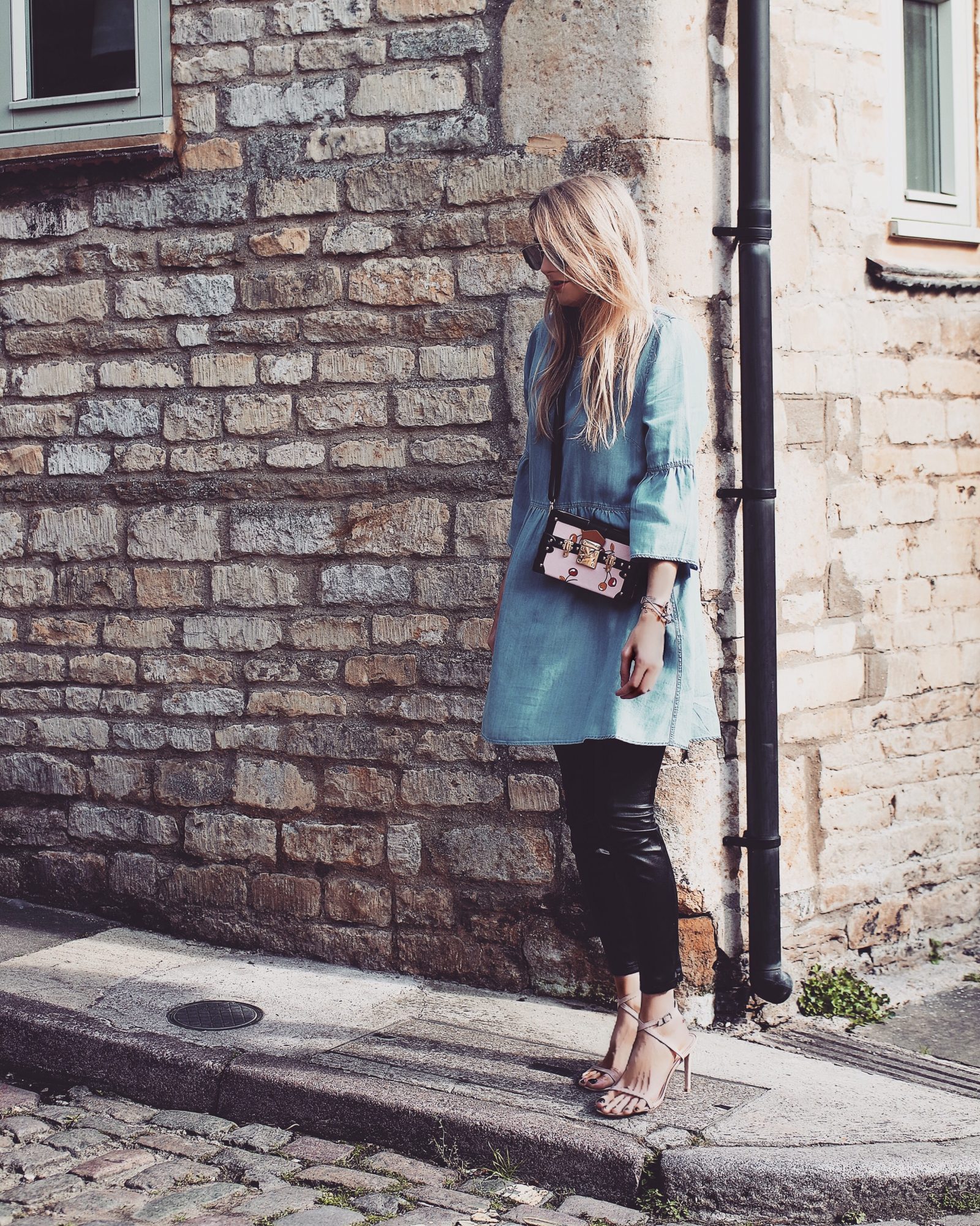 You know me by now, a dress like this you could all probably predict how I'd style it. Supergas or my baleneciaga boots, a chunky knit, a basket bag and some cute sunglasses and we're good to go right? wrong.

LFW Streetstyle Inspired
Inspired by the LFW streetstyle I've been spotting I wanted to try something different. Obviously theres no denying that I would wear it like that as well but I wanted to challenge myself to style this in a different way. Something I loved wearing at LFW and also saw a lot of were leather trousers. For the most adventurous of the LFW Streetstyle fashionistas there were the PVC trousers but I went for the matte leather which not only look amazing layered under the dress, but also keep you pretty warm for the transitional season if you did want to go sans coat like myself. I then added my fave new bag for a pop of colour and heels to elevate the look. I know, I know, you guys aren't used to seeing me in heels right?! These ones are actually super comfy despite the look of them!
What I love about this dress is that it's so versatile. I'm a huge lover of basics and always welcome anything that can be worn in multiple ways, year after year. I don't think this will ever go out of style. For a more casual look I'd do double denim either with a shearling denim jacket or some jeans and boots. I can also see it with heels and bare legs for an evening look and even tucked into a pair of trousers as a top. The options are endless! Let me know if you want me to do a video styling this to show you the different ways I'd wear it!
Outfit Details
I went for the dress in a size 10 for a looser fit but it's actually fairly oversized anyway! The trousers I went for an 8 because those babies need to be T I G H T.
*Laura Ashley Dress : Here
*Faux Leather Trousers : Here
*Nude Heels : Here
*Sunglasses : Here
*Louis Vuitton Dupe Bag : Here
*Henry London Watch (Use Code SINEAD20 for 20% off) : Here
*Gold Daisy London Bracelet : Here
*Silver Pandora Bangle : Here
*All items marked with an asterix were kindly gifted to me

PS – You Might Like This..
Shoes To Make You Smile
Post LFW Wishlist
Transitional Styling Tips
This post is in collaboration with Laura Ashley though all thoughts opinions and creative direction are my own.