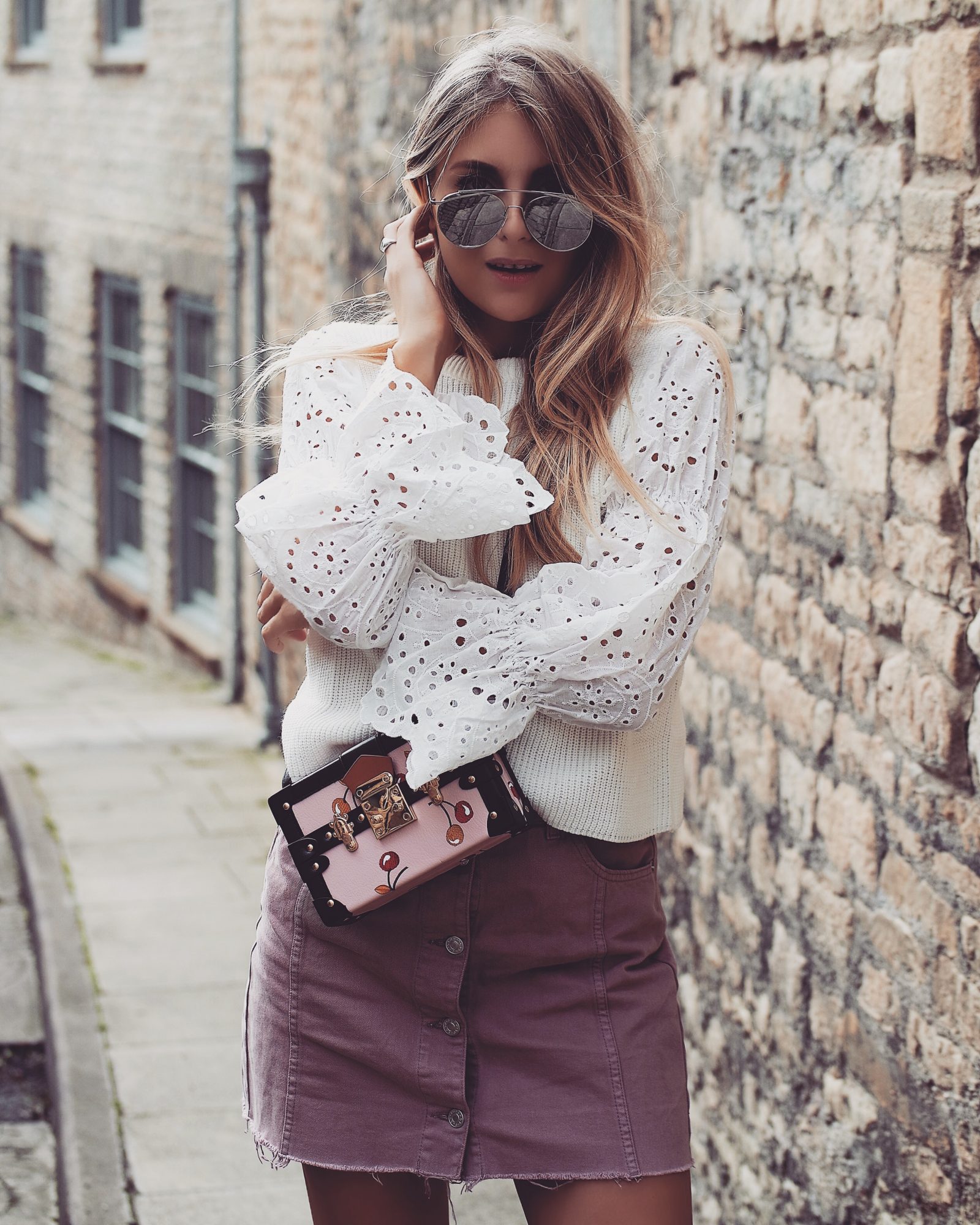 When I think of a Louis Vuitton Dupe I think of the markets in Turkey with that awful rip of print of the classic LV canvas. Louis Vuitton is probably the brand that's been ripped off the most in the scheme of things but not so much on the high street. For Louis Vuitton, its all about the print and it isn't until now that they've necessarily had a recognisable style that screams Louis Vuitton. Enter the Petite Malle.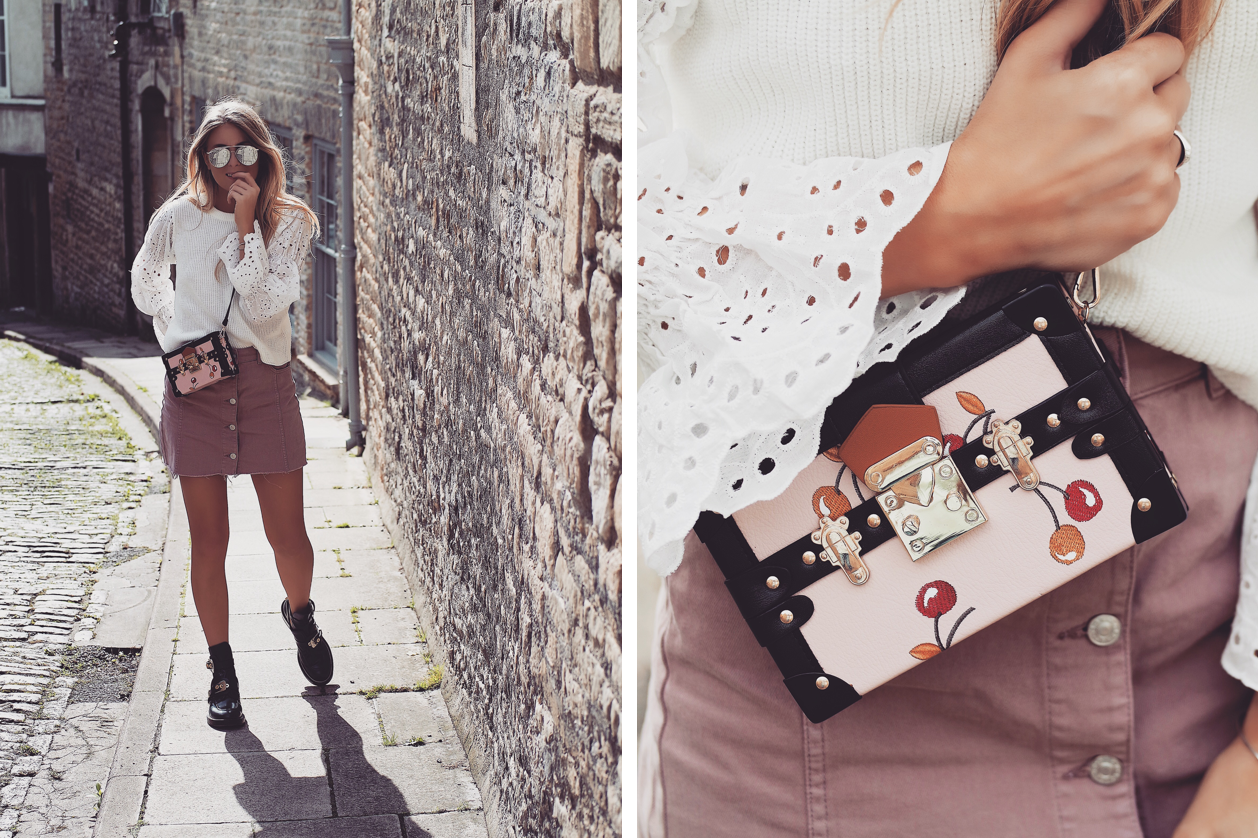 The Louis Vuitton Dupe
I spotted this babe where I spot all of the best dupes, Shein. The shape is Louis Vuitton down to a T but the print is fun and girly making it an obvious dupe. You see dupes are popular now, they're a thing. It's not embarrassing to be wearing a fake bag anymore so long as it's not a complete rip off.
So what, we can't all afford to buy a £3,500 clutch bag that quite frankly only fits a credit card in. As someone who actually owns a Louis Vuitton bag I see no shame in owning a Louis Vuitton Dupe. I invest in the classics and the fun bags like this? Give me a dupe any day of the week.
What I loved about this one is that it has the cherry print which Louis Vuitton did actually incorporate into their classic print one year.
I've gone very trans-seasonal/transitional whatever you want to call it in this look. I'm still not ready to let go of my denim skirt addiction and if anything it's growing (yes I did just buy a new denim skirt at the end of September – I'm that guy). So I teamed it with a fun knit and my trusty Balenciagas which will never not be on my feet.
This knit is also a shein win and cost only £16. Just want you need for now, fun sleeves and a warm body. I also thought this would be a cute piece for layering under summer dresses and when it comes to blue jeans and jumper every day situation, it'll jazz things up.
The jumper is a one size fits all job but I think it would fit between a 6-12 depending on how you want to wear it. It does have a lot of stretch if you wanted to go above those sizes but it would be a much more fitted look. I went for the skirt in a size 10 and it fits a dream.
Outfit Details
*Shein Embroidered Sleeve Jumper : OLD Similar here
*Pink Denim Skirt : Here
*Louis Vuitton Dupe Petite Malle Bag : Here
The Original : Here
Balenciaga Cut Out Boots : Here
Affordable Alternative : Here
*Mirrored Sunglasses : Here
*Silver Signet Ring : Here
*Silver Bracelet : Here
*All items marked with an asterix were kindly gifted to me
P.S – You Might Also Like . .
The Best Dupes on The High Street -September Edition
The Best Dupes on The High Street – August Edition
Shoes that make you smile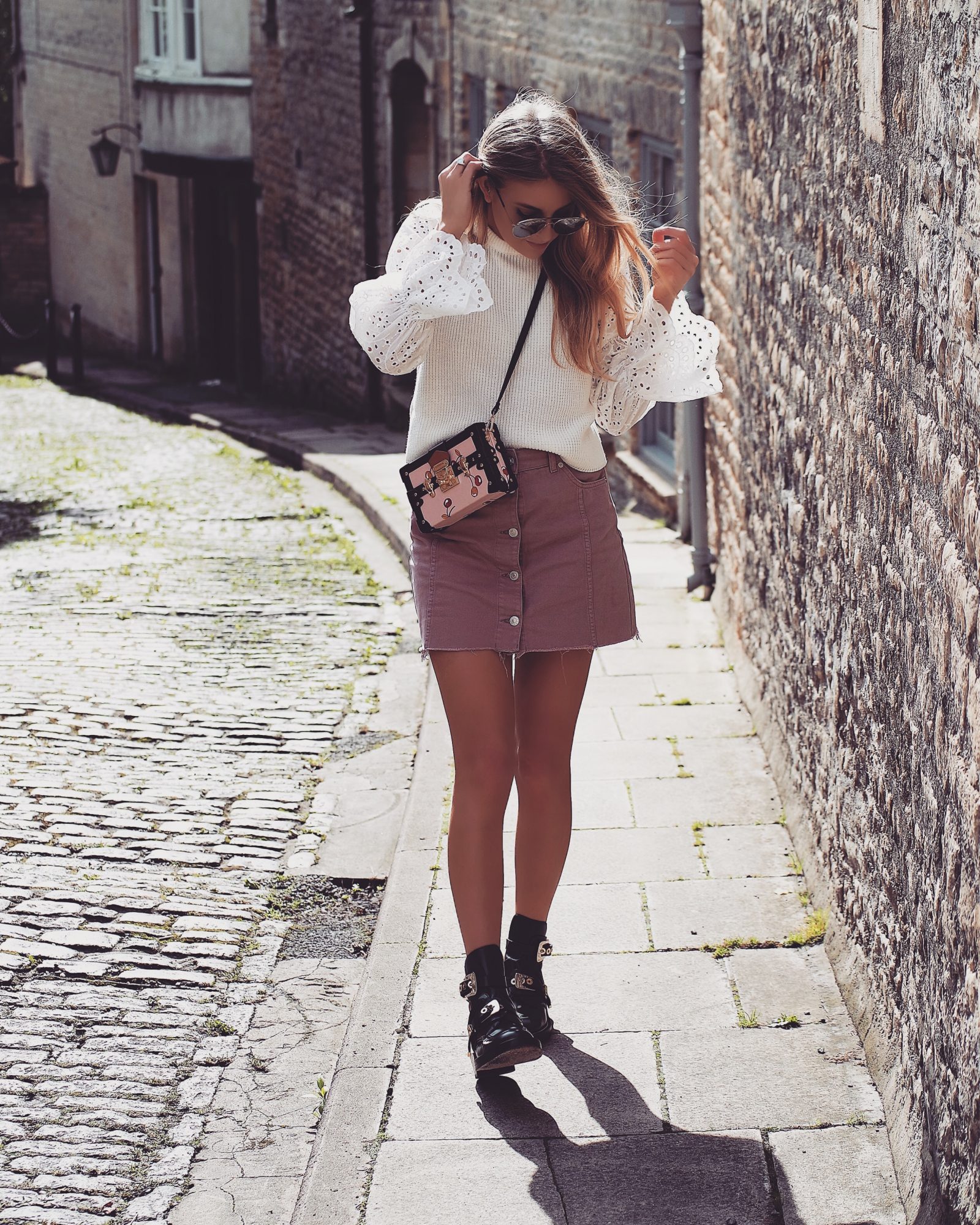 This post is in collaboration with Shein though all thoughts opinions and creative direction are my own
The Best Dupes in Town . . .
Click on the images below to be taken directly to the product pages!