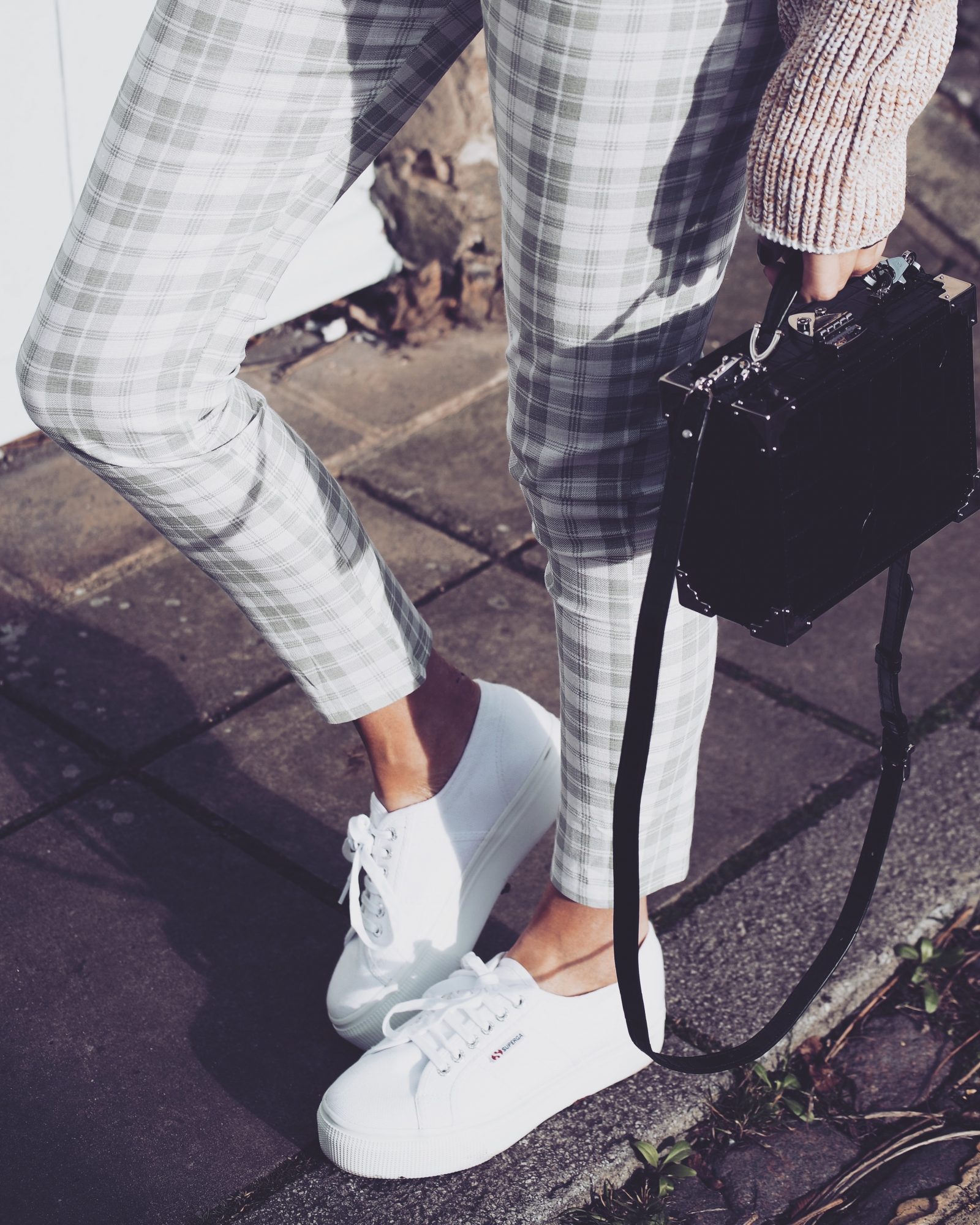 So this post was literally going to be about this pair of plaid pants then I realised that I myself, at the ripe age of 27 (28 this year someone stop the time please) am pretty damn clueless.
I don't know if its my age or the state of happiness (sorry I'm that smug bitch – read this post if you want to know why)that I walk around in these days but one things for sure, I am not switched on right now, I'm clueless.
So a couple of examples of how my judgement and well, just brain, has been off in other places recently. I'd blame the time of month but quite frankly it's happening at all times currently.
I was walking home from waitrose the other day, happily involved in my own thoughts and deciding what I was going to eat first, the cake or the bag of sweets, when I realised that I was in fact, half way home pushing a trolley down the street. Yes. The absolute horror. Did I look like a hobo or a woman who'd lost her marbles? Not sure which is better.
Earlier on in the week I'd been pretty stressed out actually because I'd just got back from a long day in London and the car park machine wouldn't recognise my ticket, literally un readable no matter which way in I put it. Only the problem was that I wasn't putting it in at all. It was in my handbag, I was putting in my train ticket. Thanks to the hysterical man that pointed this out. Mortified.
I guess I'll blame it on the change in seasons, I've heard people use that as an excuse for loads of things, or the moon? It's bigger isn't it? Must be that.
Click on the images below to be taken directly to the product pages!

The Clueless Plaid Pants
So onto the perfect plaid pants. Well I'd say they're pretty perfect if you're asking me. I was actually hoping they'd be thicker material when I got them but I often find that with the site Verge Girl as it's an Aussie brand of course things are lightweight and breathable. Too cold? Stick on some thermals underneath and suck it up. They look super cute with pretty much anything and honestly I've fallen head over heels. Just when I thought I was a jeans girl through and through life throws you a curve ball . . slightly dramatic but this trouser revelation has opened up a whole new avenue for me and my wardrobe that I just cannot wait to explore. PLUS there's the whole plaid pants situation or rather plaid in general. Turns out I like my wardrobe like I like my brain. Totally clueless.
Shop Plaid Pants
Click on the images below to be taken directly to the product pages!




Shop Plaid Err'thang
Click on the images below to be taken directly to the product pages!




SHOP THE POST
*Jumper : Here
*Trousers : Verge Girl
*Trainers : Here
*Sunglasses : Verge Girl
*Bag : Here
Affordable Alternative : Here
*All items marked with an asterix were kindly gifted to me
Click on the images below to be taken directly to the product pages!

PS You Might Like This