2020 was most certainly the year of loungewear and personally no matter what 2021 holds (let's all cross our fingers in unison) I don't forsee myself willingly ending my love affair with my loungewear favourites anytime soon. In the space of a year I've gone from being someone who would never be caught outside of the house in joggers to someone who owns about 10 pairs ( I definitely played that number down to make myself sound better it's 100% more than that). So with that in mind I thought I would do a little run down of some of my loungewear favourites incase you're looking to treat yourself to some cosy pieces!
THIS POST CONTAINS AFFILIATE LINKS & GIFTED ITEMS
Click on the images below to shop!
Loungewear Favourites
The first of my loungewear favourites has to be a tracksuit, a classic loungewear piece and honestly I am really loving a tracksuit these days! They can be dressed up or down in so many ways they've really become a hero piece in my wardrobe! This & Other Stories set is super comfy and has a boxier fit to it which makes it look more styleised – is that even a word? Pop on your fave pair of dad trainers and a ton of gold jewellery and you're good to go!
Click on the images below to shop!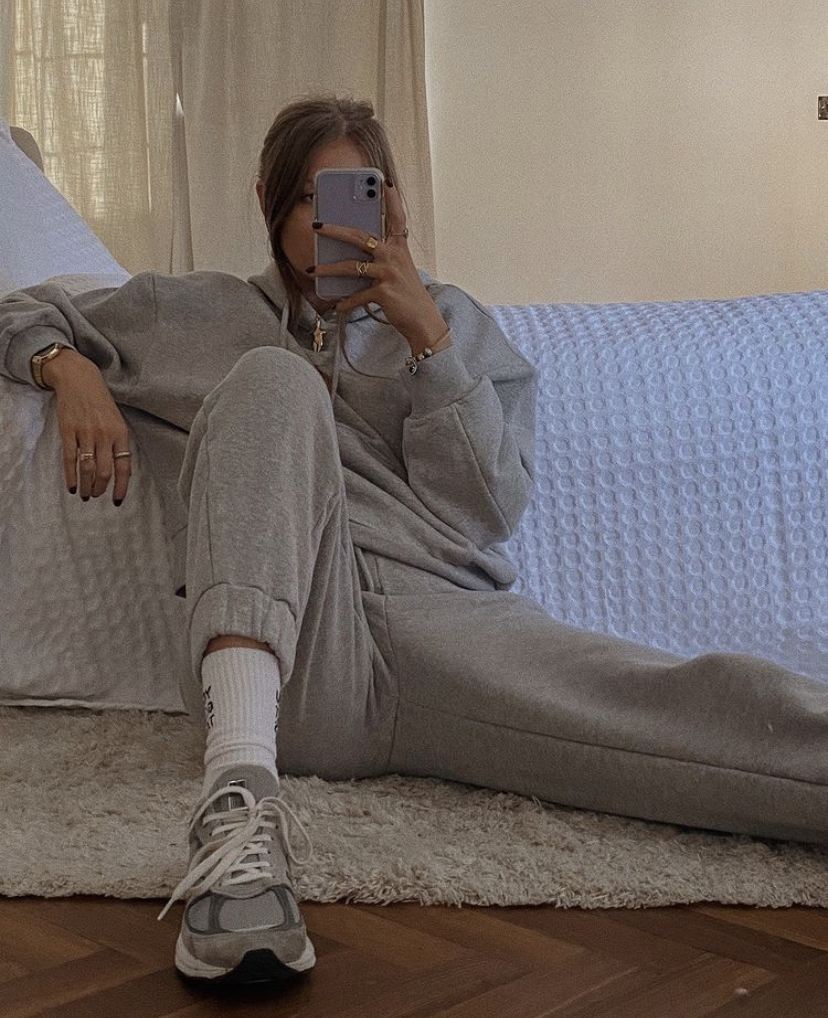 Now this is definitely top of the list when it comes to my loungewear favourites because I am currently living in this set and that is by no means an exaggeration. I love it so much I actually bought it in grey as well and am currently eyeing up the oat coloured version and wondering if 3 of the same set in different colours is excessive? I honestly mooch around the house in this all day long it's so so soft and comfortable and it even looks great as you can see styled up with a winter coat and scarf and some trainers, it's a perfectly respectable outfit to wear outside of the house! We have a winner!
Click on the images below to shop!




I love a legging and knitwear combo as another option for being cosy AF and this one as I have shown is perfect again for around the house and for out and about!! I just added a cosy winter coat and some converse and I was good to go! I love these cable knit detail leggings they have the sweetest details with the frilled hems and really add to the cosy vibes! They're also not too tight if you know what I mean so they feel really comfortable! This cardigan is literally the most perfect cardigan that there is. I'm not even exaggerating as I have it in 3 colours at this point! Cream, tan and pink! The tan has to be my favourite because we all know I love a neutral and if you didn't already know just look at this post! haha! It's a super cute boxy fit and made from the softest material, dreamy.
Click on the images below to shop!




Now this is definitely more one for staying at home but the cosy levels are at 100 here! I love this little romper so much and they just bought it out in a two piece set with jumper and trousers so I'll link that below too as I ordered it immediately in the khaki! I think the button down on this romper will be perfect for when I'm breast feeding the little one too! I get asked a lot about sizing on this one, I got a medium but honestly it's super oversized so I could have gone for a small even with the baby bump!
Click on the images below to shop!




Something else I've become quite attached to are these knitted joggers! There's something about them that to me makes them look slightly more chic than your average pair of joggers and of course with them being knitted they're heaven to wear! They look great with any jumper combination but this all neutral cosy outfit is a winner in my book! A blanket scarf with loungewear really is the ultimate in cosy-ness!
Click on the images below to shop!





Moving on to another tracksuit variant, this ones a sweatshirt instead of a hoodie though which I have to say I do prefer though don't get me wrong, there's something to be said about a hoodie especially for layering up! What can I say, a girl likes to have options! This is probably my most worn pair of joggers and I love the little cropped sweatshirt, again a really nice cut to a classic tracksuit style. I wear this so much so of course there's an outside shot too! Just throw on a jacket or as i have a shacket, some converse – do you see a pattern here? And you're good to go!!
Click on the images below to shop!




NEW IN Loungewear Favourites
Before you go I thought I would share some of my fave new in loungewear pieces at the moment! Click on the photos to shop the pieces!
Click on the images below to shop!




1 Cream Joggers – Shop Here
2 Cream Zip Up Sweatshirt – Shop Here
3 Camel Knit Jumper – Shop Here
4 Camel Knit Trousers – Shop Here
5 Lilac Sweater Shorts – Shop Here
6 Lilac Cropped Sweatshirt – Shop Here
7 Grey Knitted Hoodie – Shop Here
8 Grey Knitted Joggers – Shop Here
9 Cream Hoodie – Shop Here
10 Cream Joggers – Shop Here