Khaki Fleece (large)
Hey guys!
I know you all love shopping my amazon fashion picks on a monthly basis and seeing what absolute bargains and gems I've found so I thought it was only right that for the shopping event of the year I shared my Amazon Fashion Black Friday picks! There's some amazing pieces including a full range of Levis jeans which sadly I wasn't able to show you due to my situation but one of my favourite pairs to date are in the Amazon Fashion Black Friday sale so don't worry, I've got you covered in all areas!
THIS POST IS PART OF A PAID PARTNERSHIP WITH AMAZON
My Amazon Fashion Black Friday Picks
I did a little try on of my top picks so i thought I would just share the images of me actually wearing each piece kind of showing how I would style it up so you can see my vision! Then talk a little bit about why I picked the item along with the fit and quality etc to give you a better idea on whether you want to make the purchase yourself or not! Remember this is just the fashion deals! There are so many amazing Amazon Black Friday deals across the whole of the site so keep your eyes peeled!!!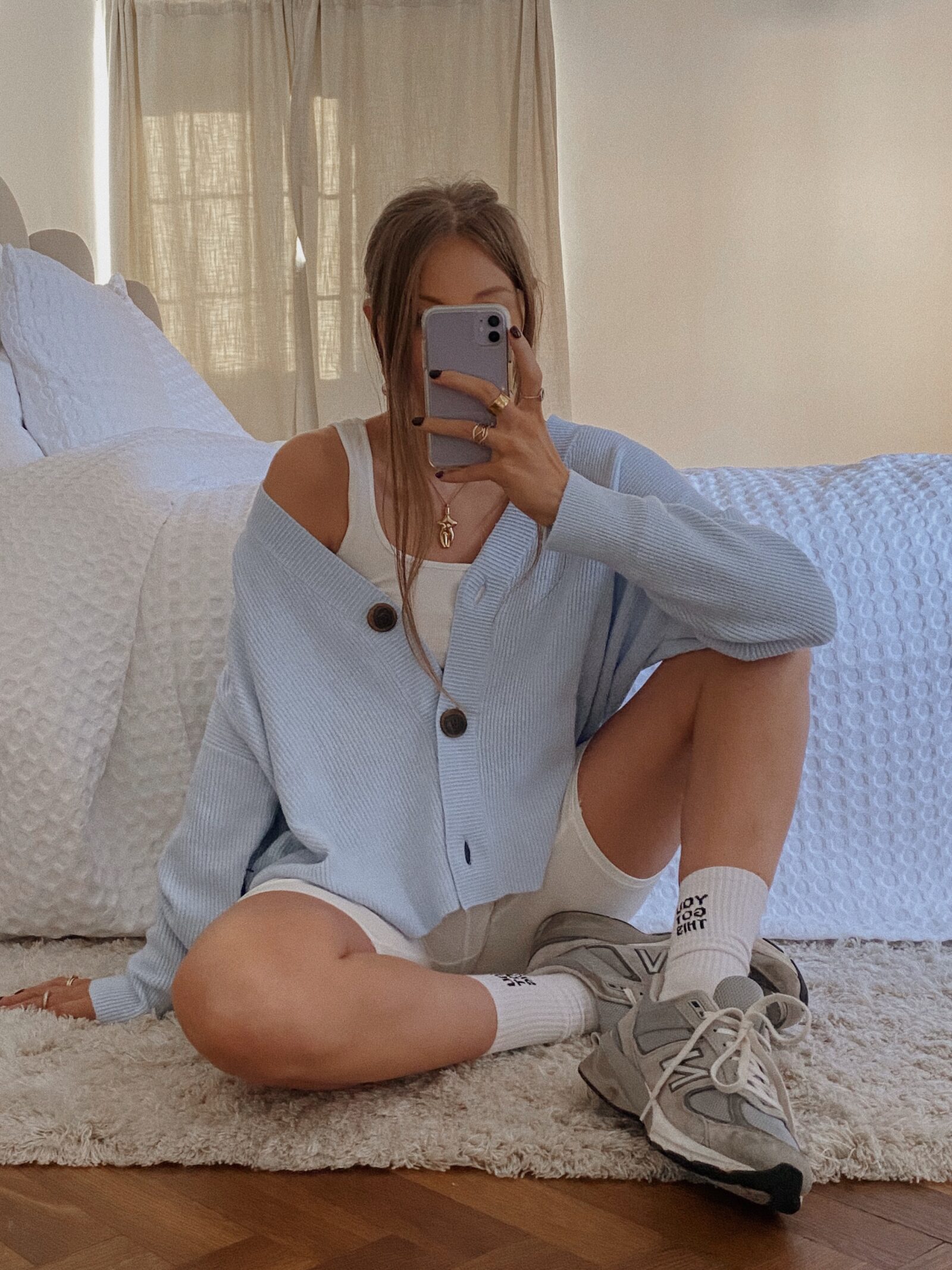 Blue Cardigan (X Large)
I loved the light flowy nature of this cardigan which is why I picked it up but I went for the XL size because I wanted it to be super relaxed and able to wear it off shoulder as you can see I am doing! It's a great piece for wearing all year round and really won't go out of style which is what's so great about it! I think it's easy to get carried away in the sales which is why when I was making my Amazon Fashion Black Friday picks I selected things I knew would be timeless in my wardrobe! This also comes in a few other colours including cream which is an absolute must if you don't have a cream cardigan in your wardrobe yet!

Khaki Fleece (large)
I've been really getting into fleeces and all things comfy and cosy this year as I'm sure we all have! And I've actually been on the look out for a good fleece when this one popped up in the Amazon Fashion Black Friday sale, the perfect timing! I love the cream style and even the baby pink but I was really drawn to this khaki colour! I wear a lot of neutrals and creams in my wardrobe so felt the khaki would stand out against them perfectly, plus I'm a super clumsy person so lets just say that a cream fleece definitely isn't the best of ideas for me! Again I went for the large size so it was extra snug and had plenty of room for warm winter layers!



Lilac Jumper (Size 14)
This lilac jumper is such a dream! I went for a size 14 because I wanted it to be oversized and it works perfectly because of the relaxed shoulders and boxy fit. It's also made from a sort of chenille type material that makes it SO SOFT! For now I'm pretty much going to be wearing it like this around the house and when I'm nipping out as leggings and joggers are my only options right now but how cute will it be in summer over a little floaty dress!?
Body Warmer (large), Cream Jumper (large)
Now this is a bit of a marmite piece and I'm aware that lots of people wont have the same opinion of it as me but I've been seeing a lot of people wearing gilets or body warmers, whatever you want to call them, recently and I actually really like the look for a more casual, dare I say athaleisure look. I saw one of my favourite instagrammers in a Prada one just like this and whilst Prada isn't in my price range, Puma in the Amazon Fashion Black Friday sale most certainly is!! I paired it with this super simple cream jumper from Amazon's own brand collection The Drop, it's really soft and just a wardrobe staple, believe it or not I didn't actually have a simple white jumper like this in my wardrobe before! It comes in a few different colours too!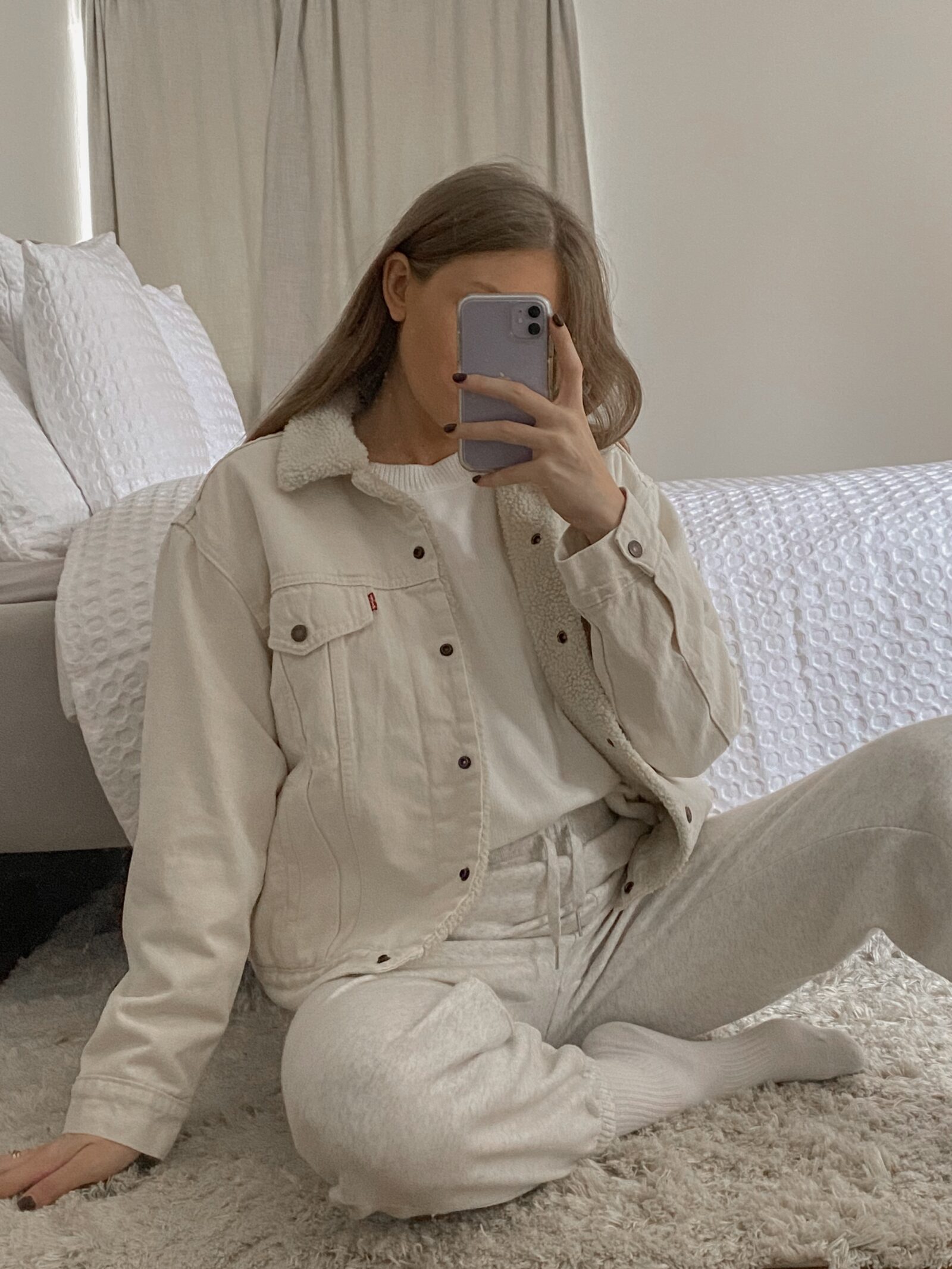 Levis Jacket (XL),Cream Jumper (large)
Another piece of outerwear I picked up is this trucker style jacket from Levis. I have the mens version of this in a light wash denim and have had it for years as it's just one of my top go to jackets for looking cool and casual in winter. Who doesn't want to wear a denim jacket all year round? The borg lining makes it so so cosy and I just loved the cream denim for a light, neutral winter outfit! i went XL for an oversized fit and think it works perfectly! I actually really like it with this outfit for a full on cream look! Definitely not one for eating in though!
Levis Sweatshirt (large)
Another piece I picked up from Levis is this black sweatshirt. I was shocked when I discovered I didn't own a black sweatshirt and had to fix that immediately. Love it with the cream joggers fora monochrome look and I've become very attached to my sweatshirt collection in 2020. It also comes in a really pretty floral print and a couple of other colours!
Cream Jumper(medium), Levis Jeans, Dr Martens Boots
OK so I had to mention the Levis jeans that I can't actually wear anymore! Unfortunately these are the only part of the outfit that is in the amazon fashion black Friday sale but they are the best part so there's that! This is the cropped 501 style and I have them in a couple of different colours AND sizes which just shows you how much I love them! I did actually buy this particular colour in a few sizes up at one point when I was still trying to cling to being able to wear jeans! They are such a great straight leg fit and really look like the old school Levis jeans that people spend hours searching for in the vintage stores!
Green Jumper (large)
Last but not least is this gorgeous bottle green cable knit jumper! It's a classic style from the Amazon essentials range so super affordable before it hit the sale and for the price I was super impressed with the quality. Like a lot of the pieces in this post it comes in a lot of different colours but I was really drawn to the dark green as I find it such a pretty winter-y colour! The cable knit pattern goes all of the way around the jumper which I was super impressed with as I often find brands can cut corners and only put the pattern on the front! Just a great piece for layering, watch this space whilst I stock up my wardrobe with all of the other colour ways!
I hope you guys have fun shopping the Amazon black Friday sales and ALL of the black Friday sales! You can check out what else is in the Amazon Fashion Black Friday fashion sale here!!
CHECK OUT MY DAILY OUTFITS HERE
DID YOU KNOW I'M ALSO ON PINTEREST?!
PS YOU MIGHT ALSO LIKE Your A-Z Of Black Friday Deals OR The Ultimate Christmas Gift Guide