Hey guys!
So for this weeks shopping edit I thought it would be fun to go over my amazon fashion picks as I have been going on and on about how amazing they are on my stories all of the time, I thought it would be great to have a place to put my top picks as a reference for you guys! I'm thinking of making this a more regular thing, what do you think!? If you want to just check out everything I have from Amazon you can check out my Amazon shop which I regularly update with anything fashion/beauty/home that I have! Check it out here!
THIS POST CONTAINS AFFILIATE LINKS & PR PRODUCTS
My Amazon Fashion Picks
So some of these are a bit more on the summery side but I think they work well for transitioning into autumn outfits, I'll definitely still be wearing my flip slops and sandals with chunky jumpers and jeans until it's dangerous to do so (frostbite). And plus, the flip flops and pink shorts are in my personal opinion absolute wardrobe staples so you best believe they'll be making an appearance next summer or on any holidays (what a joke) in the mean time!
My top 3 most work pieces of everything I got (minus the boxers because I've been living in those, mens pants are better than womens and that's a fact) are the grey zip up sweatshirt which I got in an XL for extra cozyness AND I just ordered in a dark green shade for autumn, I already know I'll be living in it!
My Levis 501 jeans which I was super extra and went and got not one but TWO pairs in different sizes. They are my go to jeans and have been since I got them a couple of months back! They do give quite a bit and are generous in length, so I wear my w26 ones the most as they feel more like a w28 and they are L28 despite the fact that I'm 5ft 7. If i wasn't pregnant then I would 10000% be getting these in black for winter, slash every colour available!
Finally the Nike Air Force 1 trainers, I have these in 3 colours now, yes I have a problem! Yet these are the ones that I wear the most. I'm just drawn to them because they are super clean and white whilst not being all white, they just go with everything! I got a size 7 and I'm usually a size 8 but they're actually the mens ones and I googled and size 7 is eu 41.
All items are numbered and linked below the collage! Let me know if you pick up anything or if you already have any of these and agree that they're amazing!!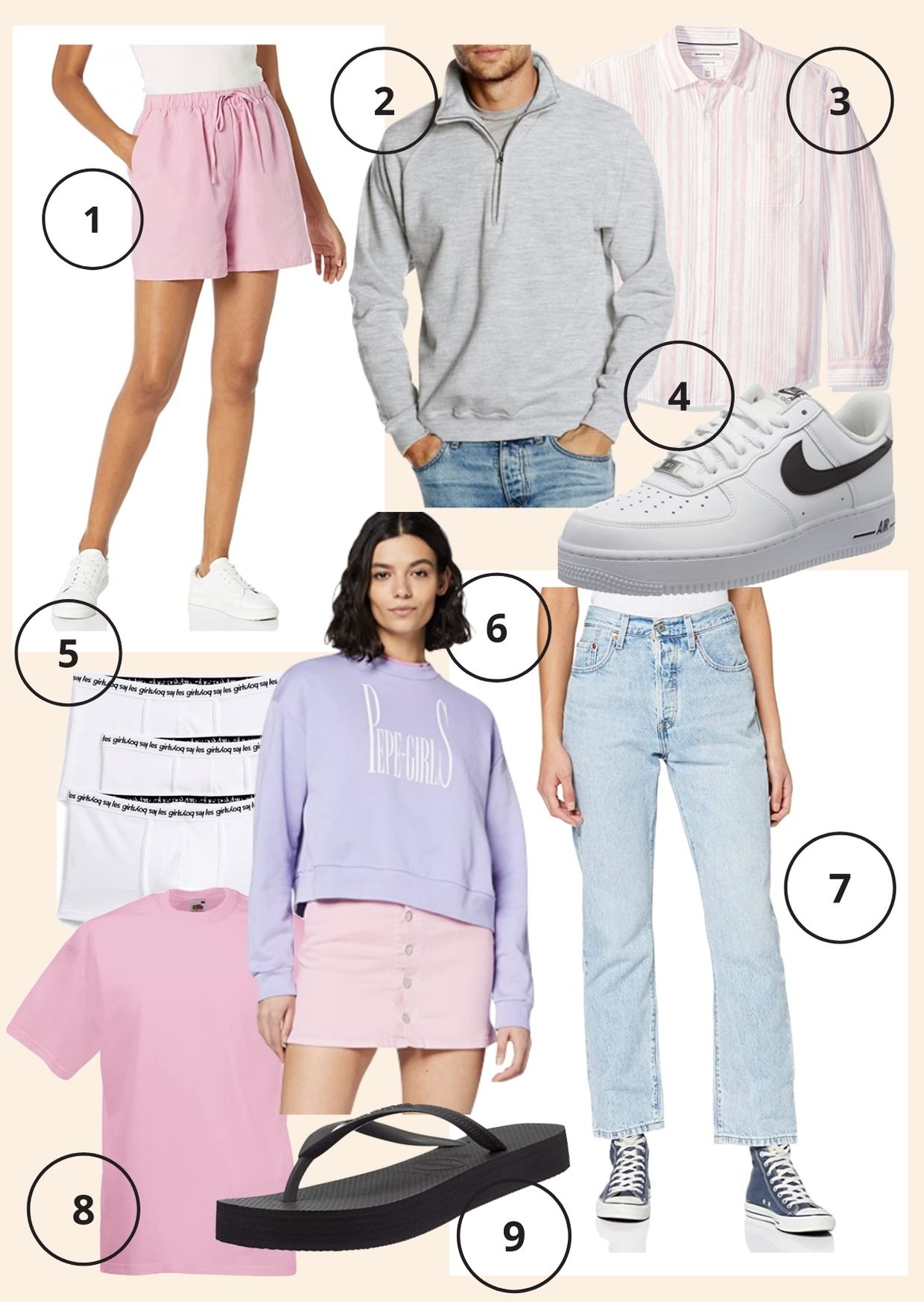 1 – The Drop Pink Shorts (I wear a small) – Shop Here
2 – Fruit Of The Loom Grey Sweatshirt (I wear an XL) – Shop Here
3 – Amazon Essentials Pink Stripe Shirt (I wear a medium) – Shop Here
4 – Nike Air Force 1 Trainers (I sized down) – Shop Here
5 – Les Girls Les Boys Boxers – Shop Here
6 – Pepe Jeans Lilac Crop Sweatshirt (I wear a medium) – Shop Here
7 – Levis 501 Jeans (I wear a w26 l28) – Shop Here
8 – Pink Fruit Of The Loom T Shirt (I wear an XL) – Shop Here
9 – Platform Flip Flops (True to size) – Shop Here
PS YOU MIGHT LIKE 5 Transitional Outfit Ideas OR Easing Into Autumn Outfits