Hey guys!
Some of the most popular questions I get asked at the moment over on my instagram is about pregnancy safe skincare, what I've been using during pregnancy and about pregnancy break outs! I definitely have suffered my fair share of pregnancy break outs particularly during the first trimester and naturally I did what anyone in panic mode does and throws everything but the kitchen sink at it. This resulted in two things, one, I found out about pregnancy safe skincare. I honestly had no idea that you couldn't use certain make up and skincare during pregnancy before! And two, my skin got a whole lot worse! My number one tip for break outs, pregnant or not, is to take a step back from the skincare and really simplify what you're using! Sometimes I even stop using it all together for a few days!
THIS POST CONTAINS GIFTED ITEMS AND AFFILIATE LINKS
Click on the images below to shop!

My Pregnancy Safe Skincare
So since I often get asked which products are pregnancy safe and what I am personally using and loving, I thought I would share with you guys everything I'm using from my hair to my body to my face. Heads up, I use a lot Elemis, of if you didn't already know it's my fave skincare brand, and I actually did a collaboration with them this month so until 1st March you can get 25% off with code SINEAD25.
BODY
Moisturiser wise, I am definitely a flip flopper and have been switching to whatever I have on hand at the time or whatever is newest in. One thing we all know about pregnancy is that we need to look after our bellies and boobs because that skin is really working hard and can definitely be damaged! I was recommended two products to try and only ever tried one because I loved it so much! The first was the Elemis body oil which apparently Victoria Beckham uses and SO many people have recommended this to me but I am just not a body oil kinda girl. I mean, I'm not an anything oil girl really, I don't like body oils, tanning oils, hair oils or face oils! I tend to stick to creams! So when I discovered the Mama Mio tummy rub butter which also came highly recommended I was super happy because I honestly thought oils were the only preventative method when it came to stretch marks. This tummy butter smells lovely, very citrus-y, and has worked like an absolute dream! I haven't had one stretch mark so far touch wood! They also have the pregnancy boob tube which is the same scent but in a lighter texture and prevents stretch marks on the boobs. It's also meant to be great and soothing for once you're breast feeding so I'll definitely keep using this! One thing someone actually mentioned to me is that stretch marks are also likely to come after the birth so I am 100% going to keep using this duo until i feel my body is back to some kind of normality!
Click on the images below to shop!

BATH
Bath/Shower wise I've been lovingmy Elemis Skin Nourishing Bath Milk . It's the most calming and soothing scent and works best if you put it on before you get in the bath and then soak in it. I've been having no end of baths in these last couple of months with everything aching it's my new favourite activity! So I've really been getting through this! I've also been adding some Epsom Salts to my bath to sooth my aching muscles!
Hair wise both me and Jack have been loving the Drunk Elephant shampoo and conditioner. They smell incredible and when I think of Drunk Elephant I think of natural products so it seemed like the obvious choice for being pregnancy safe! Just remember to always double check products though as I know not all of their products are 100% safe!
Click on the images below to shop!

MORNING SKINCARE
My morning skincare routine hasn't changed a ton as these guys have always been my go to favourites for a while. However I have stuck to them more than usual as I love to try new products when they arrive, since being pregnant and more aware of pregnancy safe skincare and my breakouts, I've just kept to my 3 core products and not really tried much else. All of these are Elemis so if you do pick any up remember that you can get 25% off with code SINEAD25 until 1st March!
One product I discovered at the beginning of this year and honestly kick myself daily for not trying sooner is the Elemis Pro Collagen Marine Cream, there's a reason it's won awards people! This is a special fancy pot that was created to raise money for breast cancer, hence the pink colour! But it's exactly the same on the inside! One thing to take note of is that the SPF version of this is not pregnancy safe. So make sure you stick to the classic one!
I also love the Peptide4 range from Elemis and use both the serum and eye cream daily. I've definitely noticed a difference since using this duo and am now on my second bottle of this serum which I highly recommend. Since switching to mostly Elemis products and this routine in particular I've definitely noticed that all of the little bumps under my skin on my jawline have completely vanished and my skin over all is looking super clear and glow-y. Something I actually heard an old wives tale is not meant to happen when you're carrying a girl!
Click on the images below to shop!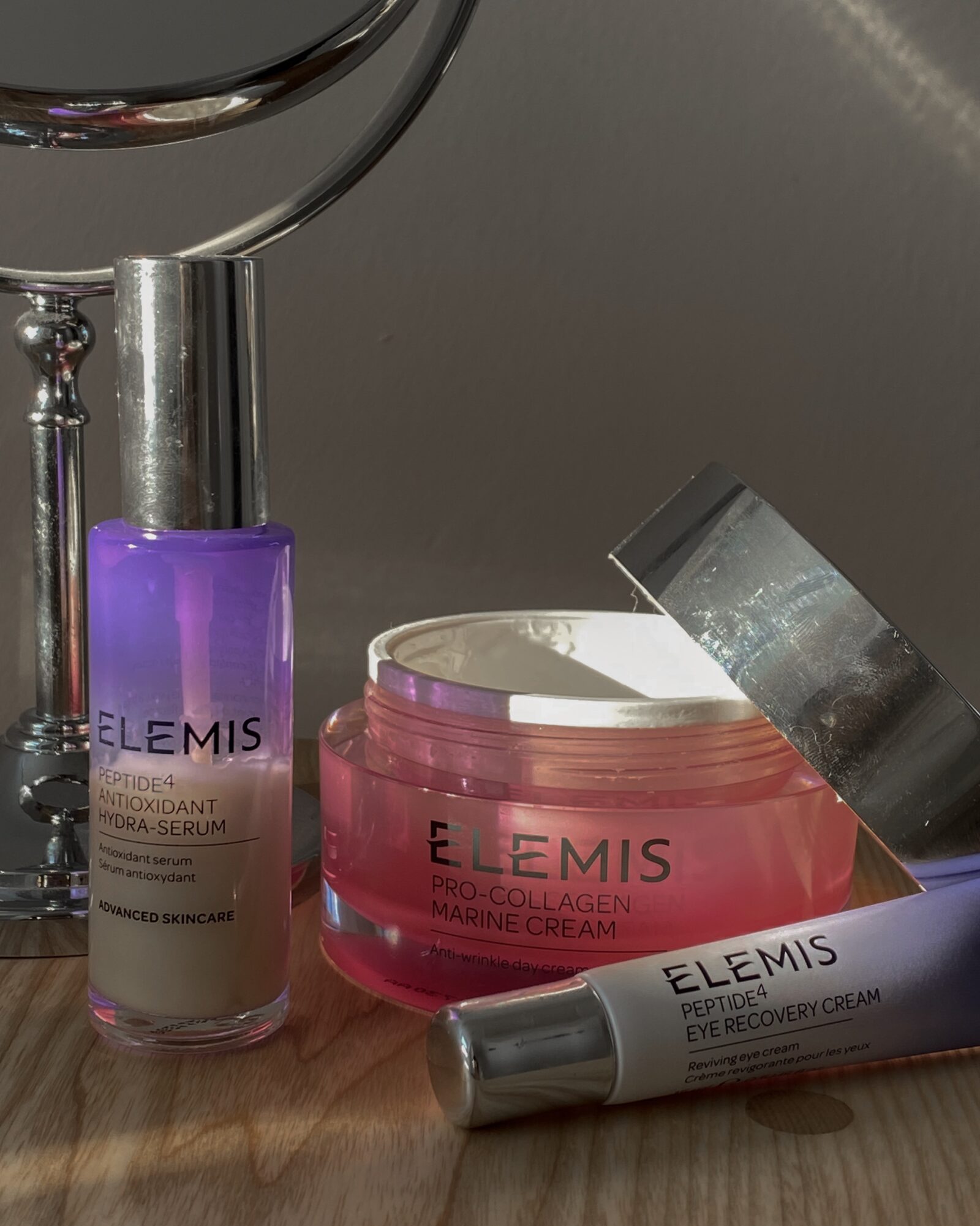 EVENING SKINCARE
Evening wise I always, always start my cleansing routine with the Elemis Pro Collagen Cleansing Balm, the original one though I do love the naked & rose versions too! Then if I'm feeling like my skin needs a good clean or I'm in the shower or I'm just feeling fancy I will do a double cleanse with the Pro Collagen Energising Marine Cleanser. It's a really lovely cleansing face wash but for me it's not strong enough to take my make up off. Sometimes if I'm not wearing make up then I'll use this one on it's own as I don't need the cleansing balm. Then if I'm feeling really boujie, usually if i'm in the bath and having a little self care pamper moment which let's face it, is a lot at the moment! I use the Caudalie Vinoclean Cleansing Almond Milk just to really get my skin all fresh and clean and quite frankly, just because I like the way it feels!
Skincare wise I again have some ride or die favourites that I was using religiously pre pregnancy and was so happy to find out that they were pregnancy safe skincare else I don't know what I'd have done! The first is the L'Occitane Imortelle Reset Serum. Sometimes if I'm feeling really lazy I just use this on it's own, it's the best night time serum I've tried, this is maybe my 5th or 6th bottle so you know I'm not lying here! It's one of the only products I've tried where you can see a result the very next day after using it! I do love the other pieces from this range too! But this serum is the one that really stuck with me!
Then we are back to, you guessed it, Elemis. Am I boring you yet? The Elemis Pro Collagen range really is amazing and I love the Pro Collagen Eye Revive Mask for my under eyes. The eye bags are real in pregnancy people, the sleep situation is not great especially when you get to the third trimester with this huge belly and constant toilet breaks. Though saying that I've been using this for a long time now, I got it when it first came out and there's not been many days I've not used it since I got it! It's an overnight mask for your under eyes and honestly works wonders!
Then I've been using the Elemis Peptide4 Pillow Plumping Facial. So we can all agree I love the Peptide4 range and the Pro Collagen range by now! I'm predictable if nothing else! This is actually a night time facial/mask so i'm not sure if I should be using this every night it's pretty boujie of me but pre pregnancy i was using their Pro Collagen Oxygenating Night Cream which I found out wasn't pregnancy safe skincare so I took it out of my routine and ended up just using this every night. It's honestly my favourite overnight facial treatment because not only does it smell amazing but it's also super light and sinks in quickly where as I find a lot of other overnight creams can be super thick and tacky to the point where I still feel like my face is sticky in the morning.
Click on the images below to shop!

SHOP THE POST
Click on the images below to shop!

PS YOU MIGHT ALSO LIKE 5 Maternity Outfit Ideas OR 5 Easy Outfits with Maternity Leggings