So if you guys follow me over on instagram then you'll already know what I've been upto this week! I had the absolute pleasure of spending my week with the amazing team from Revolve. We had bus tours, parties, afternoon tea and lunch in the most incredible setting, it's fair to say we were absolutely spoilt.
If you don't already know, Revolve is an american brand that has literally taken the industry by storm, personally I would describe it as more of a lifestyle than a clothing brand. Of course they do sell the most beautiful pieces both from brands like Golden Goose, Free People and Zimmerman, and their own brands like Lovers + Friends, Tularosa + GRLFRND Denim. They're known for their tours around the word (#RevolveAroundTheWorld) in different exotic and incredible locations bringing influencers with them for fun filled days of lunches, brunches and parties but this time it was London's turn.
Click on the images below to be taken directly to the product pages!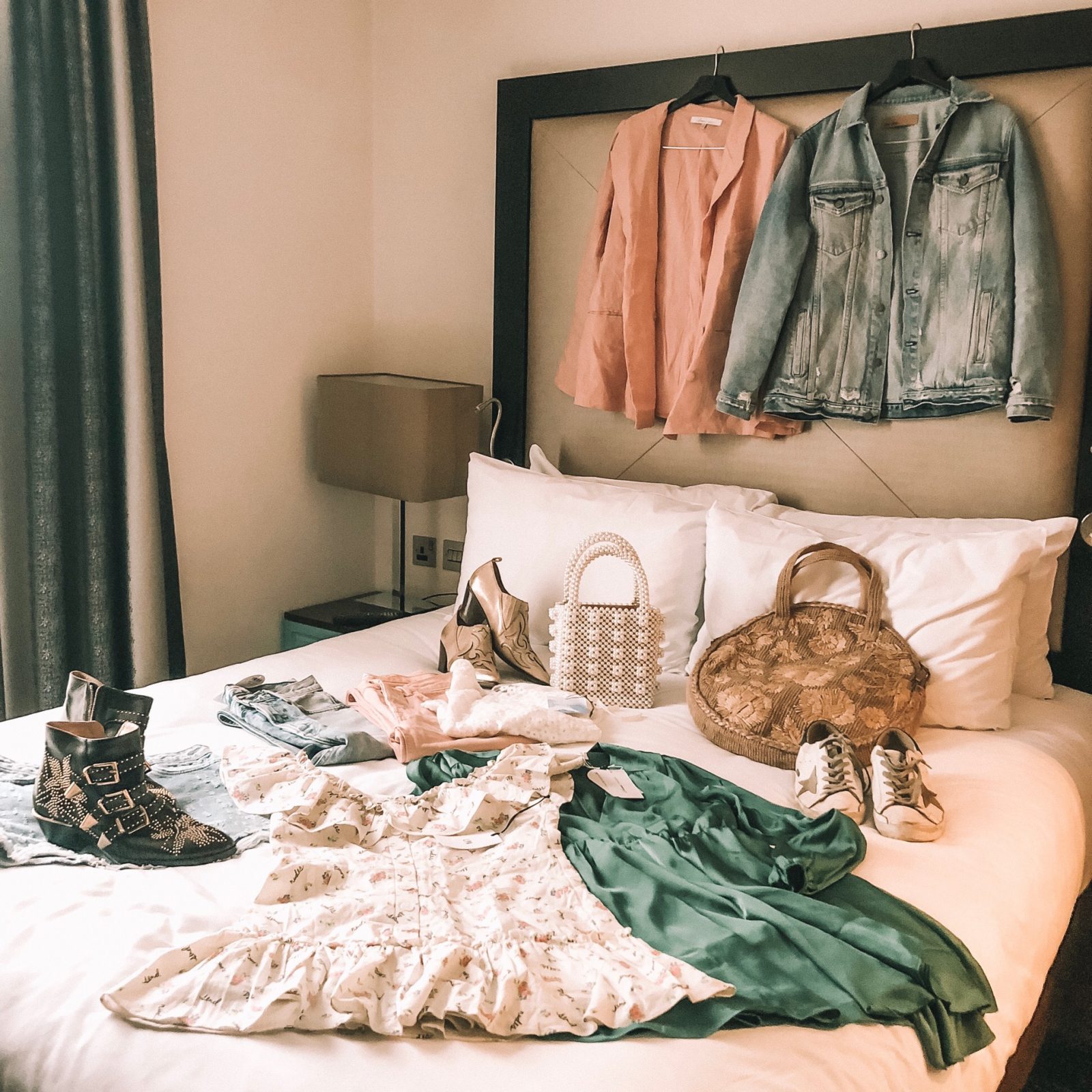 REVOLVE TAKES LONDON
London was a super important moment for the brand because as an american brand it's always been super hard to get hold of here in the UK, particularly if you want to avoid custom charges and import duties when the post mans stood on your doorstep. The main reason for them being here was to celebrate the new 3 day express shipping PLUS free returns. They also currently have the express shipping for free if you spend over £70 which is pretty easy at Revolve though I'm not sure if the free shipping is a permanent thing or just an offer so get your orders in quick basically! Finally to top off the amazing new shipping options for the UK, they've also now added import duties and taxes to the cost of the items on the UK site which is why you might see that they seem more expensive. I think it's a great idea because it means you make a decision to spend that money and you're prepared for it rather than it landing on your doorstep after the fact!
Anyway, enough of that! Let's talk about the outfits and what we got up to!
Tularosa Bus Tour & Lunch
The first stop was our bus tour around the sights of London with Tularosa! Tularosa has to be one of my favourite brands on Revolve alongside GRLFRND denim. It's always so easy to wear and just aligns with my personal style perfectly. For this I chose a super cute pink and white striped dress which was really similar to one I wore for the Revolve Festival a couple of months ago so I already knew it would fit well and make me feel good! I also added a GRLFRND denim jacket which was super funny because this is how I met Zeycan who had the exact same outfit as me on. Great minds think alike right!?
The bus tour had afternoon tea set up on each table, could you get any more British than having afternoon tea on a red bus on its way to Buckingham Palace?!

Dinner & Drinks @ MNKY HSE | Dress Code Sequins & Brights
Later in the evening we had dinner and drinks at MNKY HSE, an open brand event where the dress code was sequins and brights. We soon realised that dinner meant canapés, though quite frankly I filled up so much on them as they were incredible, mini tacos, mini nachos, black cod . . the works!
I struggled with the outfit for this event the most as I didn't know whether to go for the sequin option or the brights, neither are really in my comfort zone and I finally settles on this little NBD number after being in the gifting suite for legit an hour and having one very angry Fiance pressurising me to make a bloody decision. I got home and instantly thought that it was too short for me, too revealing and I couldn't fill the cups with the little boob that I'd been blessed with. Then I remembered the pink Lovers + Friends blazer I picked up for the Lunch the next day and honestly the colour match is so perfect you couldn't have planned it any better. Because of how short the dress was I also went with my Balenciaga boots as I felt they dressed it down bit and I was so so happy with the overall look!
Lovers + Friends Lunch @ Cliveden House
Cliveden House is officially now my new favourite place to go! It's honestly the most beautiful place inside and out as you'll see from my photographs. I went for the lunch with Josie who's beautiful instagram you should definitely check out here and she, having been before, suggested we drove up to get there early for maximum photo taking opportunities without swarms of other bloggers. Honestly when bloggers descend on a place this stunning the photo bombing situation is real. So we set off early and got some incredible shots which I will add in below!!
The lunch was held by one of my fave brands Lovers + Friends, they literally always have something I want. A large proportion of my wardrobe is definitely Lovers + Friends! We had lunch in the most stunning room, I could have quite happily never have left that room! For the lunch I wore my new pink linen blazer which is so so beautiful! I honestly think this is my favourite piece from the whole trip, I didn't realise how versatile it was and how much I'd wear it when I picked it out but I've totally fallen for it! They also do matching trousers so I've definitely got my eye on those!
Underneath I wore the cutest body, also Lovers + Friends, in pastel rainbow stripes. I have to admit in the gifting suite it took me so long to figure this out and in the end I had to look on the website but it was totally worth the struggle! haha! I had planned to wear this with jeans but it was pretty warm and any chance to get your legs out right!?! GRLFRND denim skirt it is!
I also bought some Privacy Please bits I already had from the Revolve Festival earlier this year because I wanted to take full advantage of this insane setting!! The first outfit I shot was in the turret, if you don't shoot in the turret did you even go to Cliveden House am I right?! I wore the westminster crop top which is currently ON SALE! I've been loving this so much and it was super cool at the festival, see how I wore it there here! And I wore that with the same denim skirt!
Click on the images below to be taken directly to the product pages!

The other outfit I shot was this super cute purple polka dot Privacy Please dress, try saying that then times fast. I adore this dress and it went so perfectly with my new favourite pink blazer, the colour combo was a match make in heaven! Can we just take a moment for how beautiful the grounds are!? Hands up if you wish this was your garden!?
Click on the images below to be taken directly to the product pages!

LPA Party @ Clerkenwell Grind
I know I'm starting to sound like a broken record right about now but I am obsessed with this dress. When I first picked it up I really liked it and thought it was a super cute style and loved the colours and print, I didn't look too closely though. Then, I get home and see the super cute print is actually writing saying "send nudes" how hilarious is that!? I am kind of in love with it for this fact! I got a size medium because I really wanted this dress and they didn't have a small left, I definitely needed a small but the body looked fine it was just the off shoulder bit which I'm going to get stitched to fit me perfectly.
I had such a fun night at the Clerkenwell Grind with some of my favourite people. Jack came to all of the evening events with me which was so nice as he rarely gets to be my plus one! Then Lauren my sister was there and Helen from Style Structure who I met for the first time at the gifting suite and honestly adore. Funniest girl I've met in blogging for sure! Then of course Ashleigh from Miss Gunner, an absolute babe, the smiliest, most beautiful person inside and out, she's a genuine ray of sunshine! I also got to meet some new gals, Rachael from Bubbly Aquarius and Millie from Millie Cotton.
Majorelle Afternoon Tea @ The Dorchester
The final day was an undisclosed event with Majorelle which was unfortunately rained off! Only to be put back on hours before I opted for my original outfit of a cute floral mesh top from Majorelle and some pink GRLFRND jeans. I'd heard a rumour we were going to portobello market and I wanted to be super comfy so I went for my super comfy golden goose and a Pom Pom backpack only to find that we weren't meeting at the Dorchester we were going to the Dorchester. Oh no, not dressed for the occasion at all.
Having completely missjudged the outfit situation I sat as quickly as humanly possible and hung my head in shame as all the other girls floated in in their beautiful afternoon tea at the Dorchester worthy dresses and heels – it was non uniform day at school all over again!
Anyway! I thought it was a cute outfit and I still had an amazing time, so perhaps it's more of a walking down portobello road market situation than an afternoon tea at a fancy hotel situation but hey, we live and we learn am I right!? Please share your embarrassing bad judgement of dress code stories with me!!!
LA PARTY IN LONDON | CLOSING PARTY
The last event was the closing party, and LA party in London set to be the biggest party of 2018 and Revolve did not disappoint! As usual they pulled out all of the stops with a surprise performance from BlocBoy an American rapper we saw perform at the Revolve Festival which was super fun!
I wore this incredible green Lovers + Friends dress which funnily enough just so happens to be the only green piece of clothing in my wardrobe and honestly I lost count of the amount of people asking where it was from. Then there were the instagram compliments about the colour, I think I'm going to have to start building up the green in my wardrobe as to obviously my colour!
I paired it with my gold Marc Fisher cowboy boots which I honestly would be quite happy if someone super glued them to my feet! And then my Gucci Bumbag which is the perfect finishing touch to any outfit! I feel like because it's a girly dress it also toughens it up a bit and makes it feel less "done" if you know what I mean!
What's your favourite look from the week! I think mine has to be the Lovers + Friends dinner at Cliveden House or the first evenings meal with the NBD dress and pink blazer. I'm just so in love with that blazer!