When Blue Vanilla contacted me with the ultimate question, I couldn't help but answer in the form of a blog post, what makes you feel sassy?
This is a pretty difficult question because to me, sassy is a mindset. If you're a sassy girl, you've just got it in you and you'll be sassy in your greying pyjamas with holes in the same you would in killer heels and an LBD. But obviously there are certain pieces of clothing, like Bey and her Freakum' Dress, that just make you feel like you own that shit.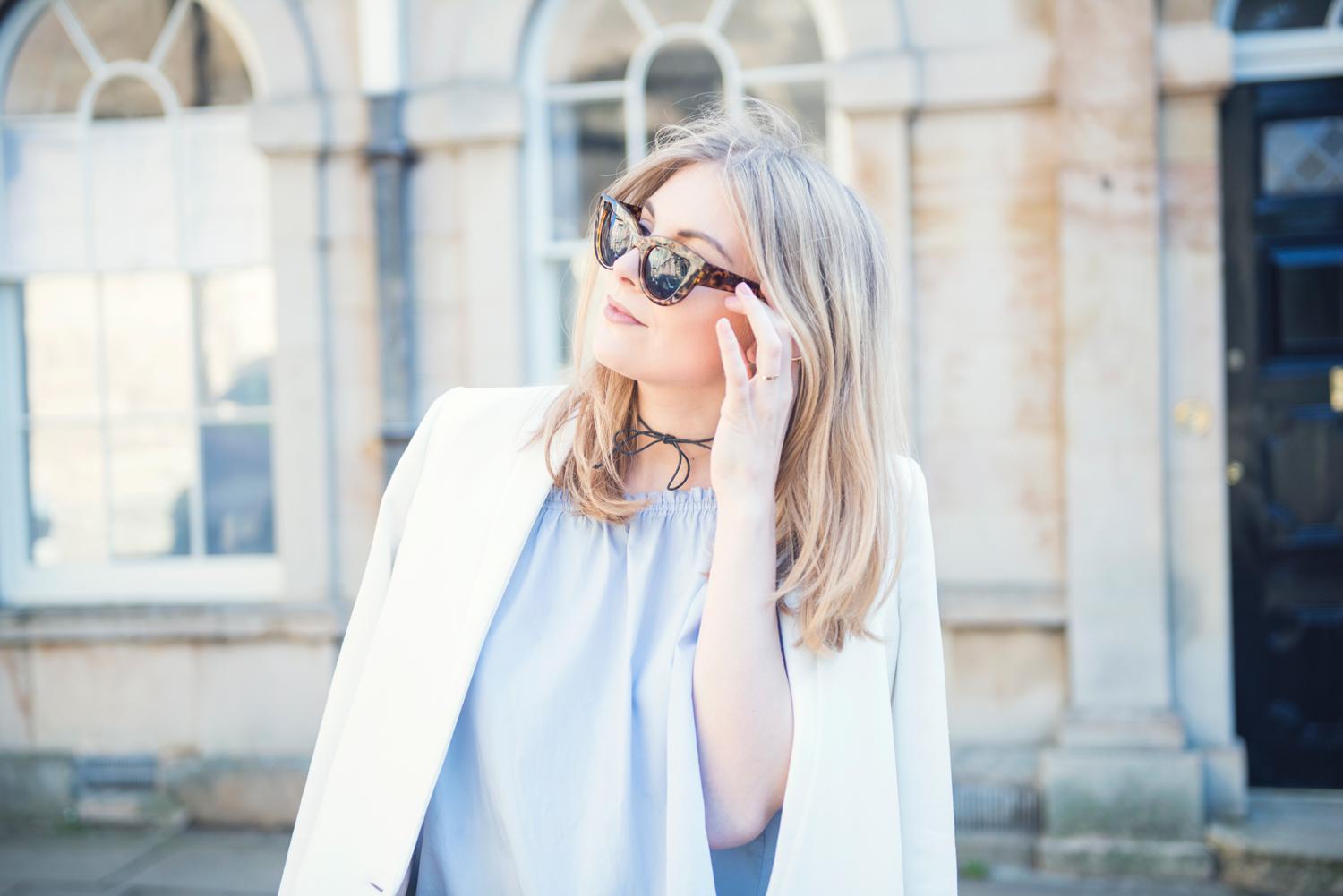 The Jacket of Dreams
I think I can pretty much promise you that this jacket will now feature in 80% off all outfit posts slash my life in general. This is because I am in love. Jigsaw, you complete me. . the shape is just so sleek and beautiful and look how summery it makes this outfit . . and sleek.
I was kindly gifted this but knowing what I now know I would 100% have paid full price for this and it's made me do such an about turn on investment pieces and splashing out for key pieces. If in doubt, think of the pounds per wear!

What Makes You Sass?
I've already done my sassy is a mindset babble at the beginning of the post, so I thought I would show you the piece in my wardrobe that makes me feel like a Sass Queen. If in doubt, cold shoulder. For me, cold shoulder tops are my ultimate go to piece when I want to feel good and have no idea what to wear. I think that's quite possibly why I'm addicted to buying them?
Despite them being really of the moment I find them super flattering for my shape. Obviously I'm not a big breasted gal by any means, so it covers that and gives you a sneaky little shoulder show off. Because shoulders are the new boobs dont'cha know? Well maybe they aren't, but that's what I'm going with!
I picked up this little H&M number a couple of weeks ago and love the kind of shirty material, though it does mean it creases like a mother! It's got little shoulder straps but they're way too long for me so I'm either cutting them off, or snipping and tieing them, I'm still undecided, opinions would be helpful!
Off Shoulder Faves
Shop my pick of what the stores currently have to offer in off shoulder goodness!
Show Me Your Sassy
I would love to know what makes you guys feel sassy, if you have a particular lipstick, handbag, heels or outfit that you know makes you feel like the queen of sassy unicorn land! OR if you, like me, think sassy is a mindset, do you have any particular hacks to getting your sassy on?
Thanks so much if you're already following me on Bloglovin' if you're not, what are you playing at?! It's the best way to stay up to date with all of you're favourite blogs in one place! So follow me!
You can also keep up to date with what I'm up to by following me on Youtube and Snapchat – snapcode is sineadcrowe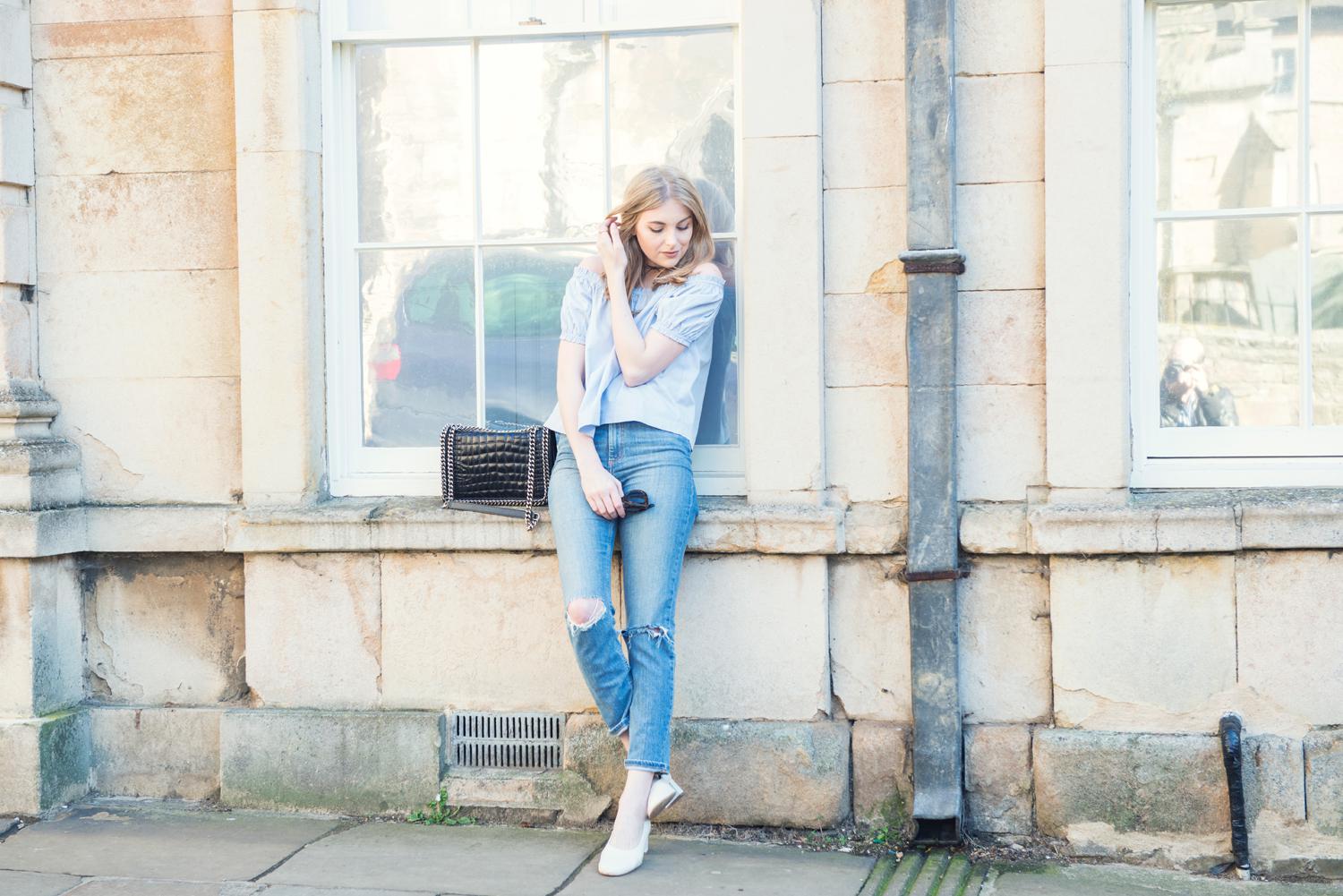 *Jacket : Jigsaw
Top: H&M
Jeans : Asos

Shoes : Topshop
Bag : Zara
Sunglasses : Asos
Necklace : DIY (see post here)
Shop My Face
All photography by Kirk Schwarz
This post has been sponsored but all thoughts and opinions are my own