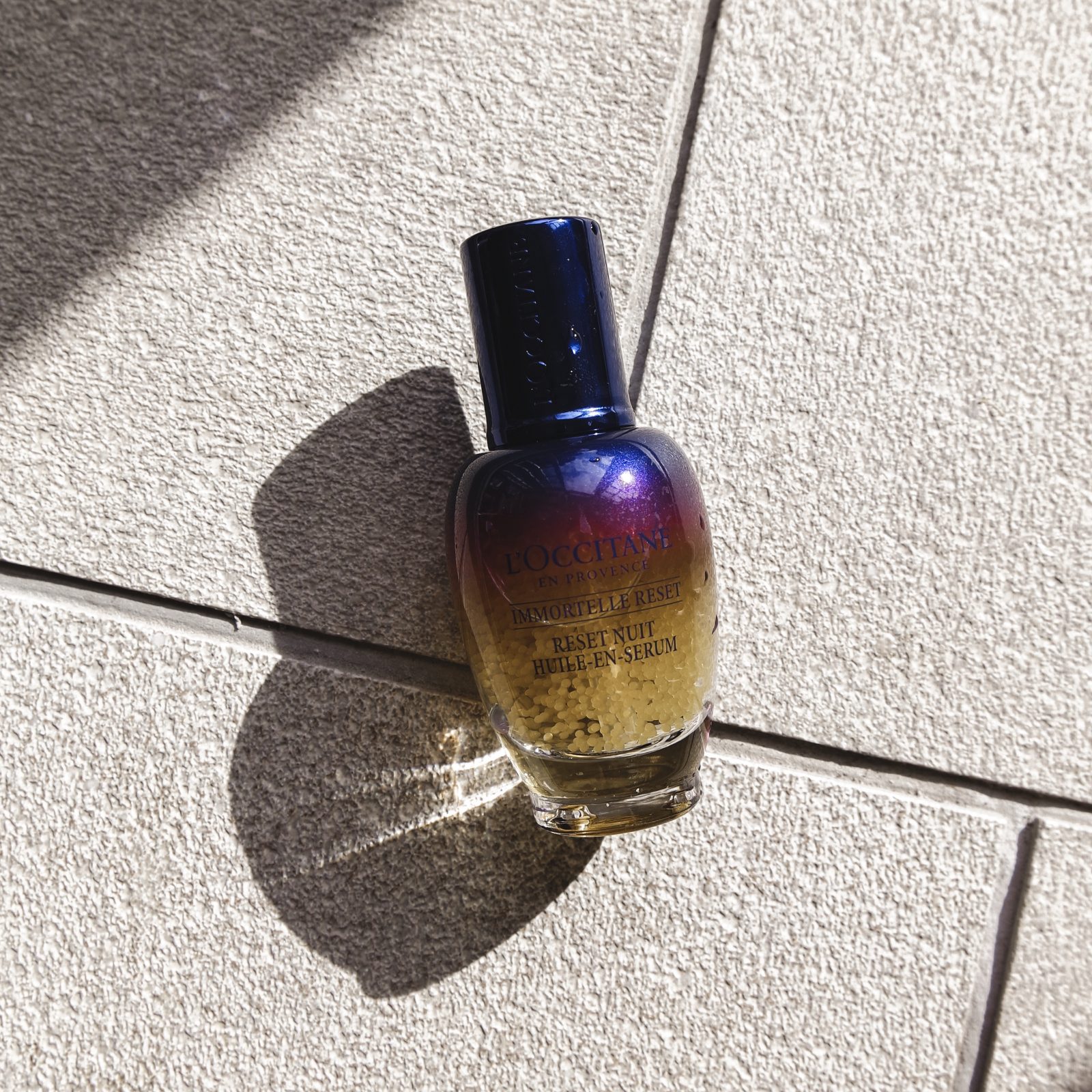 Hey guys!
Today I wanted to talk to you about a skincare product I fell in love with earlier in the year, ran out of it, meant to re purchase but got sent something else which I tried. Then got some more and fell back in love with it again, the Loccitane Immortelle Reset night serum. A product that will give you actual results after one use. I swear if I use this before I go to bed (which I now do every night thank you very much) I can tell the difference in the morning.
THIS POST CONTAINS GIFTED ITEMS & AFFILIATE LINKS
The Loccitane Wonder Product, Immortelle Reset
I was kindly invited down to Bath with the Loccitane team a month or so ago to get one of their facials at the only Loccitane spa in the country, The Bath Priory. I very much recommend a visit if not for the location and food but for the incredible spa and the facial that I swear is the best one I've had and I've had a few! This is the first facial that I slept through from the first 10 minutes to the end and felt so relaxed after, like I'd had a massage, and my skin was amazing . . always feels weird saying that about yourself but guys it honestly was, I was positively glowing.
Anyway, I got a bit distracted there. We were invited to try out the spa and discover the Immortelle product range which is now pretty extensive including an eye cream, toner, 2 moisturisers, a day serum, the immortelle reset, a hydrating spray and I think that might about cover it. My favourite as you may have guessed it the Immortelle reset which is honestly a wonder product, but I also love this thick luxurious moisturiser which when combined at night with the Immortelle reset is an actual dream. I've also been using this lighter moisturiser in the day as it sinks in much quicker which makes it perfect to give you a bit of hydration before putting your make up on.
The range uses a formula with ingredients from the Immortelle flower – hence the name, which is a pretty little yellow flower that doesn't wilt when cut for ages. The clever folks at Loccitane saw the flower and wanted to understand why and how a flower can stay beautiful for so long and wanted to apply that to skincare so that we can stay beautiful too, I mean who really wants to wilt??!
As you can probably tell by now I'm 100% sold on the range, not only does it have incredible effects which I've seen over the past month or so of use but each product also has a lovely texture and goes on nicely and most important of all (for me anyway) they smell nice but not too nice. I cannot bear skincare that's too sweat or perfumed it has to be a clean and fresh scent which this 100% has.
Also, one other thing I wanted to mention which isn't really relevant but something I found out on this trip and thought it was so important that everyone must know about, is that you can recycle your empty beauty products with Terracycle at any Loccitane store. As you probably know not all plastics are accepted by your usual recycling bins but Terracycle are able to recycle any beauty products. Just pop them into your nearest Loccitane store and you'll even get a voucher towards your next purchase to say thankyou!
USE CODE SINEADRESET NOW FOR A FREE 7 DAY SAMPLE OF THE IMMORTELLE RESET SERUM WITH ANY PURCHASE!
THE IMMORTELLE RANGE
Click on the images below to shop!

PS YOU MIGHT LIKE Gisou Hair Perfume OR 9 of the best pieces online right now