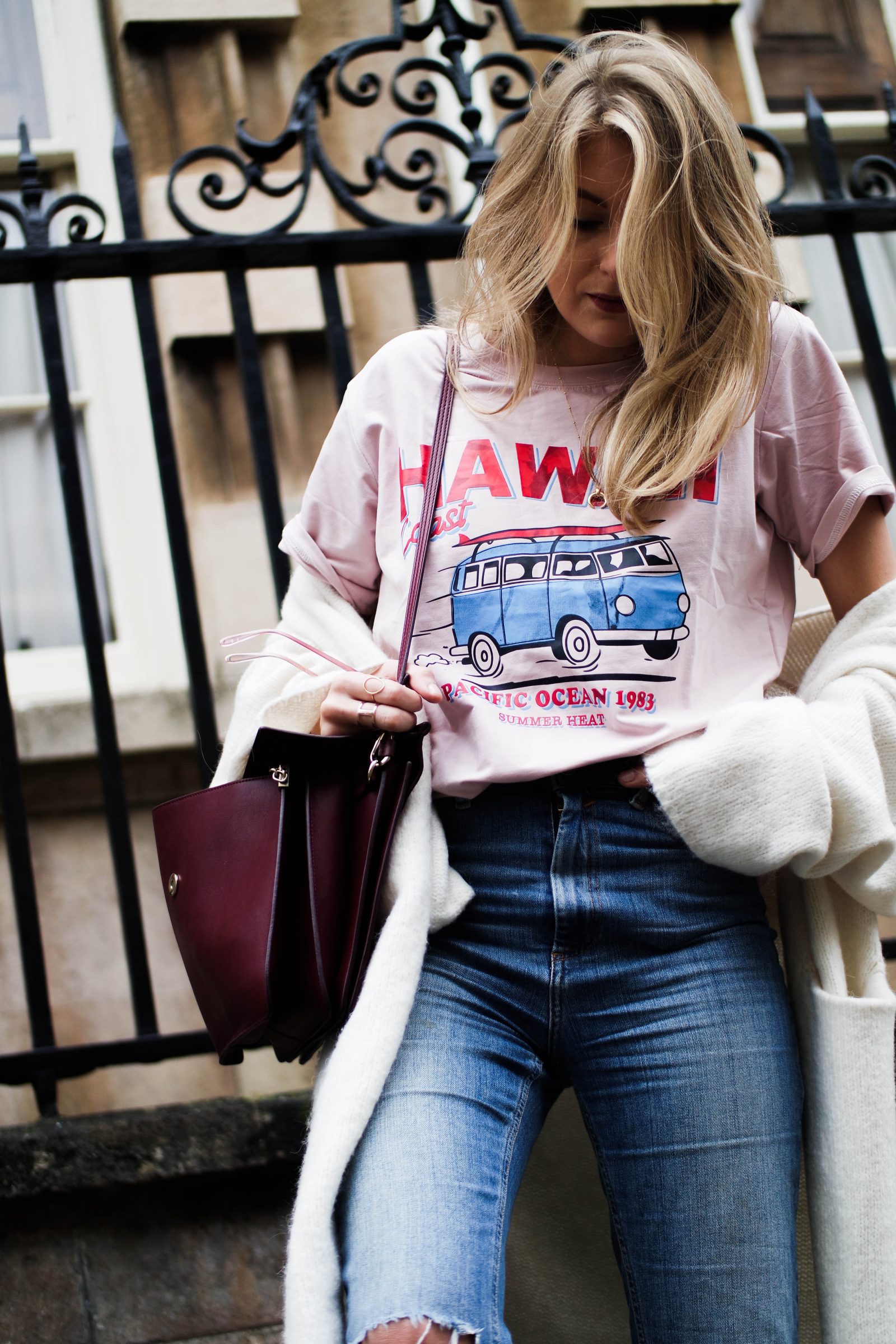 We've all seen the Gucci logo tee at the ever so reasonable price of just £560 it's not quite in my budget. Yes I want to look the same as all the other girls on instagram and I'm not ashamed to admit it but no I don't have that kind of money and if I do, you can be sure I'm buying the loafers and not the t shirt . . amIright?
Shop The Post
The Rise of The Logo Tee
So with the rise of the logo tee on pinterest, instagram, tumblr and all other drool inducing image sites I had come to two conclusions. 1. I need that Gucci logo tee, 2. I can't afford that Gucci logo tee. Whats a gal to do in this situation? I had a look at the way more reasonably priced Ganni tee, you know the space shake one Negin Mirsalehi was seen in?! Just £45, but still eyewateringly high for a cotton t shirt but it's designer and its cute. Do with this information you will. For me? Still too high. So when I came across this Sheinside baby I was all hell yeah!
Obviously this beauty is ridiculously well priced in comparison at just £10.59 and whilst searching for some more logo tee inspo I may have gone slightly overboard. I've linked all my faves below and I'm currently deciding which one I need more. The pink keep it simple one or the Tommy Hilfiger Denim one!? Also how Gucci esque is this one?!
Logo Tee Lovin'
Remember you can click the images and scroll to shop!
Outfit Details
Cardigan : OLD Alternative here
*Logo Tee : Sheinside
Jeans : Asos
Trainers : Adidas
Bag : Chloe / Affordable Alternative
*Cage Bangle : Stella & Dot
*Knot Bangle : Stella & Dot
*Necklace : Missoma
*Cage Ring : Merci Maman
*Circle Ring : &Other Stories
*Glasses : Asos
Camera : Samsung
Lens : Samsung
Shop The Colour Clash
So I thought I'd do a double whammy with this post and also incorporate another mini trend going on right now, the pink and red colour clash. This tee is actually a prime example of a piece that does two in one so you don't have to carefully co-ordinate your own pink and red pieces! I went on the hunt for some more pieces that do this (not as successful as I'd hoped) and I'm pretty fond of the navy red and pink knit, doesn't it look super luxe?!!
Head over to my Twitter for a giveaway I'm doing right now guys to win a haircare bundle including a pair of straighteners!!! ALSO! If you haven't yet then make sure you check out my Youtube channel, there's a new vlog up! I would love your support!