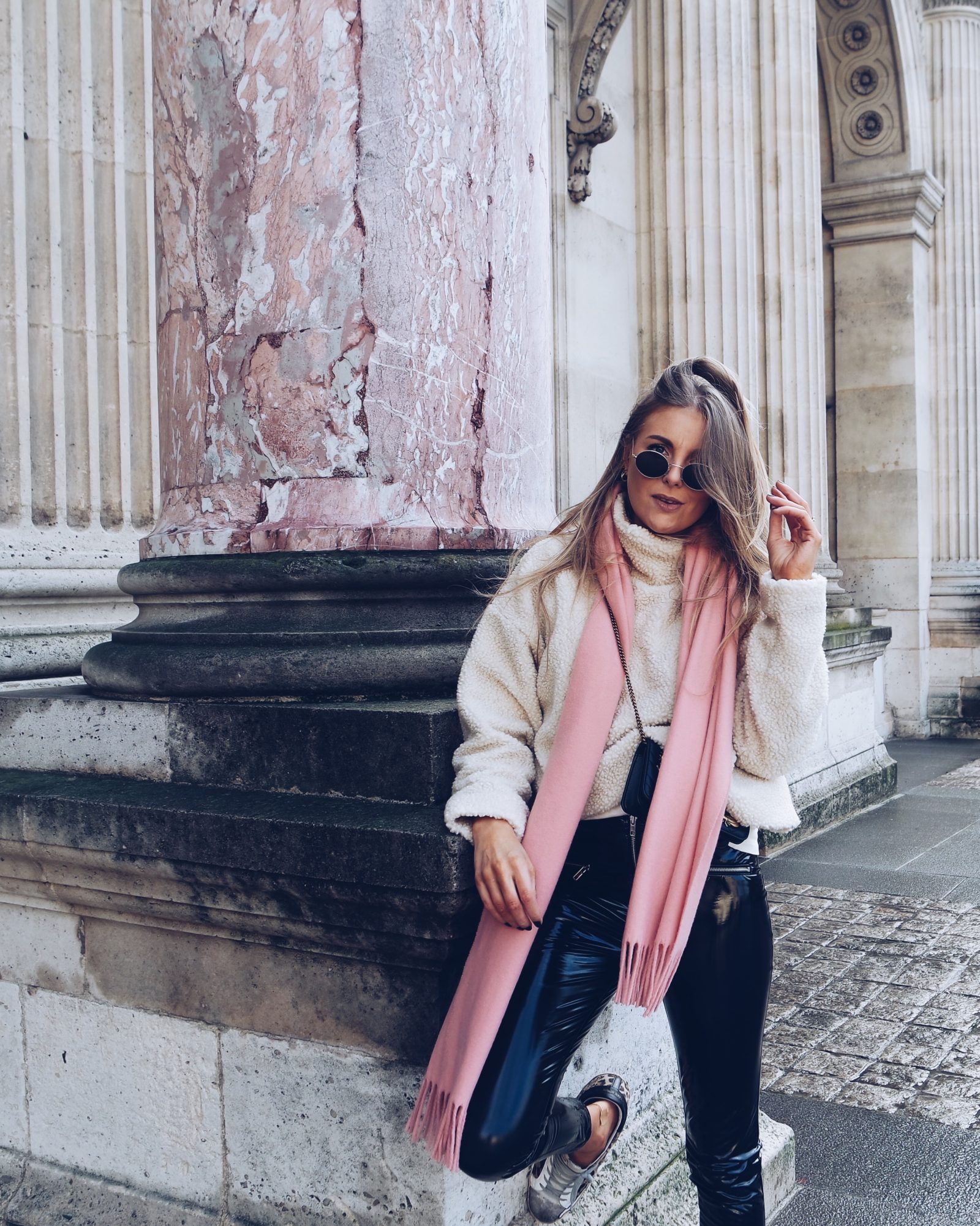 Before we even begin to discuss the perfect vinyl trousers can we just appreciate the matchy matchy-ness of my scarf with the most gorgeous pink marble column I've ever laid eyes on?! Dedication to getting the shot or conveniently walking past . . you decide.
Anyway, back to the trousers in all of their glory. They're perfect in everyway as it is, then we come to the price, just £22 and I've got a 30% discount code so I ask you . . does it get much better than this? If you're not already decided then read on for the many reasons vinyl trousers are a wardrobe staple, how to stop them squeaking and how to get 30% off these and everything else at a popular online store!
Click on the images below to be taken directly to the product page

The Perfect Vinyl Trousers
There's two camps when it comes to vinyl trousers, you either love them, or you hate them (and will love them in 1 months time). I guess some people just instantly say, YES shiny plastic, give it to me. But mostly, if you're like me, you're not convinced. But as with any trend you end up eating your words when 30 days later you're wearing the exact thing you previously despised and swore you'd never touch.
For me it's been a challenge.
Once I decided that OK maybe they're not the devil, maybe they actually look pretty good and maybe, just maybe, I needed a pair myself. The real mission began, finding the perfect pair. You don't want to go too tight and end up looking you went shopping in an adult dress up store, and the fabric/lining is essential. No one wants an episode like Ross from Friends in season 5 (yes I like friends ok). Then theres the front/crotch area. Often ignored when it comes to trousers like this which can just look so so weird unless you're willing to commit to only wearing them with long tops. Me? I wanted the full package.
5 pairs later and I've found them. 2 days later the company asked to work together and gave me a discount code so although I paid the full bill for these (they're totally worth it) you guys can enjoy the fruits of my labour with a special 30% off code below! Why are they so perfect? They're not too tight on the lower leg so they don't look like leggings, they have detail on the frontal/crotch area so you can wear them with anything, a la me in my cropped teddy jumper (of dreams). And they're comfortable to wear so you're not going to sweat and have an overheating issue.
Finally we get to the sticky issue, the squeaking. Yes, vinyl trousers tend to have a small niggling issue that people can here you coming from miles away with that awful scrapping noise of you're legs chaffing together. Want to stop it? Get some olive oil and rub it on the inner thighs of the trousers. Works a treat and I've only had to do it once!!!
All outfit details are linked below. *Olive oil not included.
30% OFF
So I have a super special treat for you guys, as of yesterday I now have 30% off at Miss Pap for the entire site which includes the perfect vinyl trousers with the code SINEAD30. You heard it here first! So as we all love a good wish list I thought I'd put together some of my top picks on the site right now as honestly they are so good for on trend pieces, I literally love everything!
Click on the images below to be taken directly to the product page

OUTFIT DETAILS
Teddy Jumper (Small) : Here
Sunglasses : Here
Gucci Bag : Here
Affordable Alternatie : Here
Vinyl Trousers (Size 8) : Here (Use code SINEAD30)
Acne Scarf : Here
Affordable Alternatie : Here
GGDB Trainers : Here
Affordable Alternatie : Here

*All items marked with an asterix were kindly gifted to me
UK
Click on the images below to be taken directly to the product page




US
Click on the images below to be taken directly to the product page




Vinyl Trouser Outfit Inspo
Incase you're still pondering on whether the vinyl trouser life's for you I thought I'd throw in some outfit inspo on how you can style them in your everyday looks! It took me a while to pluck up the courage to actually wear them as they do seem a bit cray at first but seriously, once you actually wear them you'll fall in love and realise that they're just fancy black trousers, they go with everything! You can see I also wore them here and even if I do say so myself, they looked pretty damn good!
SLOGAN TEE
Click on the images below to be taken directly to the product page




COSY KNITWEAR
Click on the images below to be taken directly to the product page




OUT OUT
Click on the images below to be taken directly to the product page




PS You Might Like
The £35 Missguided Jumper You'll Want To Get Your Hands On
Winter Outfit Ideas
Huge Zara Haul