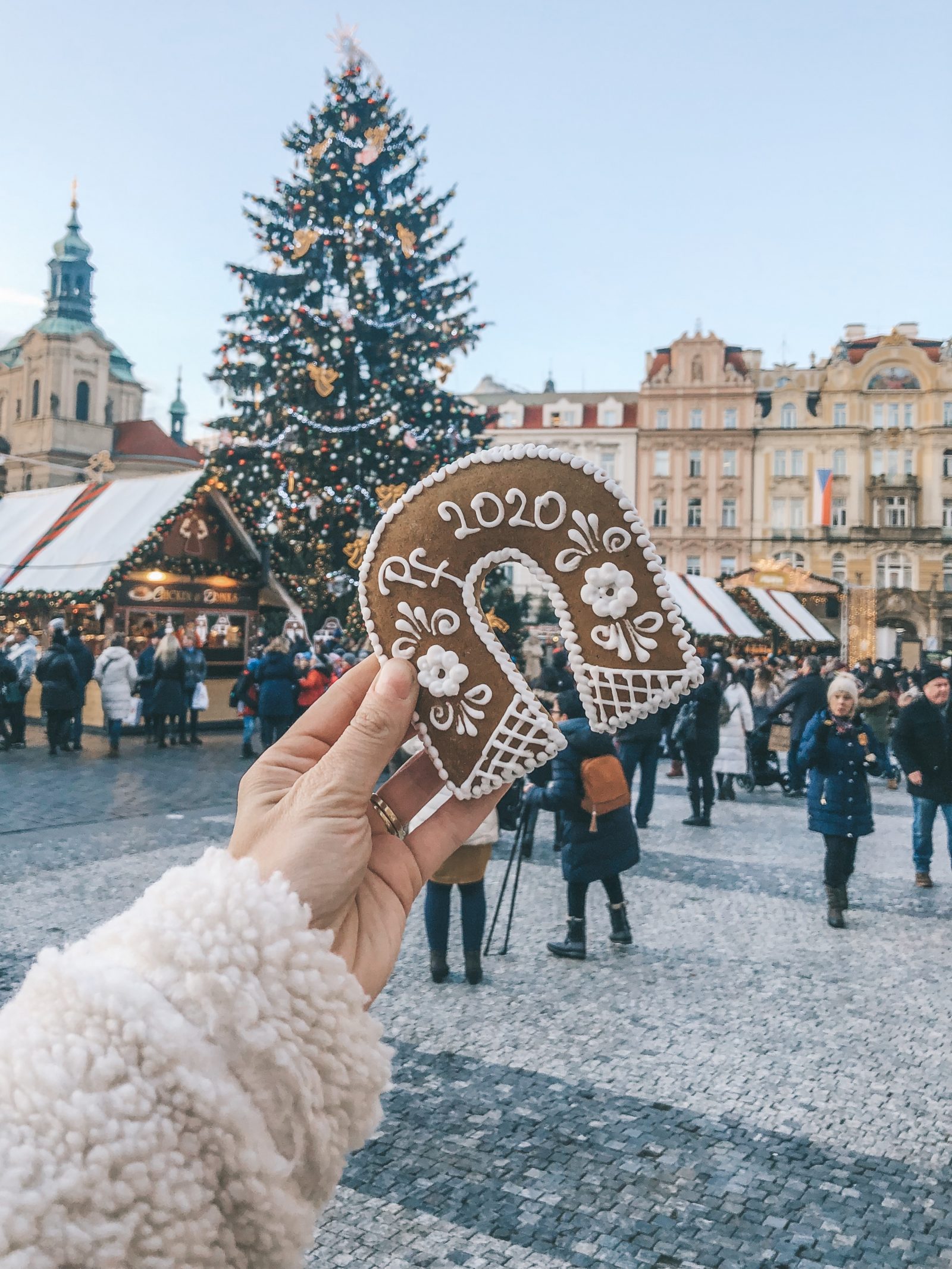 Hey guys!
So I just got back from Prague and had THE best time! So many of you were messaging me telling me you were off there soon so it must be super popular around this time of the year, I'm not surprised! So I wanted to put together a post on what to do in Prague! Don't get me wrong I'm no expert but I did have a great time so I can at least tell you what we did that I think you'd love too!
We went to Prague, Czech Republic with Jet2CityBreaks, I hadn't realised previously that they aren't just an airline but also they do package holidays and package city breaks. It included out flights and accommodation and a private transfer from the airport. I don't know about you but to me there's nothing better after arriving in a new country than to see your name on a board and get a comfortable ride straight to your hotel door!
This trip was gifted to me by Jet 2 City Breaks.
This post contains affiliate links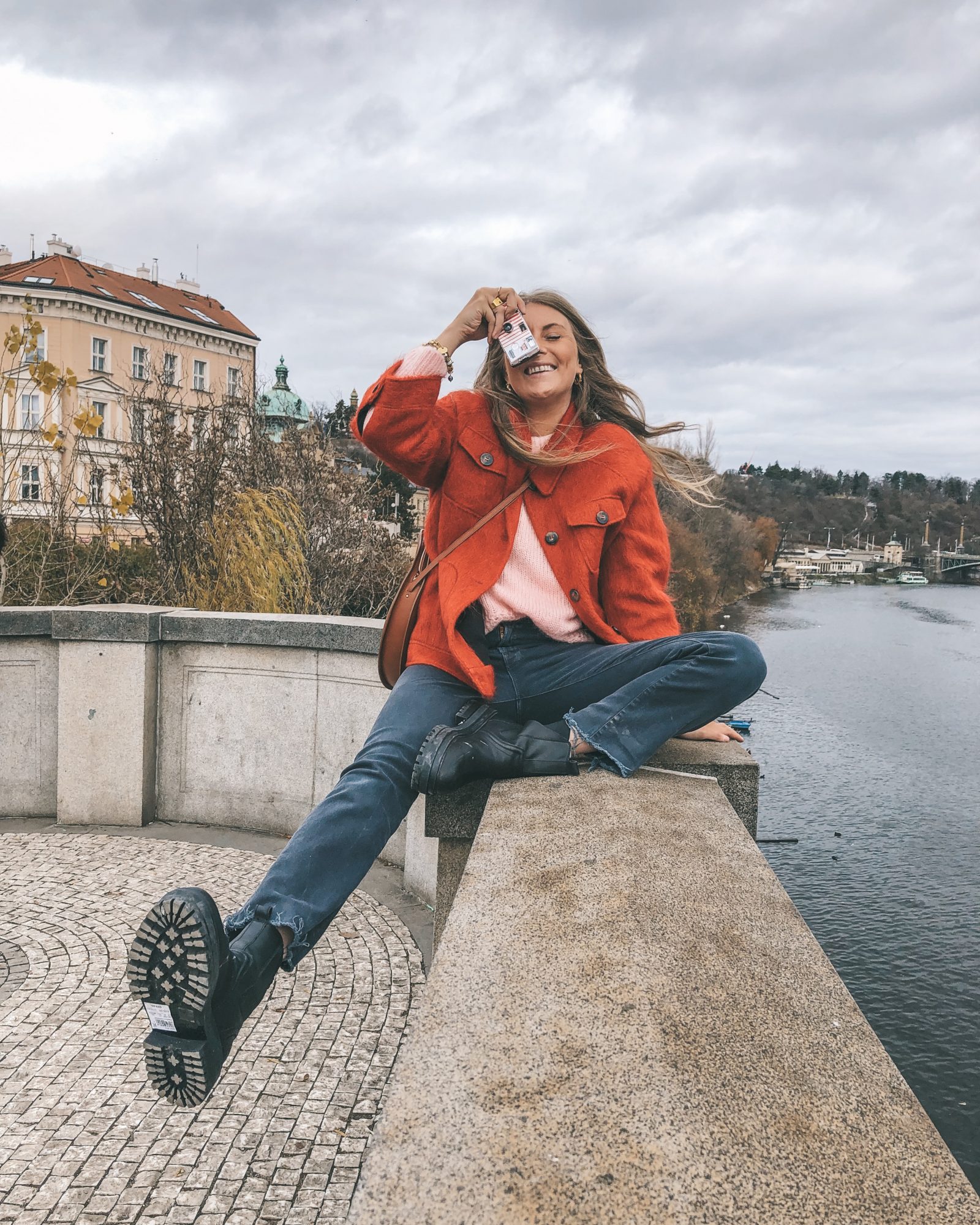 Click the images below to shop!

What To Do In Prague // Jet2CityBreaks
What To Do In Prague : Christmas Markets
What to do in Prague at christmas time? We came specifically with Jet2CityBreaks to explore the Prague Christmas Markets! It's impossible to miss a christmas market when you're exploring Prague because they're everywhere! Any spare space is taken up with gingerbread stands, mulled wine and christmas decorations. We soon came to realise that there's not one christmas market to go to, it's spread across the whole of Prague. There's a really great selection of stalls and perhaps the biggest collection in the old town square, we were told to try the funnel cake here but we never got round to it! Maybe if you do you can tell me what it's like!
THINGS TO NOTE
In our experience the stands only took card so make sure you take cash with you and we were told to only withdraw the cash from ATM's in banks because the exchange rate can be different and not what it says it is in other places. We were also told that you can get a fine for drinking on the street so if you do get mulled wine make sure you keep it to the Christmas market and don't grab one for the walk home, something I wanted to do until Lauren reminded me of this fact!
Click on the images below to shop!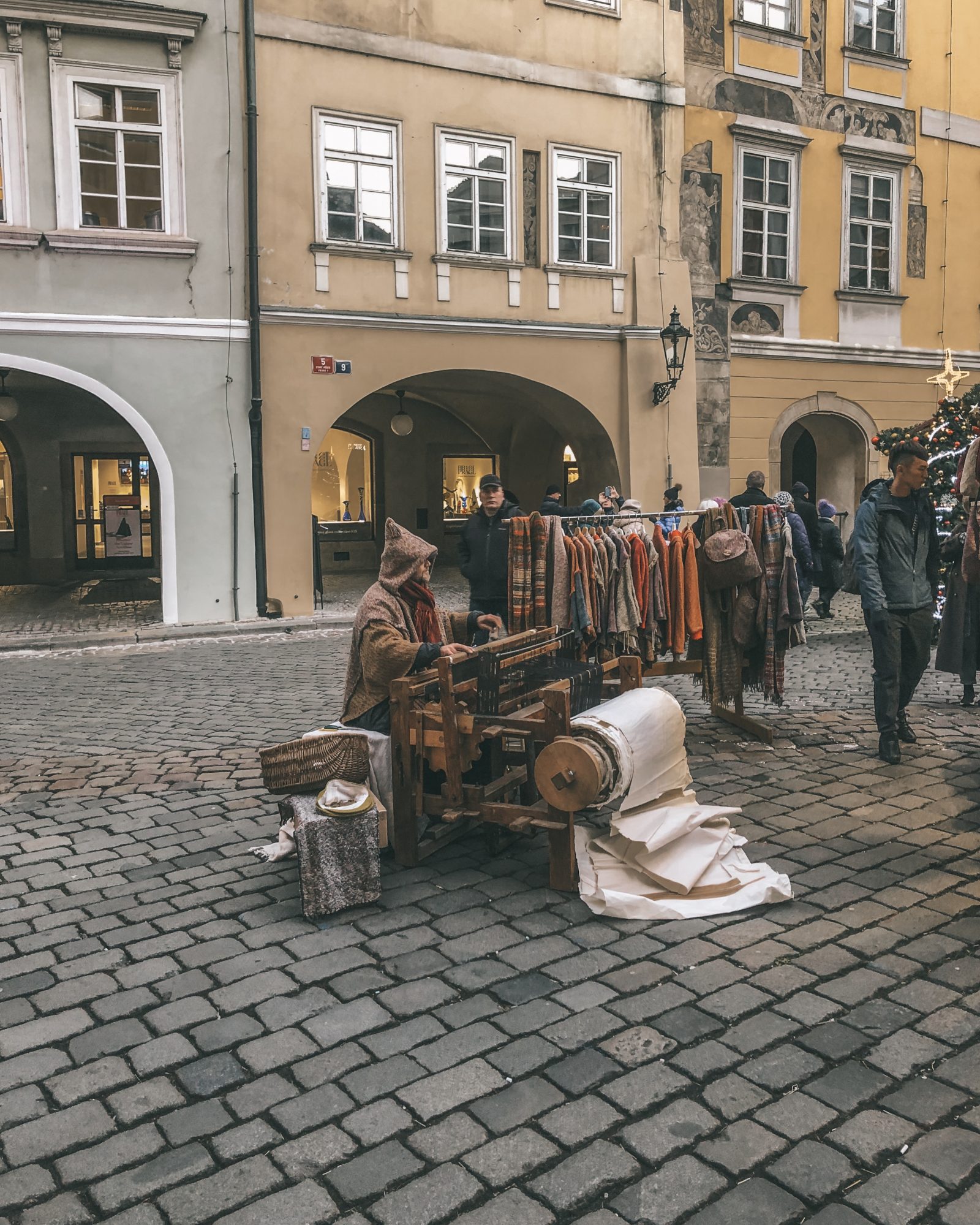 What To Do In Prague : Where to Eat
BOTTEGA LINKA
Address : 13, Havlíčkova 1680, Nové Město, 110 00 Praha, Czechia

We went here on our first night because it was a 2 minute walk from our hotel and wow, it was probably the best food I had on our whole trip. They're best known for the aged meat that they cook on charcoal but both myself and Lauren went for the Tellaggio ravioli with Pumpkin and it was incredible. They also have great wine and a lovely atmosphere with a cheese and meat counter of dreams. I definitely would have loved to go back for a bottle of wine and a healthy dose of cheese and meat!
CAFE IMPERIAL
Address : Na porici 1072/15 Prague 1, Prague 11000 Czech Republic

Another restaurant selected for it's proximity to our hotel, this place is incredible inside with huge pillars high ceilings and the whole place is covered in mosaics. We both had the Steak and whilst it was nothing to write home about it was still a nice meal and the setting is really beautiful and grand.
RESTAURANT OTEVRENO
Address : Jungmannovo nám. 763/3, 110 00 Můstek, Czechia

We were recommended this place as serving the best Goulash in Prague by one of you guys! Now I can't comment on this because it's the only Goulash I had whilst there but it was delicious. Served traditionally in a carved out bread bowl the meat was super tender and it was a lovely warming meal considering how cold it was outside! We also had mulled wine which I wouldn't recommend as it was super bitter.
VELKOPREVORSKY MLYN
Address : Hroznová 489/3, 118 00 Malá Strana, Czechia

Set on the other side of the river we went for lunch here on our first day to warm up after walking in the cold for what felt like hours! They focus on traditional Czech food but they do have a small selection of classics like spaghetti bolognese if the Lambs knee scares you off! I had cabbage soup served in the traditional bread bowl . . let's just say I consumed a lot of bread on this trip! And it was so tasty! It had spicy sausage and potato in too so it wasn't as scarily cabbage-y as I'd expected! All i think of when it comes to cabbage soup is people on diets who fart a lot!!!!
This place had great mulled wine and coffee, and the cutest setting. Outside you can sit on chairs covered in sheepskins or inside it's cosier and there's christmas decorations everywhere!
PIZZERIA U ZELENEHO KRALE
Address : Nerudova 238, 118 00 Malá Strana, Czechia

This was an absolute hidden gem we found when we were so cold and tired from aimlessly walking that we just went to the first place we saw that didn't serve Czech food. Nothing against Czech food but we just fancied something different! For want of a better word this place is charming, super cute and small with checked table cloths, fun music playing and covered in memorabilia and bank notes. The food was great, cooked basically in front of us, and so was the beer and mulled wine, of course I had both. Did I mention we were very tired? We rested there for a while!
What To Do In Prague : Sights To See
CHARLES BRIDGE
Address : Karlův most, 110 00 Praha 1

When looking at what to do in Prague the Charles Bridge has to be up there at the top! The Charles Bridge has the most beautiful views across Prague and we just so happened to walk over around sunset time and the sky was the most gorgeous cotton candy colour and the seagulls were all flying round trying to bed in for the night, it felt super magical and for those of you in search of the perfect instagram, this is a great time to visit to get "the" shot!
Click the images below to shop!

OLD TOWN SQUARE & THE ASTRONOMICAL CLOCK
Address : Staroměstské nám., 110 00 Josefov, Czechia
The old town square was somewhere everyone told me to visit and it was super beautiful but very busy especially with it being full of the christmas market stalls at the moment. The Astronomical clock is in the old town square and so so interesting to look at! Things like this fascinate me!
THE COMMUNIST MUSEUM & JOHN LENNON WALL
Communist Museum Address :V Celnici 1031/4, 118 00 Nové Město
John Lennon Wall Address :Velkopřevorské náměstí, 100 00 Praha 1

These two are not close together but they tell an important story. The communist museum tells the story of what happened after world war II in Czechoslovakia and in particular Prague and what it was like to live behind the Iron Curtain. I think it's important when visiting a country to learn about it's past. The timeline was particularly interesting and heartbreaking to me, to see that whilst the rest of the world were living through the swinging 60's Czechoslovakia had such pain and struggle.
The John Lennon wall was somewhere people would write letters and poems against the regime in the 60's with John Lennon becoming a symbol of freedom after his assassination in 1980.
PRAGUE CASTLE
Address : Hradčany, 119 08 Prague 1

It's a bit of a walk up here but I'm sure you could uber and we actually enjoyed the walk as you go through lots of windy streets and cute little stores! Once at the top the view is incredible and there's a cute little market with mulled wine and handmade crafts. They also had some form of parade/march going on every 10/15 minutes when we were up there!
Click the images below to shop!




There were also some beautiful gardens, the Wallenstein Garden and Palace AND the botanical gardens that we walked up to go and see but both were closed for winter so bare this in mind depending on the time of year you're going. I believe they re-open around march/april time.
What To Do In Prague : Where To Shop
Of course there are the Christmas markets spread throughout Prague and the independent stores lining the streets but if you want to treat yourself or just go window shopping then Parivska is the place to go. Lined with luxury stores we actually found the exchange rate to work in our favour. We also found that a lot of items that had sold out elsewhere back in the UK were in full stock. Items such as the CD Chain necklace from Dior that you cannot buy for love nor money in the UK and the Prada Re-Edition bags everyone is searching for right now!
Address : Pařížská, 110 00 Josefov, Czechia
What To Do In Prague : Where To Stay
As well as what to do in Prague I thought I would also recommend where to stay! We stayed at the Hotel Century Old Town Prague MGallery as part of our Jet2CityBreaks package. It's such a beautiful hotel in an incredible location, walking distance to everything and as I mentioned so many great restaurants on the same block. We also had breakfast included and let me tell you now, the best omelettes! I would highly recommend the hotel, even if you don't book the package through Jet 2 City Breaks you can book the hotel individually.
Address : Na Poříčí 7, 110 00 Petrská čtvrť, Czechia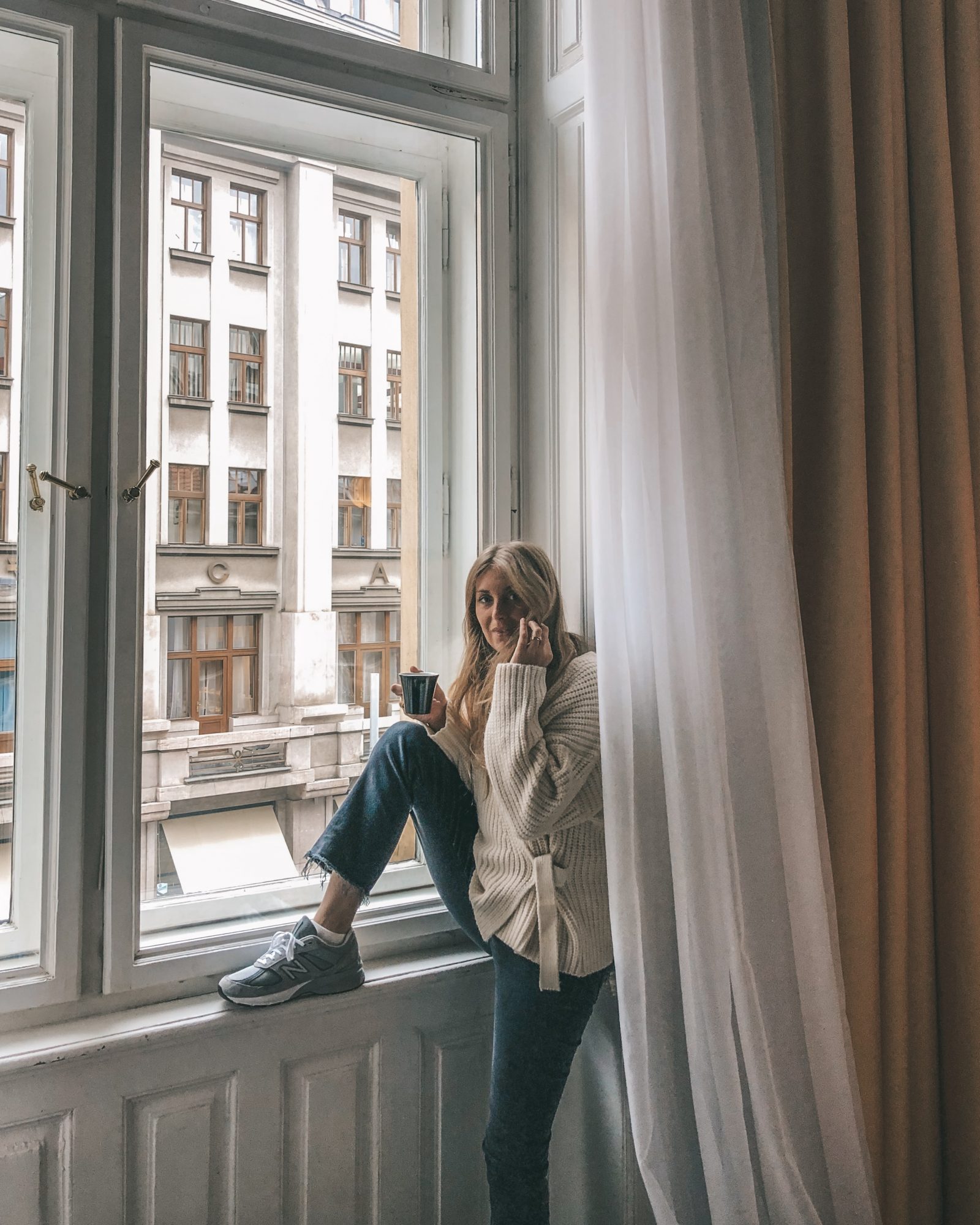 Click on the images below to shop!

Of course we also flew to Prague with Jet2, it was only an hour and a half flight which was amazing and something I didn't know previously about Jet2 but now I do I'll be flying with them always, is that they include hold luggage for everyone. I find that it's so rare for companies to do this now it really impressed me! We also boarded and were ready to fly early and landed early so all round a great experience! Check out Jet2 flights to Prague here! You can check out all Jet2 flights from Birmingham here!
PS YOU MIGHT LIKE THIS 5 Gift Ideas For Him OR 5 Gift Ideas for Her