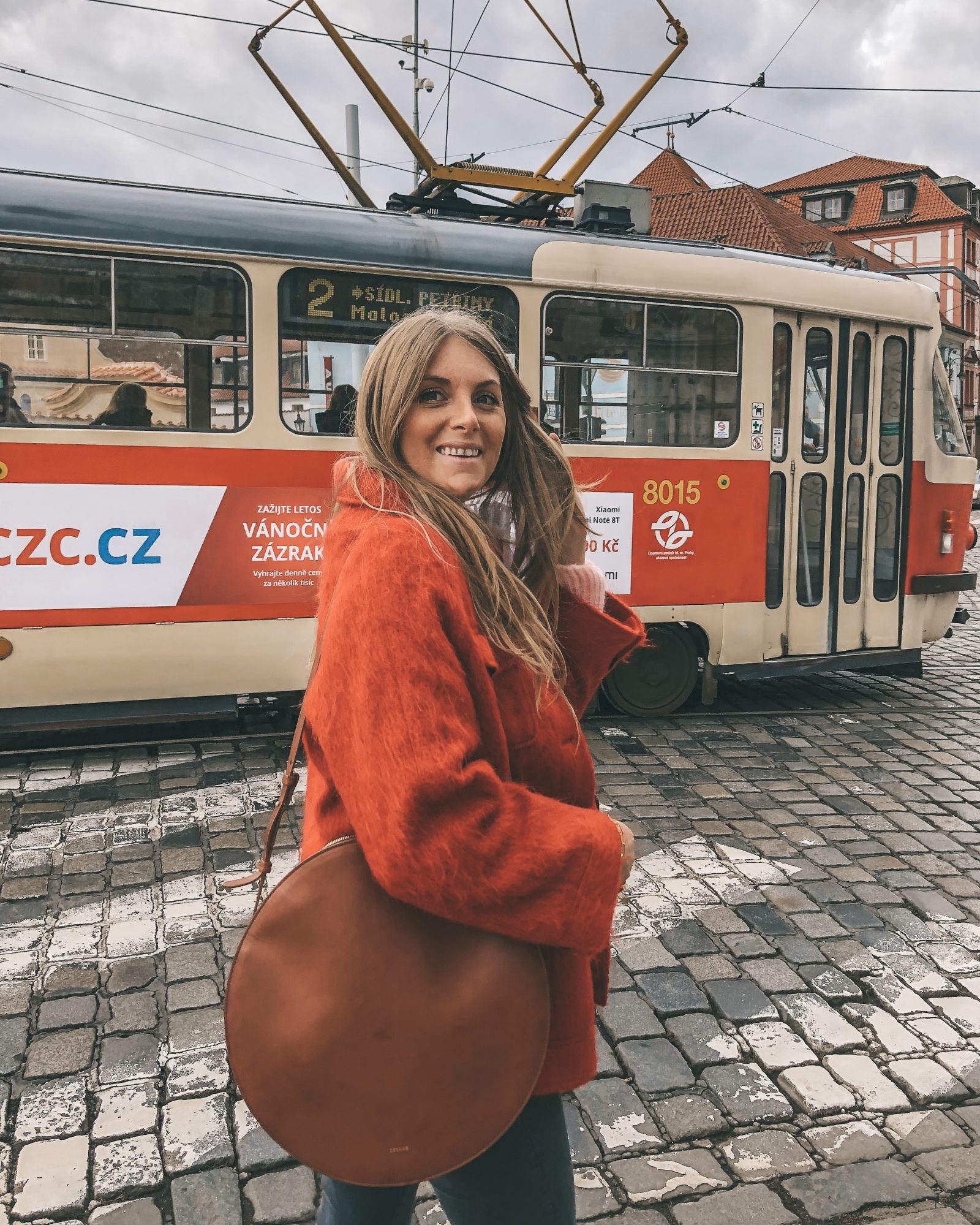 Hey guys!
I know I already told you all about what I got up to in Prague, if you didn't see it you can read it here! But I wanted to also share my outfits because, well, I loved them. And I don't think I share nearly enough outfits on this blog anymore! I need to change that in the new year!
This post contains affiliate links
Click on the images below to shop!

What I Wore in Prague
This bone chilling outfits is actually one of my favourites. Don't worry there was a coat to go with it but it was better without, the things we do for fashion am I right?! I was super happy because it's the first time I've shot an outfit wearing my new trainers I got in Australia. They were a major bargain I think I got around £40 off of the original price, maybe even more! These GRLFRND trousers have been hanging in my wardrobe for way too long and now that I've finally worn them I never want to take them off! Also the jumper is my sisters but after wearing it for a day I promptly ordered myself one! I got a large as they only had a few sizes left but I love things cosy and oversized so that's fine with me!
Click on the images below to shop!

This was my, I was so fricking freezing yesterday I'm going to bundle up warm today outfit and then we had to walk 40 minutes to an instagrammable breakfast spot Lauren had found so I was VERY sweaty when we got there! I love this Arket jumper so much, the bag is Arket too and I have to say I reach for it more than a lot of my designer bags. It's so handy, it goes with everything and it fits a surprising amount in it for a small bag! I also wore these boots every day and we walked miles but they only really started to wear on the third day, I was really impressed! I made sure to double sock though!
Click on the images below to shop!

These jeans are RIDICULOUSLY comfy! And I mean, I wore them on a 14 hour flight comfy. They're super stretchy so feel like leggings but they don't look like "jeggings" if you know what I mean? They were a super generous gift and I know they aren't cheap but dear god the comfort! I would very much recommend as jeans are something you wear everyday and really get your wear out of so worth investing in (that said I do have other topshop jeans I love equally, not quite the same level of comfort though!). This Sezane jumper and jacket combo was a spur of the moment, If I want to wear colour I'll wear colour selection and I love the two together. I'm really hoping I can get lots of wear out of this coat despite it being brightly coloured so we will see!
Click on the images below to shop!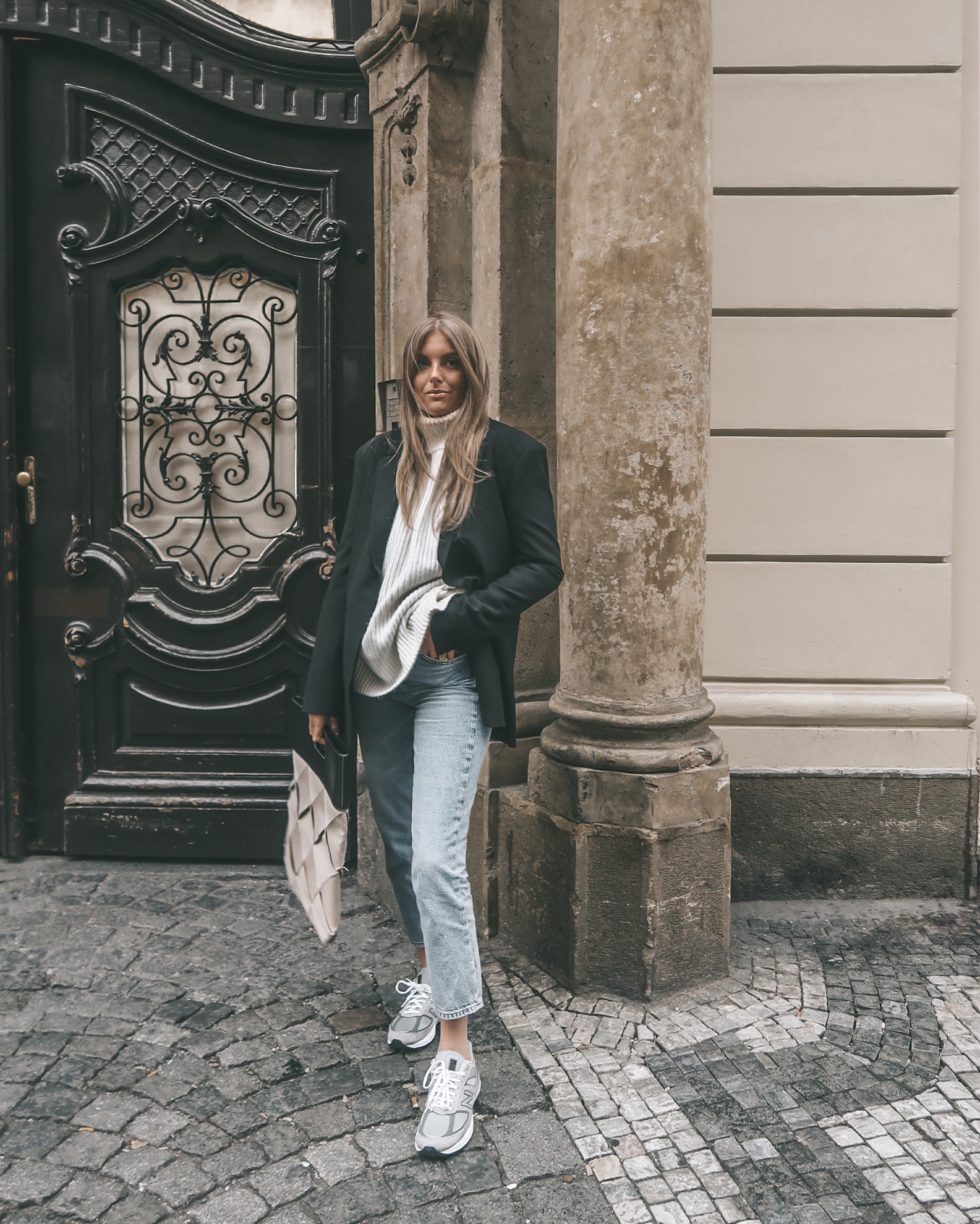 I actually wanted to shoot this jacket and had it with me so shot this the morning before I flew home from Prague so it's a bit sneaky to say it was an outfit there but omg I LOVE IT! I will be wearing it multiple times from now on! This blazer is from Revolve but I do have an almost identical one from Arket here which might be cheaper. I made selections from both brands around the same time and was clearly not paying attention and really wanted a black blazer! This one's a bit more structured in the shoulder area. It's that stolen jumper again and those new trainers, my beloved Bottega bag which I'm so pleased I wore on this trip because I've been a bit scared to up until now! It's so handy too, look at the size of it! Plenty of room for snacks! Then I'm finally back in my Topshop Editor jeans because I gave into the fact that no my other jeans do NOT fit me and just to buy the size up and be comfortable, I wish I'd done it months ago!
Click on the images below to shop!

My last outfit! Not that these are in date order! This is a very monochrome outfit and I really love the mix of sand, cream and black. I was worried about the lighter under layer with the harsh boots and coat but they actually all balance each other out and I think the bag ties it all together. These jeans I've had for a couple of months now but I've not had a chance to wear them much what with being in Australia! I love them, very comfy, also sized up in these from my usual (in my head) size so much more suitable for bread bowls filled with Goulash. The coat is River Island and VERY warm. I love it with this day outfit but can we take a moment for how sassy it would look with heels and an LBD?!
Click on the images below to shop!

PS YOU MIGHT LIKE THIS What To Do in Prague OR 5 Gift Ideas for Her
PRAGUE VLOG