I am by no means an expert when it comes to paris as I've only been a couple of times but I wanted to share with you some tips on the places I went and also just to share with you some of the amazing shots I got of the beautiful city because everyone wants to know the good photo spots right?! All of these were just taken on my iphone!
My Paris City Guide
THE PALAIS ROYAL
We hadn't planned to go here really I just said to Jack I wouldn't mind going to get my cliche black & white collumn shot, I mean did you even go to Paris if you didnt!? So when we were on our way to the Louvre Jack informed me we were just across the road from it, rude not to right?! It's SUCH a beautiful courtyard though I can't talk about the building itself as we didn't go inside. I seriously wanted to stay here for so long it's so beautiful, all of the buildings in Paris are a dream! Anyone from Paris if you're reading, please set up a coffee shop here so I can sit and sip and take in this incredible view next time!!!
Location : 8 Rue de Montpensier, 75001 Paris, France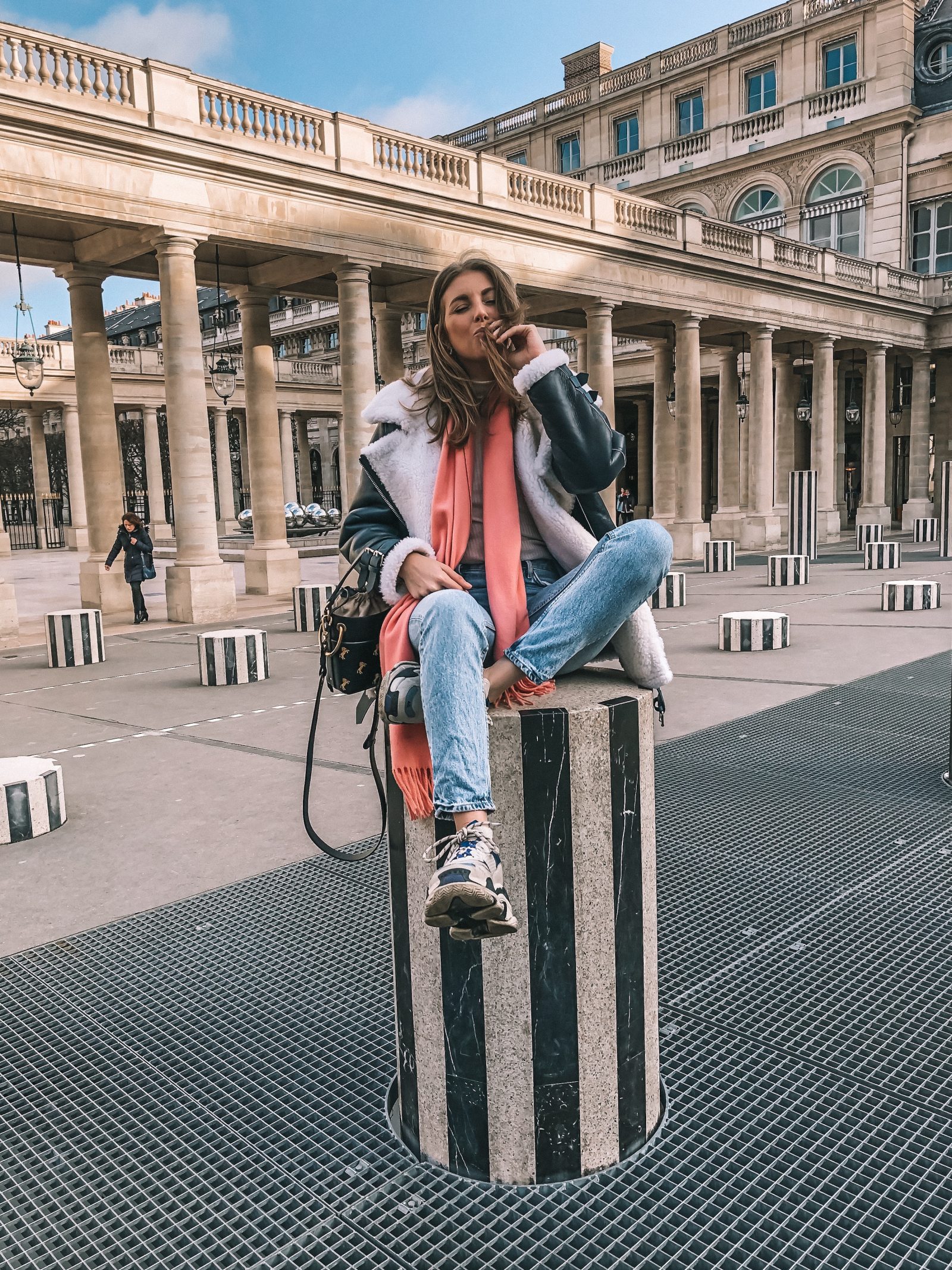 Shop my outfit by clicking on the images below!




THE HOXTON
We stayed here after finding the most amazing offer online and our room was so nice, such a comfy bed and a great location, not too far from Monmarte and with lots of cool bars and restaurants near by. Also round the corner from the Sezanne Apartment which you have to visit!! I got some stuff from there so you'll be seeing it on my instagram feed soon!
Even if you're not planning on staying at the Hoxton it's definitely worth heading over for a drink, coffee or dinner. The interiors are amazing and they have the cutest little courtyard for coffee and food and just the best settings. We didn't get to check out all of the bars and restaurants but it's always top if the recommendations whenever I've asked for them!
Address : 30-32 Rue du Sentier, 75002 Paris, France
SACRE COEUR
I've been up to the Sacre Coeur a few times whilst in Paris but this time I was determined that I was going to climb up to the top to get the amazing view I'd heard so much about. Let me tell you (and obviously you can see for yourself) it's incredible!!! Definitely worth the long walk up for that amazing view over the city and you can reward yourself afterwards with a coffee and some french onion soup in one of the cute cafes in Monmarte.
Address : 35 Rue du Chevalier de la Barre, 75018 Paris, France
NOTRE DAME
In my opinion, just going to see the Notre Dame is enough. I'm sure that the view is amazing but I've heard that the queue and everything just isn't worth it so i've never really made an effort to go inside. Usually I just grab a coffee or something to eat with a good view of the landmark and take in it's beauty from afar. I definitely think that in the future, next time I go I would love to climb it as it's the last one I haven't climbed now!
Address : 6 Parvis Notre-Dame – Pl. Jean-Paul II, 75004 Paris, France
THE LOUVRE
Another thing you have to do if you visit Paris is go and see the Mona Lisa at the Louvre. It's 15€ to get in and totally worth it. The inside is just as beautiful as the outside with some incredible pieces of art, make sure you remember to look up at the incredible ceilings and out of the windows at the beautiful greens and perfectly manicured gardens!
Address : Rue de Rivoli, 75001 Paris, France
If you do go to the Louvre, make sure you stop by at Cafe Marly. There's an amazing view of the big pyramid if you sit outside in the summer or inside, you can see the shot I took from our table where you can see inside the museum! It's amazing! And they do a great Irish Coffee!
Address : 93 Rue de Rivoli, 75001 Paris, France
ARC DE TRIOMPHE
This was the second time I'd climbed the Arc de Triomphe and the last time it was raining and foggy, as you can see below the view on a clear day is incredible, in my opinion one of the best in Paris. I definitely prefer it to the view from the Eiffel Tower because I love that you can see the Eiffel Tower. Aldo they have a rule that no buildings can be above a certain height to keep this beautiful view and everything is symmetrical! Then there's the fact that it's right by Avenue de Montaigne and the Champs Elysees so perfect for a bit of shopping once you're done!
Address : Place Charles de Gaulle, 75008 Paris, France
EIFFEL TOWER
It's always worth a visit to the Eiffel Tower to take in it's beauty. This time I didn't climb it because not only had I already done it, but we'd seen the best views from the Sacre Coeur and Arc De Triomphe so didn't feel the need to. I just love walking up to it to take in how giant it is and to walk through the beautiful gardens lining it! Definitely worth a visit even if you're not planning on doing the climb!
Address : Champ de Mars, 5 Avenue Anatole France, 75007 Paris, France
MARAIS
Someone recommended this to me on Instagram and I'd never even heard of this area in Paris before but it's so so lovely! They have the cutest shops, cafes and restaurants on cobbled streets you could get lost on and it's just such a lovely area to go and spend a day in! I would definitely recommend it for if you feel like you want to go shopping but not in the obvious places! There were lots of independent stores there too, some really nice interior shops and trendy shops like Supreme so yes, have a look!
Address : Rue Barbette, 75003 Paris, France
PARIS RESTAURANT RECOMMENDATIONS
BRASSERIE LES DEUX PALAIS
For the best onion soup! We stopped there when we were just wandering and looking for somewhere to eat, we were desperate! And the onion soup was honestly worth a ticket on the eurostar just to go back and try it! It wasn't cheap but really is anywhere in Paris cheap?
Address : 3 Boulevard du Palais, 75004 Paris, France
SALATIM
We discovered this because it was literally just down the road from our hotel, The Hoxton, and honestly it was such a gem! They do Israeli small plates and it's super cosy with only a few tables. I never thought I'd have liked Israeli food, to be honest I didn't know what it was, but it was so so tasty! Also for a couple of glasses of wine each and loads of plates, i think we tried everything on the menu, it was €40!!! Amazing, the cheapest and one of the best meals we had whilst there and now has me searching for Israeli restaurants in London!
Address : 15 Rue des Jeuneurs, 75002 Paris, France
PAPADOOM KITCHEN
Another restaurant we stumbled on about a 5 minute walk from our hotel in the Monmarte area was Papadoom kitchen. I'm a huge curry fan and indian is my absolute favourite so I'm always game for anything like this! They did smaller plates again like Salatim so we ordered a lot and got to try loads of different things, and I can confirm that everything was super tasty!
Address : 157 Rue Montmartre, 75002 Paris, France
ENJOY PARIS!!