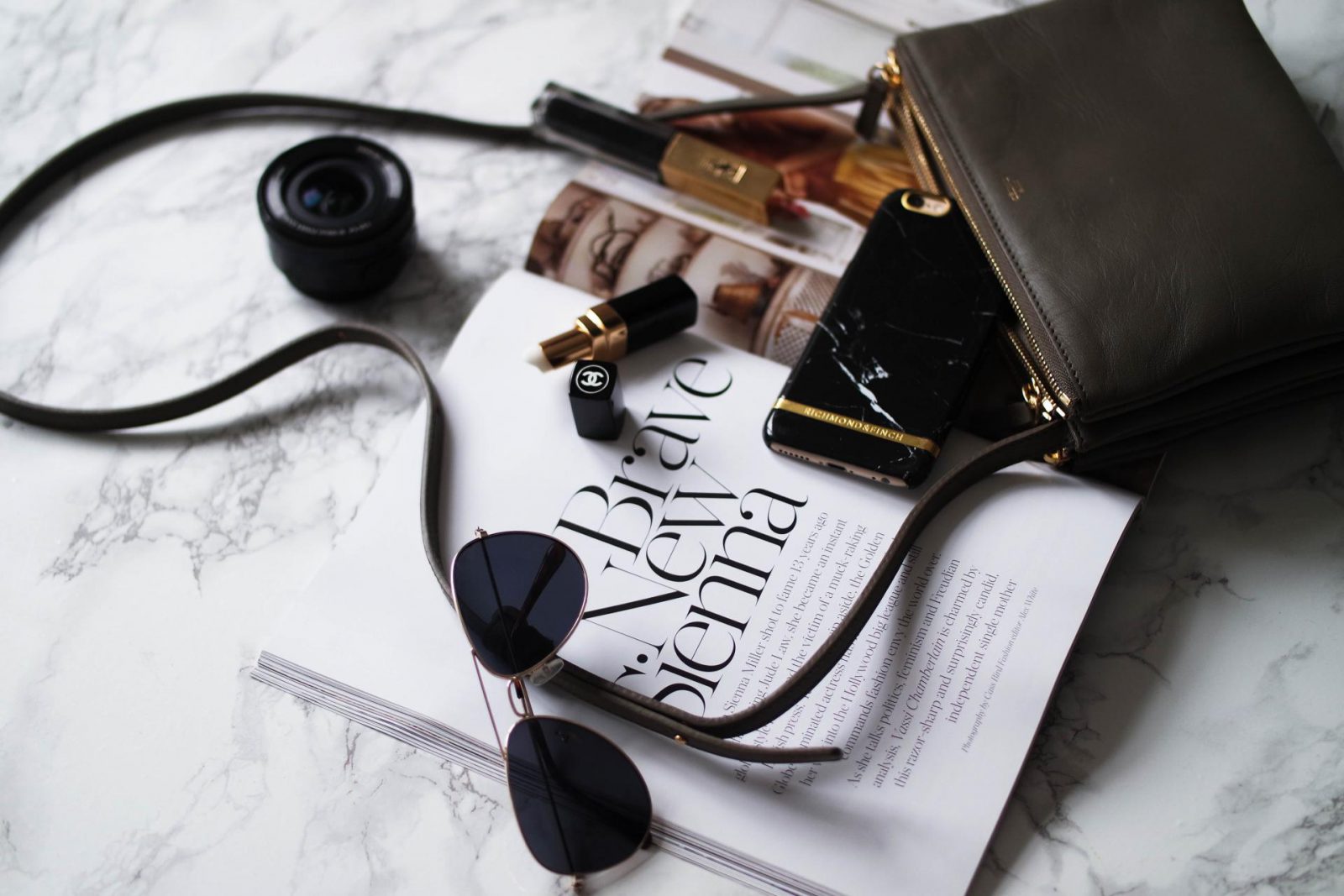 Shop The Post
Since I got a new bag, I thought I'd do the obvious thing that any blogger does and do a whats in my bag post. Personally I really enjoy these – usually on youtube I know. Not only because I'm ridiculously nosy but also because I like to see how much the bag itself can hold – a vital piece of information when deciding whether to buy said bag. The bag in question? The Celine trio of course – bought from the uh-mazing Arch Label Agency – you can see how much for and learn a bit more in my haul video and post!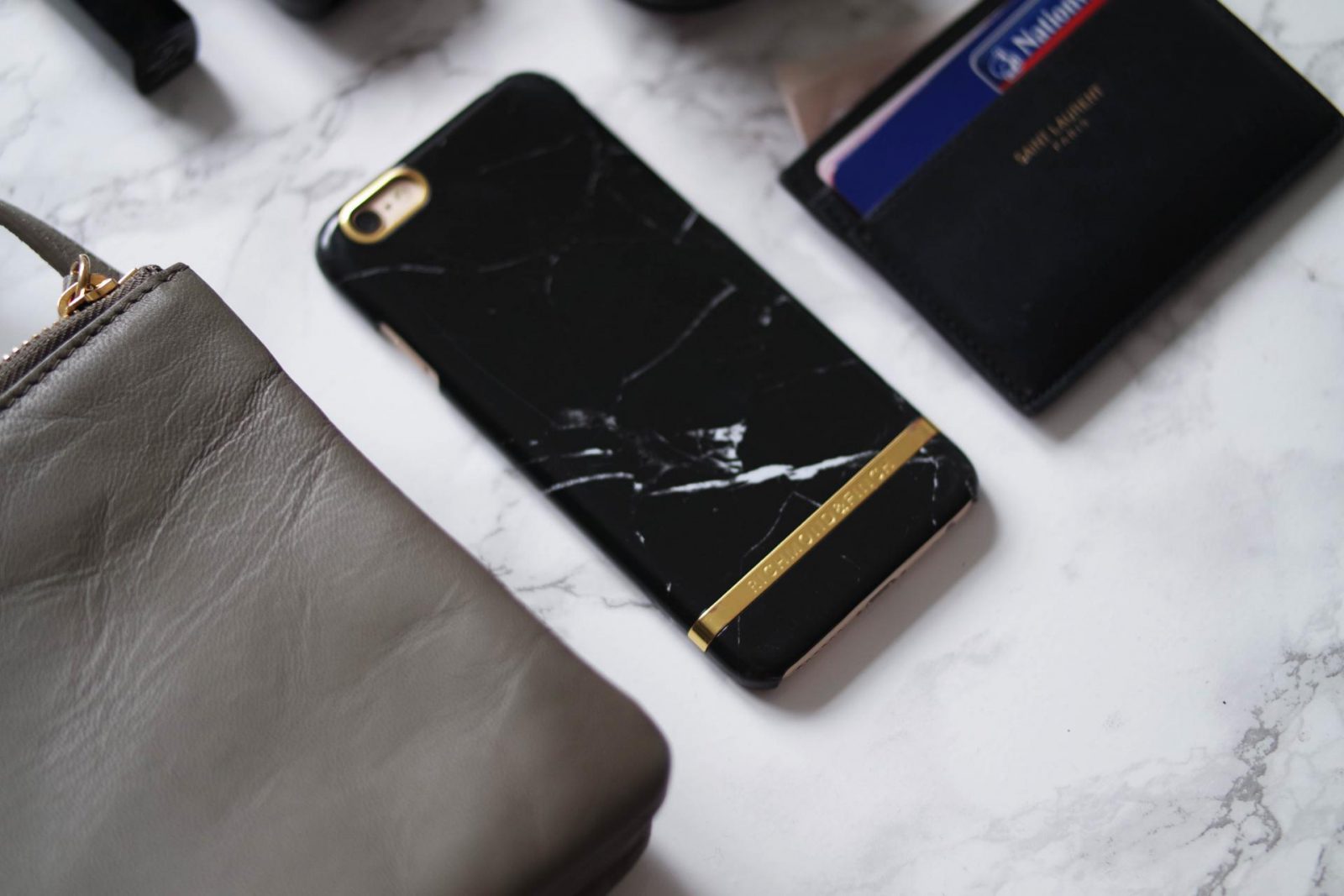 The Celine Trio
I wasn't exactly in the market for the Celine trio, I was however in the market for a designer bag. I've been working ridiculously hard this past year and a half and finally found myself with some spare cash. After saving for travelling and surviving my 26th birthday I thought it was about time I treated myself to something I'd always promised myself I'd get when I had my first proper job.
Now I know people don't consider blogging to be a proper job but to me, it's my calling. I've been through so much s**t to get to this point where I can finally say I'm doing what I know I'm supposed to be doing and guess what? I'm happy. I love my job and yes I may work 7am – 10pm (and thats a short day) but I enjoy every minute of it!
ANYWAY, cut the soppyness – whenever I go in to Arch I go with an open mind and a closed wallet, well on that fateful day my wallet was not closed for once and as soon as my eyes landed on this classic beauty I knew she was the one for me. And for half the price you'd pay in store – who was I to say no? This one even still had its stuffing still inside – the previous user had barely used it – SCORE. Obviously now Arch's website is saved to my favourites bar and I check the new in section regularly as well as popping in to the store! Make sure you also follow them on Twitter and Instagram for live stock updates!
Clearly there's a theme here with the black and gold! I love love love my card holder. Jack got me it for Christmas last year and I so prefer it to a purse, it fits in any bag and if I do want a purse I just bring both. The cardholder is like my essentials and the purse is my store card collection – you know what I'm talking about!
I also force a spare camera lens into whichever bag I take – yes the Celine trio does fit this and yes the camera lens does make the bag look miss-shaped . . nice pictures or nice bag – the daily trials and tribulations of a fashion blogger.
Another essential is my portable phone charger which I would not survive a day in London without! All that instagramming, tweeting and snapchatting really takes it's toll on the poor iPhone battery which let's face it – is crap at the best of times! Then there's my beloved Chanel lip balm that I carry everywhere and feel super classy whenever I use it, who cares if it's no better than vaseline – it looks good.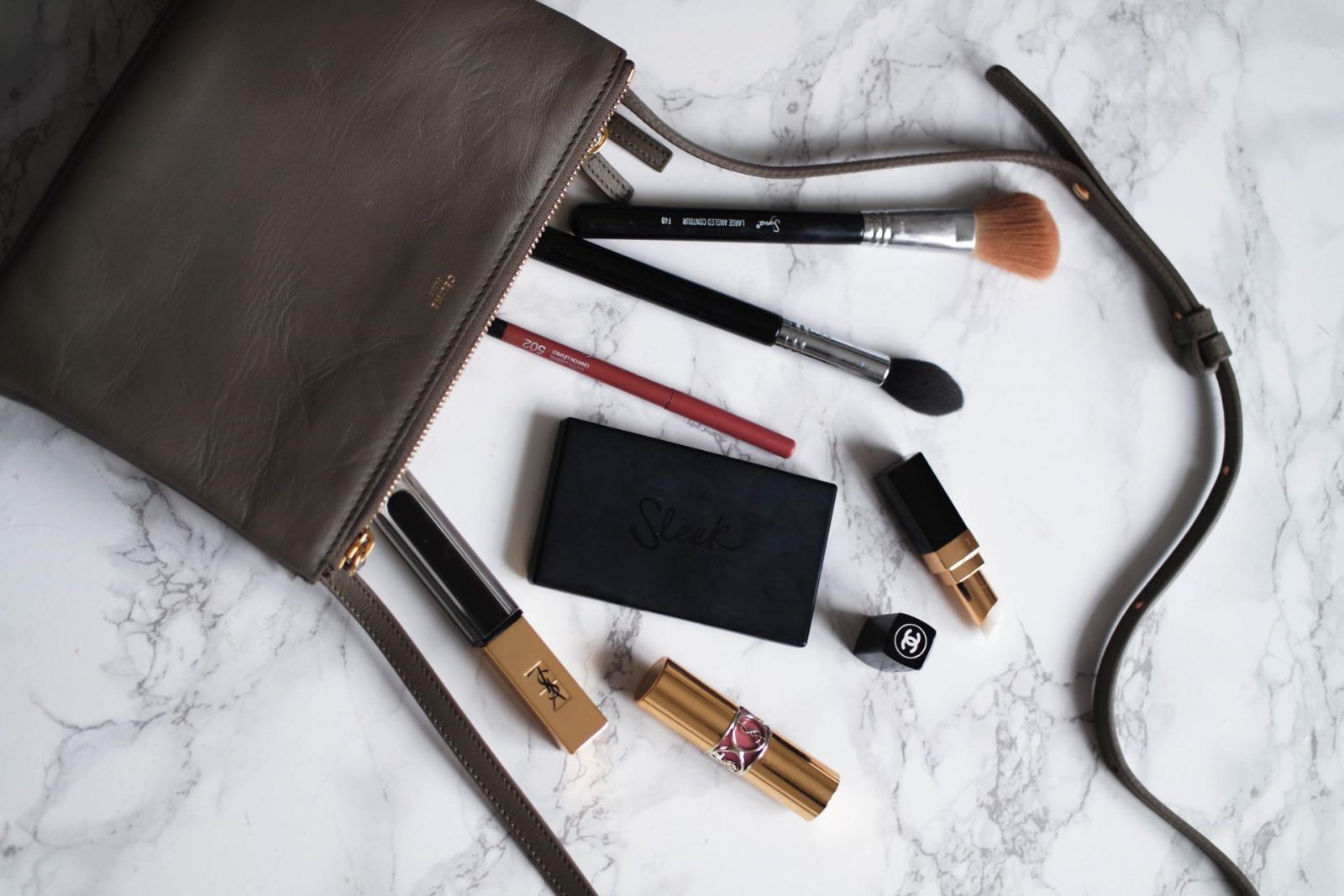 I never used to go out without make up but now if I'm going to be out for the day I always carry these bits! The mascara isn't necessary but if I've got something on in the evening that I'm going straight to then I want the whole shbang! I do agree that the contour and highlight brushes are a tad excessive but they fit and I need them so, they come with me. Also this Kiko liner and YSL lipstick match perfectly and are my fave combo right now though the lip liner has run out and needs replacing stat!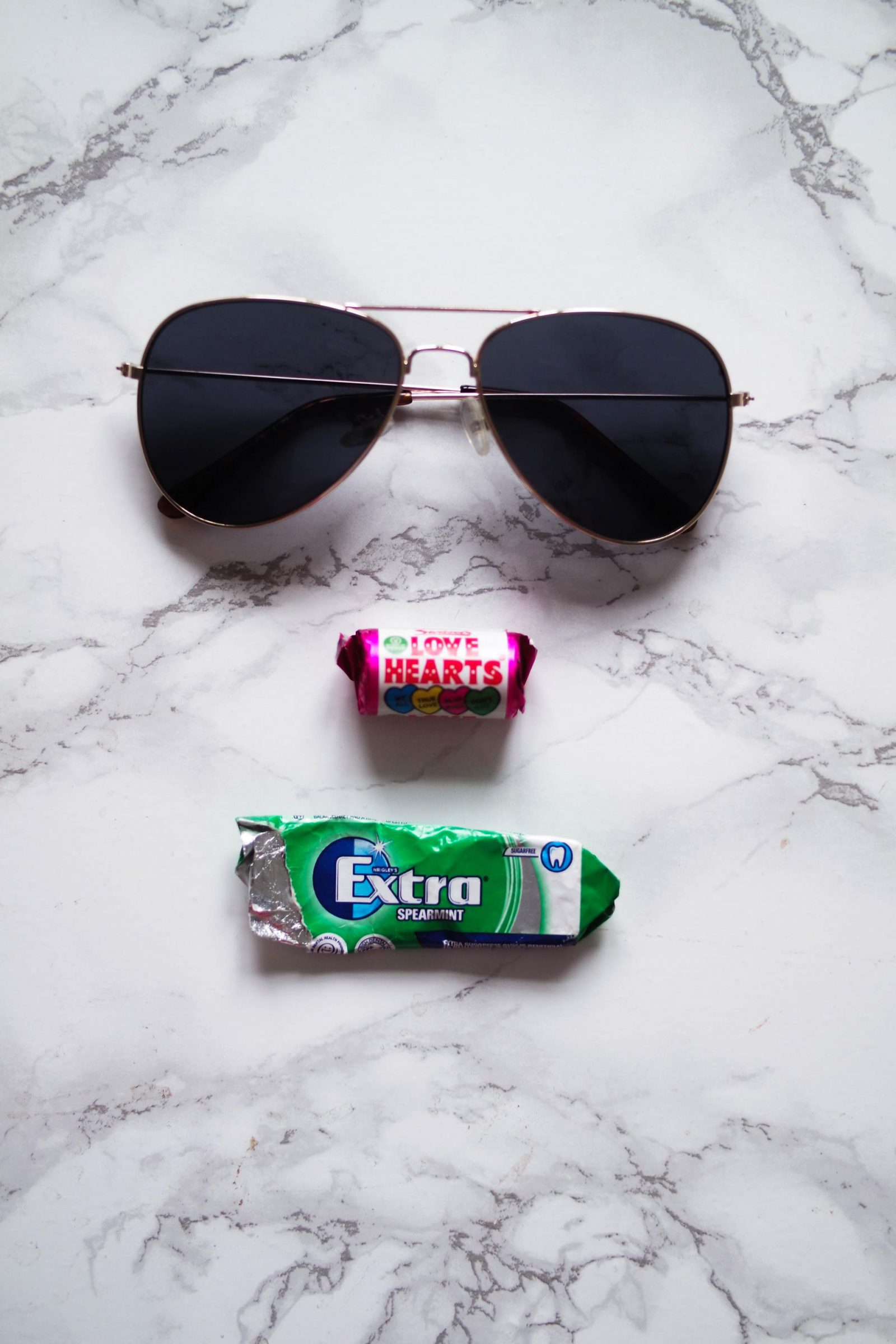 Anyone who knows me knows that I'm an absolute sugar addict. I always have some form of sweet treat inside my bag – I'm pretty sure I stole these from a wedding's sweet stand at the weekend! These are also my fave new sunnies as I'm sure you'll have noticed in all of my latest outfit posts here, here and here!
Shop Whats in my Celine Trio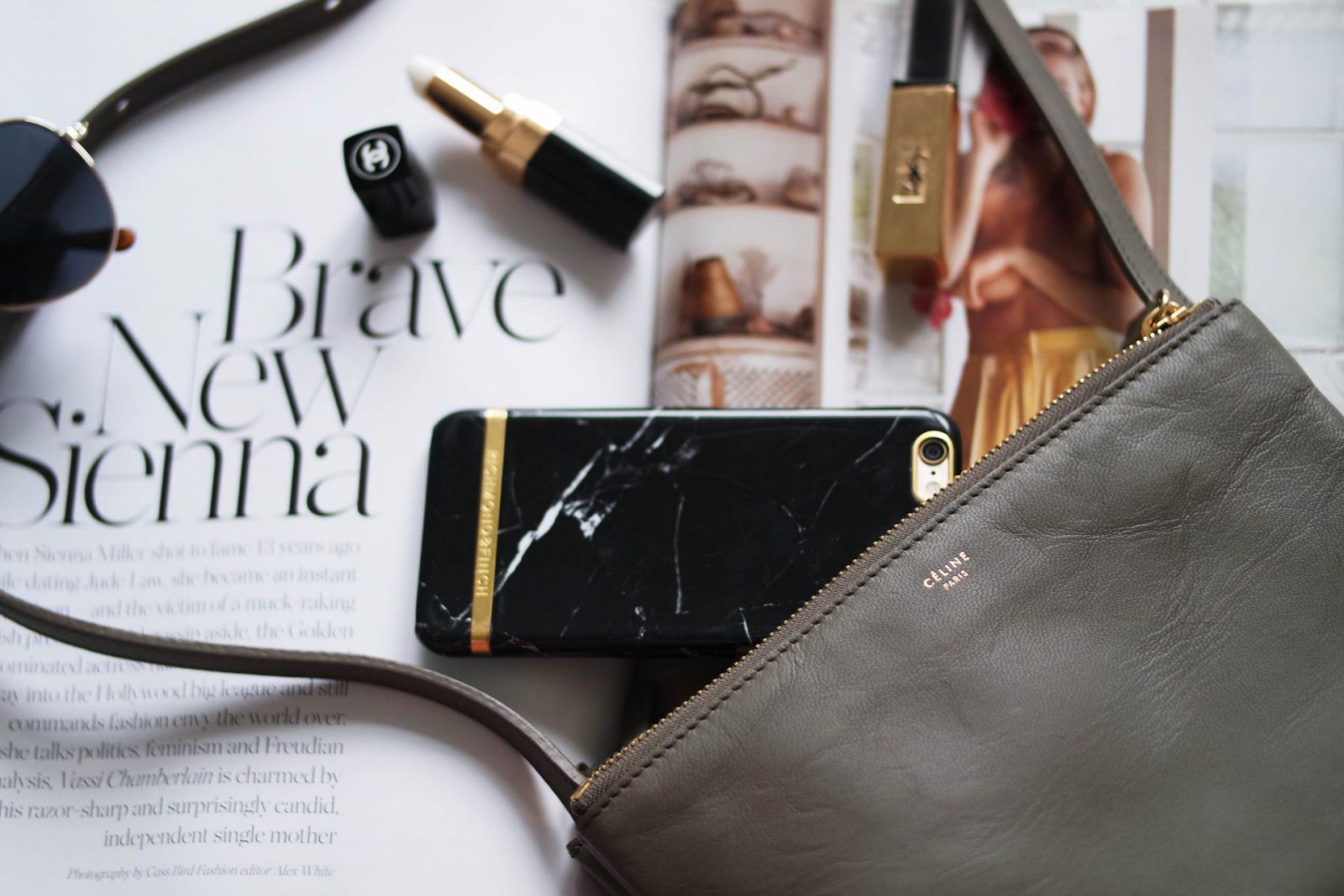 Bag : Arch Label Agency
Card Holder : Saint Laurent
*Contour Brush : Sigma
*Highlight Brush : Sigma
*Contour Palette : Sleek
Chanel Lip Balm : John Lewis
*YSL Mascara : John Lewis
YSL Lipstick Shade 47 : John Lewis
Kiko Lip Liner Shade 502 : Kiko
*Marble Phone Case : Richmond & Finch
Sunglasses : Topshop
Portable Battery : Similar Alternative
Don't forget to follow me on Bloglovin' – it's the best way to stay up to date and also makes me feel pretty special! Sooo what are you waiting for? Do it here! Thanks!
Also make sure you follow me on Snapchat to see daily unboxing of blogger mail, hauls and first impressions as well as my day to day life! And my cute dog . . username : sineadcrowe