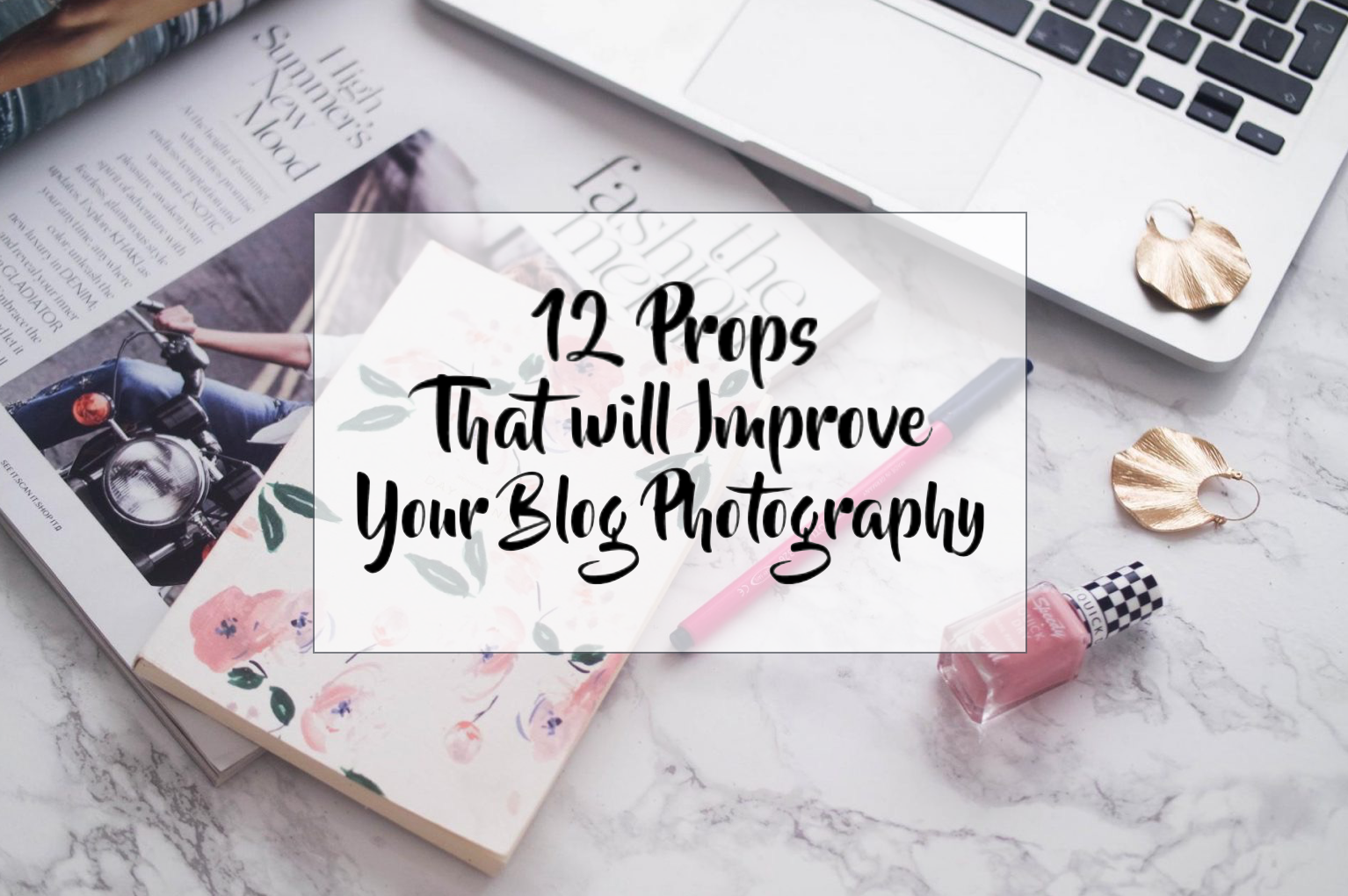 I've always been complimented on my flatlays, I mean other than being complimented on your outfit is there anything better?! I know they've definitely got better over time and I've found props to be the key to my success! So if you want to improve your blog photography I suggest you read on!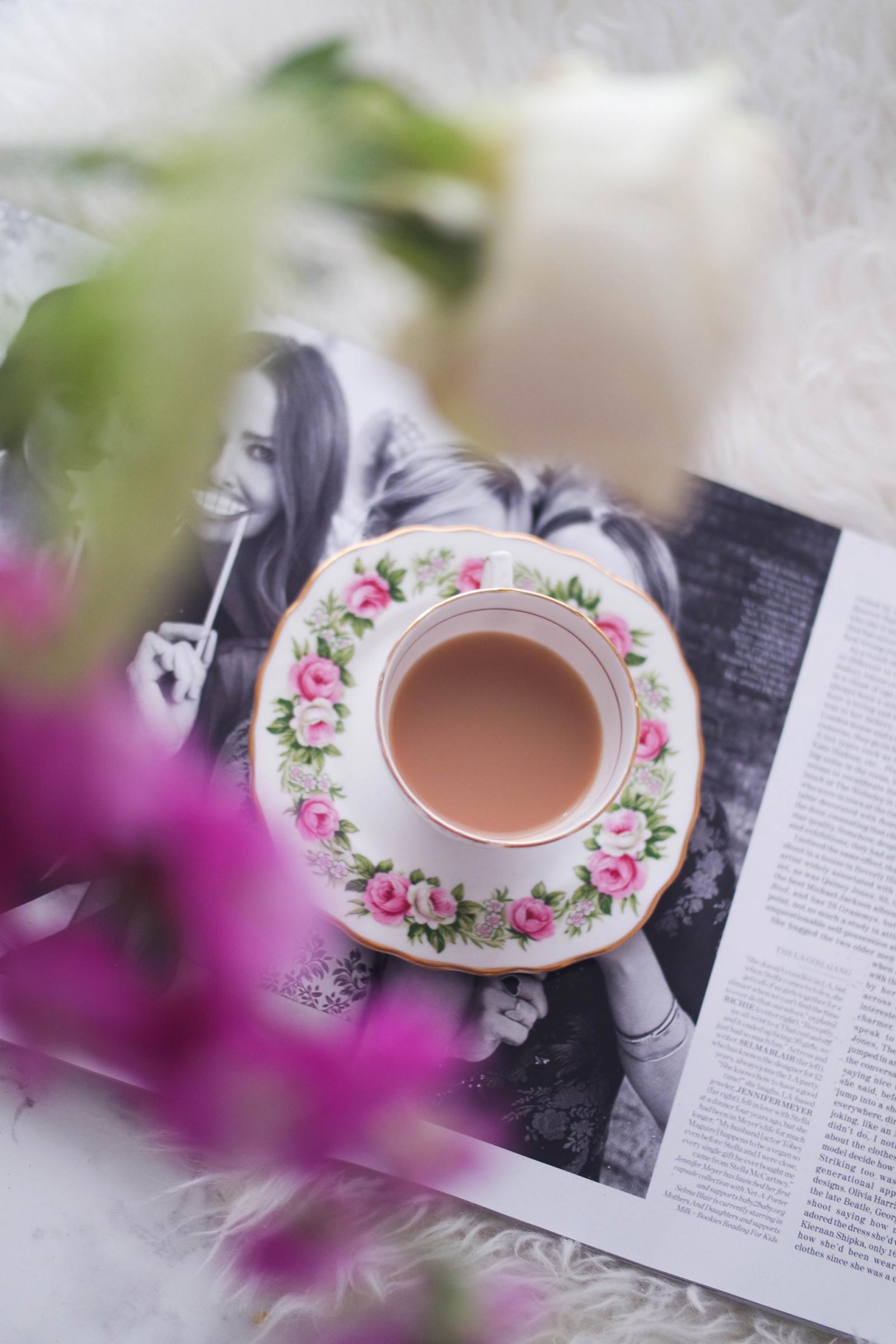 12 Props That Will Improve Your Blog Photography
Flowers
So this is a pretty standard one. Everyone knows that flowers improve your blog photography, because they improve anything. It's definitely how you use them though and making sure you strategically place them. I'm not going to stand here and lie and say I just put them anywhere, I probably take about 50 shots each with the flower moved 1mm at a time! The things we do for the perfect shot am I right?!
I recently discovered another great way of using flowers, something I'd seen before but never really figured out how it was done. To take the picture 'looking through' the flowers.I used to think people had got a vase and got a good perspective, maybe they have. But I found just holding the flowers closer to the camera and making the lens focus on the product in the background works really well!
A Good Old Cup Of Tea
Nothing says lifestyle quite like a cup of tea! It makes it look less set up and more, 'I was just sat here with my cup of tea smelling my flowers and reading my magazine anyway'. Extra points for cute cups. This particular one was a carboot sale find by Mumma Crowe!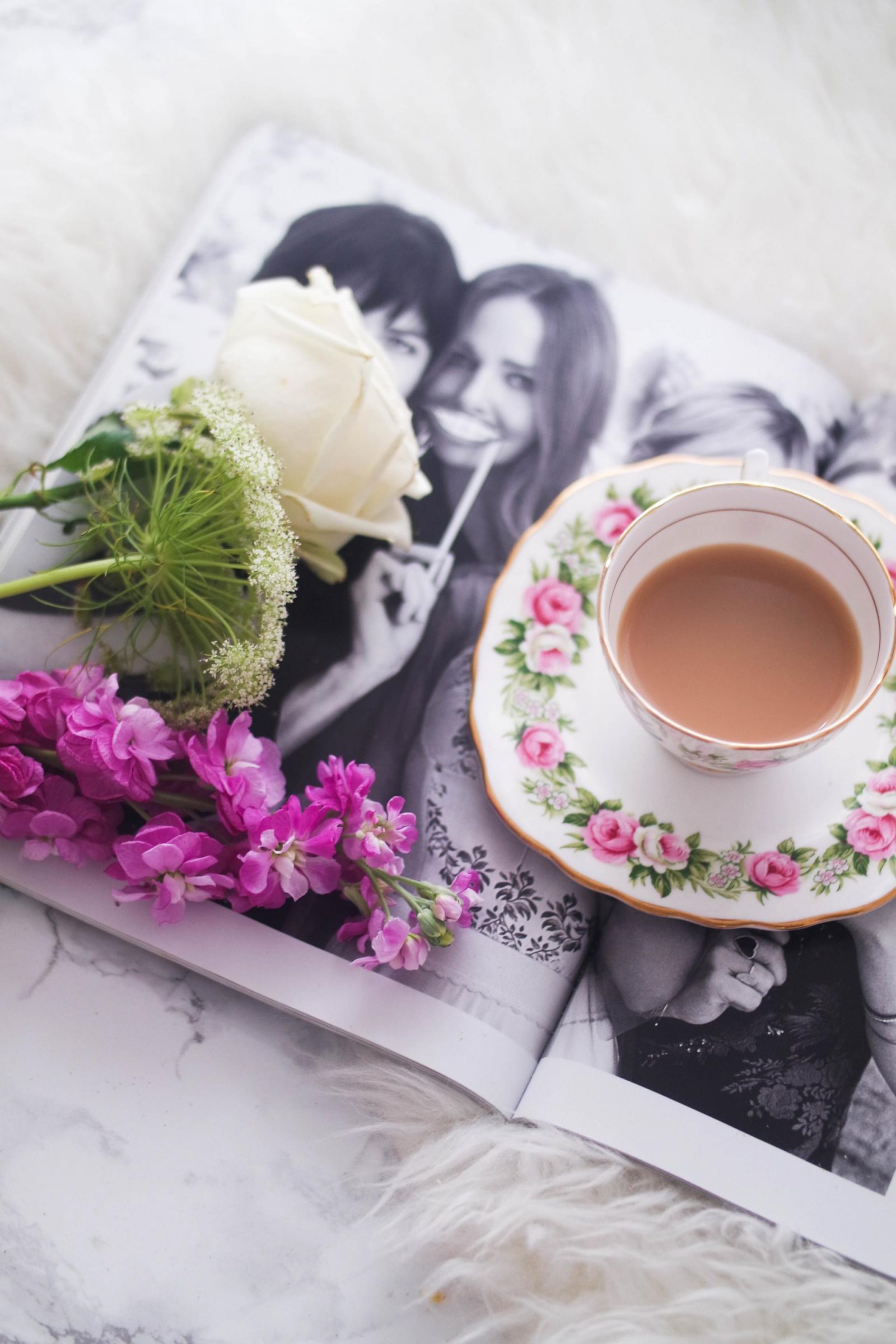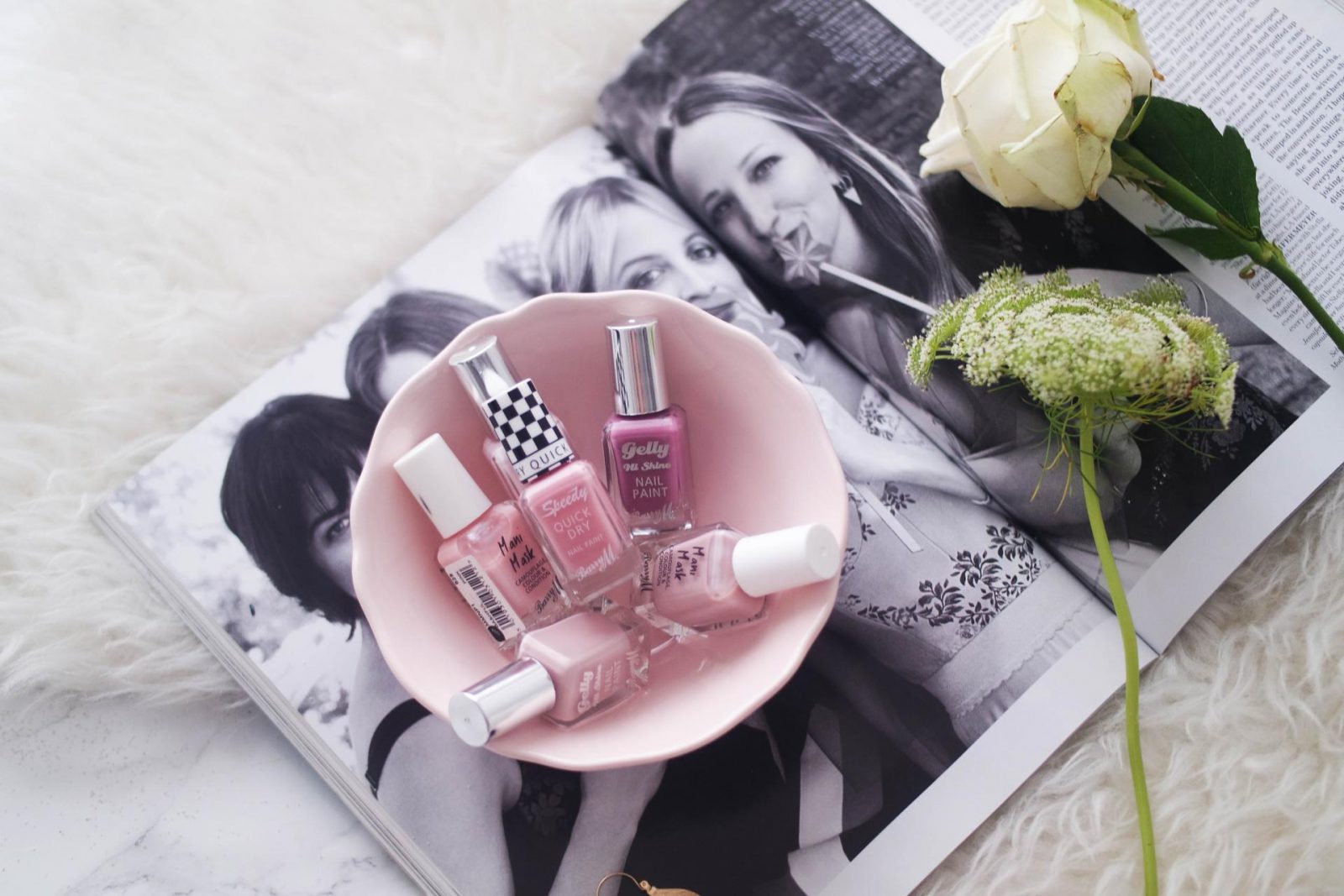 Crockery
I love laying make up on a plate, it adds a different perspective and just is another interesting background. This bowl is from Ikea as are lots of my props! And don't the colour co-ordinated nail varnishes look so much cuter than if they were laid on the magazine?! It's just these added little touches that make your images stand out from others!
Texture
Texture is great for blog photos. I saw this shot by one of my favourite bloggers ohh couture the other day and I love the way she's used a pavement. Texture is a way of sprucing things up a bit and improving your blog photography. Rugs and throws are affordable and easy to use at the drop of a hat, we can't all find perfect pavements now can we?
Magazines
You'll see a recurring theme in my images, most of them include a magazine. Another background that adds something interesting. You can find something that links to the products your featuring, just a page of text, or I personally love using pictures with a colour that matches my scheme.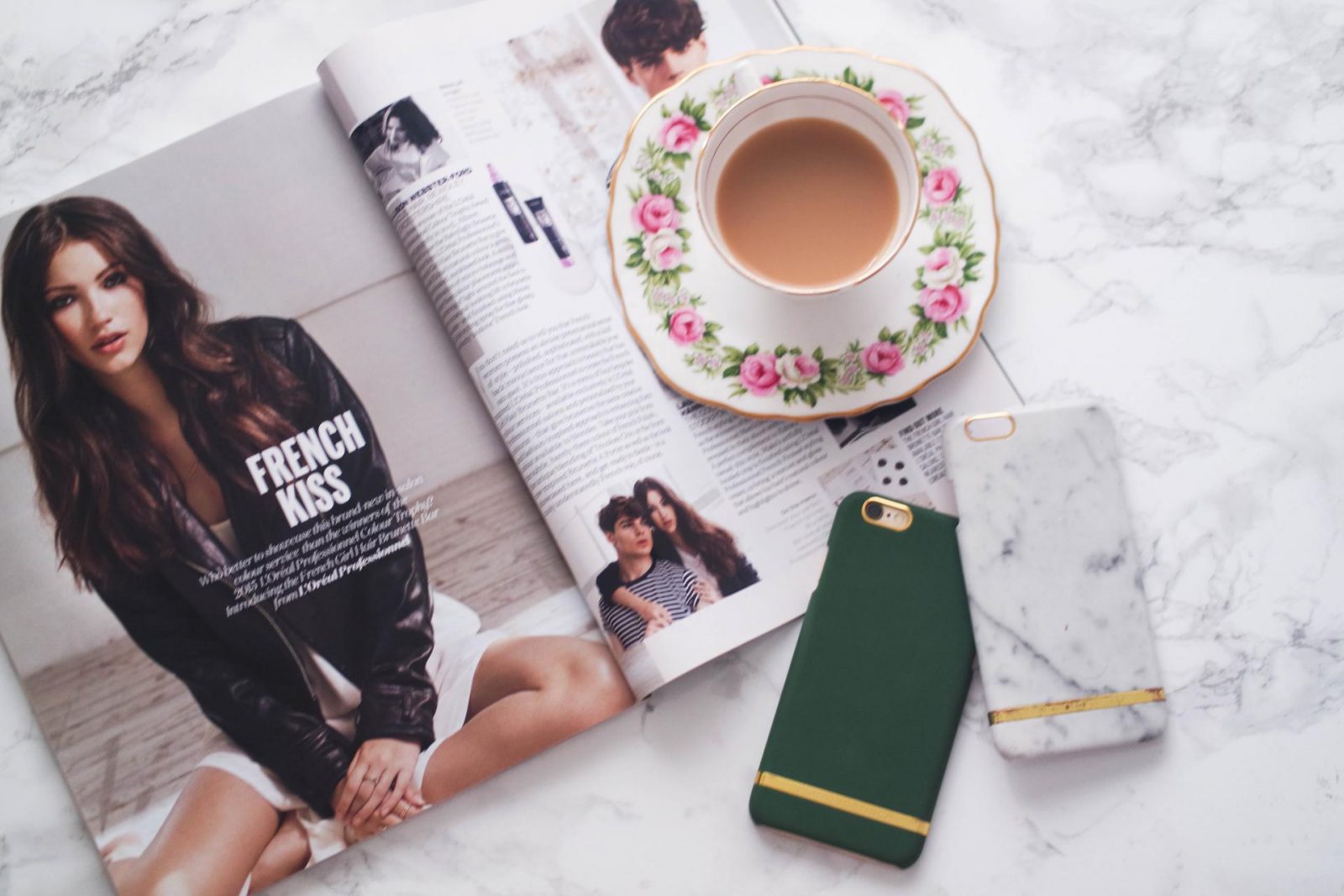 Use Your Phone
Phone's with snazzy cases, or just the phone in general is a great way of improving your blog photography. It does the same job as the cup of tea, making it look more relaxed and in the moment.
Jewellery
I always use jewellery in my shots. Even if it's just a couple of rings scattered or a pair of earrings. Jewellery fills the gaps and just finishes off the set up! The set up below looks like 'I just took my jewellery off'. I always think that flatlays should almost tell a story rather than just being a picture of a product, I talk more about this in my post about how to create the perfect flatlay here!
Make Up
If in doubt always add an open lipstick. An open lipstick is my secret weapon for when somethings not working how I want it to! I always know I can rely on it to pull me through! Make up, particularly pretty make up like this Chanel powder are also great additions.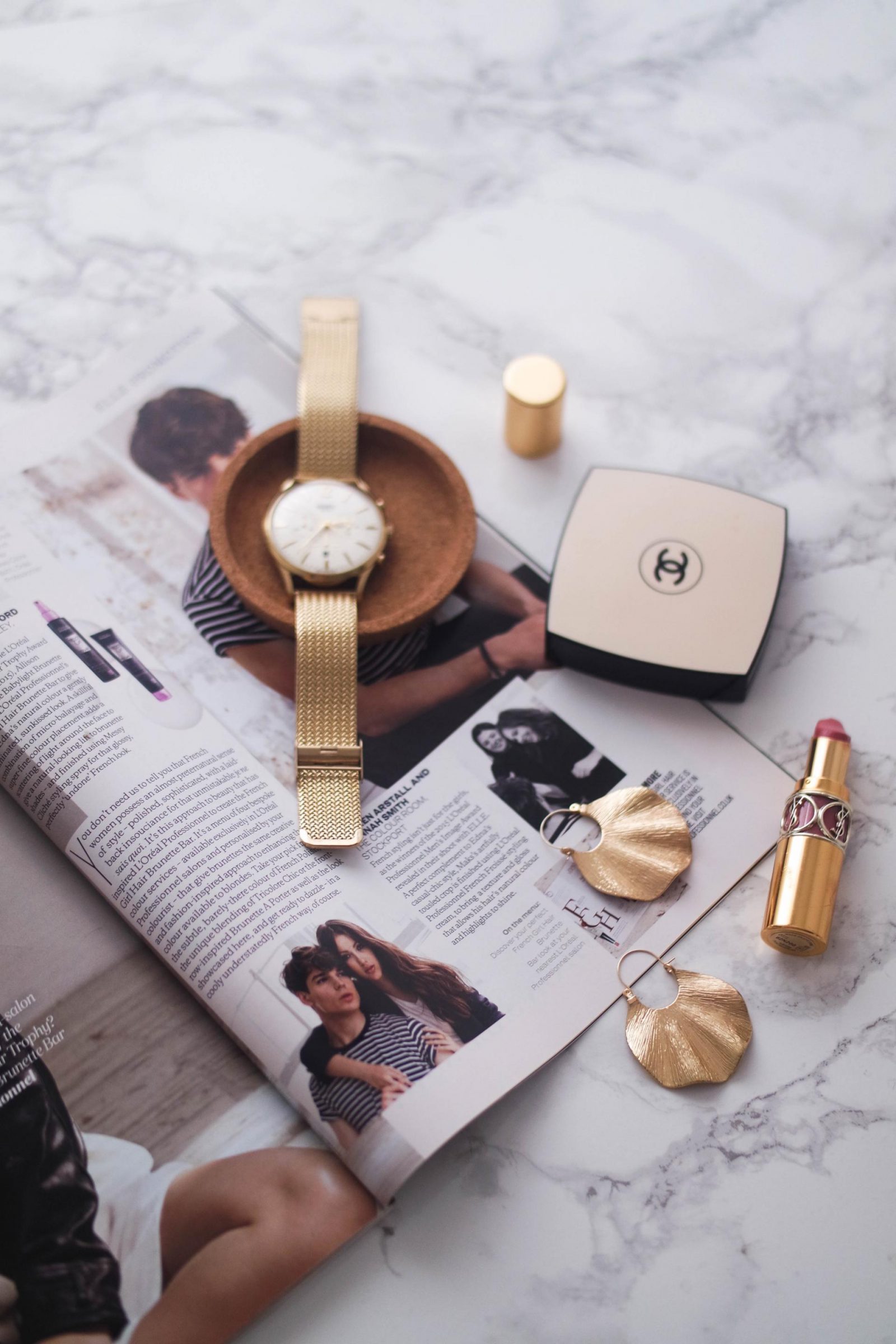 Coasters
This may seem like a weird one, but you can get coasters in all different colours and textures and I recently realised how much they add to a picture! It's nice with the watch laid over it or with the cup or even just as an additional little prop! I'm loving these cork ones at the moment!
Macbook
I never put the whole thing in but just the corner of the keyboard will often make an appearance!
Notebooks
I love to use this along with the macbook to create a 'desk setup' if I'm ever talking about something work or goals related. I especially love to use it for my blogging tips as I'm sure you guys will know!
Packaging
Now this may seem a bit sad but I keep the packaging for lots of my make up because I think it just adds something to a make up flatlay. I love lining it all up symmetrically! It's also a great way of making everything look fresh and new!
Overall I would definitely say for me, when creating a flatlay and taking pictures that don't include people for your blog, the most important factor to improve your blog photography is to use props to tell a story!
Let me know if you guys have any tips for how to improve your blog photography!? I would love to hear!
Have you checked out all of my other blog tips posts? You can find the full list here which includes tips like 5 ridiculously easy SEO tips, How to build your Bloglovin following and 80 Killer blog post Ideas! I hope you like them! If you do then make sure you follow me on Bloglovin' so that you don't miss any future posts!
Follow me – PINTEREST – TWITTER – INSTAGRAM
New in