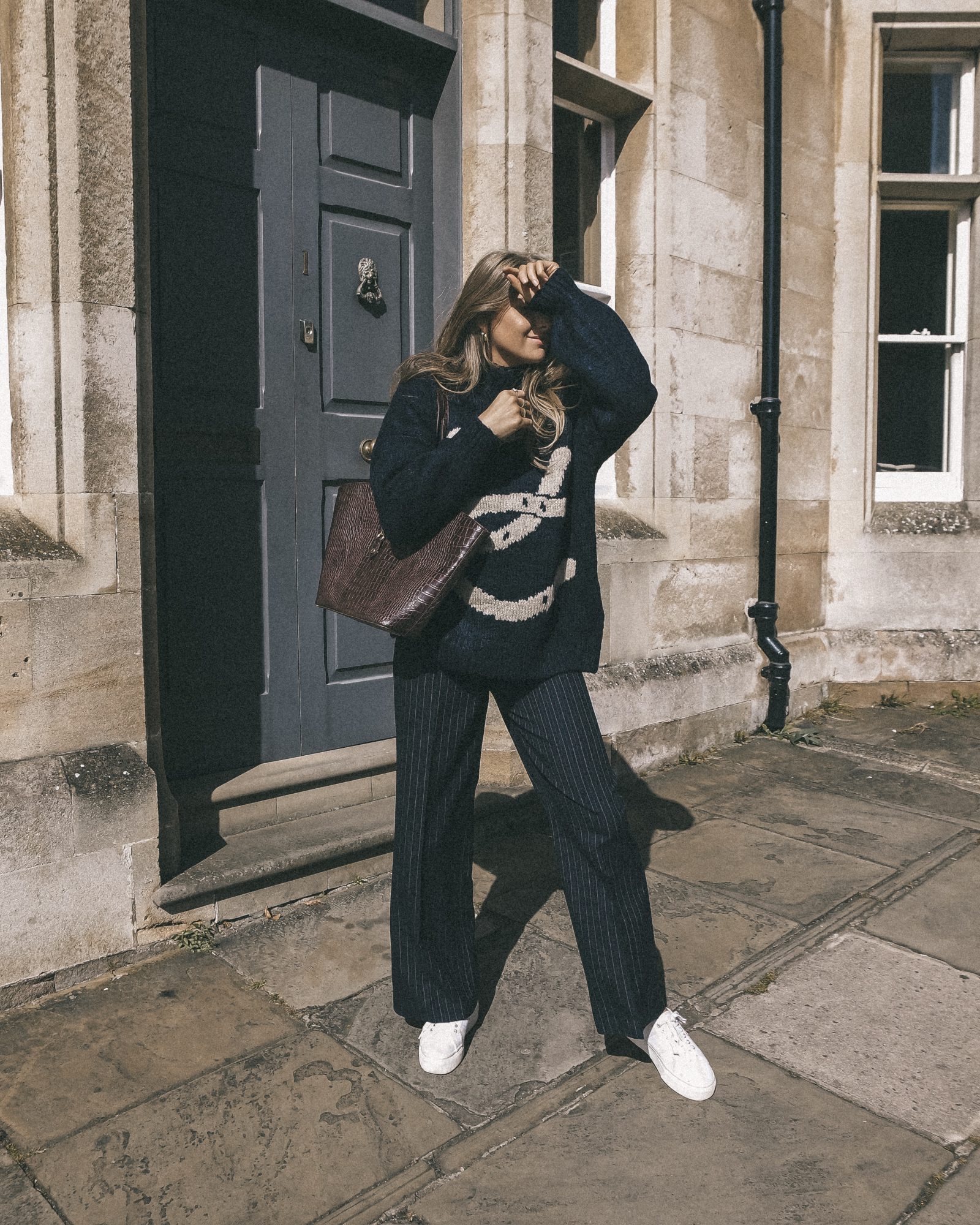 Hey guys!
I wanted to share this post with you because I know most of my outfit posts and styling tips are based around casual outfits being that I'm a denim girl through and through and work from home. However, I recently did an ad (when I say recently it's a while a go now but I'm terrible at getting round to writing these posts these days) with monsoon about how to style a pair of navy pinstripe tailored trousers and I loved the images and the outfits I created so much I thought it was a shame to waste the content and sometimes you just can't say everything you want to say in the caption on an Instagram post you know?!
This post contains affiliate links & gifted items
Click on the items to shop!




3 Ways To Wear Navy Trousers
So the trousers as I said (and you can see) are navy pinstripe in a simple wide-ish leg tailored style which would be great for work but also as I discovered, can be dressed down as well. As I mentioned before the Instagram post was an ad, this isn't, but the items were all gifted to me and I am in head to toe monsoon because of this!
The first look I created was a classic work look which I put a bit of a twist on to fit in with my personal style and how I would wear it. The trousers come with a matching blazer so I created a suited look but to make it more "me" I added an oversized t shirt and some Superga trainers. This would look good with heels too or a smart flat shoe, plus you could switch out the t shirt for a blouse or something smarter to bring it up a level.
Click on the items to shop!




The next outfit is again, something you could wear to work that I switched up to fit my personal style. I picked out a super pretty silky blouse with the most beautiful delicate button up detail. I can imagine in a work place this buttoned up to the collar would be beautiful with maybe the blazer over the top or alone. For me, I unbuttoned the shirt quite a way from both ends and then tied the bottom. Then I added my Superga once again! I think they just look so great with the trousers!
Click on the items to shop!




Then last but most certainly not least, actually last but most because it's my favourite look, saving the best for last! I wore them with a super chunky navy knit. I did think about tucking it in but it's quite thick and it actually looks really nice untucked. I think you could wear this to work with a heel for a more casual look but obviously I went with the Superga AGAIN because I'm THAT predictable!
Click on the items to shop!




I would love to hear which is your favourite look and if you have something like this in your wardrobe? I actually thought it would be helpful too because I know a lot of people who have separate clothes for work and play and I think this shows that you can mix things up and style them differently to get more wear out of your clothes!
Check out my daily outfits & shop them directly here!
PS YOU MIGHT LIKE THIS Autumn Workwear Inspiration OR Styling Faux Leather for Autumn