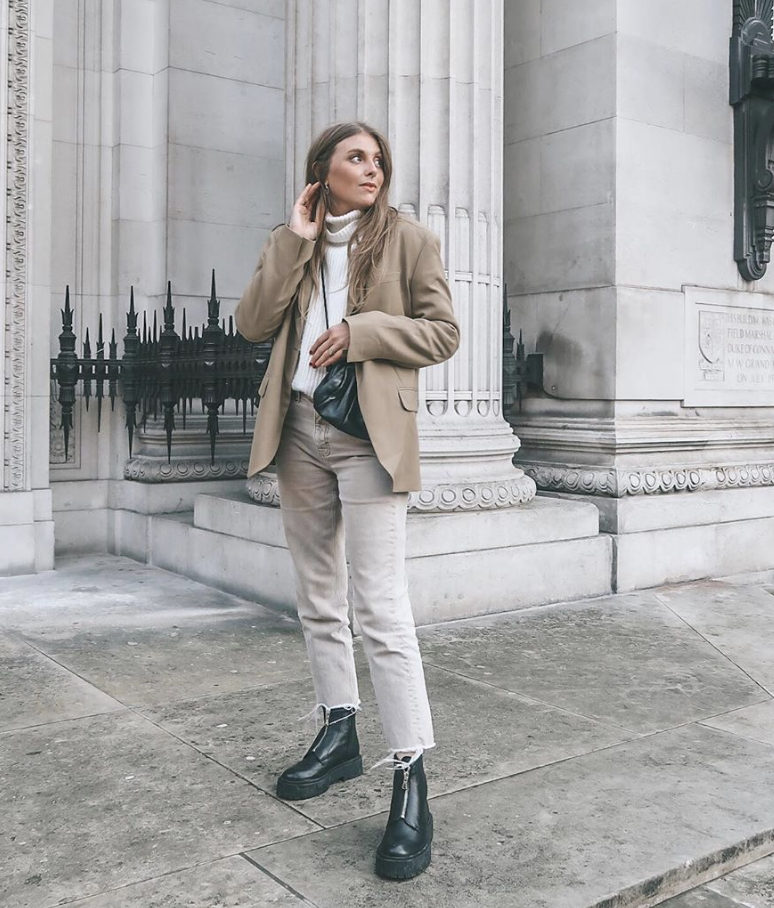 Hey guys!
So I said I was going to get better at doing fashion posts rather than just sharing shopping and beauty etc as after all, my whole thing I do on instagram and the reason i started this blog was to share fashion so it seems a little mad that I've stopped doing as many fashion posts doesn't it?! So I thought it would be fun to share 3 of my recent outfits that I've been loving. You know when you just find something you wish you could wear again and again and again? I feel like it's kind of a cheat because I already shared one of the looks in this post here but honestly I'm still not over it.
THIS POST CONTAINS GIFTED ITEMS AND AFFILIATE LINKS
Click on the images below to shop!




3 Winter Outfit Ideas // My Favourite Recent Looks
Winter Outfit Ideas // Look 1
So look number one is the one I already shared and I've done them in order of how much I love them so you already know, the fact that I shared it twice means a lot. I'm a big fan of a simple look that you can switch up in so many different ways and wear time and time again. You could switch any one piece of this outfit up to create an entirely different look. Switch boots for heels or trainers or sandals. Switch the tan blazer for any other coloured blazer or even a coat or jacket. Switch the cream jumper for another variation, remove the belt, change the belt. Different colour jeans or even switch for trousers, a skirt, shorts, the options are just endless!
What I think makes this particular combination so perfect is the knit worn under the blazer. It's the most understated piece of the outfit but there's something about the diamond pattern in the knit that pulls the whole look together and adds something to it. I've recently discovered that it comes in an array of different colours including lilac, que love heart eyes, and, wait for it, it's under £20. It would be rude not to get it in every colour!
SHOP THE LOOK
Click on the images below to shop!


Winter Outfit Ideas // Look 2
My second outfit came out of the need for warmth when I was going to London to shoot, the friends quote "could I BE wearing any more clothes!?" springs to mind! I've been living in this Arket fleece since I got it, it's super warm and actually looks great in so many different ways, I really thought it was going to be a one dimensional piece but it's turned into something I reach for almost daily! Another thing I'm wearing almost daily is my Mother denim jeans, they're SO comfy and have so much stretch but they really don't look like the stretchiest jeans on earth, which they are. They're definitely up there in my top 3 most worn pairs of jeans and I would put myself out there and say they're my favourite denim brand. I've never felt comfort like it guys and I've started quite the collection.
I have to mention this coat because it's on sale for £55 at the moment and it looks good with everything! I love it layered here but I've worn it so many times, it's super lightweight whilst still being warm and did I mention it looks good with everything?! The accessories also deserve a mention, this Ganni hat was my best sale purchase this year. They're not on sale anymore in neutral colours but I would have bought it full price way back if I'd known how much wear I'd get out of it. They also always seem to go on sale so if you can wait for it then just check out the sale when it rolls around again.
Finally these devil boots, I say devil boots because they've genuinely scarred my feet. BUT I have to say I wore them with trainer socks and no plasters on the first day walking around London, very important facts and I know what you're all thinking, I brought it on myself, I totally did. I got them because I think they're super similar to the pair from The Row which I shared in my dupes post if you didn't see it you can here, but of course they were about £1000 cheaper, which always helps.
SHOP THE LOOK
Click on the images below to shop!

Winter Outfit Ideas // Look 3
Last but not least is the beige-est outfit on the internet. Clearly you can see how much I love this blazer by the fact that it's featured so heavily on my blog and instagram and I've only had it for a month, it's definitely a great wardrobe staple so sit back and prepare to see a whole lot more of it ok? Those devil boots make an appearance again along with my all time favourite jeans, ok I know I just said that, my second favourite pair. My favourite pair that aren't blue or black? I got these because I'd been wearing my cream jeans a ton over summer and I thought they would be a great pair to take me into winter, lighter but not as light as cream, I thought they'd be cute and I'd perhaps wear them a couple of times. Let me tell you now, I haven't taken them off! I would say they are one of my most worn pieces this winter! They go with EVERYTHING!
Last but not least this super cute bag from Arket, I have to say they do amazing bags guys. The other bag I have from them is this green one you might all remember from, oh yeah, everything I posted from summer until I got this bag! Probably my most worn bag of 2019 and now I'd say this one is going to be worn just as much! it's a great dupe for the Bottega Veneta pouch and they do a bigger version too but guys I just love the thin strap and how it looks cross body. I think for a really neutral and light outfit like this where you have a big chunky black boot, this little bit of black in the bag really balances it out and brings it all together!
SHOP THE LOOK
Click on the images below to shop!

PS YOU MIGHT ALSO LIKE THIS 9 Of The Best Pieces Online Right Now OR The Best Designer Dupes