As we were only spending a short 48 hours in Jakarta we wanted to make sure we made the absolute most of what the city had to offer in our short time here! So here is how to spend 48 hours in Jakarta, or how we spent our 48 hours in Jakarta!
Day 1 in Jakarta:
Today was our first full day in Jakarta, we're only here for two days and having been told there's not much to do here but shop and eat we didn't have high hopes.
We decided today would be shopping day (hooray for me) and tomorrow would be the day that we went to see monuments, museums and things like that.
Before we hit the malls we headed to a Jalan Surabaya Flea Market we'd heard about via Pinterest – the friend that just keeps on giving. I was surprised when we got there that we were the only ones – on a Saturday – cray cray. The market was brimming with vintage goodness, some of it was clearly fake vintage – is that even a thing? We saw one guy sanding down a shiny new metal lamp to give it "that vintage look" so if you do go then please make sure you're not being conned! But there's also some seriously amazing finds in there! I couldn't stop clicking my camera so I've added loads of pictures. Some of it was really weird but some of the record players, type writers and huge large format cameras – if only I had a shipping container to fill…
Next we headed to the malls, like nothing I've seen before – they're incredibly huge, I'd happily get lost in there for a day! There was also a huge shopping centre for the more luxurious brands and I couldn't wait to get into Gucci to plan how I was going to spend my money when I return! I've got my eye on this Gucci Marmot bag that I'm 99% getting when I return, unless fashion week makes me fall in love all over again. Then theres the loafers, I love these ones but my boyfriend says they're ugly and will go out of style, part of me says he's right (I love ugly shoes though) and part of me says what does he know about fashion?
TIP : It isn't cheaper here to buy designer, I assumed it would be as everything else is cheap here, but the Gucci Bag I've been eyeing up in England for £1,300 is nearly £2,000 here – so that was my plan scuppered.
In the Mall I made a beeline for Zara and picked up this beautiful t-shirt style top. I love it so much and was feeling pretty down about my travelling wardrobe, I'd definitely taken into account the heat and practicality more than my style and haven't felt like me for the past few days!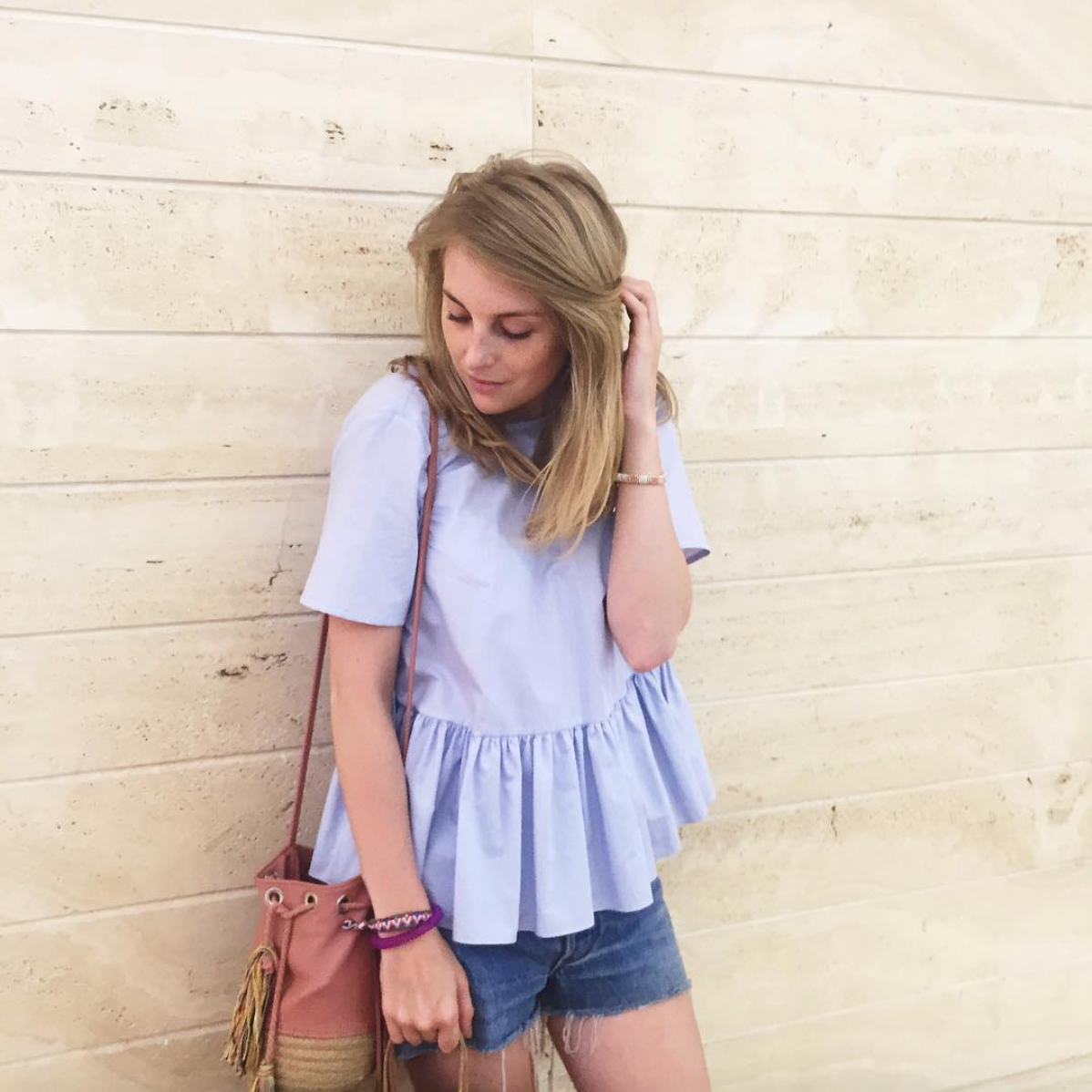 Most of the malls are around the same area, we went to The Grand Indonesia and The Plaza Indonesia. The Plaza has all of the expensive store such as Gucci, Chanel & Valentino. . any store you can think of they have it! Then The Grand Indonesia is more high street!
Is it just me that finds wandering round expensive shopping malls and looking and beautiful things so so relaxing?! Maybe I'm a weirdo!
As we aren't close to much and traffic is an absolute nightmare – avoid taxi's at all costs! We decided to spend the evening on our rooftop terrace drinking Bintang (the local beer) and relaxing!
TIP : If you do decide to get a taxi – make sure you get a bluebird as they run on a meter and don't pluck a price out of thin air like the others do! There are also fake bluebirds, this is what it should look like!
Day 2 in Jakarta:
We woke up really late today, mainly because the bed here at Capsule Hotel Old Batavia is beyond comfy! It's our second and last full day in Jakarta, we didn't leave much time for here after being told about the lack of things to do!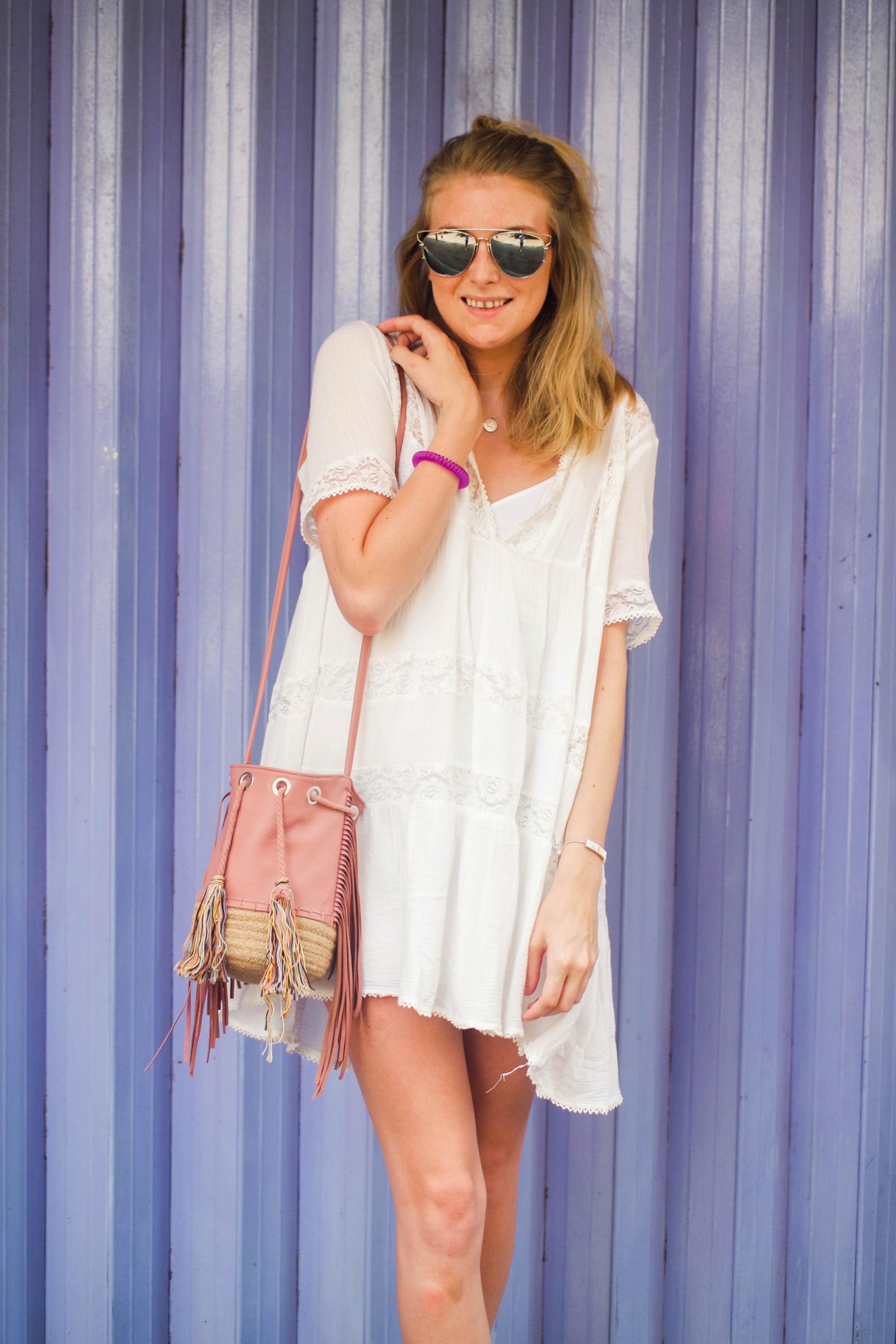 What can I say, when you find a pastel wall you have to take a shot! You can get my dress here!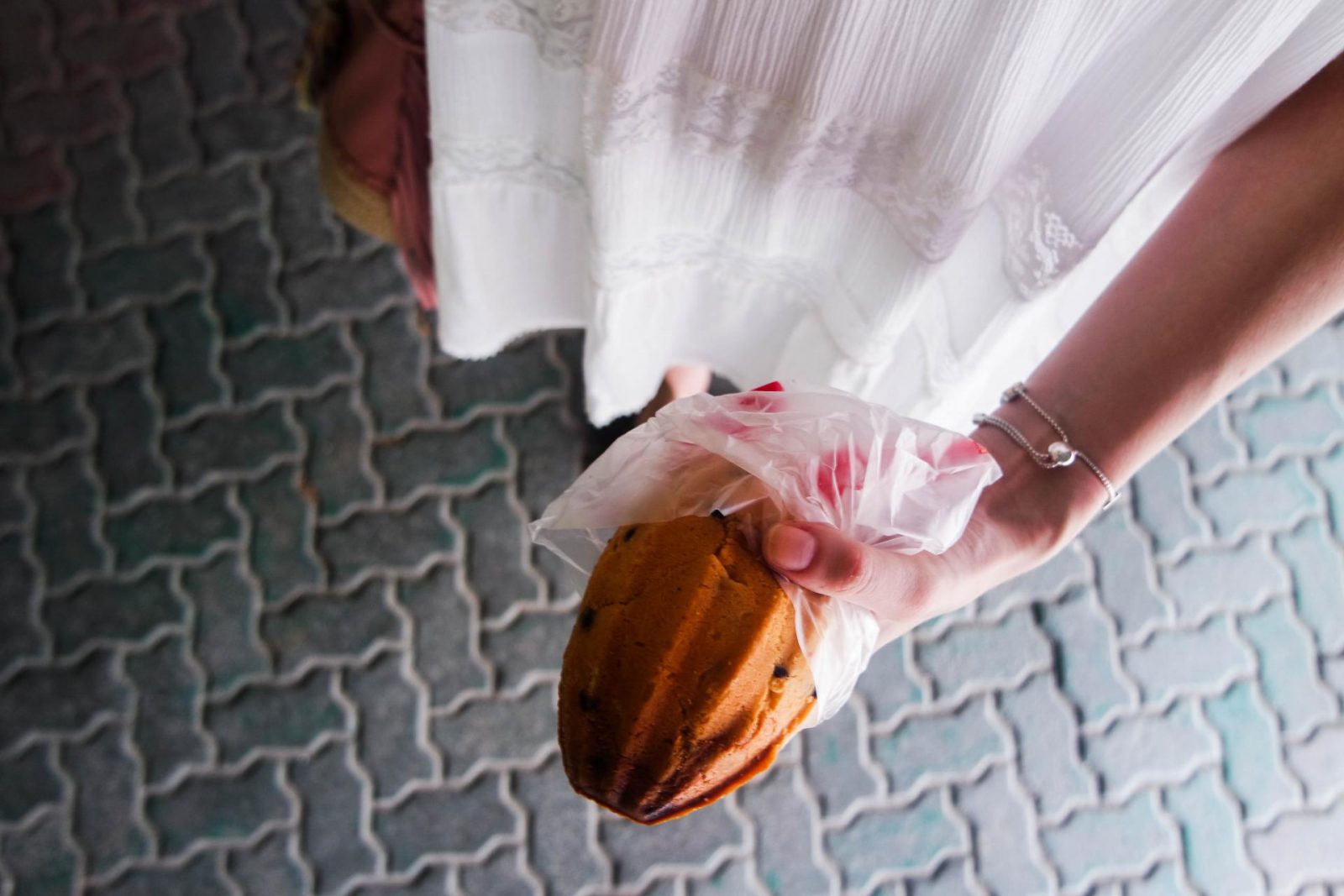 A quick bite to eat from "Bread Life" love the name! This was called "rugby ball" and was a huge chocolate chip vanilla sponge with chocolate nutella in the middle – YUM
Today we'd decided would be a chilled day. We went to see National Monument and just up the road was the oldest market in Jakarta – Pasar Baru. What can I say, I wasn't impressed by either.
National Monument is very big and striking but it was just too hot for us and we were desperately seeking out shade. We decided to just chill in the shade and admire the monument from afar, sometime I feel that's the best way to enjoy these things anyway! Out of the hustle and bustle!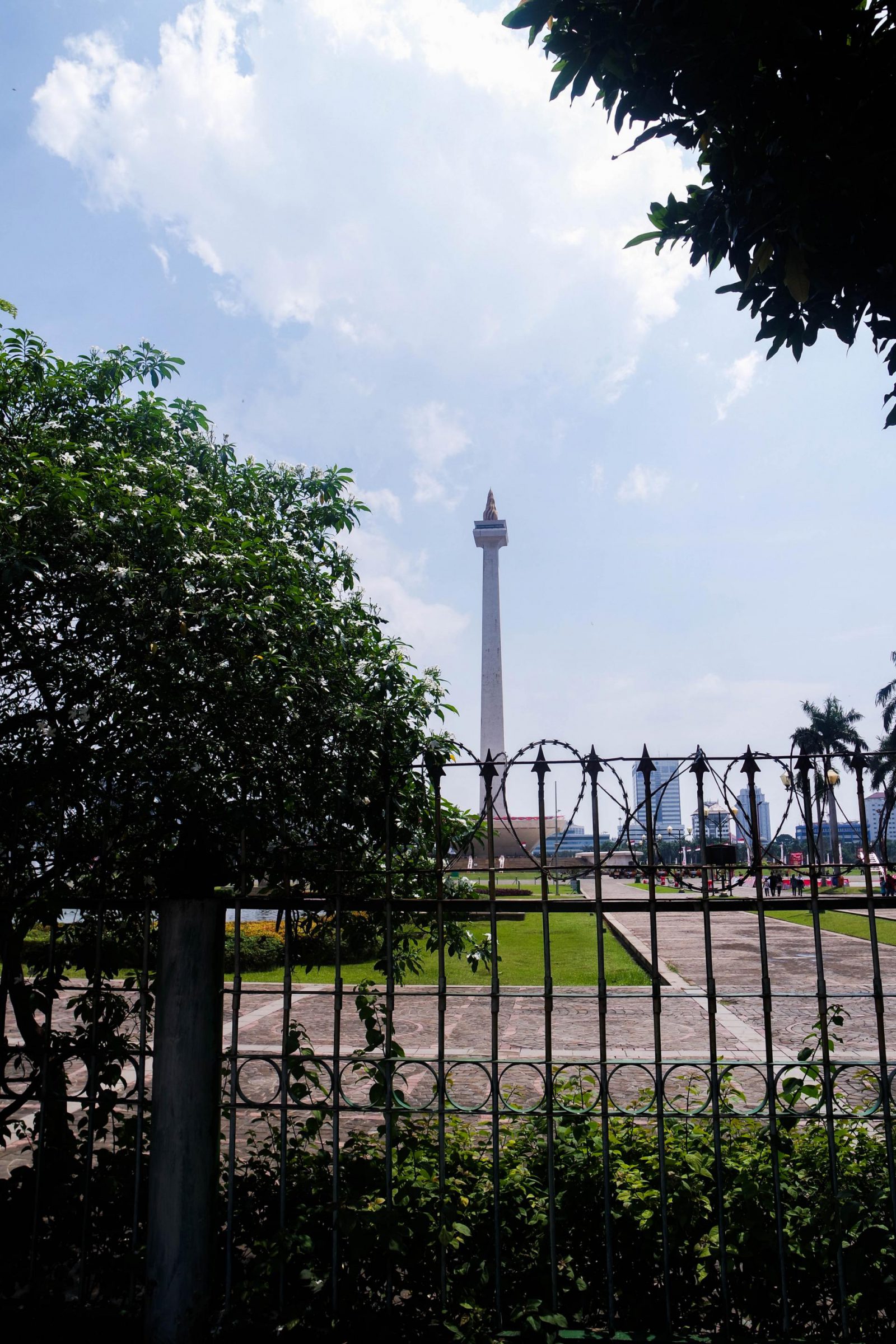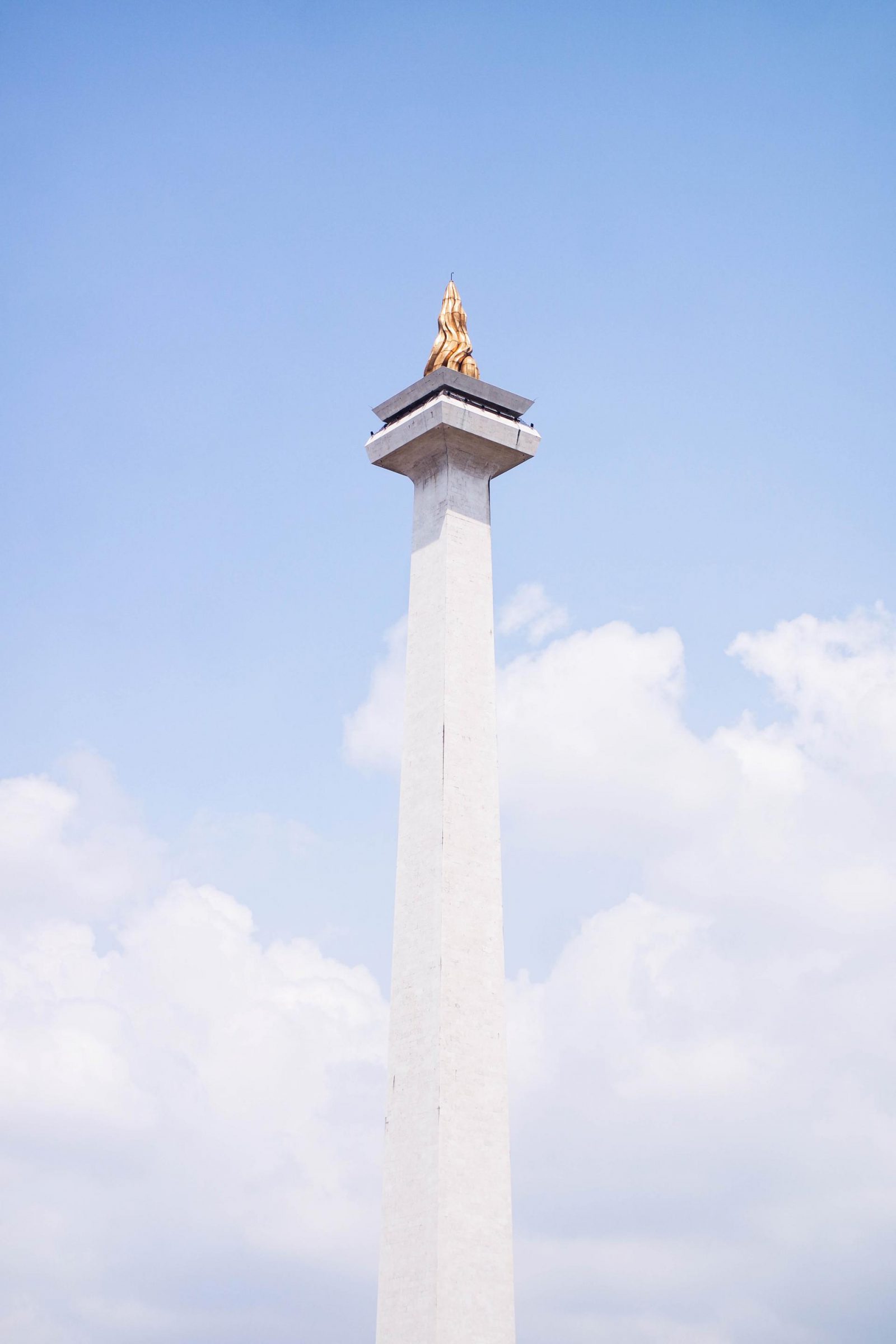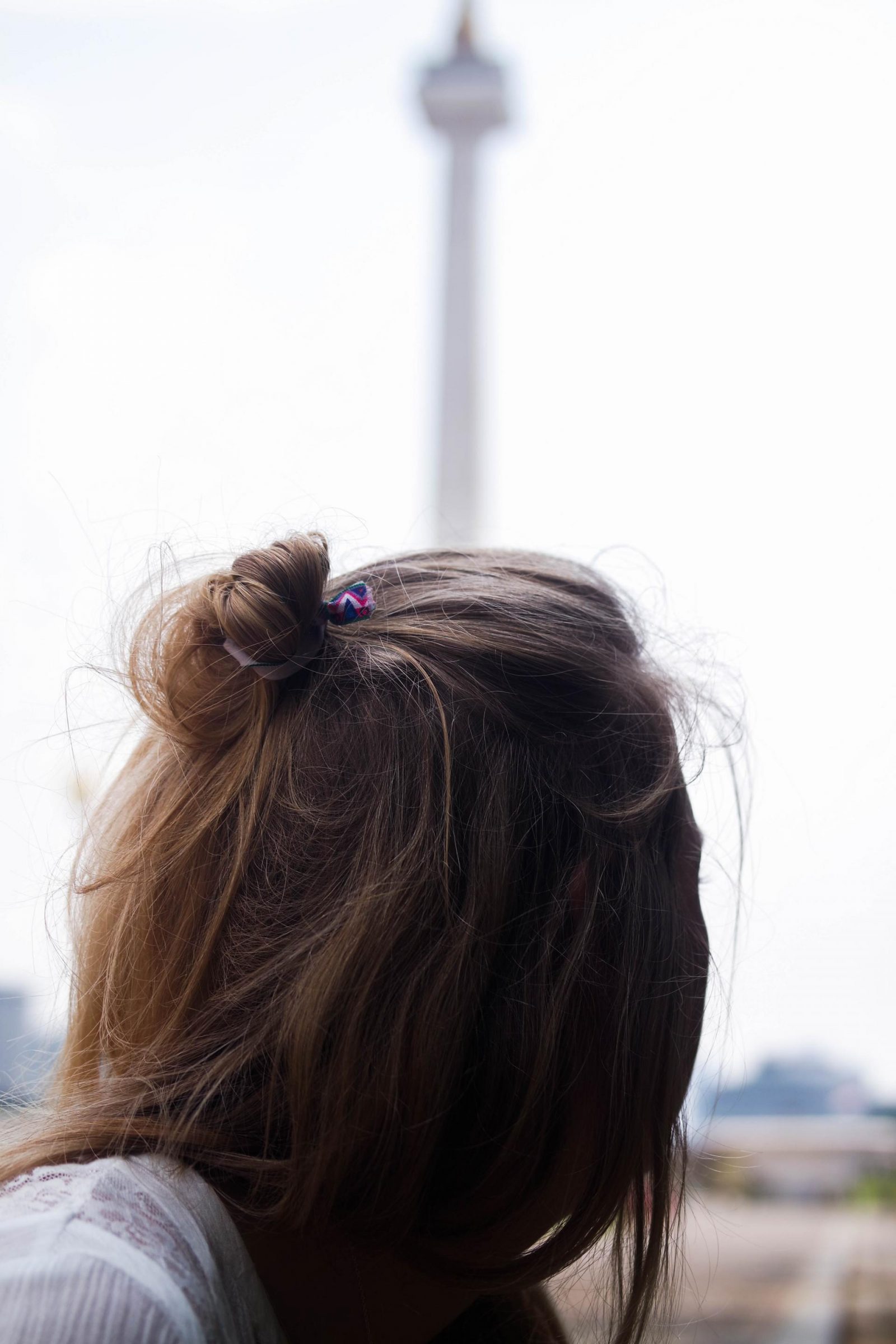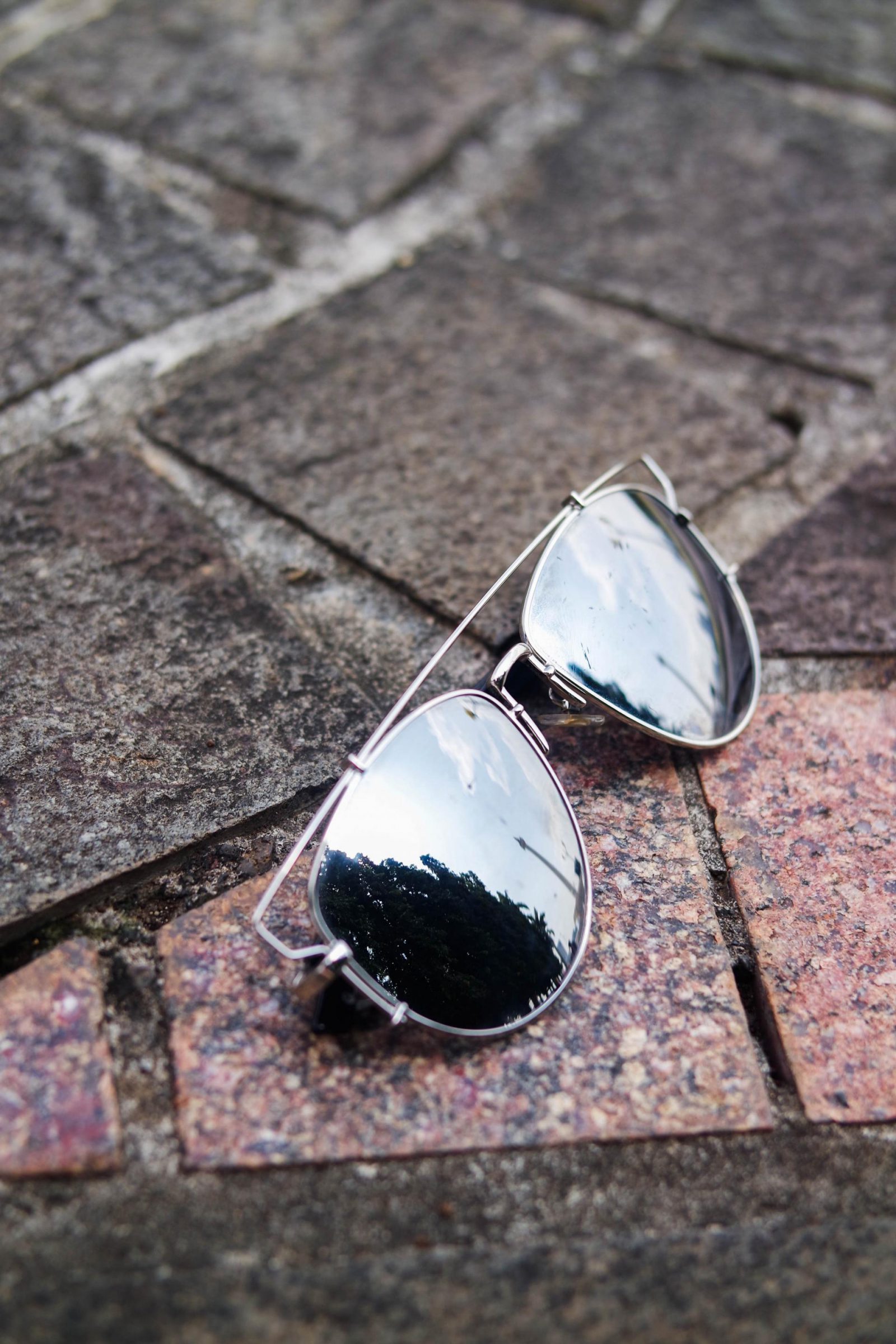 Can you see the Monument in the lenses? I was trying to get all artsy!
Once we finally decided to venture out of the shade we went for a walk to the market, we were just going to go back to the room but thought, we're just around the corner so why not!
Being the oldest market in Jakarta I was expecting something pretty special from Pasar Baru but if I am honest, again I was underwhelmed. It was like walking down a rundown shopping centre in the UK, tacky jewellers littered between cheap fashion & shoe shops. Still, it was interesting to go and see but I definitely wouldn't recommend making the journey just for this!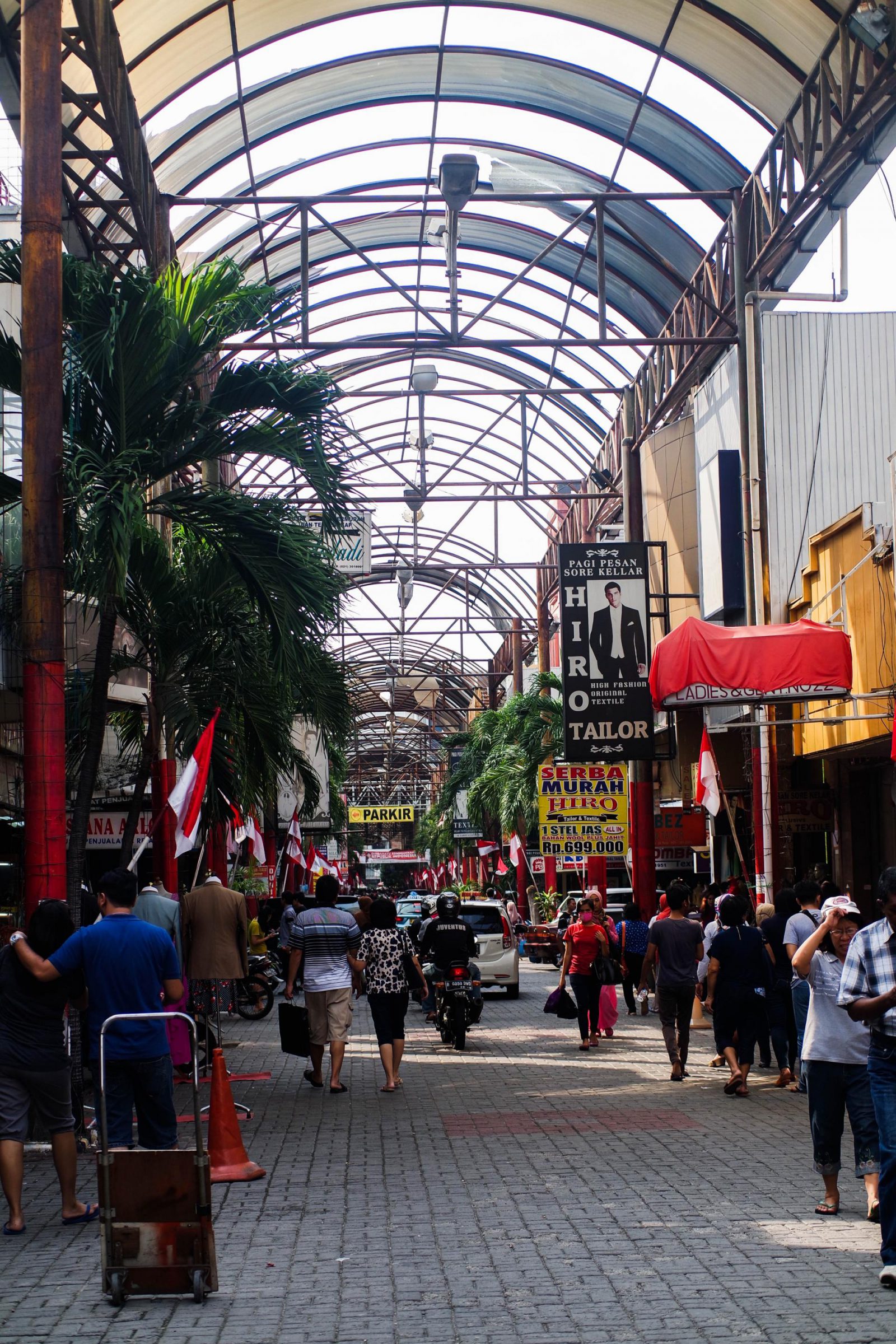 Also in the same area is the largest Mosque in South East Asia – Istiqlal Mosque and the Cathedral which sit opposite one another.
We got a Tuk Tuk home and it was so much cheaper than the taxi! We were saying that perhaps it's so expensive for tuk tuk's in Thailand because it's almost an attraction in itself with so many tourists.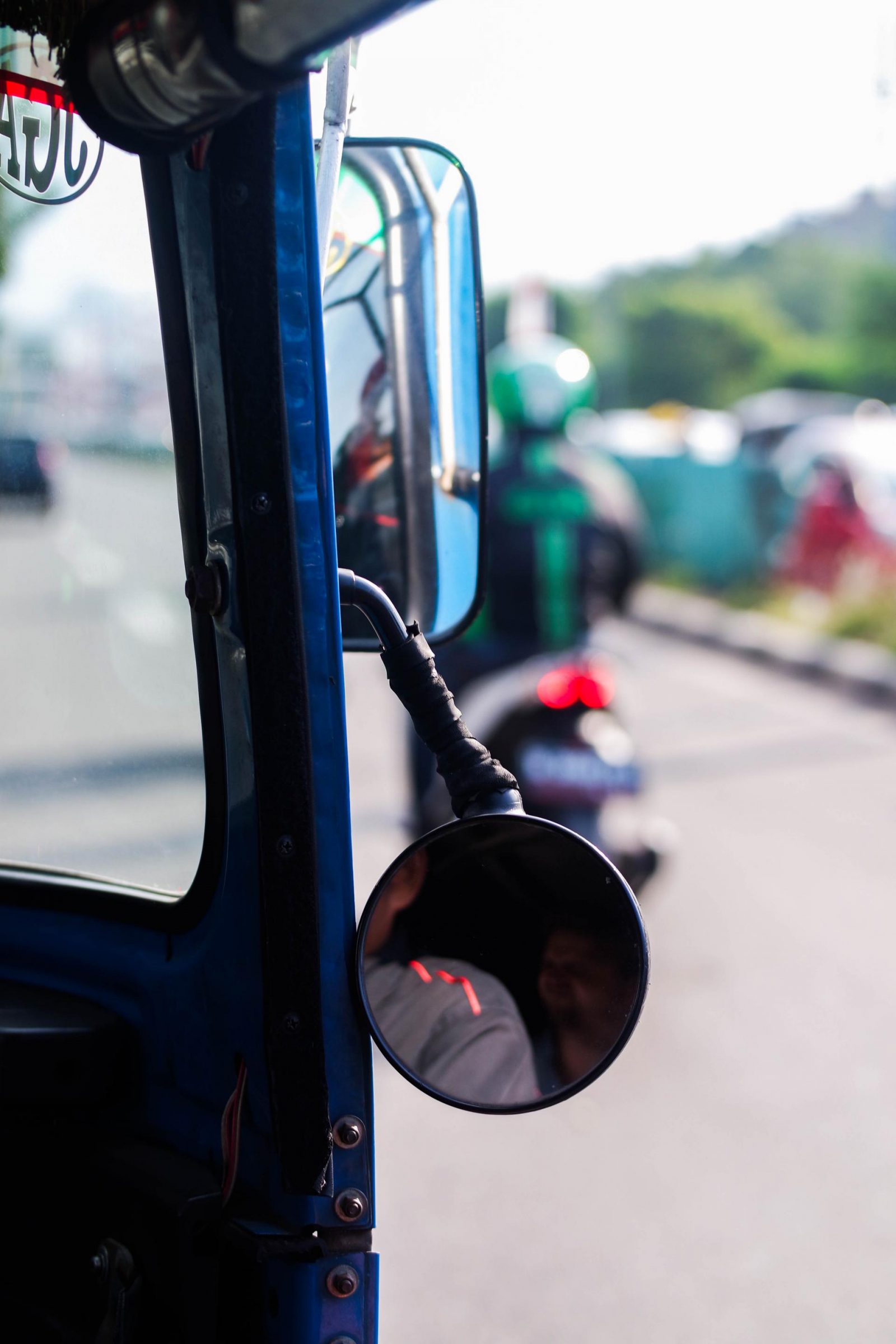 Our Stay in Jakarta:
We stayed at Capsule Hotel Old Batavia as it was rated number 1 in Jakarta for Hostels and super cheap! All of the staff are super friendly and you can get Nasi Goreng (the local dish) for just 25K which is roughly £1.50! You can go into dorms with pods or private rooms with a double bead and bathroom which we opted for!
If you wanted to stay somewhere more upmarket then the The Grand Hyatt is right by all of the malls in the centre and looks inc-redible!
TIP : All of our flights whilst travelling have been booked via Skyscanner, we just wrote in the Country we wanted to go to then found the cheapest date to travel! It's the best website for finding a great deal.
I hope you liked this post! Lots of beautiful shots coming soon I hope! We've been in Jakarta and Bangkok recently and it's so humid and overcast here – plus the streets are less than photogenic – not very instagrammable.
Make sure you follow me on Bloglovin' and Instagram to stay up to date with the latest posts and see what I'm up to! I've been posting a lot on my insta stories. As I mentioned, it's just not instagrammable to make it to my main Instagram!
All photographs were shot on my Samsung NX3000