Can we just talk about the jumper dress today? An understated and underestimated autumn winter wardrobe staple that, if you choose wisely won't go out of style and is the winter equivalent of a good summer dress – throw it on and you're ready to go. This is the first one in my collection but 100% it won't be the last/only one! I have so many dresses on my wish list (keep scrolling to see them) and I've realised that the jumper dress may just be my winter/maternity wardrobe saviour. Oversized and no waistbands? Sign me up!
THIS POST CONTAINS GIFTED ITEMS AND AFFILIATE LINKS
SHOP THE LOOK
Click on the images below to shop!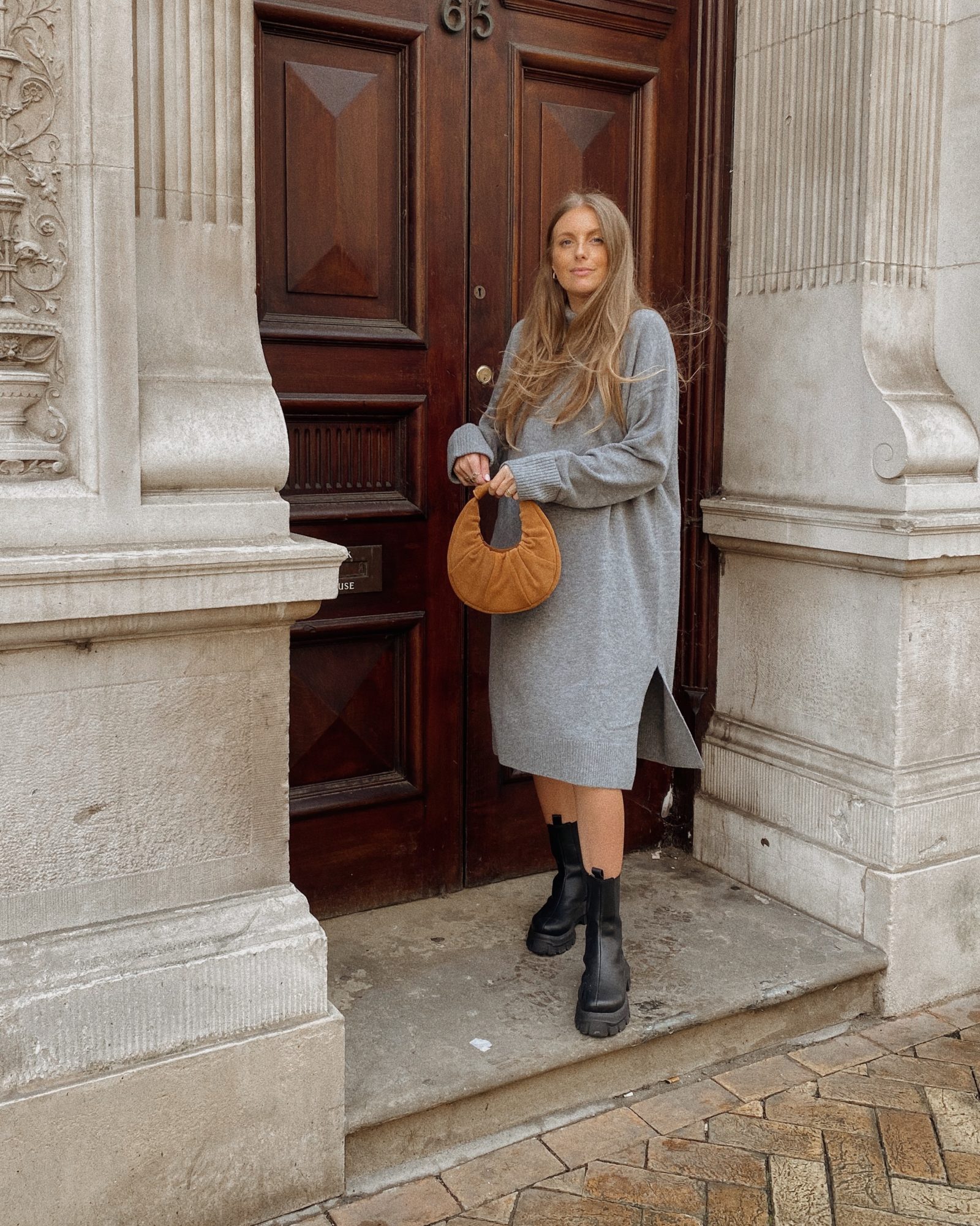 7 Jumper Dress Picks For Your Winter Outfits
The jumper dress is a super versatile style that can 100% be dressed up or down, imagine this with some fancy heels or even the right pair of heeled boots and a statement bag, you're good to go! Plus, I always think of a jumper dress as something I'd be cold in but just look at how oversized and cozy it is. I could hide anything under there! Another jumper? Thermals? I've even got my thick sleep socks on under those boots, if there's someone around here that's cold, it's certainly not me!
Now I'm already eyeing up this particular jumper dress in black, I feel like this grey one is such a classic and it'd be just as amazing in black! I'm also loving the ones with the tie waist though I'm not sure how practical those ones are for my expanding stomach. Perhaps I could do the tie up above the bump though? The tan one in particular has caught my eye and it's Arket so you know it's going to be a forever piece but I am also loving the cream style from H&M if you're after something a bit more affordable!
One more I have to mention is the kind of V neck collared midi jumper dress, I've never seen anything like this before and it's just beautiful! Picturing it now as is with layered gold jewellery and later when it gets cold, layered over a polo neck for added warmth. it'd definitely a classic style with a twist which you should all know by now is my ultimate weakness when it comes to buying new clothes!! Watch this space!
SHOP THE JUMPER DRESS EDIT
Click on the images below to shop!




1 Grey Midi Dress – Shop Here
2 Short Camel Dress – Shop Here
3 V Neck Midi Dress – Shop Here
4 Camel Tie Waist Midi Dress – Shop Here
5 Charcoal Dress – Shop Here
6 Cream Tie Waist Midi Dress –Shop Here
7 High Neck Cream Dress – Shop Here
CHECK OUT MY DAILY OUTFITS HERE
DID YOU KNOW I'M ALSO ON PINTEREST?!
PS YOU MIGHT ALSO LIKE H&M New In Picks OR 12 Autumn Knits From Free People