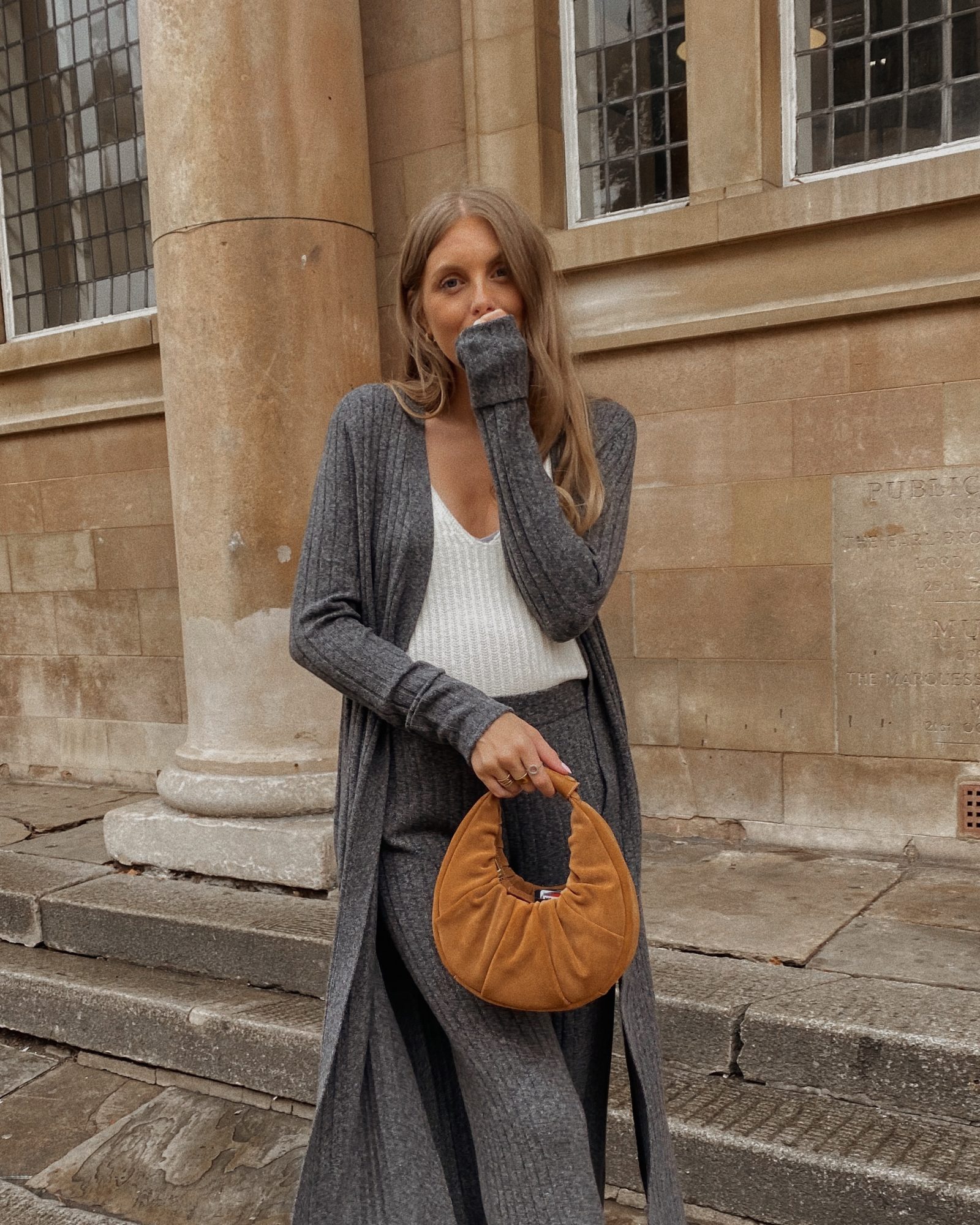 Cardigan : Here, Top : Here, Trousers : Here, Similar Boots : Here
So you guys know that I have fast become an avid shopper of the Amazon Fashion section – having already been an avid shopper of the other sections for years, we all know about the dark creme egg days. With that being said, I thought it would be fun to do a little autumn winter round up of everything I'm loving because if there's one thing Amazon Fashion have its CHOICE and I don't know about you guys but that sends my head into a tailspin!! So I thought I would do alllll of the hard work and bring you my personal edit of all things autumn winter for every part of your wardrobe. We've got trousers, we've got jumpers, we've got coats and we've got footwear. What else could you possibly need?
THIS POST IS PART OF A PAID PARTNERSHIP WITH AMAZON

Cardigan : Here, Top : Here, Trousers : Here, Similar Boots : Here

Cardigan : Here, Top : Here, Trousers : Here, Similar Boots : Here
The Amazon Fashion Winter Edit
So before we get into the edit I can't move on without addressing this delightful outfit I'm sporting in the photos. No your eyes are not deceiving you, I am wearing head to toe knitwear and living my best pregnant life. I don't think you need to be pregnant to wear this, in fact, I encourage everyone to wear this, knitwear is life. But, the elasticated waistband certainly does help if you are. I can see myself and a lot more gravitating to styles like this over autumn winter after our love affair with loungewear over lockdown and summer, I don't think we're ready to go back to our rigid clothes are we? I've already seen a few of these knitted sets popping up all over the internet but what I really love about this pair of knitted trousers is that they're long enough to wear with shoes and not look weird. I have a few pairs of knitted trousers that I like to wear around the house but you wouldn't catch me outside because they're practically pedal pushers on me. At 5ft 7 these trousers are long enough to wear over boots or trainers and still look smart and respectable, I feel like I've hit the winter trousers jackpot! Also picturing them with oversized jumpers and sweatshirts, I'm telling you guys they'll be all over instagram in a couple of months. Just you wait and see!
SHOP AMAZON FASHION WINTER KNIT EDIT
OK so we have to start on knitwear because it's clearly something I am very passionate about. I will stand up and testify that there is never enough when it comes to jumpers. Obviously we have the cardigan that I was wearing in my photos, clearly no words are needed and it also looks great with jeans if you want to smarten it up a bit or even a pair of faux leather trousers. I do actually currently own all of these pieces minus the grey high neck but just you give me some time and I'll fix that right up!
The first sweatshirt, a zip up style borrowed from the mens section is one I already got in grey over summer and wore to death! So when I spotted my sister in this forest green for fall I ordered it there and then on the spot. It's a really nice tone and I got it in an XL so it's super cozy and oversized. I'm actually wearing number 5 the tye dye number with the matching joggers as I type. Super soft and comfy and the kind of sweater set that looks cool if you pop out, it's like "I'm wearing this loungewear out of the house on purpose" kind of look if you know what I mean!
Lastly I have to mention the pink roll neck, it's just SO SOFT! It comes in an array of different colours all lovely and timeless, I mean can you ever really go wrong with a roll neck? It's from a new Amazon Fashion owned brand that I've not heard of before but will 100% be keeping my eye on in the future if this jumper is anything to go by!
1 Green Zip Up Sweatshirt – Shop Here
2 Cream Wrangler Cable Knit Jumper – Shop Here
3 Charcoal Long Cardigan – Shop Here
4 Cream Chunky Cardigan – Shop Here
5 Pink Tye Dye Sweatshirt – Shop Here
6 Grey High Neck Jumper – Shop Here
7 Pepe Jeans Sweatshirt – Shop Here
8 Pink Roll Neck Jumper – Shop Here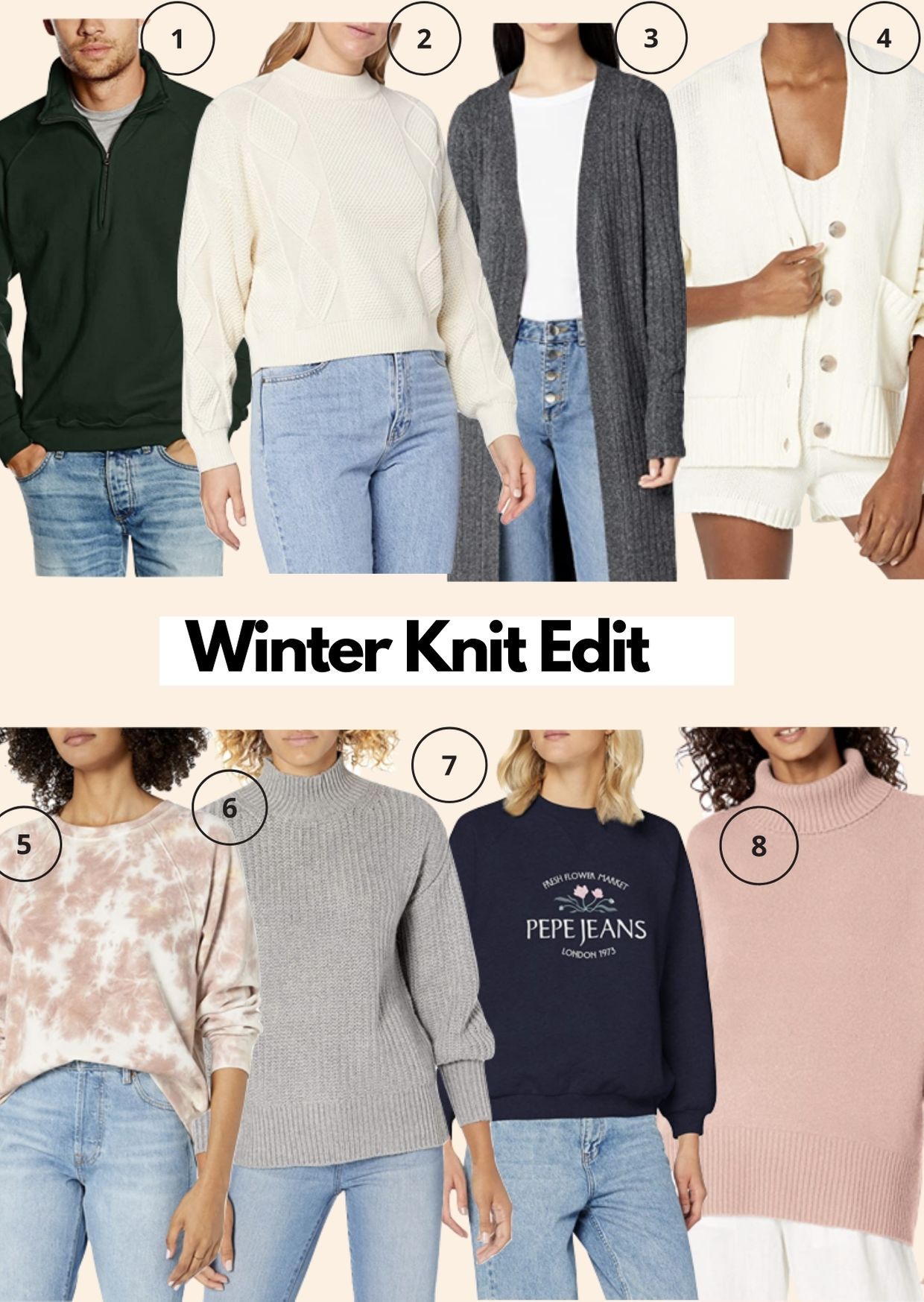 SHOP AMAZON FASHION WINTER TROUSERS EDIT
Moving on to trousers, a sore spot for me and my stomach right now. But what I will tell you is that I've had and been wearing the Levis 501 jeans all summer and right up until a couple of weeks ago and loving them! I actually did a post with some of the ways I've been wearing them which you can check out here! I think this washed blue shade is perfect for all year round but I did pick up a pair of the dark grey/washed black style a few weeks back for autumn as well!
Obviously we've already spoken about the knitted trousers which are literally the bet discovery since sliced bread . . did I mention they have pockets?! And my tye dye joggers, equally as comfortable and soft, perhaps not AS wearable but people, they all have a time and a place am I right?! But I wanted to mention my new faux leather leggings/ faux leather trousers. They still fit me which is amazing and have a side zip which I can hide with an oversized jumper, major bonus! But the thing I have to tell you is that they have this kind of fleecy feel on the inside, so they're super warm and comfy just what we all need for winter am I right? They also don't make that awful squeaking noise that some other pairs do, no one wants to squeak when they walk!
1 Black Skinny Jeans – Shop Here
2 Black Wide Leg Jeans – Shop Here
3 Charcoal Joggers – Shop Here
4 Black Faux Leather Leggings – Shop Here
5 Charcoal Knitted Trousers – Shop Here
6 Pink Tye Dye Joggers – Shop Here
7 Washed Black Levis 501 Jeans – Shop Here
8 Light Denim Levis 501 Jeans – Shop Here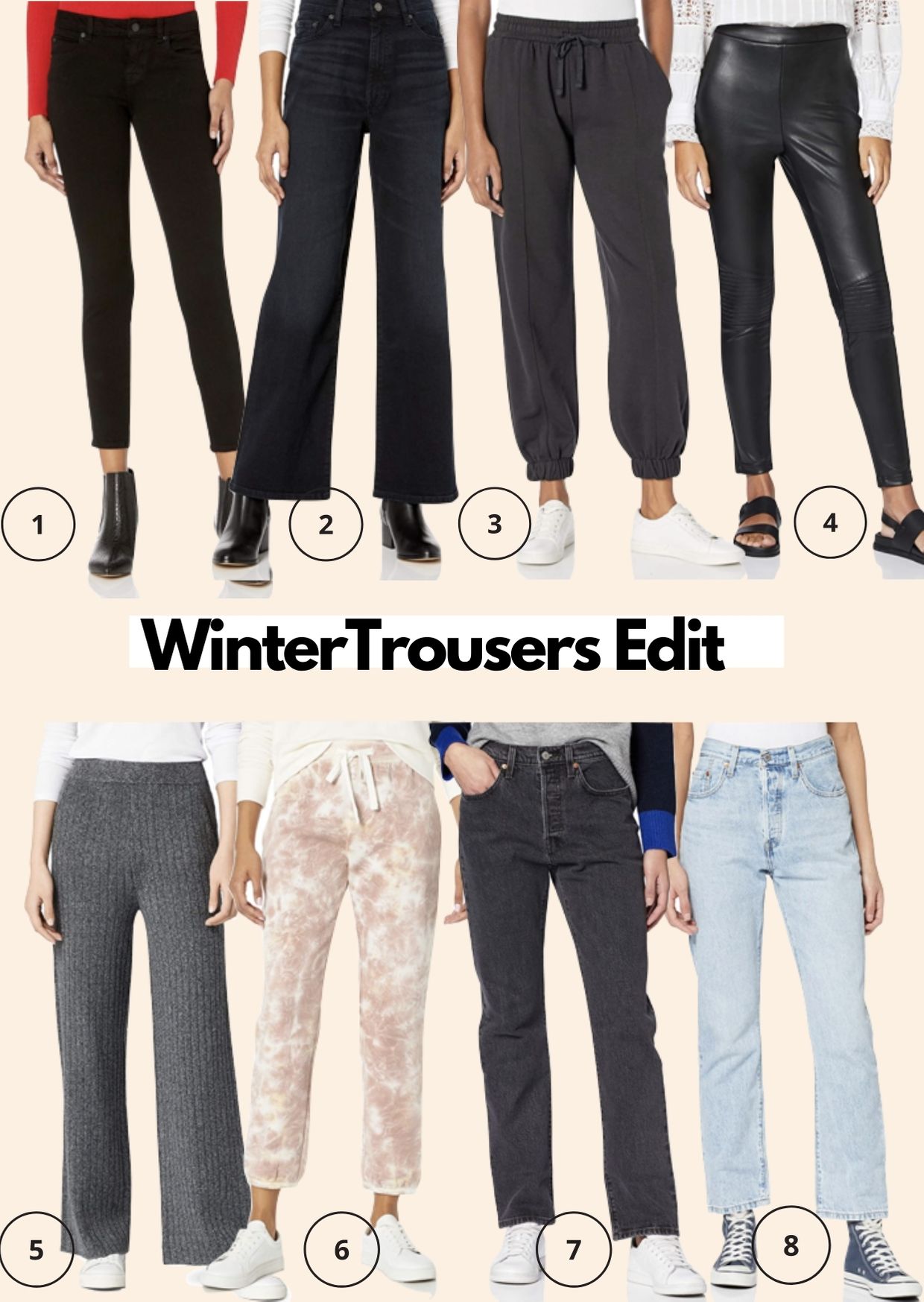 SHOP AMAZON FASHION WINTER COAT EDIT

Similarly to knitwear I have another rule for coats, and that is also that you can never have enough . . are you sensing a theme here? I just feel that you wear a coat everyday over autumn and winter which means that people don't really tend to see whats underneath all that much. So if you're going to be covering up a great outfit then it better be with an equally great coat. I picked up one of the Mens Levis Shearling jackets a while back in a large size so it was oversized and it's been a beloved part of my wardrobe for a while now. It's one of those warm jacket options that still looks casual and doesn't make you look as bundled up. I also spied it in green cord, they have a ton of other colours and materials, and thought it was a nice option for a more winter-y palette!
You literally cannot go wrong with a good puffer jacket, I went for the black cropped style though I haven't had a chance to wear it yet! I wanted to show you the same coat in green and also the tan alternative as there are so many great styles online! They also have some great longer alternatives if that's what floats your boat. I felt that the black cropped style was just something super simple and classic that would look cute even with an outfit like the one I'm wearing in the images minus the cardigan. So cute with the knitted trousers right?
Then we have to talk about teddy coats and jackets. If you don't already have one of these in your wardrobe then stop what you're doing immediately! The cropped cream jacket is a classic style that won't go out of fashion any time soon and will look great dressed up or down. I may or may not have more than a few options like this in my wardrobe and they're always the ones that draw me in.
1 Green Puffer Jacket – Shop Here
2 Black Puffer Jacket – Shop Here
3 Cream Shearling Jacket – Shop Here
4 Check Shacket – Shop Here
5 Brown Teddy Coat – Shop Here
6 Green Cord Levis Shearling Jacket – Shop Here
7 Light Denim Levis Shearling Jacket – Shop Here
8 Brown Puffer Jacket – Shop Here
SHOP AMAZON FASHION WINTER SHOES EDIT
Last but most certainly not least we come to shoes! I kept it pretty simple here because for me I know I'll be living in trainers and boots. You guys already know I have the Nike Air Force 1 which I've been wearing non stop since they landed on my door step. I actually thought they would be a majorly summer shoe for me but it turns out they work for all seasons. I also got these leather hi top trainers from Amazon Fashion to add to my collection for autumn winter. I thought they'd look cute with my jogger bottoms tucked in or with cropped jeans when I don't want to get cold ankles. They are actually so so comfortable and true to size.
I also picked up the Dr Martens Jadon boots maybe a month or so ago and they just make every outfit look ten times cooler and finish off any plain look. I've not worn them with anything other than jeans yet but I'm picturing them with a cute jumper dress and let me tell you now it looks very good! I also wanted to share these chunky hiking boots from Grenson, a cult classic with the fashion lot and often sold out so if you can get your hands on a pair make sure to grab them quick!
Then before I go I had to mention the Vagabond black chelsea style boots, they look so comfortable with that chunky sole and I love the way that they come up a bit higher on the leg. This style is super popular at the moment for wearing bare leg but they also work well worn under trousers like I did with my knitted trousers for a more 90s grunge look!
1 Nike AIr Force 1 Trainers – Shop Here
2 Dr Martens Jaden Boots – Shop Here
3 Grenson Hiking Boots – Shop Here
4 Selected Leather Trainers – Shop Here
5 White Hiking Boots – Shop Here
6 Vagabond Chunky Chelsea Boots – Shop Here
CHECK OUT MY DAILY OUTFITS HERE
DID YOU KNOW I'M ALSO ON PINTEREST?!
PS YOU MIGHT ALSO LIKE 5 Ways To Style The Shacket OR 12 Autumn Knits From Free People