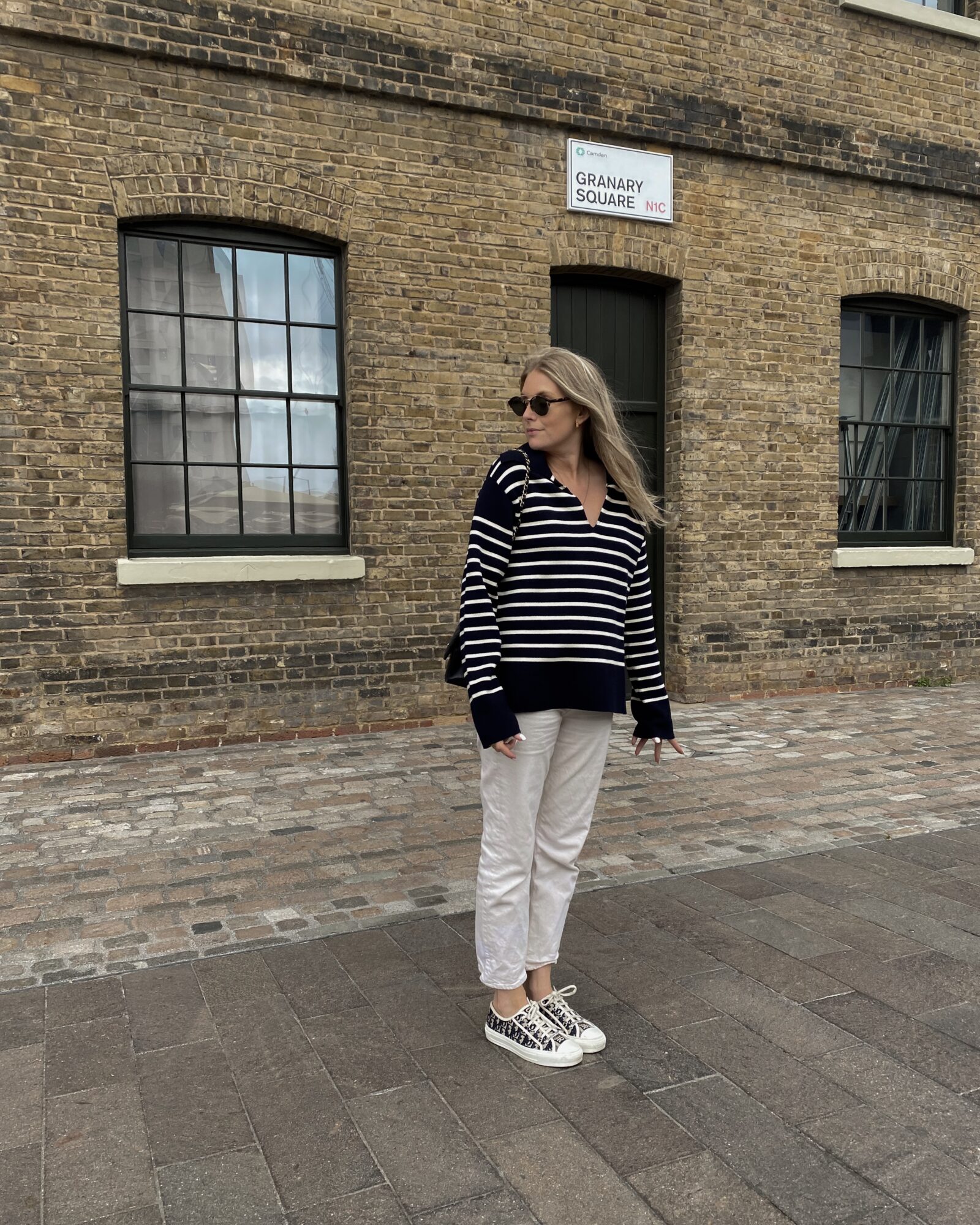 Breton tops are back in a big way and I am well and truly here for it. Let's not kid ourselves, breton tops have always really been in style because they're one of those chic french pieces that make up our capsule wardrobe essentials and will always have a place in our hearts. However, a certain Celine jumper made waves on instagram and the ripple effect is that they have moved from the classic wardrobe essentials list and onto the season must have list with every kind of stripe under the sun making it's way onto the high streets new in pages. Navy and cream are of course the colours of favour, lets not mess with classic breton tops too much.
This post contains affiliate links
8 Breton Tops To Buy Now
I bought this jumper around 3 hours before this picture was taken. Yes I was loving it so much I changed on the bridge over to Granary Square and demanded Jack photograph me (slash, nicely asked him slash, emotionally blackmailed him). I just thought it looked so good with my outfit and yes I do look like such a mum, as Jack pointed out. But as I pointed out, I am a mum and this is a nice outfit and by the way who asked for your opinion anyway? This jumper is heavily inspired by the Celine jumper and actually comes in the same colour way (cream with navy stripes) too. I was really torn between the two but since I'm pretty much drowning in cream knitwear I thought I'd go absolutely crazy and get the navy for a change, a decision I definitely do not regret. The decision I definitely do regret however is not just buying both.
SHOP MY LOOK
Click on the images below to shop!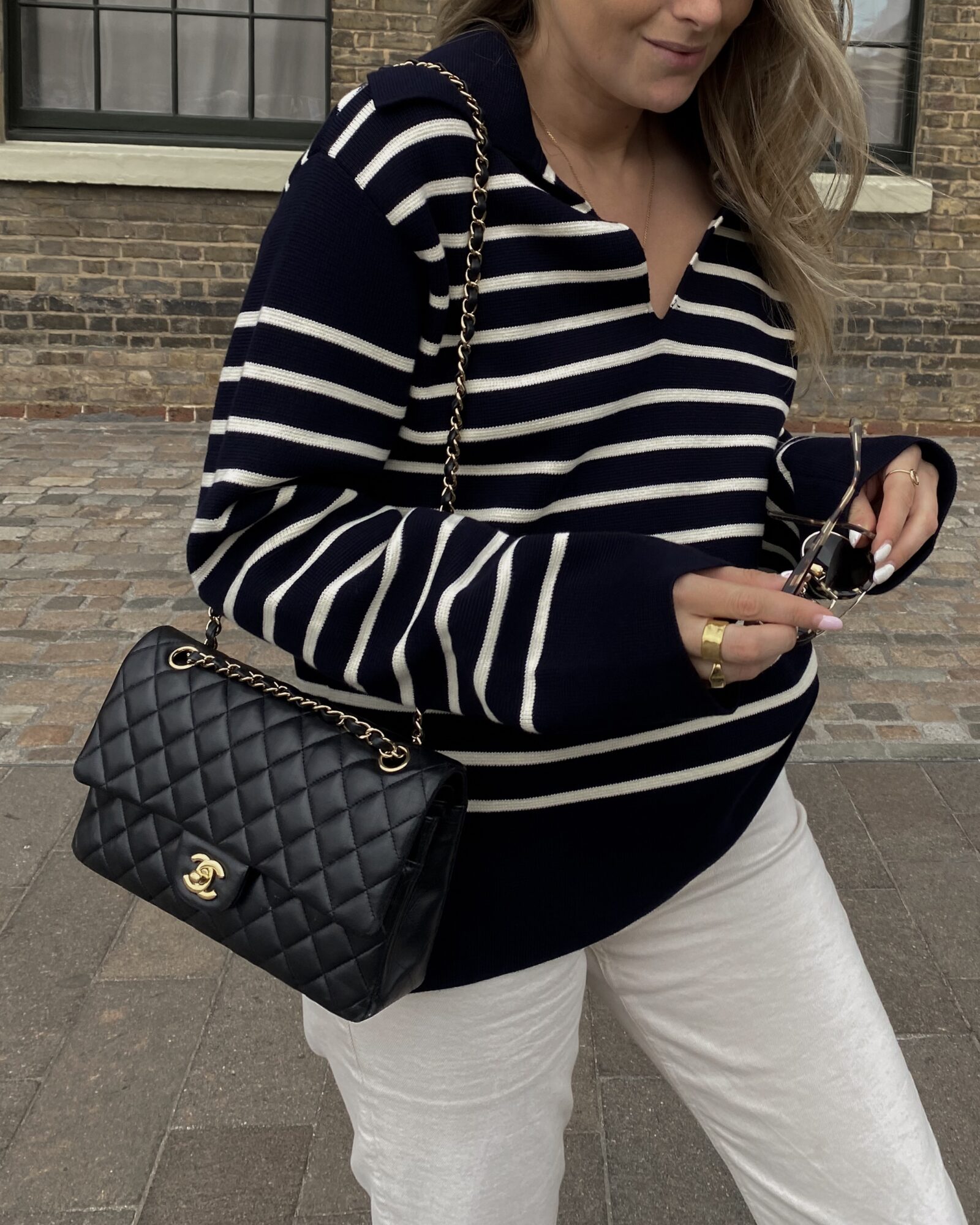 SHOP MY TOP 8 BRETON TOPS
I've done another of my fancy collages! I love these and I'm 100% going to start doing my weekly fashion shopping posts again so you can mark my words come back here next wednesday morning and if there is not one here, you have permission to head over to my instagram and give me a stern talking to!
There are so many amazing pieces of knitwear and breton tops I don't quite know where to start! We've already addressed number 7 & number 8 and we know I love those. Number 4 I actually also got at the same time as 8 and have actually got a youtube going up on Sunday with 5 ways to style the breton top so make sure you come back for that if you've got stripe fever like me! number 5 & number 6 are from Toteme and I have to say, obsessed is not the word. They are so perfect in every single way and when it comes to a wardrobe staple like this it's 100% something you can put your money into knowing full well you'll never get tired of it! I think I'd have to go for the cream since I have number 8 already but they are both an absolute dream!
I spotted number 2 on Smyth Sisters on instagram yesterday and wow it's gorgeous AND an absolute bargain! This one would look great slung over your shoulders with a white tee and some jeans! Then we have number 3, the classic fisherman knit with some stripes thrown in and number 1 which actually is also giving me the celine vibes though if I'm not wrong I think this one is a thinner more sweartshirt-y material so another great option for the transitional season!
Shop my picks below!
1 ARKET Zip up Sweatshirt
2 MONKI Navy Striped Knit
3 ARKET Mens Fisherman Striped Knit
4 ARKET Navy Breton Stripe Tee
5 TOTEME Cream Stripe Jumper
6 TOTEME Navy Stripe Jumper
7 ARKET Cream Stripe Collar Jumper
8 ARKET Navy Stripe Collar Jumper
I hope you enjoyed my first weekly shopping post in a while! Make sure you come back next wednesday for more!