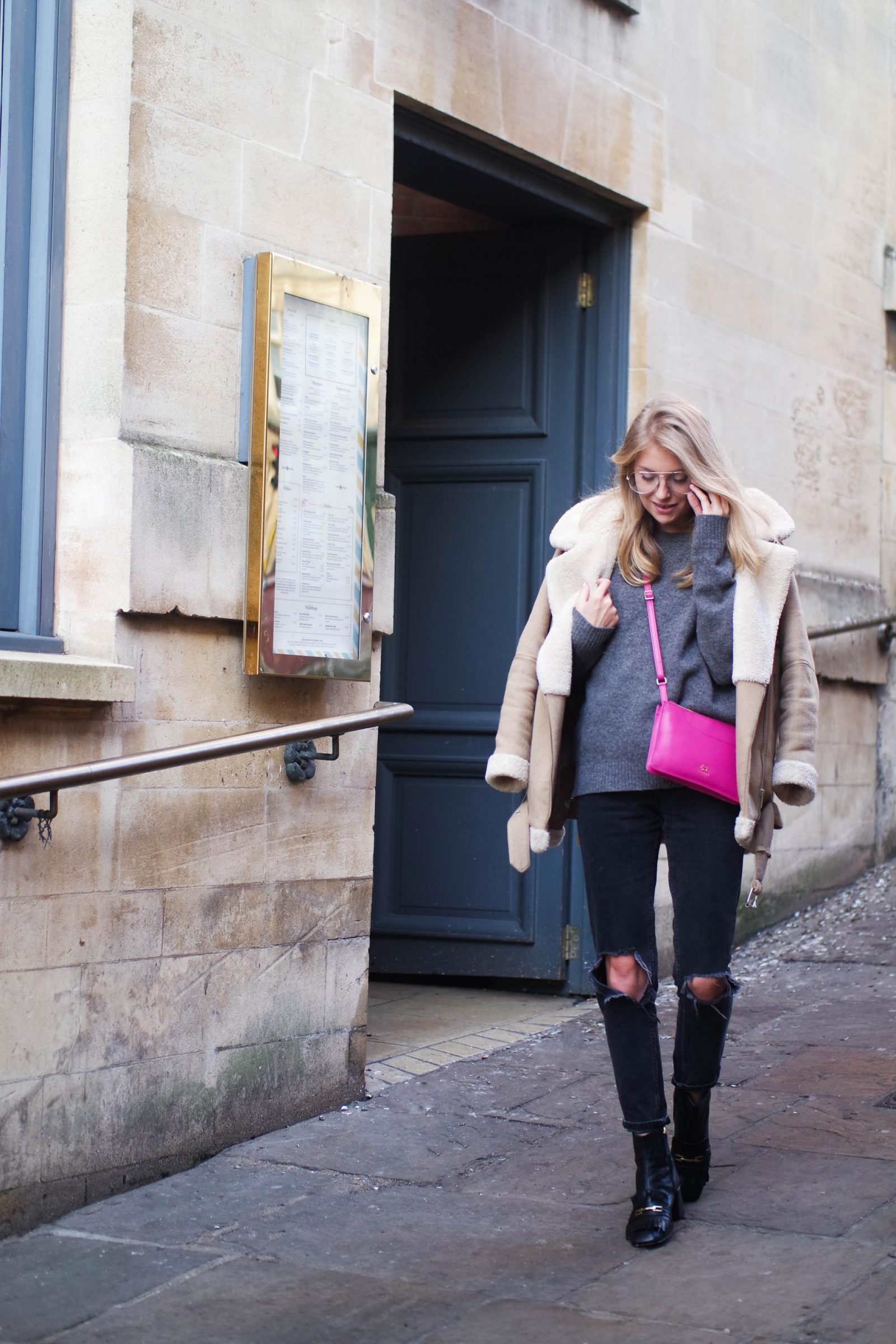 As a native black, white, grey & camel wearer (basically anything with minimal colours – pastels are ok) wearing colour is something I usually shy away from. I know that if I buy a top in a bright colour chances are it'll be discarded in favour of my good old white t-shirts before long. Recently I've found a new way of injecting some colour into my neutral outfits – accessories.
Coloured accessories are a great way of adding the wow factor to an outfit without stepping too far out of your neutral coloured comfort zone. You may have also noticed I recently got my beloved Chloe in oxblood red which I thought was pretty daring but I guess you could still class it as a neutral!
Shop the post
When I first got this I thought it'd be reserved for partywear. Just because of the bright colour I could only really picture it with a LBD – yes I still think that'll look great. Yet here I am, wearing it with my winter warmers out for a decaf latte with Mum. Listen up fashion bloggers, the way to your Mums photo taking heart is latte & cake.
I think it works really well with a simple outfit like this and I can even imagine it looking great with clashing colours! I just got a baby pink sweater from Missguided and I honestly think they're a match made in heaven – coming soon to an instagram feed near you!!
BUT . . . do you know what my favourite thing ever about this bag is? It's just like my Celine trio which is so wearable, yet it's a fraction of the price. So if you know someone who's been lusting after the Celine for a while then this would totally make the perfect Christmas gift rather than a poor quality dupe! It's beautifully crafted and also comes in a range of colours so there's something for everyone. This piece is actually from their Classics range which pretty much covers all bases – see the full collection here (you also get a free purse with the purchase of any classic handbag)!
Are you a colourful dresser or do you stick to neutrals like me?! Sometimes I think I'm allergic to colour!!
OUTFIT DETAILS :
Coat : OLD – Alternative here
Jumper – OLD – Alternative here
Jeans : Asos
Boots : Topshop
*Bag : Radley
Glasses : H&M SOLD OUT – Alternative here
Lipstick : YSL shade 47
FOLLOW ME :
Facebook // Twitter // Pinterest // Bloglovin // Instagram
Coat : OLD – Alternative here
Jumper – OLD – Alternative here
Jeans : Asos
Boots : Topshop
*Bag : Radley
Glasses : H&M SOLD OUT – Alternative here
Lipstick : YSL shade 47

Shop My Favourite Radley Bag

This post is in collaboration with Radley