A new month and a new wish list, I swear as soon as I buy the one thing I need, I suddenly need something else! Such a burden! I'm loving denim at the moment as I'm sure you can tell, I'm on the hunt for the perfect denim shirt (and dress, and top, and skirt) so if you know of any good ones then please leave me a comment! It will be much appreciated!
I know a lot of this stuff is quite wintery but I always think that summers when you need to start keeping your eyes peeled for a good pair of boots, seriously it's never too early, if you don't buy it now you will regret it! This month I'm determined that I will own a Chloe dupe by September latest.
Also, guess what?! I got an email this morning saying I'd won a £100 voucher from Topshop! So I'll probably be picking up those winter boots and I'll do a post when I decide what to spend it on and show you my goodies!!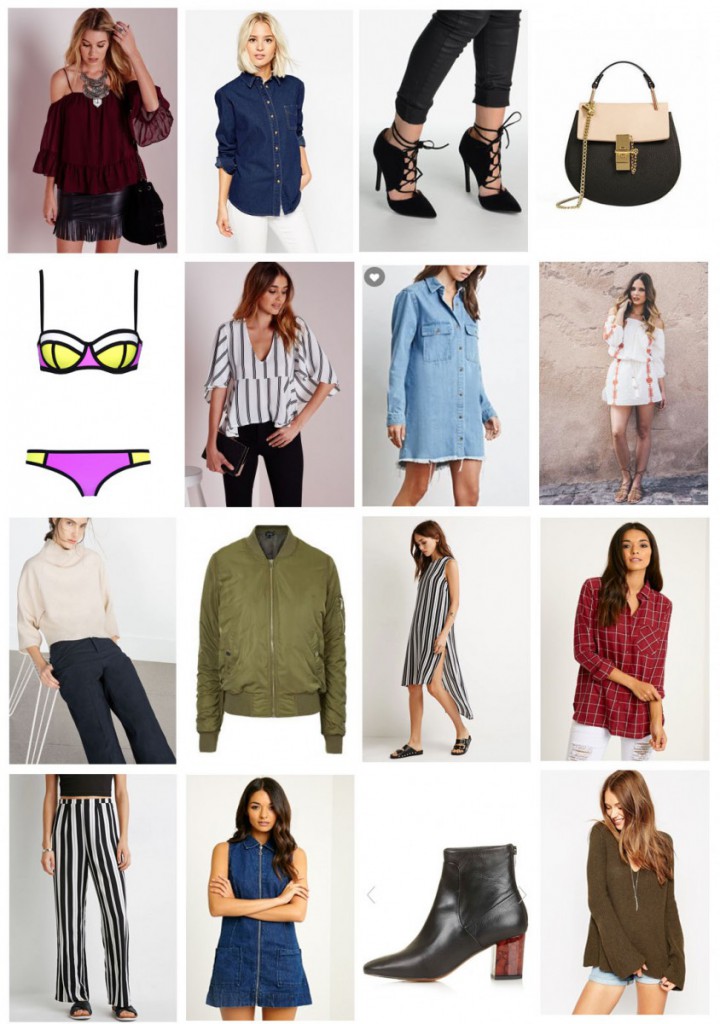 Burgundy Cold Shoulder Top : Missguided
Denim Shirt : Asos
Lace up Heels : Linzi Shoes
Chloe Drew Dupe : Jessica Buurman
Poppy Bikini : Triangl
Monochrome Stripe Top : Missguided
Denim Shirt Dress : Forever 21
Bardot White Embroidered Dress : Pampelone
Funnel Collar Top : Zara
Khaki Bomber Jacket : Topshop
Monochrome Striped Dress : Forever 21
Checked Wine Shirt : Pretty Little Thing
Striped Trousers : Forever 21
Zip Through Denim Dress : Pretty Little Thing
Leather Ankle Boots : Topshop
Khaki Knit : Asos