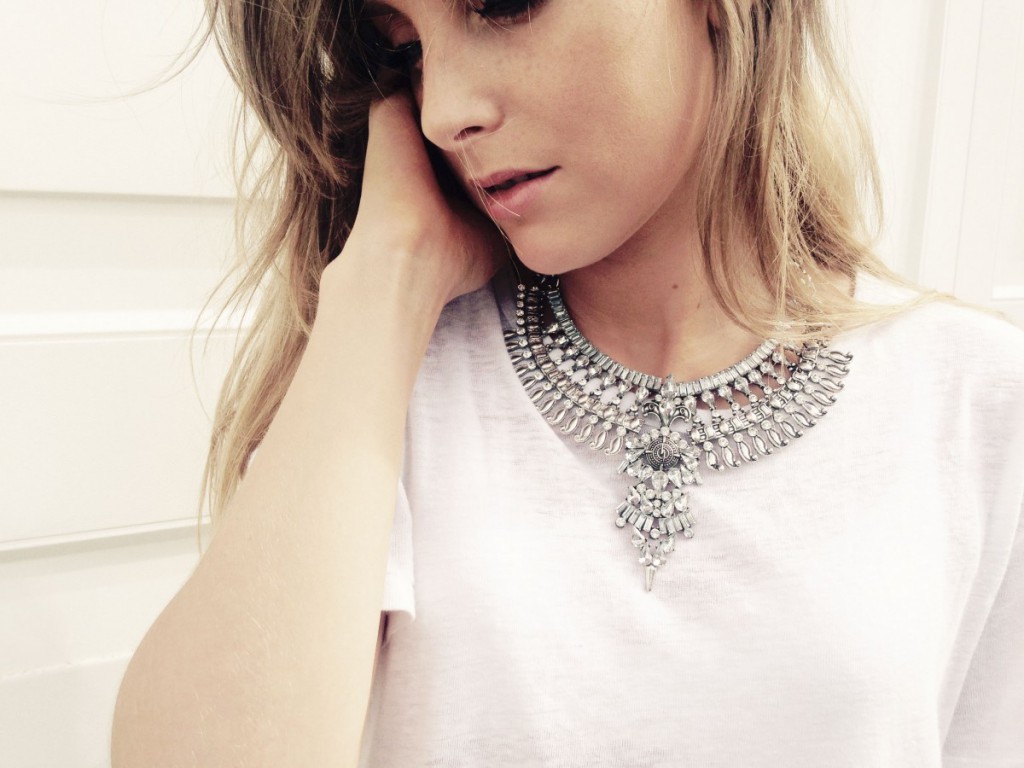 So recently I was challenged by the lovely people over at Aura LDN to style this stunning necklace. For me, a serial t shirt wearer, necklaces are key for creating a look and making it look like your not wearing the same as yesterday (guilty). When I first saw this necklace it immediately screamed black dress, red lips and heels. It's definitely got the wow factor! Then I decided to have a re think and tone it down a bit, I'm not really a super dressy girl, I mean give me the right occasion and I'll go to town the same as the next girl, but on a day to day basis oversized and comfy is my mantra!
I decided to still do an evening esque look that you could definitely wear in the day time with some sandals, and as it was how I would style it, this is definitely more me! I've paired my good old faithful H&M menswear t shirt with some silky pyjama esque ( look and feel – seriously soft) shorts. To dress up the look I finished it off with my lace up wedges and of course the piece de resistance – my necklace. I haven't had a chance to wear these shorts yet as I got them for my holiday, but I am actually loving this look and have filed it away in my memory for next time I want to dress up but still feel like I'm wearing my pyjamas – seriously what's not to love?
If you are as in love with this necklace as I am then LUCKY YOU, because I've teamed up with Aura LDN and we're hosting a competition over on instagram! All you have to do is re post one of my looks with the necklace, tagging both me and Aura LDN in your photograph with a description of how you would style the necklace if you won! Don't forget to also tag your friends in my post to share the love and help spread the word, and follow both my instagram account and Aura LDN's account!