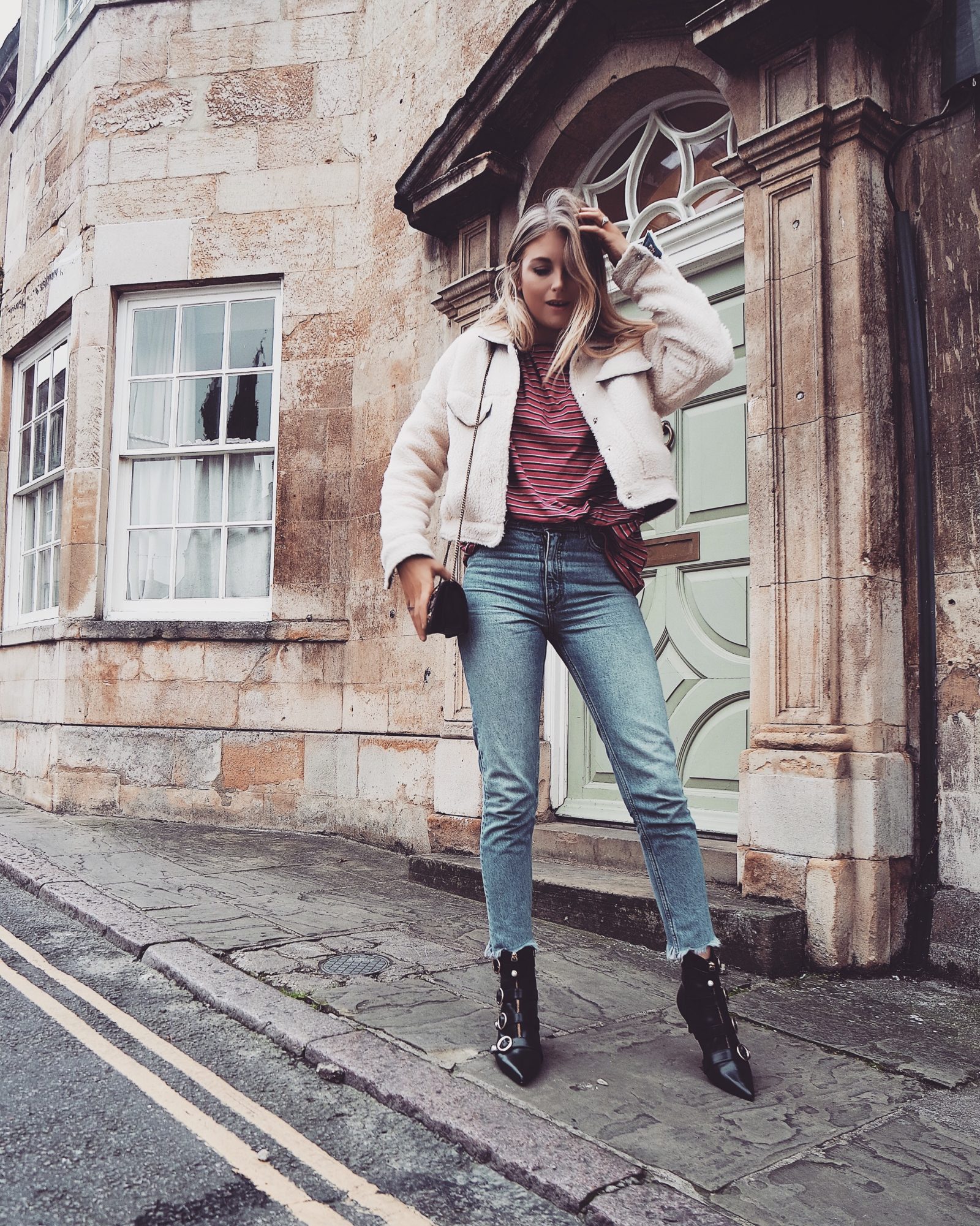 Boots. The first part of my wardrobe to change (if I ever strayed from them in the first place) and a moment that signifies, it's too frickin cold to have my toes out now.
Buckle Boots. This seasons hottest pair and the ones I'll be wearing religiously.

Transitional Styling
So the boots go first. Then the denim jacket swaps out for a shearling and we go down hill from there. It's still pretty warm here so I'm switching between skirts and jeans and I'm currently working out how I'm going to manage wearing my skirts all winter long. They're not going away, period.
A pair of sassy boots are all you need to spice up your jeans and tee combo.
OUTFIT DETAILS
*Kurt Geiger Buckle Boots (True to size) : Here
Teddy Jacket (Size 10) : Here
*T Shirt (Size XL) : Similar Here
Jeans : Similar Here
Bag : Here
Affordable Alternative : Here
*Ring : Here
*All items marked with an asterix were kindly gifted to me or purchased with a gifted voucher
Buckle Boots
Buckle boots are officially a thing. I've got two pairs and that to me says it all. I've got a flat pair and now I've got a shiny new heeled pair which quite frankly have seen off any competition in the boot stakes and will be attached to my feet from here on out.
This pair from Kurt Geiger have that designer feel. It's all in the details, the circular buckles, the pearls and the zip (that doesn't actually work thank god because can you imagine trying to fasten that?). They've got aspects of this Gucci pair and this Gianvitti Rossi pair I was on Song of Style in Fashion week.
I originally wanted them in red but flipper feet here couldn't get hold of a pair. Then I wanted the white pair but I quickly changed my mind and settled on old faithful, black will always win.
Buckle Boots Lovin'
Here's some more buckle boots I'm eyeing up for my next purchase
PS – You Might Like This
Transitional Outfit Ideas
Transitional Haul
Ways To Wear The Balenciaga Boots