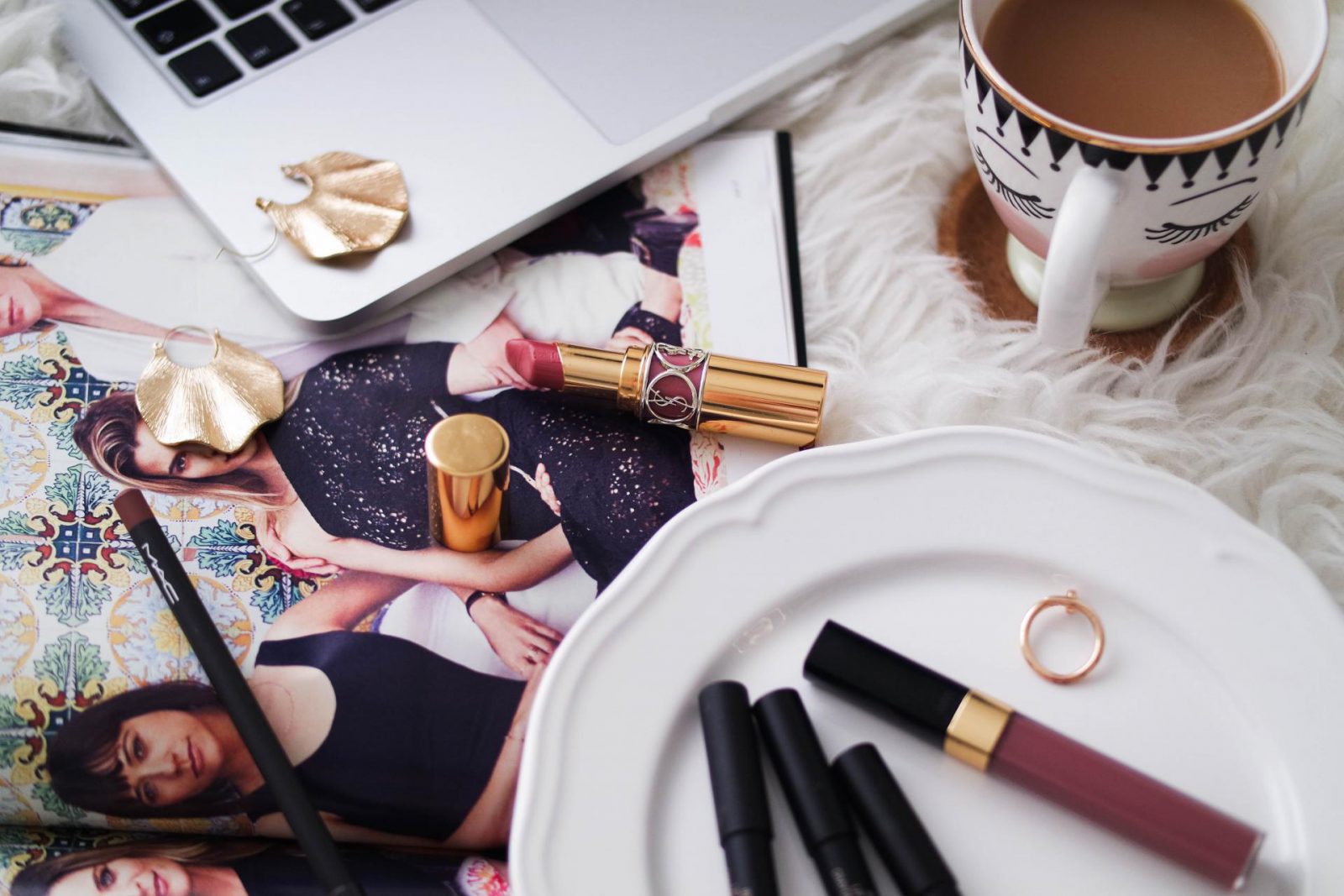 Shop The Post
Seen as I haven't done a beauty post in a long long while – Soz about that guys! I thought I would do a little post of some pretty pictures, talking through all of the new bits I've been using and loving recently .. there's a few!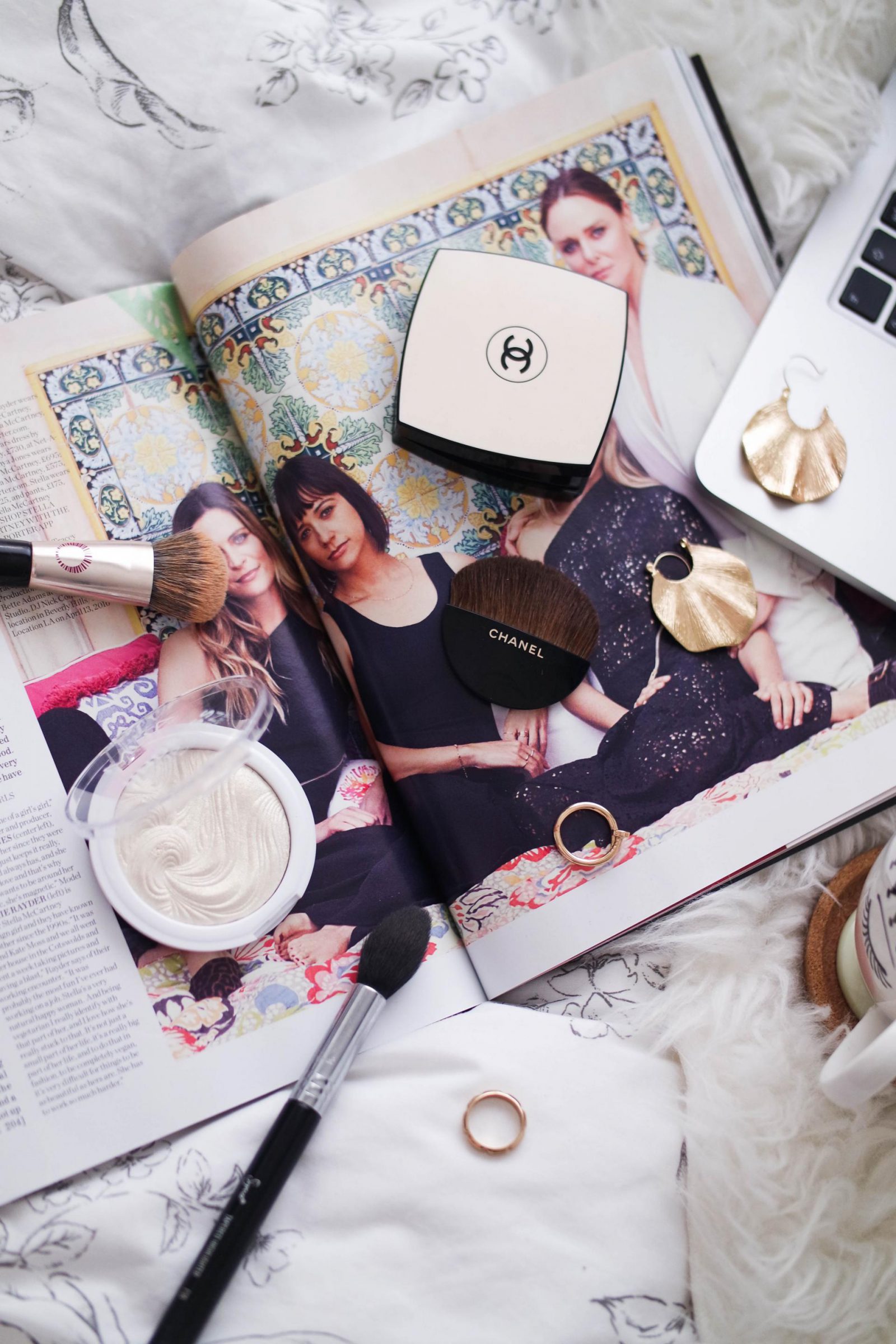 Chanel Les Beiges // MUA Undress Your Skin // *Look Good Feel Better Brush // *Sigma Highlighter Brush // Earrings // Rings
New Beauty Favourites | Face
I've been eyeing up this Chanel Les Beiges in 10 aka – the most photogenic make up there ever was for ages but couldn't justify Chanel make up prices. I'm more of a clothes girl than a make up girl. Anyway, I was lucky enough to receive a gift voucher at a press day for Debenhams and instantly knew what I was going to treat myself to! I have to be honest I've not used it a lot I just love looking at it. It's almost too special to use . . am I being too precious?
I only bought this MUA Undress Your Skin Highlighter in Iridescent Gold the other day when my beloved Sleek Make up palette ran out and my stupid little town didn't have any. Yes I do love living in a small town but sometimes I just wish they had everything I wanted at my fingertips too!! Anyway, it's super pretty, was only £3 and is really pigmented so of course I got it. So far so good though I've only had it for a few days. I wouldn't say it's stolen my heart but there's still time and hey, you know I love anything pretty so it's fine.
The last face thing I've been loving is this look good, feel better multi purpose brush. Not something I was in the market for but after being kindly sent this to try out I haven't stopped using it! I actually use it for my concealer which is probably not the right thing to do? I'm no expert, but it blends it really nicely and gently than using a smaller brush – sometimes if I'm being lazy I'll use it for my foundation too – so it really is multi purpose and fast becoming one of my beauty favourites!
Shop my favourite face bits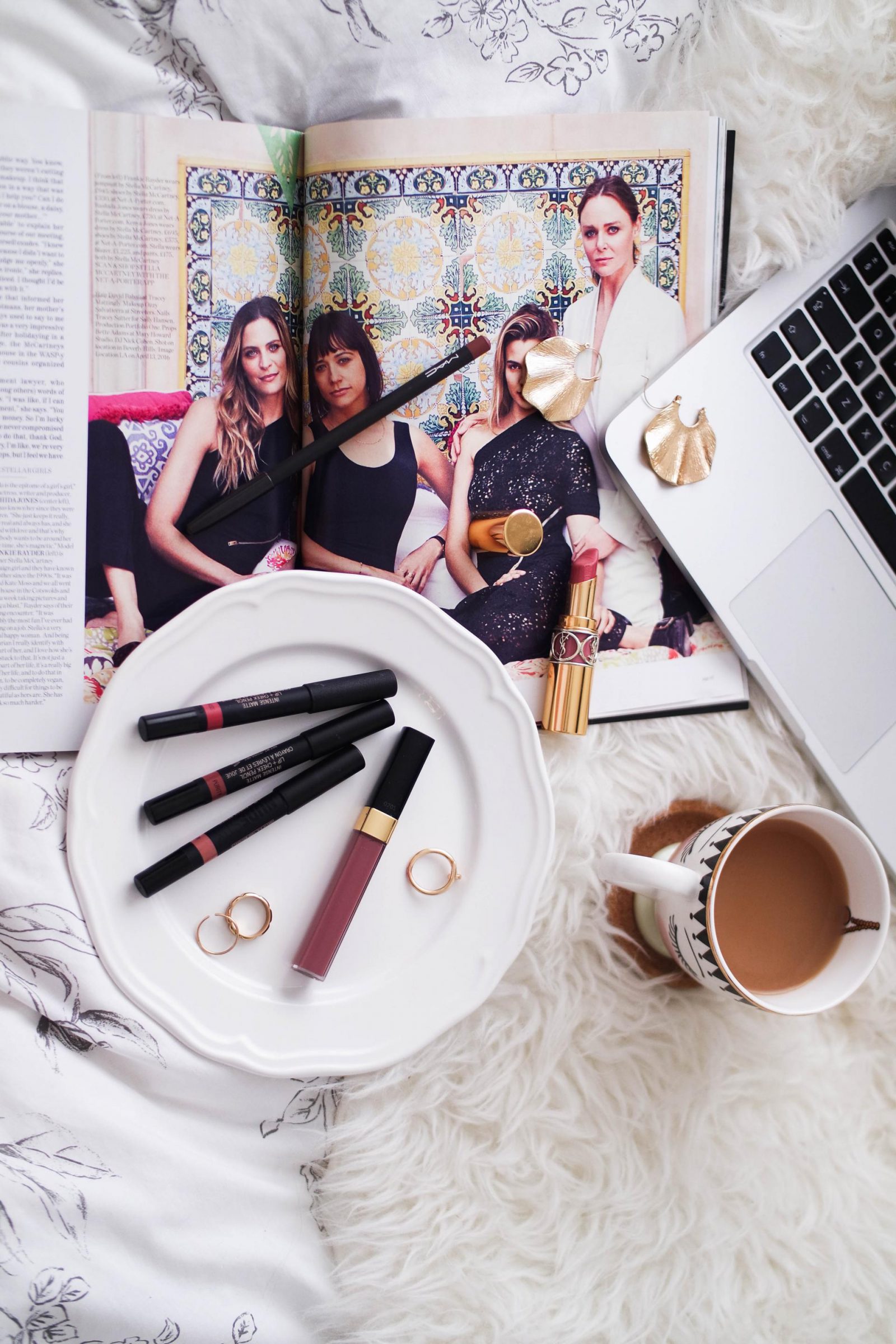 YSL Lipstick // Chanel Lip Gloss // *Nudestix // Mac Spice Lipliner// *Miss Etoile Mug // Earrings // Rings
New Beauty Favourites | Lips
Go back 2 years and lipsticks were never my thing, now I can't stop buying them! And I've also noticed that they're all varying shades of browny pink. Browny pink and nudes are kind of my thing. This YSL Rouge Volute Shine in 47 was another gift voucher goody – they were uber generous! I have to be honest and say I didn't even test it. I was thinking purely of two things when I picked this up; 1 – what good instagrams it would make, 2 – how fancy I'll look putting it on – and I'm not ashamed of either of these facts!!!! HOWEVER, it is sooooo nice! It's super sheer and moisturising giving just the hint of colour and my god the taste! It's like eating melon, so good! I'd say of all the high end lip product's I've tried I'd go back to YSL a new one but very firm one of my beauty favourites!
Now that I've stopped gushing about a lipstick. . I also got this Chanel Levres Scintillantes Glossimer in Giggle in my little goody bag shopping spree. I haven't used this as much as I thought I would because of my love for the YSL lipstick, the colour though is spot on what I love and I do love wearing it just not as much as my YSL.
My Mac Lipliner in Spice has definitely been neglected, I've been after it for soo long and wore it once when I was having a bad day and now forever blame the lipliner . .does anyone else do that?! Anyway, I promise to give it another go because I know how much so many people bang on about it!!
These Nudestix were sent to me in a beauty box last week by Look Fantastic to celebrate the launch of them on the website. I didn't really have any expectations because truth be told I'd never heard of the brand before! They are soo good. It's like matte lipstick but in a crayon and has the creamiest consistency and just glides on. I have the shades KISS, WHISPER and PURITY, all of which are right up my nudey, pinky, browny street. I'd have to say PURITY is my favourite of them all! Make sure if you do pick some up from Look Fantastic you use the code NUDE10 for 10% off for limited time!
Shop my favourite lips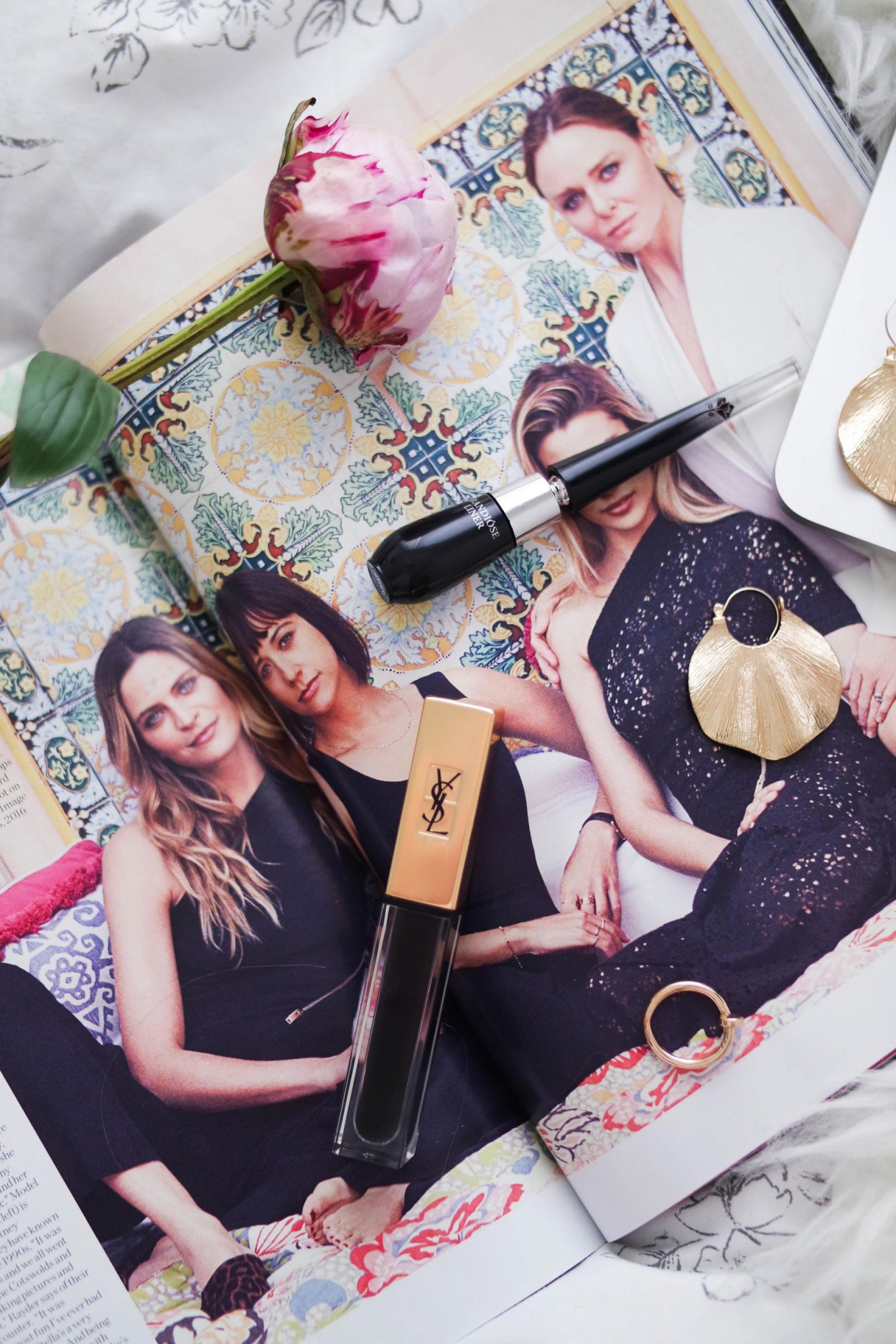 *YSL Mascara // *Lancome Eyeliner
New Beauty Favourites | Eyes
This new YSL Vinyl Couture Mascara I got a few months ago and honestly get soooo many compliments when I wear it. It is a ball ache to put on though I'm not going to lie, it's quite clumpy and I find it goes everywhere which means a huge clean up operation post mascara. So generally I only really wear it on a night out or if I've got something special!
The Lancome Grandiose Liner's super new so I haven't actually used it yet but it looks super easy to use and has a really nice nib. The ball on the handle means you can angle it to get a better application which for someone like me shaky hand syndrome it's so much easier to get that sought after eyeliner flick.
Shop my favourite eyes
New Beauty Favourites | Scents
Last but not least is this scent. I've never tried a scent from Escada before but I was kindly sent this one from Fragrance Direct last week and oh my. It's like someone bottled up the scent of Summer, I'm not the best at describing scents but it's super fresh and fruity without being too sickly and young. For anyone looking for a Summer scent or just wants to smell the smell of Summer so you can feel like we're actually having one, you need this.
Shop my favourite scents
I hope you guys liked my first beauty post in forever! I promise I'll try and do some more! If you have any requests then do let me know and I'll put it on my list! I do like doing them I'm just such a beauty novice that the ideas don't come so thick and fast as the fashion posts so they often take a back seat!
Make sure you follow me on Bloglovin' to stay up to date with all of the latest posts! Also – you guys make my day when you follow, it's sad but it's true! Make sure you also follow me on Snapchat for everyday bits & bobs & unboxing/hauls/ the whole shebang! Username : sineadcrowe
On My Current Wishlist