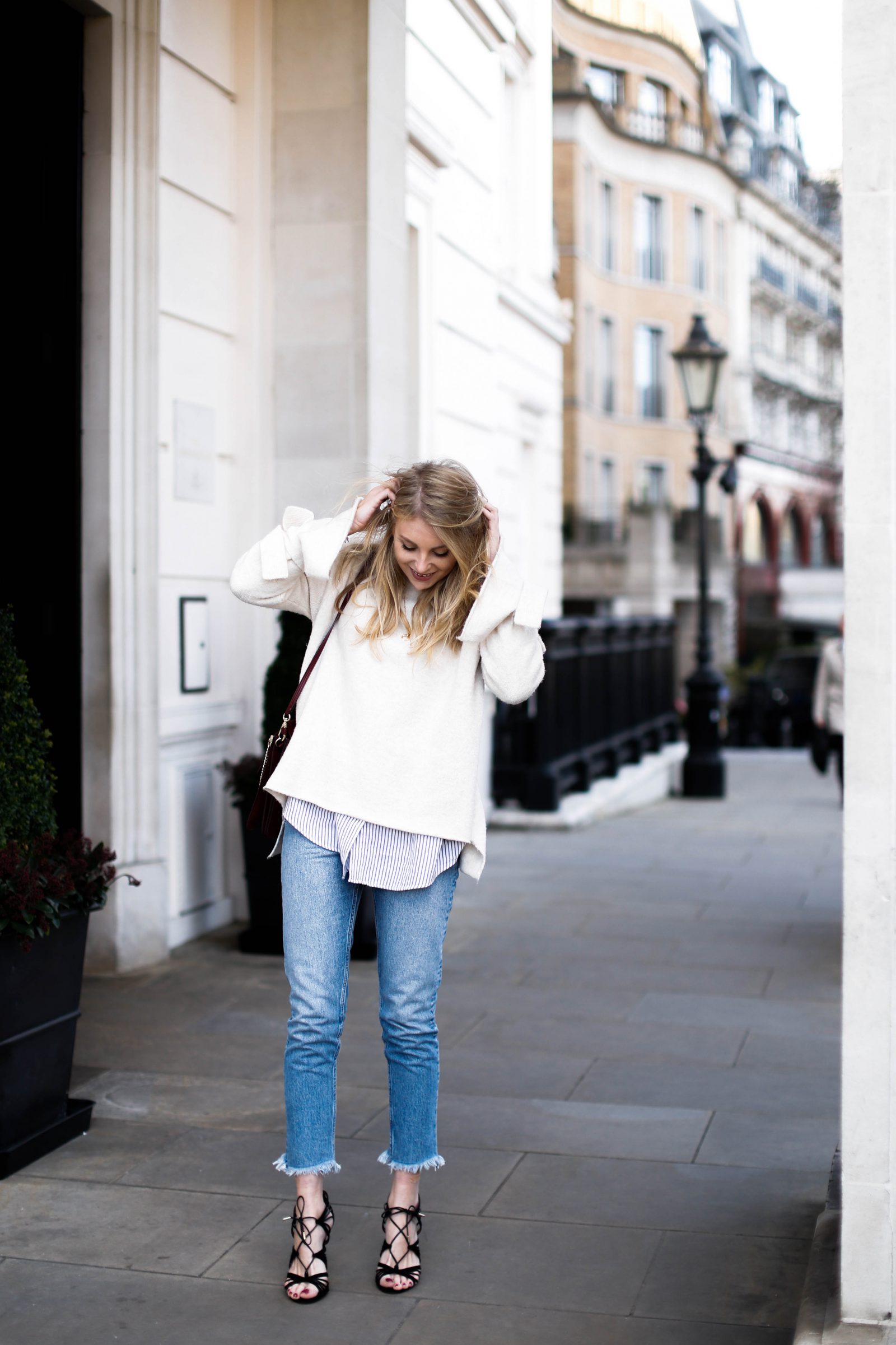 Pinch me moments seem to be coming thick and fast at the moment. I'm not going to lie and say I'm not loving it, but I'm also in a constant state of fear that someones on to me. That old imposter syndrome feeling right!?
When I got the email about breakfast with Farfetch for the new Farfetch x Aquazzura "perfect heels" collection I was all heellllll yeah. I didn't even realise what the Lanesborough was, luckily I've got good old Sue Crowe who knows everything (I'm serious she knows the life story of everyone that lives in my town) to help a girl out and that shizz is fancy.
Shop The Post
Breakfast was absolutely insane. We had our own private room with more flower arrangements than most weddings I've been to. The Farfetch girls know how to do instagrammable! Obviously I gave us all bad luck by whacking my pair straight on the clean white table cloth but latte art and gorgeous shoes . . duh.
Clearly I was so engrossed in getting the perfect #coffeenclothes shot I didn't even realise Victoria was papping me! We managed to get our shoot in before I indulged in hands down the best eggs benedict that's touched these lips. I full on took in every minute of this. We get invited to such incredible places as bloggers and it's important not to ever take it for granted!
Aquazzura x Farfetch
The Collection. They've pretty much got every kinda girl covered in the shoe department with just 4 styles, minus the flats wearer . . sorry girls, you can't sit with us. Inspired and designed by some of the most influential women in fashion, there's a platform, a sassy point, a classic lace up and a pair of boots. Originally I'd planned to go for the boots but as these were my first ever pair of designer shoes I had a rethink . . go hard or go home. I went for the classic black lace up style designed by Holli Rogers, the CEO of Browns Fashion.
When I was planning my outfit for the day I had a bit of a struggle, breakfast at a fancy hotel, also shooting, also walking across London for said breakfast. I went with jeans and heeled boots with a nice jumper, the holy grail in smart casual no? Then a quick switch to my new babes when I get there. I'll let you in to a secret, I nearly missed my train because I got changed about 5 times. Outfit planning at 6am is not my strong point.
You can see my unboxing video here on my youtube channel!
The Perfect Heel Collection
Read more about the collection here and don't forget to watch the short film!
Outfit Details
Jumper : Zara SOLD OUT – Alternative here
*Shirt : &OtherStories
Jeans : Monki NOT ONLINE – Alternative here
*Heels : Farfetch X Aquazzura / Affordable Alternative
Bag : Chloe / Affordable Alternative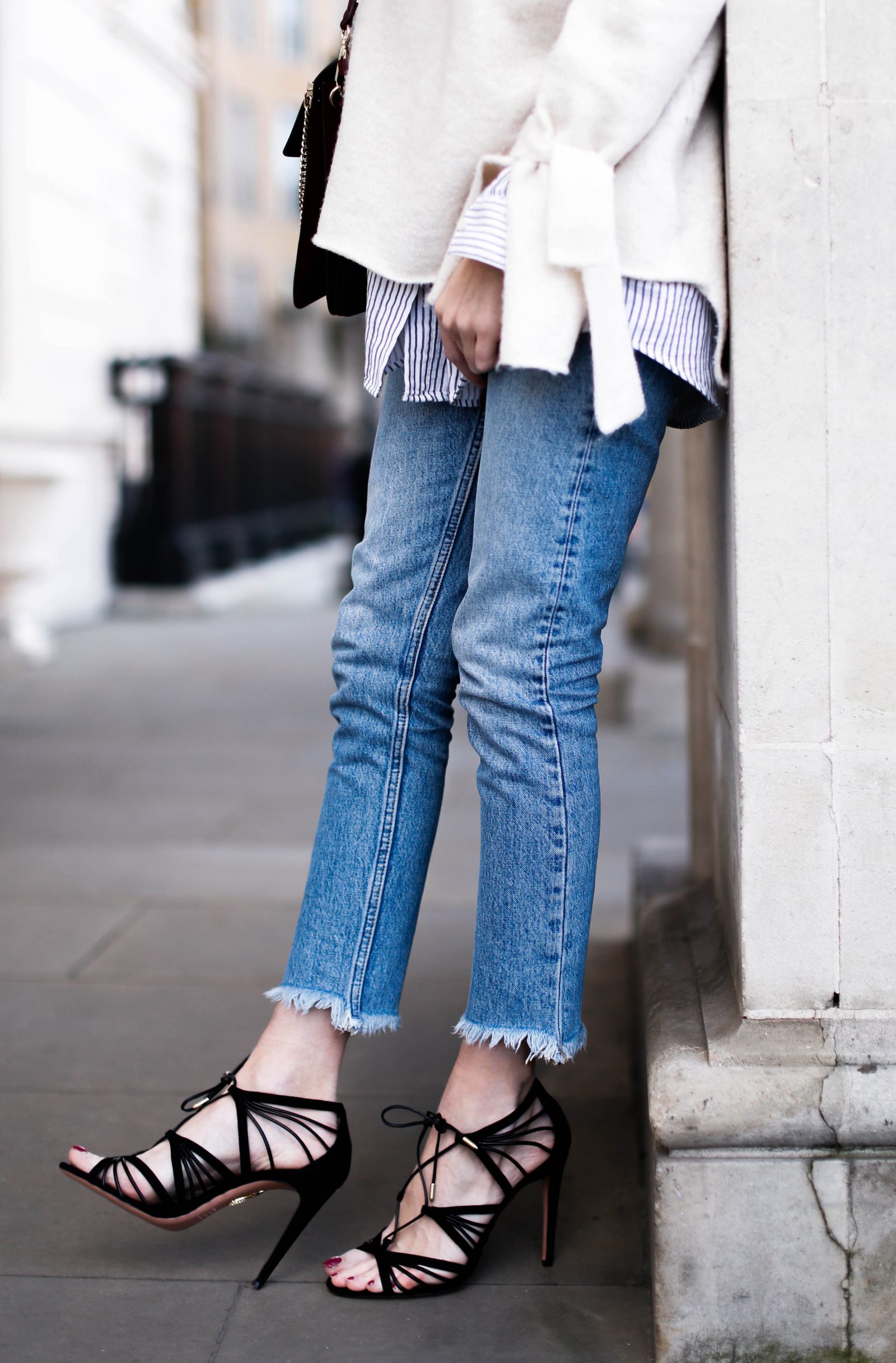 Lace Up Loves
Love em but not quite in your price range? Well get saving and satisfy your desire with these in the mean time!
All photography by Victoria Metaxas
A special thanks to Farfetch for an amazing morning!