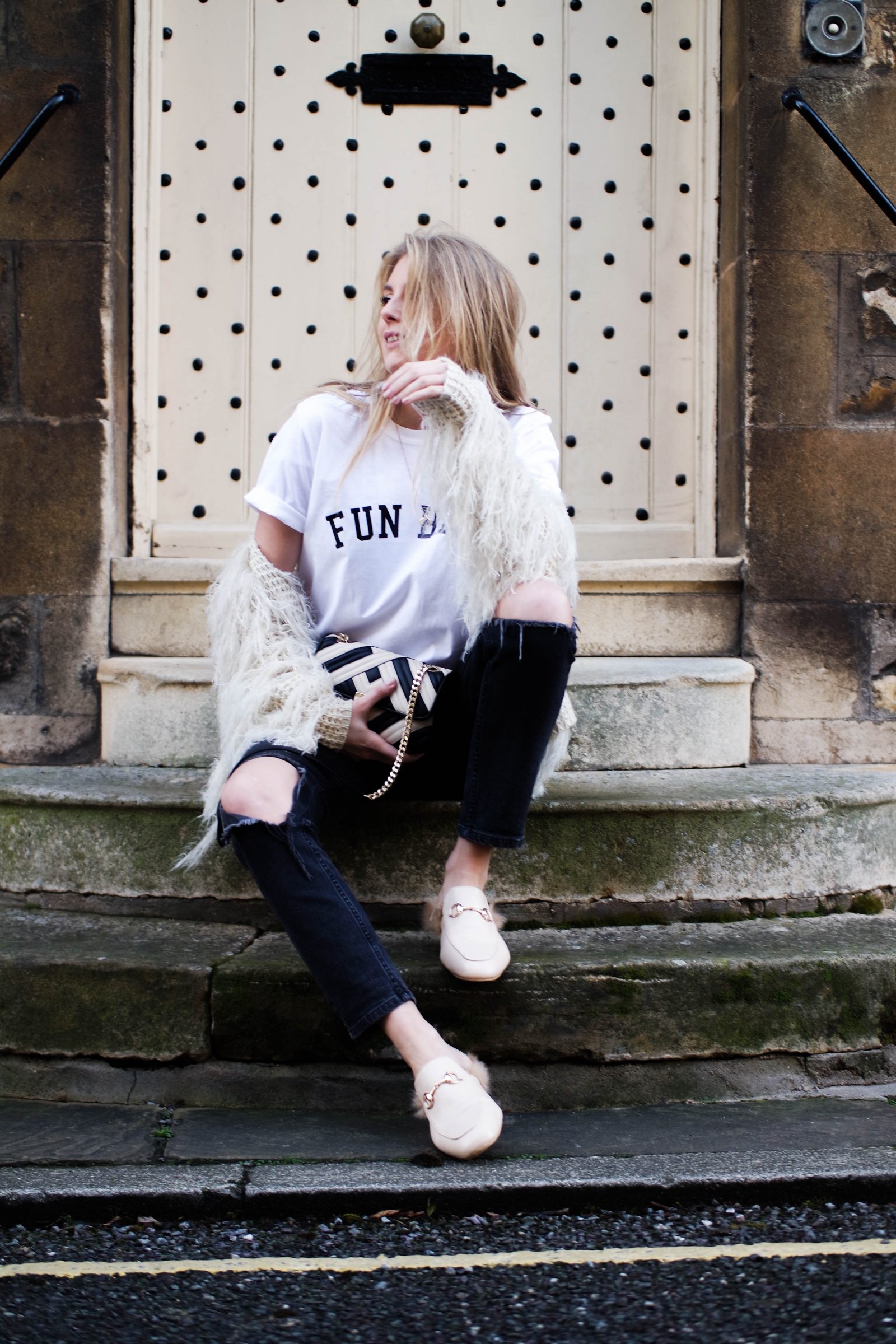 Not that I don't love this outfit and wouldn't want to share it with you guys anyway. But this post is a bit more personal, not necessarily about my own personal issues but more about my views and opinions. A few months back I stumbled upon an instagram account that changed my views on Cancer and struck one hell of a chord with me. Not usually one to get too deep or controversial, this is an issue I just had to share my two cents on.
Shop The Post
(Not So) Fun Bags
This pretty cool slogan tee is not only right on trend, but its created by a new brand, slash woman who is probably the most inspirational person I've come across in a long time. If you do one thing today, go and read her story. The first post she ever did really resonated with me, her age, the fact she too had no tits (apparently cancer doesn't discriminate against small boobs – and I thought that was the only plus to it), it all brought it home. Since then I've been hooked, I love the way she fearlessly shares her story giving a true understanding of what it really means to be diagnosed with Cancer, though I don't think anyone who hasn't gone through it could ever truly understand. It's not a sob story. She's not only used her diagnoses to help spread awareness, but also to launch a new brand and she is sassy with it, fearlessly sharing insta stories to the tone of "bald patch on fleek".
The tit tees. Yes, 25% of the proceeds go to the Breast Cancer Haven, but that's not why I bought one. I bought one for Lauren. Because no woman should loose her dignity after being diagnosed with such a terrible illness. Naively, I assumed, you get cancer, you get looked after. W R O N G. It was when she messaged me saying I was making her buy all this stuff and she needed to stop, and I responded, "you deserve to treat yourself" that I found out just how little she could, at the time she needed to most.
Yes, the state she's been paying into her entire life, leaves her barely able to pay her mortgage at a point when she needs them the most. what the fuck is up with the world?! Not usually one to swear here or to go into icky opinions but if I didn't know, who else doesn't? You see, the money we pay taxes on is reserved for the layabouts on Jeremy Kyle that decide the amount of children they want based on how much they want to earn a year not for the people who really need it. No those people are sat getting their chemo and worrying about how they're going to pay their mortgage next month.
If you do one thing today, read Laurens story and grab yourself a tit tee.