It's official, matte lips are officially a thing. When it comes to trying out new beauty things, I'm not the most adventurous, hell I've only just started wearing eye shadow and guess what colour it is? NUDE. So I like to start by trying out a budget version, hence the post "matte lips on a budget".
I've spent the past few weeks collecting different shades and brands of matte lips, ok 4, if there's more than two that's a collection to me! All for blogging purposes of course, because I just knew you guys would want me to try them all and let you know, and I never like to let people down. Ok, I wanted them.
Matte Lips On A Budget
So this one's been judged the most for two reasons. Firstly, I had high expectations. NYX is like a buzzword in make up at the moment and I feel like this matte lip cream is something people are raving about in particular so I had high expectations. Secondly, the colours on Asos were not clear and I ordered what I thought was a pinky nude which came as a pinky red and I ain't one for bright colours!
It definitely doesn't go on as smoothly as the other products however, it does smell like butterscotch and if i'm putting something in and around my mouth it better taste/smell nice. Just realised what that sounded like. It is actually a really nice colour though, like I will actually consider wearing this colourful lip cream kind of nice. The colour is really thick? I don't speak beauty, but basically, it's vibrant with just one layer.
This one smells a bit like hubba bubba's in a disgustingly sickly kind of way. I went to get this after I went into Space NK looking for a matte lip and the girl suggested trying a cheap one before pointing me in the direction of the nearest Superdrug with the name of this brand. If I'm not mistaken it's actually Superdrugs own brand but I might be completely wrong!
Anyway, it was only £3.00 and when a tester is still on your hand after numeral scrubs and hand washes a day later, it's a winner. That is some staying power! I love the pinky brown colour look, just up my street! For the price this one is incredible, the epitome of great matte lips on a budget!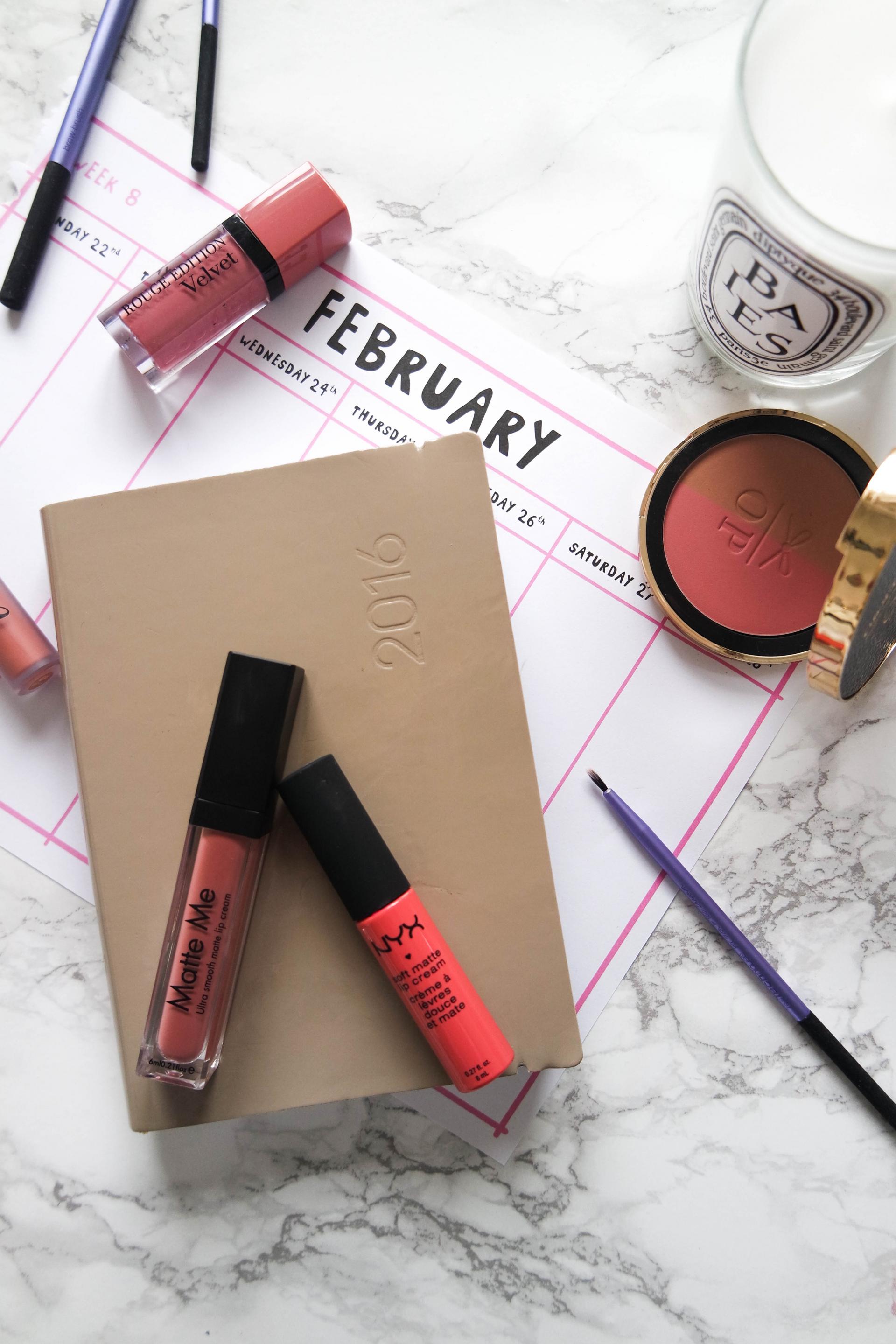 This has to be my favourite because the colour is just b-e-a-utiful and it goes on like a dream. It was more than any of the others at £8.99 but totally worth it! I now carry it in my handbag at all times, just in case.
It's also just got a general nice make up/ lip product smell, you know the one – am I the only one who cares about how their make up smells?
For price, colour and staying power this one 100% takes the biscuit. It's a similar colour to the MUA Luxe one but more natural if that makes any sense at all? (god I'm really bad at describing make up aren't I?!)
The applicator on this is very odd. It's literally just like a stick, it's not shaped and it's hard . . very odd.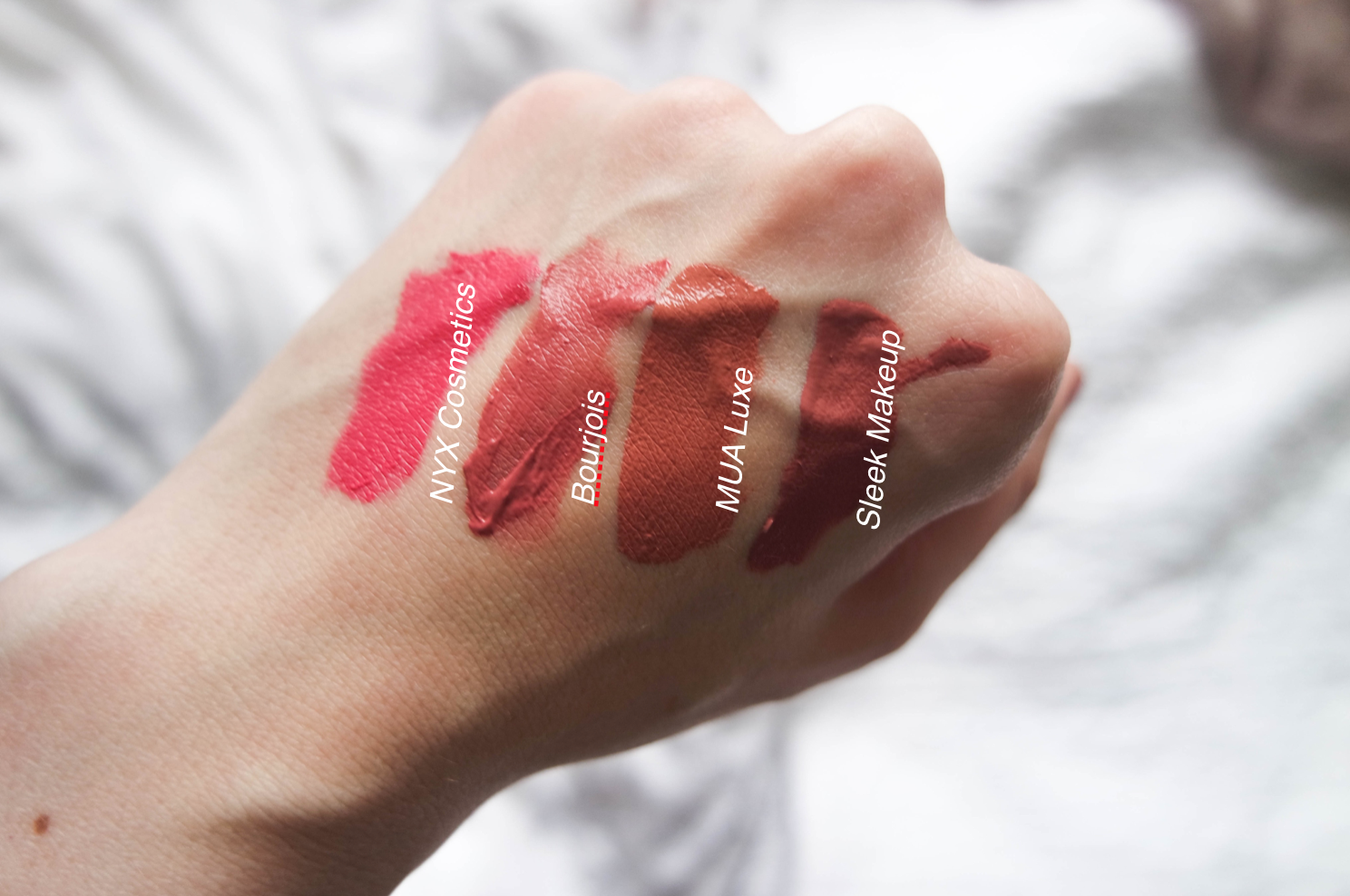 Since I'm so terrible at describing colour's I've done some swatches above which you can judge for yourself! If I had to pick just one it would probably be the Bourjois but I do love the colour of the Sleek Make up one which would be perfect for a nude, daytime lip! Luckily for me I have them all so I don't have to pick, over to you!
Make sure you let me know if you've tried and know of any great matte lips on a budget!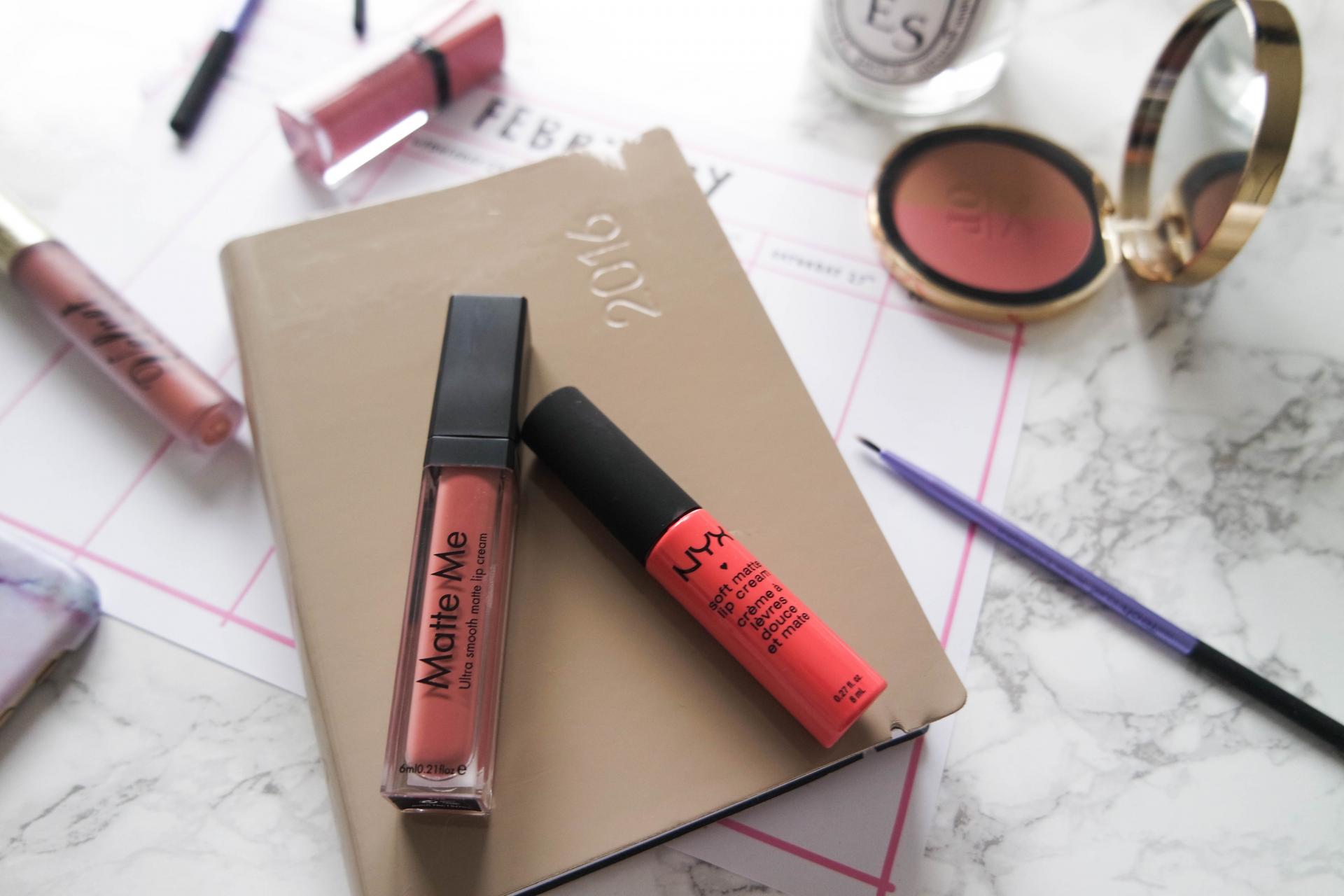 Shop The Post
Are you following me on Bloglovin'!? If you're not you're missing out on SEO, Blogging Tips, Beauty and Outfit posts along with beautifully written pieces by yours truly. Follow me here!
Incase you didn't know I'm also on Youtube now! Go and have a little look at what I've been up to in the world of Youtube and if you like what you see then make sure you subscribe for weekly videos!