Yes, you read that right. I got this whole outfit (minus the jacket) for under £50. So that jacket isn't included but it's just a finishing touch and are you seriously saying that a top, skirt, shoes and sunglasses isn't enough, there's just no pleasing some people!
The Joy of Supermarket Shopping – An outfit under £50
Supermarket shopping (for clothes) is something that is seriously underrated. I guess by now you'll have realised that this look is from a supermarket, Tesco's to be specific and their F&F range.
Personally, I think the idea of being able to buy your bananas and clothing in the same shop is as off-putting to me as it is appealing to a Mum of 3 with no spare time. I mean, us fashionistas would never be seen at the checkout of our local Tesco's with a top in hand. . would we?
If I'm totally honest – in the past I have been known to be quite the supermarket shopper and I'm not just talking socks, pants and pjs. When you can get an outfit for under £50 why on earth wouldn't you be?
Choosing Key Pieces
When I do go supermarket clothes shopping, I like to stick to a few rules if you like. I feel like this outfit truly is an exception though, because I would never normally advise going head to toe, though it's obviously something that can be done!
Firstly, when I buy from F&F, I tend to go for pieces that I know I won't be wearing day in day out. You can't pay £10 for a top and expect it to last you a lifetime. This is why I like to go for more trend led pieces that I know I'll only want for a season. If they last longer, great, if they don't? They've done the job they were destined for!
I was kindly gifted a £50 voucher to pick something to style up, when I started looking I found everything I wanted for under £50 and even managed to treat myself to a pair of socks. I was so shocked! I mean, I knew it was cheap but this is just something else!
Shop Online
Firstly, I'll let you into a little tip i've discovered. You can get you're bits delivered to store for free, and that can be any Tesco's store – including the little Tesco metros! They don't have to sell clothes.
Shopping online is the way forward for me, depending on where you live you'll be lucky to find anything you see in the lookbooks and ad's in Elle Magazine etc in your local Tesco. I live in a small town and my nearest city is Peterborough – not exactly the fashion capital of the UK, I'd say they're selling more crocs and velour tracksuits than what I'm after! Sorry if you're from Peterborough but you know it's true.
Tell me now – have I changed your mind on supermarket shopping!?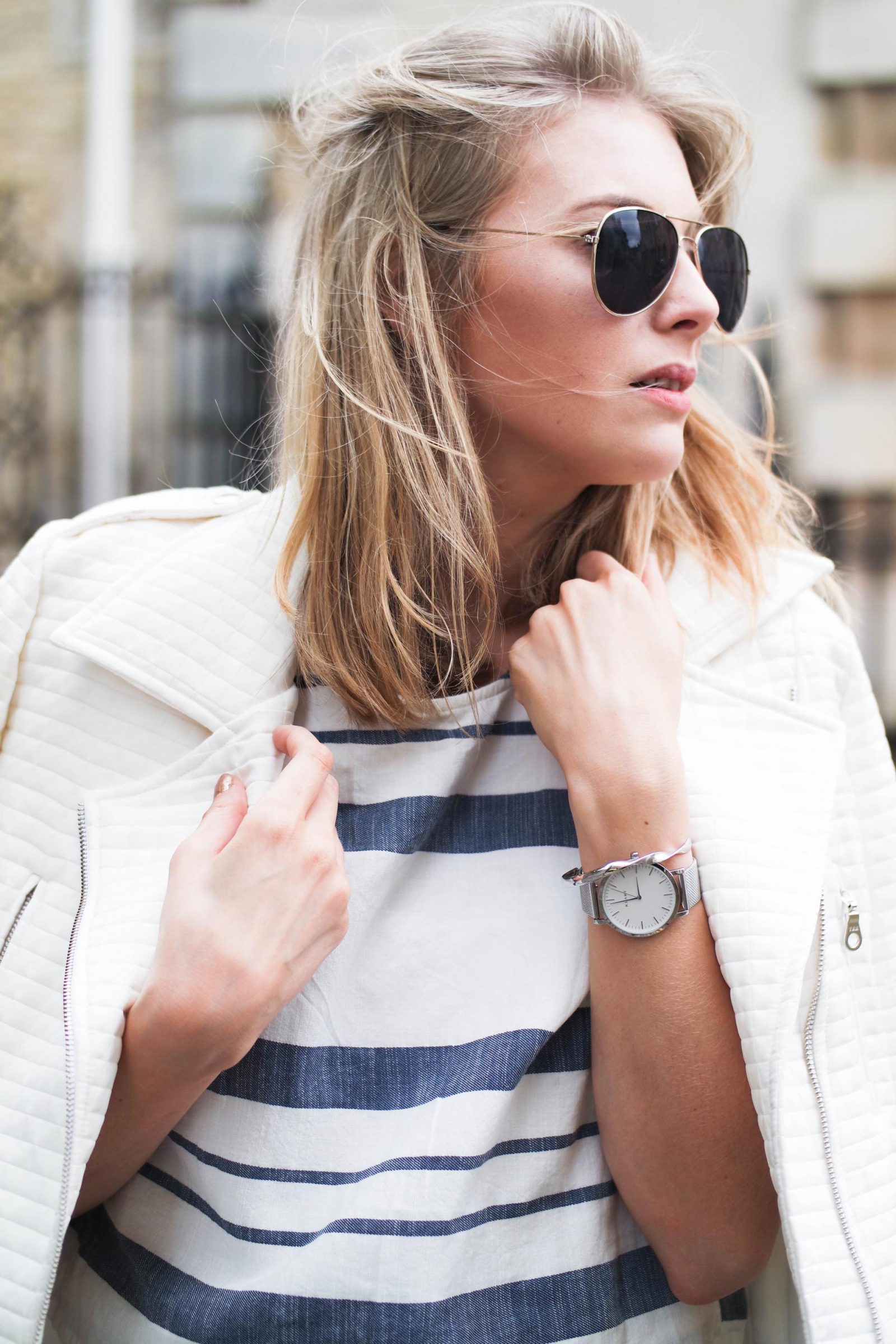 *Jacket : Fashion Bazaar
*Top : F&F @ Tesco
*Skirt : F&F @ Tesco
*Sandals : F&F @ Tesco
*Sunglasses : F&F @ Tesco
*Bracelet : Luna Pyxis
*Watch : Klarf
Photography by Sue Crowe – She's becoming a professional!!
Make sure you follow me on Bloglovin' to stay up to date with all the latest! You can also find me on Youtube here and on snapchat and instagram under the username 'sineadcrowe'
This post is in collaboration with F&F @ Tesco but all thoughts, opinions and styling are my own