So I may not have been to any of the shows, missed out on the parties and amazing fashion but at least I can share with you what I have been keeping an eye on! LFW Street Style! I may be on the other side of the world but that doesn't mean that I'm not completely hooked on LFW. I've been checking Instagram/Stories everytime I get wifi and checking out the LFW street style which is always incredible!
I wanted to share with you my top 5 street style looks from LFW along with the trends I'm loving and how you can recreate it. As a fun kind of twist on the roundup and hopefully make it a bit more accessible! So many of these pieces I will be buying as soon as I touch down in the UK – if they're still available!!!
Top 5 LFW Street Style Looks
#1 Flared Sleeves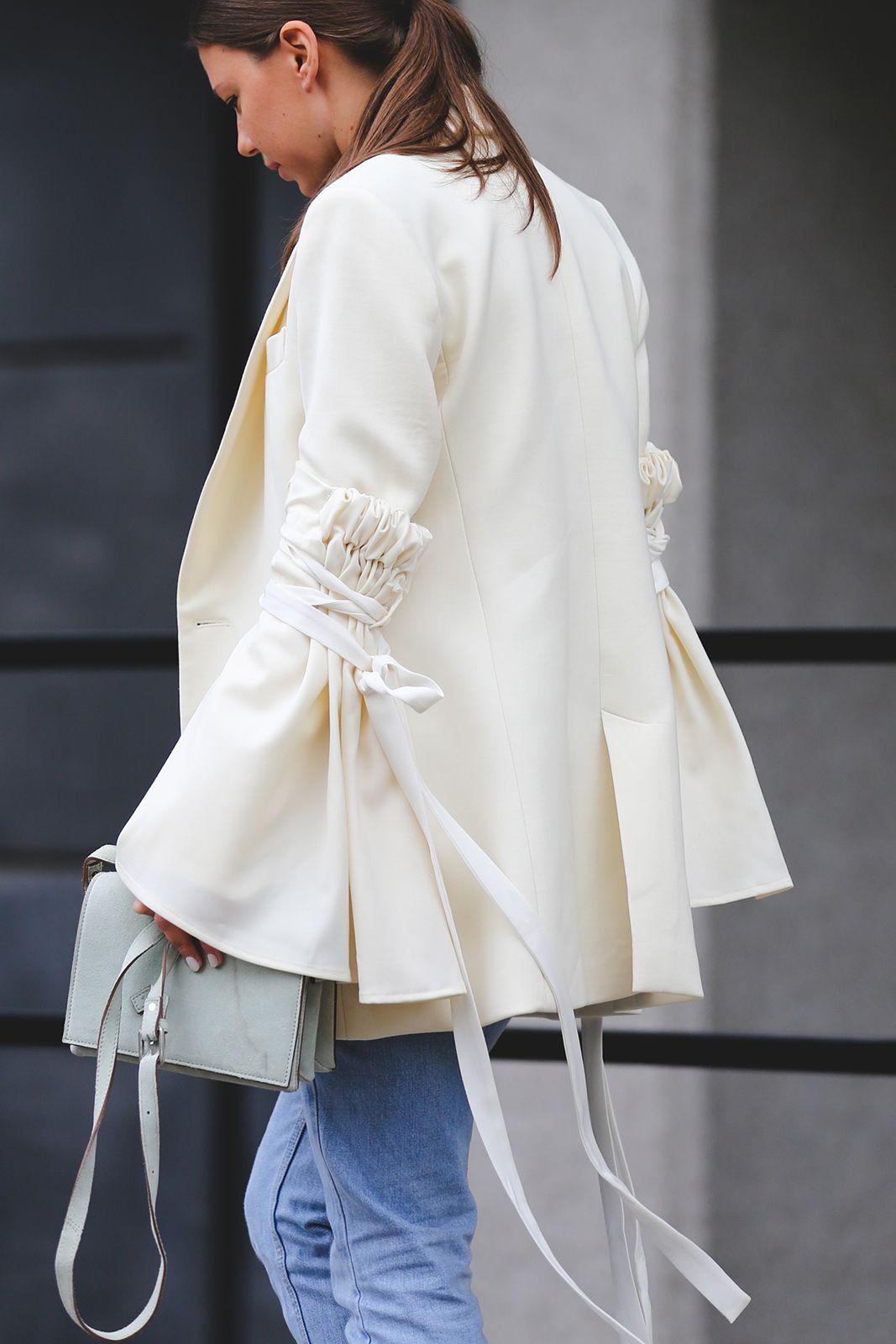 Photo by Refinery29.com
I'm a big fan of flared sleeves and despite their gravy mopping nature I have been all summer. I'm releived to see that after LFW they'll be sticking around – hooray. I love this take on the flared sleeve with the ruching and ties, I'm thinking you could easily recreate this at home by gathering and tieing the sleeves of the tops you already own no?
#2 Ankle Ties

Photo by Refinery29.com
I've been pondering the mui mui ballerinas for a while now. When they first showed up I was all no way now I'm thinking more gimme. I love the idea of recreating the look by wrapping your ankle up though I have to say I'm not a fan of the bandana style above, I reckon a silk scarf would look just as good no?
I've also been obsessed with Gucci loafers of any kind for the past 6 months and have promised myself a pair for christmas from me to me. Now just to decide fur or sans fur?
And the dupes . .
#3 Silk/Satin

Photo by ELLEUK.com
I mean is this even a trend or just a classic? I don't know, I got a satin cami from H&M (here) before I set off on my travels and love the luxe feel to it. Loving how these girls have co-ordinated and the loose layering of different textures on the left! I need everything satin, stat.
#4 Red Bags

Photo by CollageVintage.com
I've heard that it's the colour of the season and though I may not play with colour in my style all too often, there's one thing I've been loving lately and thats a red bag. They add a super fun splash to a neutral look and I am all over that.
#5 Embroidery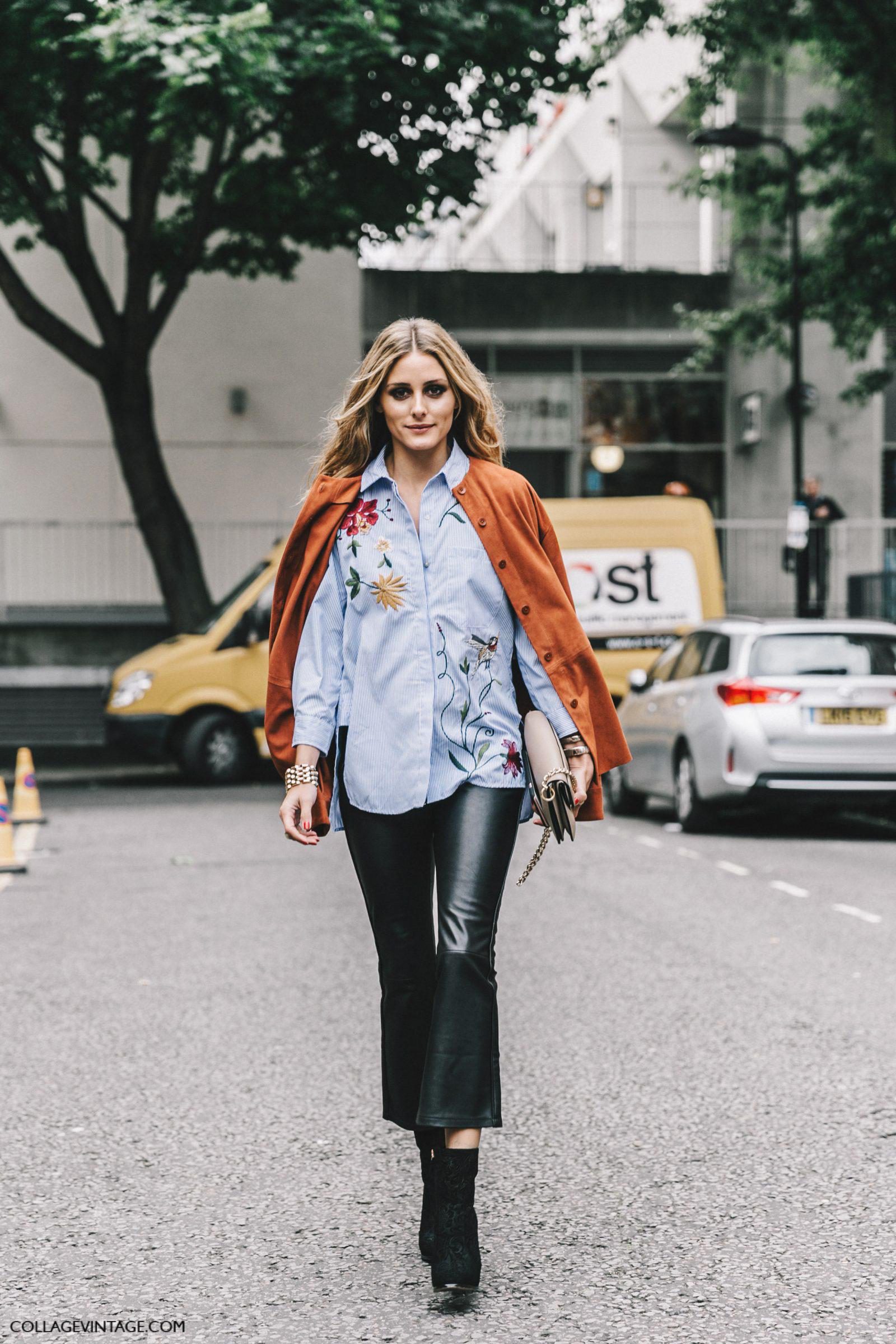 Photo by CollageVintage.com
Embroidery seems to be everywhere it shouldn't be right now, yet it still looks good? Never did I think I would be saying I want a pair of jeans with embroidery on them or a floral embroidered shirt!? I love the way Olivia Palermo has paired the pretty shirt with some leather kick flares to avoid looking too cutesy. Also, is it just me or is blue & rust the perfect colour combo?!
What were your favourite trends/looks form LFW street style? For more street style looks make sure you check out CollageVintage.com she always does the best roundups with amazing photography!
Make sure you follow me on Bloglovin' & Instagram to stay up to date!
Speak Soon xx