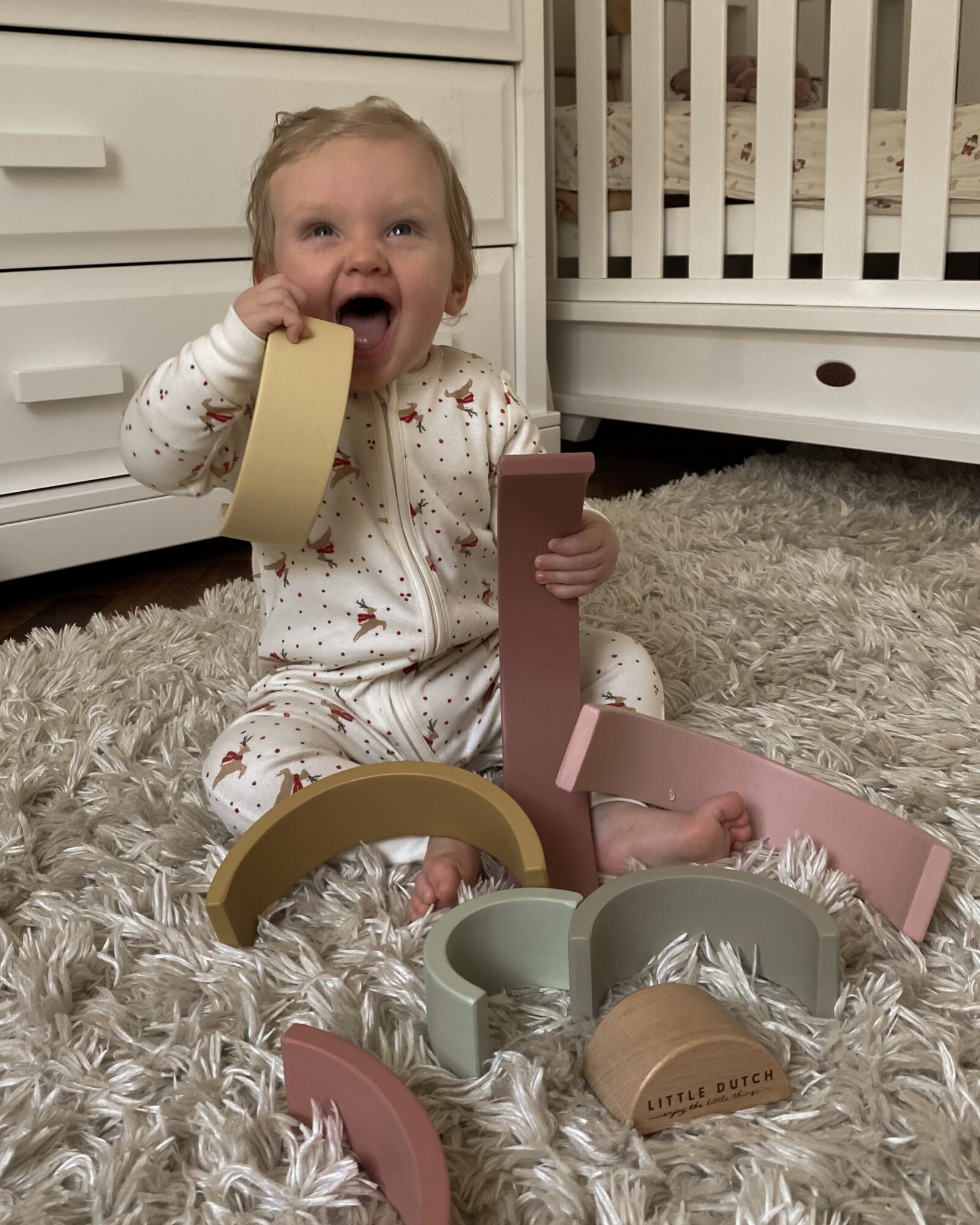 You guys know how much I love natural baby shower since I had Margot if you didn't check out my blog post on how I decorated her nursery then head over here to read that now! Natural baby shower is a one stop shop for all of your baby needs be it nursery furniture or teethers they pretty much have it all covered! Even better it's all beautiful and aesthetic, no multicoloured eye sores here!!
So we have got together again to share some of my top picks in my Christmas gift guide for babies. As you can see from the photos Margot really enjoyed playing with the toys whilst I took the photos so I already know they'll be a hit for Christmas Day! Yes I am that evil mum that let her play with them for half an hour then whipped them away! At least it was a good test!
THIS POST CONTAINS GIFTED ITEMS
Natural baby shower Christmas gift guide for babies
Before we get into toys we need to just speak about these adorable pyjamas she's wearing! They're from baby Mori which is just the most gorgeous baby clothing brand! We got some of their bits as a gift when Margot was first born and they are so so so smooth and soft!! We got the reindeer onesie and pyjamas set! These will definitely be one we keep forever! Margots first Christmas pyjamas!!
XYLOPHONE
One of my favourite brands for baby toys and play things right from when Margot was born has always been little Dutch! They do some really beautiful pieces so tastefully done.
We went for the xylophone because if there's one thing Margot loves it's making a noice! We play with these in baby sensory class and she loves it so much so I already knew musical instruments were going to be on her Christmas list to Santa!
ACTIVITY CUBE
I've been eyeing up these activity cubes for a while! I love that there's so many things for them to do in such a compact toy. There's shapes to slot through, things to pull along, things to twist and all sorts! You can even invert the squiggles on top so it's just a box. I really tried to pick things too that would stand the test of time both n quality and also things that I felt she would play with for some time. I can see her playing with this for more than just a few months!
FRUIT & VEG
Let's be honest I got these because I thought they were super cute and she's pretty much only going to chew them or unstick and re stick the veg together but at least she will be playing with them and again like the activity cube it's something she'll be playing with for years! Such a simple toy with so many endless possibilities for playing. They also have fruit if you'd prefer!
RAINBOW STACKER
I'll have to be honest, I've wanted to get her one of these for ages so I'm happy to finally have the opportunity! They're just so pretty and I love the idea of stacking objects that aren't just cups in a straight line. it gives more chance for her to use her imagination and stack it in lots of different ways or I've seen it advertised to make a little maze out of it or as you can see Margot is currently loving it as a chew toy. There seems to be a common theme here!
WHALE MIRROR
This one I knew I had to get her as soon as I saw it because little miss vein loves her own reflection! It's honestly instant happiness if you plop her in front of a mirror so when I spotted this whale mirror there was no two ways about it, Margot needed it! It's a weighted toy so it doesn't fall over and there's lots of little bits coming off it like a little whale at the back and scrunchy fins. I think this would be great for a younger baby too to help with tummy time!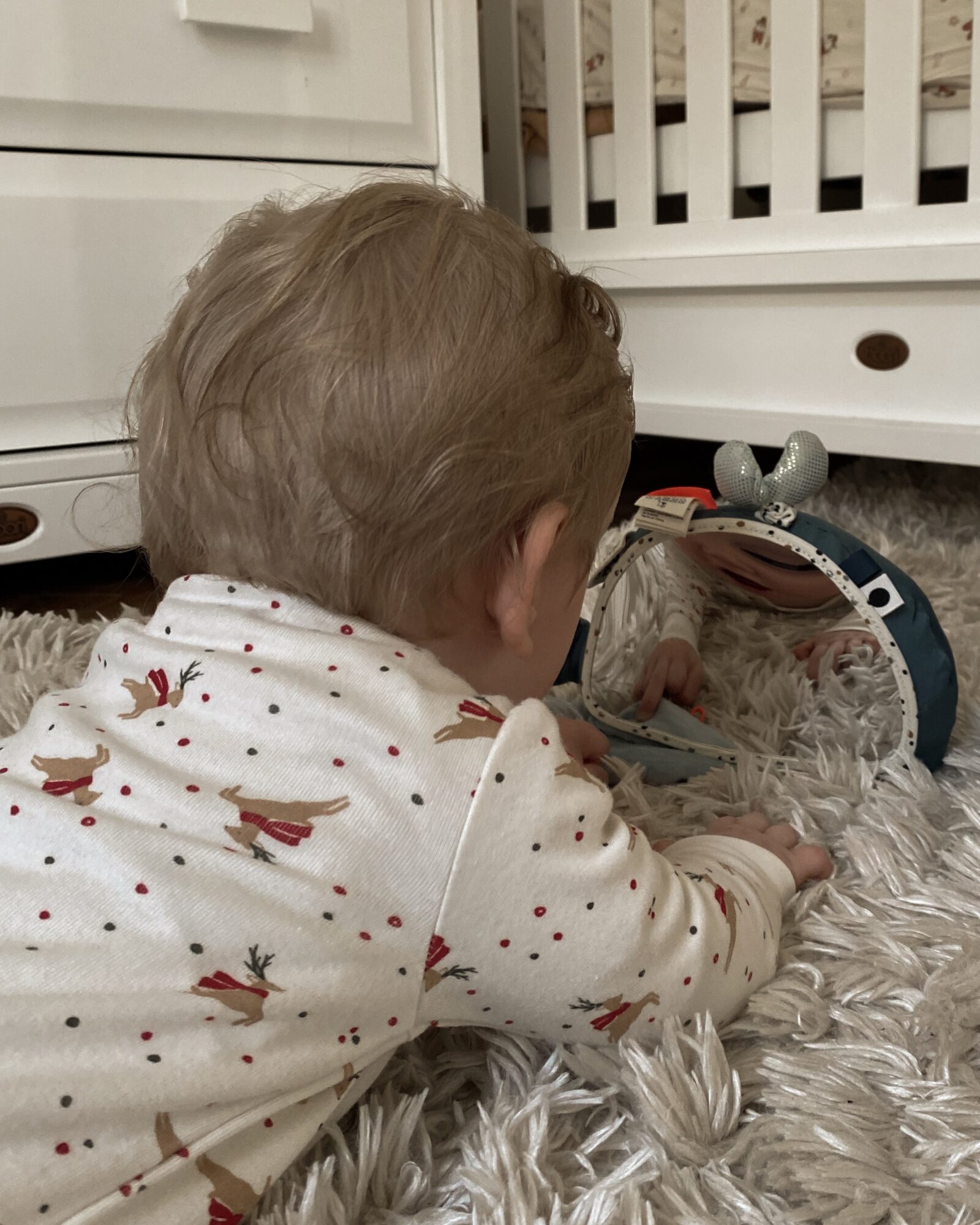 NATURAL BABY SHOWER CHRISTMAS GIFT EDIT
PRODUCT LINKS
Ball Pit – Shop Here
Cream Snugglesuit – Shop Here
Christmas Sleep Suit – Shop Here
Duck Stacker – Shop Here
Stacking Cups – Shop Here
Rainbow Abacus – Shop Here
Donkey Rocker – Shop Here
Activity Walker – Shop Here
PS YOU MIGHT LIKE THIS