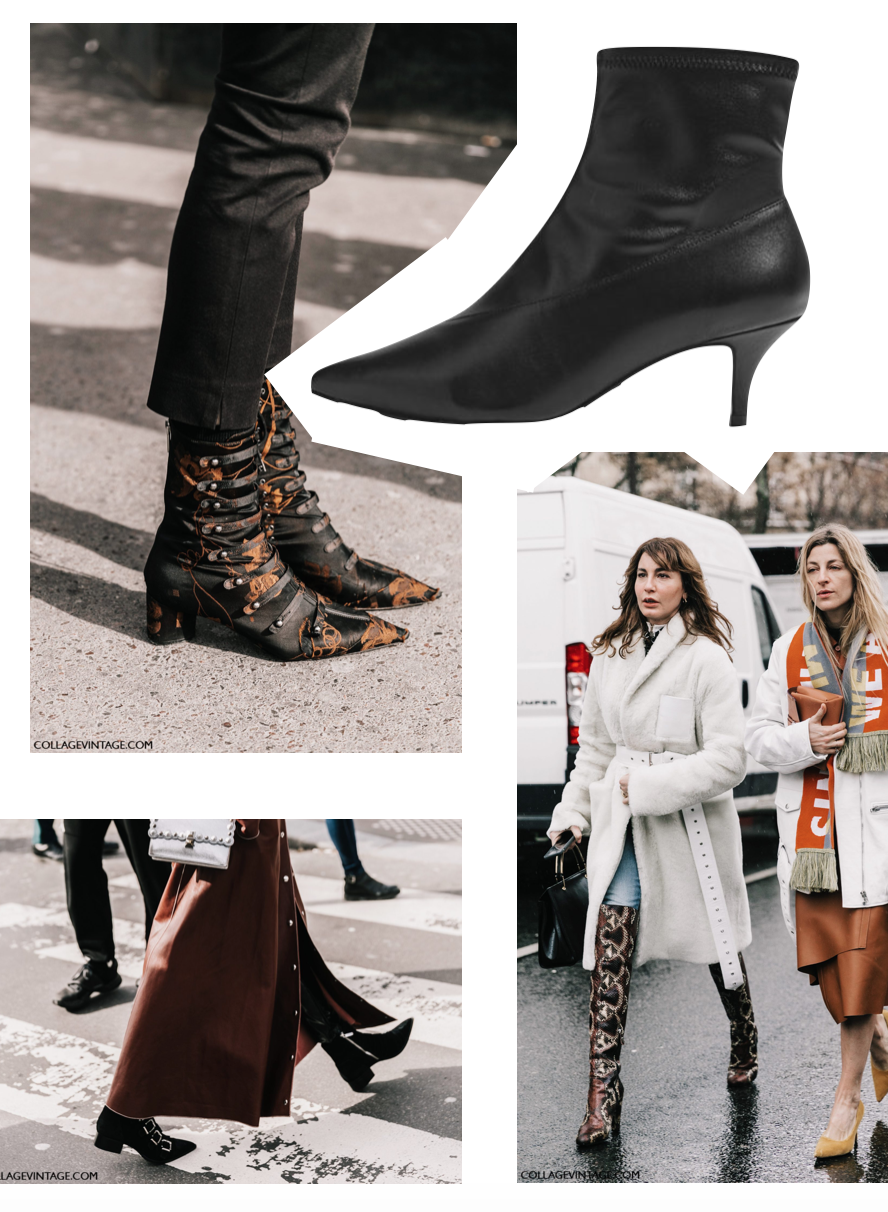 Colours aside, if there's one shoe trend that incorporates all colours, prints, lengths, heights, shoes, boots and any other word you can think of to describe a pair of shoes, it's pointed shoes. Points are in. I am a big fan of this trend and have already amassed a pointed shoe collection to be proud of and I can confirm that us big footed girls can quite happily rock the trend with the best of them. Just be careful of the style of point you go for, maybe the extreme point on these Balenciagas aren't for you?
Mules and kitten heel shoes are something I have already invested in and am still looking to build my collection of. Theres something about a point and a kitten heel that just make the perfect combo and when paired with denim make smart casual gold. I already have a shoe and a boot in black but have been eyeing up these nude patent boots for the summer and Zara have some incredible gingham shoes in right now.
Mules are also a great way of wearing pointed shoes and also like the perfect transitional style. I don't have a pair of these yet but I know it won't be long until I do . . like the length of time it takes for them to be delivered . .
If, like me, you're not ready to let go of the boots yet then make it pointed. It's not all pointed shoes, pointed boots count too you know! I've been after the perfect pair of over the knee's for literally all winter every winter. NEVER find them but may have found a summer pair in these gorge Mango ones. Now just need to decide how much wear I'd get out of them . . but they would look great with my new skirt. Balenciaga also do these insane floral print boots which Topshop have thankfully duped for those of us that don't have a Balenciaga budget!
Those Chanel mules have been on my mind since the day I saw them and good old Topshop have done it again on the dupe front with these babies in pink and the Chanel nude. I said it before and I'll say it again, when it comes to pointed shoes, mules are the best transitional style to invest in. But then of course there's always the holy grail of pointed shoes in the court shoe. I love the brightly coloured red ones and have you seen this incredible Manolo Blahnik bejewelled pair?!
Have I convinced you you need a pair of pointed shoes yet?